NFL Betting Sites | Where Can I Place a Super Bowl Bet in Canada?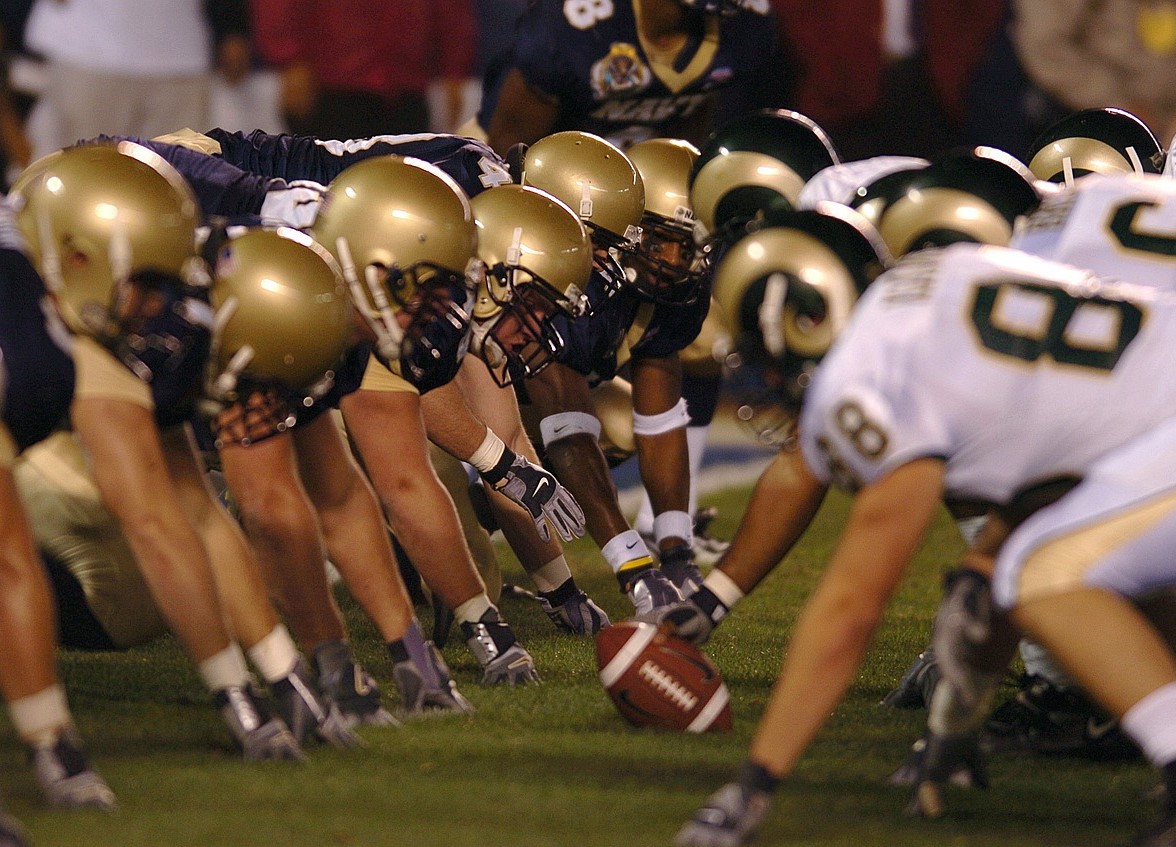 If you're a sports lover in Canada, you've definitely heard of the NFL. The NFL and Super Bowl are hugely popular not just in Canada and the US, but also worldwide.
With endless betting options available practically all year round, it is heaven for sports bettors looking for a thrilling sport to bet on.
But which NFL sites are the best options for Canadians? And what kind of bets can you place? Let's find out!
The Best NFL Betting Sites in Canada for 2022
NFL Betting Sites Comparison
What makes some NFL betting sites better than others? Let's take a look at the top sites and their best NFL features!
Bet365
Bet365 is one of the most popular sportsbooks in Canada for good reason, and it does not disappoint when it comes to NFL betting.
Bet365's NFL betting markets are endless, and cover main markets like game lines and half lines, but also secondary markets like player, score, and team props.

On top of that, Bet365 has a new handy bet builder, which is ideal for NFL parlay betting as it calculates your payout and combined odds.
Which Canadian Sportsbook Has the Best NFL Odds?
And how do the NFL odds look like at these sportsbooks?
Our recommended betting sites all offer competitive NFL odds, and you're not likely to see a lot of variation from one sportsbook to the next. Here's an example for New York Giants vs. Washington Football Team:
| | | |
| --- | --- | --- |
| | New York Giants | Washington Football Team |
| Sports Int. | 2.52 | 1.56 |
| Bet365 | 2.50 | 1.58 |
| Bodog | 2.50 | 1.57 |
| Betway | 2.50 | 1.55 |
| Bet99 | 2.50 | 1.58 |
NFL Odds for New York Giants vs. Washington Football Team
Although Sports Interaction offers slightly better odds for the favourite, and Bet365 and Bet99 top the list for the underdog, there are only minor differences.
Keep in mind that the NFL is a wildly popular league and sportsbooks will pay a lot of attention to these lines to ensure that they're as accurate as possible.
Therefore, the NFL and the SuperBowl might not offer as many value betting opportunities as more obscure leagues and sports like eSports.
Perhaps the softest category is the props bet category, as this is usually less analyzed than moneyline and spreads, and you will find more odds variation from one sportsbook to the next. But we'll cover prop bets in more detail very soon!
Is NFL Betting Legal in Canada?
Before we continue with our guide, a lot of our users ask us if NFL betting is legal in Canada. The answer is yes, it definitely is!
There are two options for NFL betting in Canada. You can make use of the provincial lottery sites in provinces like Ontario. Up until recently, these provincial lottery sites only offered parlay betting.
However, the recent single-event betting legislation has opened the doors for these provincial sites to offer single-event betting.
In the case of Ontario, bettors can access betting sites with an Ontarian license.
In other provinces, you can make use of international betting sites like Bet365 and others. In our opinion, these sites offer better odds, promotions, and a range of betting markets than any other provincial site at the moment. They're also perfectly safe to play at.
How are they safe? These international NFL betting sites do not have website servers in Canada.
Therefore, the sites do not violate Canadian law when offering their products to Canadians despite not being officially regulated by the provinces.
The Canadian Criminal Code also does not consider any betting activity at these offshore sites as illegal, which makes it perfectly OK for a Canadian bettor to bet and withdraw at these sportsbooks.
We vat these betting sites to only recommend those with a reputable licence, stellar reputation, and responsible gambling mechanisms in place!
Can You Bet on Super Bowl in Canada?
Same as general NFL betting, betting on the Super Bowl is definitely possible and legal in Canada.
In fact, it is one of the main betting events of the year in the country!
We're going to walk you through the process step by step.
How to Bet on the 2022 Super Bowl in Canada
Find a sportsbook. You can browse our top list of safe NFL betting sites and pick the best fit for you.
Once you select your sportsbook, visit the site and create an account. When creating an account, you will be asked for personal details like name, email address, home address, and date of birth.
Make your first deposit using your preferred payment method. Keep in mind any promotions there are that you want to benefit from. Promotions nearly always have a minimum deposit, so double check this value before you deposit.
Place your Super Bowl bets. You can do this by navigating to the relevant section of the sportsbook and pick the bet you prefer.
That's it! Easy, right?
The Best Super Bowl Betting Sites for Canada
Which is the Best App for Super Bowl Betting in Canada?
Our favourite Super Bowl betting app is Bet365.
When reviewing sports betting apps, we found Bet365 to be one of the fastest apps, with no lag and excellent user navigation.
Apart from that, Bet365 Canada has endless Super Bowl betting options, competitive odds, and plenty of NFL promotions to look forward to!
What are the Super Bowl LVI Prop Bets?
Super Bowl prop bets are endless. Whether you're looking for player props, scoring props, game props, team props, you're going to find at all! Some examples are:
Will there be a score in the first five minutes?
First team to score
Total match points – odd or even
Length of the National Anthem
Colour of the Gatorade bath given to the winning coach of the Super Bowl
Who will Win Super Bowl LVI?
Super Bowl LVI will feature Los Angeles Rams and Cincinnati Bengals.
The current favourites are the Los Angeles Rams, which are averaging odds of 1.50.

Types of NFL Bets
What kind of bets can you use when betting on the NFL? There are countless possibilities!
Let's have a look at the most popular ones, and where you can place these NFL bets.
NFL Moneyline Bets
An NFL moneyline bet is the easiest bet you can use when betting. You bet on which team will win or lose the game, and the odds will reflect the favourite and underdog for the game.
| | | |
| --- | --- | --- |
| | NY Giants | WAS Football Team |
| Moneyline | 2.55 | 1.57 |
Moneyline NFL Bet
For instance, in this example for NY Giants vs. Washington Football Team, the WAS Football Team are the favourites to win, while NY Giants are the underdog with higher odds.
That is, if you bet $50 on WAS, you would get a payout of $78.50 (1.57 x 50), but a $50 bet on the underdog gives you a total payout of $127.50 (2.55 x 50).
Take note that we are using the decimal odds format, but you can easily change the format to American or Fractional odds at any sportsbook. We also have a detailed guide on how to read and covert odds that you may find useful!
NFL Point Spread Bets
Point spread bets are another popular option, and you'll find them at all NFL betting sites. With a point spread bet, you wager on which team will win the game and the points margin.
Confused? Don't worry, here's an example:

The first thing you'll notice is that the odds are closer together than a moneyline bet.
This is because a point spread bet acts as a handicap to create a level playing field between two teams that are not evenly matched.
And what about the '+3' and '-3'?
The plus sign indicates that NY Giants is the favourite, while the minus sign marks WAS Football Team as the underdog. The number 3 shows how many points the team needs to win or lose by in order to win the bet.
Let's say you bet on the NY Giants:
If the NY Giants win by any number of points, you win the bet.
If the NY Giants lose the game by less than 3 points, you win your bet.
If the NY Giants lose the game by more than 3 points, you lose the bet.
The same concept applies to the WAS Football Team:
If the WAS Football Team wins the game by more than 3 points, you win the bet.
If the WAS Football Team wins the game by less than 3 points, you lose the bet.
If the WAS Football Team loses the game, you lose the bet.
What about Alternative Point Spreads?
You'll find more than one point spread betting option at a lot of NFL betting sites.
These alternative point spreads are different from the main point spread because of a variation in the point total and odds:
Having a range of alternative spread bets increases your betting options. Our recommendation is Bet365 because it's a sportsbook that definitely offers various alternative spread bets.
If you want to know more about point spread betting and whether it's the best option for you, check out our point spread betting guide!
NFL Totals Bet
A totals bet (also known as Over/Under betting) is a bet on the total points in a game and whether it is over or under a certain amount.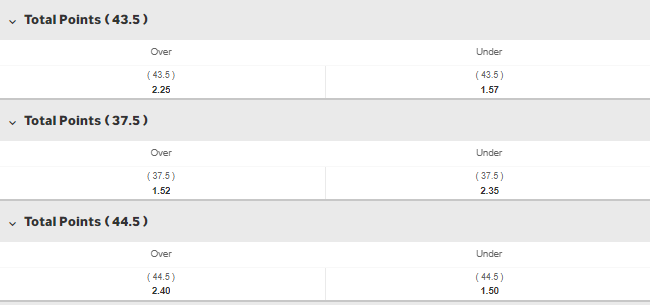 In this example, you can bet that the total points will be over or under a specific amount of points.
Some sportsbooks will list just one option, but others will have a lot of options to choose from, all of them with different odds to reflect the probability of it happening.
Bodog is another solid option here, with one of the best selections of options we've seen at Canadian NFL betting sites. However, Bet365 approaches this category a bit differently and offers total bets split into half lines and quarter lines.
NFL Prop Bets
The good thing about betting on such a popular event is that you're spoilt for choice.
NFL prop bets are numerous, and you'll find more and more of them as the Super Bowl approaches.
But what are prop bets?
You will find NFL prop bets in all forms, but the simplest definition is that these are bets that do not depend on the outcome of a match.
Here are a few NFL player props from Bet365's selection:
Apart from player props, there are team props, score props, quarter props, and more!
Should you bet using prop bets? Prop bets can be fun, but luck plays a big factor in most prop bets.
This decreases the probability of a win. On the plus side, prop bets are still a small market and NFL betting sites don't pay as much attention to prop bets as they do to the traditional bets.
This opens up more opportunities for value betting, and with some smart bets, you definitely look forward to some profit!
NFL Live Betting
Like all other major leagues and events, you can bet live on the NFL.
What this means is that you can bet while the game is ongoing. This can be interesting when the gameplay doesn't develop as predicted and you have a small window for a favourable bet before the lines change again.
Of course, to place live bets you need to be able to make some quick decisions. That's why we don't recommend it to beginners who might need more time to do thorough research before placing a bet.
NFL Betting Tips
There's no such thing as risk-free betting. Betting is always partly dependent on luck. However, here are a few tips to make smarter bets and reduce your losses.
Manage Your Bankroll
You can bet on the NFL practically all year round, and there's always something to look forward to. This is why you should set monthly budgets to make sure you don't get carried away and exceed your bankroll.
Our sports betting strategy guide delves into detail on how to best manage your bankroll using methods like the Kelly Criterion.
Shop for Odds
As we've already stated, NFL betting options are endless. Although a lot of sportsbooks offer similar odds, there will still be some variation, especially for softer markets like prop bets.
We recommend you sign up to 3-4 NFL betting sites, and check their odds before betting on each event. The few extra dollars really do add up over the months!
Use Your Logic
There are NFL teams that enjoy solid fan support regardless of performance.
What this means is that a lot of bettors will bet on their favourite team without analyzing the true winning probability.
This allows the sportsbooks to offer overpriced lines, knowing that the public will still bet on them, which works in favour of the underdog.
By leaving emotion to the side and use your logic to strategize these betting opportunities, you're going to have an overall better betting performance.
Simple enough, right? Check out our recommendations below and get started today!
FAQs
Can you bet on NFL games in Canada?
Yes, you definitely can! Our list of NFL betting sites are all great options for Canadian bettors.
Is the NFL or College Football more profitable to bet?
College Football can be more unpredictable than the NFL. College Football players are not seasoned, professional players and they might perform inconsistently when compared to polished NFL teams.
This can lead to more betting profit because of value betting opportunities. However, it can also be unpredictable which will cost you more in the long run. Unless you're a seasoned bettor, we suggest you stick to the NFL.
Do all sportsbooks offer NFL football betting?
NFL is such a popular league that practically all sportsbooks offer it. This doesn't mean that all sportsbooks offer good NFL odds and promotions, which is why we suggest you stick to our recommended NFL betting sites!
Should I bet on the CFL or the NFL in Canada?
Both the CFL and the NFL offer good betting opportunities.
The CFL can be easier to bet on because it involves 9 teams as opposed to 32. Therefore, there's less research involved.
However, the NFL offers more betting opportunity as the season is longer, with more teams involved.