Written By:
Jelena Kabić
About Author
Jelena Kabic is a sports betting writer that focusses on responsible gambling. A psychologist by vocation, Jelena volunteered in a rehab facility, where she worked with gambling addicts. She now reviews all our content to ensure it discusses betting in a socially responsible way.
Fact Checked By:
Amy Webb
About Author
Amy's introduction to the gambling world was 6 years ago, when she joined a casino operator as a content specialist. Since then, she's helped launch and maintain gambling review sites in over 8 different countries. She's tested dozens of casinos and sportsbooks, which is how she can spot a subpar brand in an instant!
NFL Betting Sites | Best Super Bowl Betting Options in Canada
NFL Betting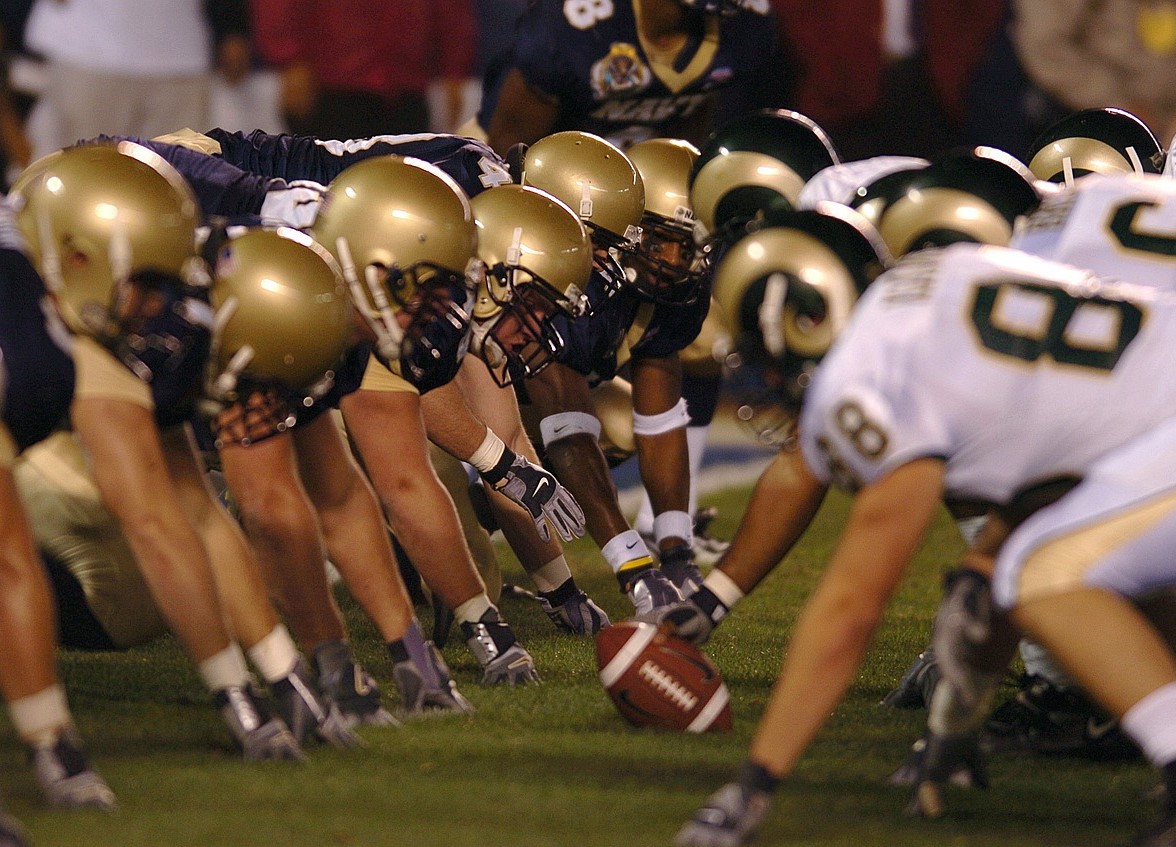 If you're a sports lover in Canada, you've definitely heard of the NFL. The NFL and Super Bowl are hugely popular not just in Canada but also worldwide.
With endless betting options available practically all year round, it is heaven for sports bettors looking for a thrilling sport to bet on.
But which NFL sites are the best options for Canadians? And what kind of bets can you place? Let's find out!
The Best NFL Betting Sites in Canada for 2023
The NFL playoffs 2023 have officially kicked off! To bet on the 2023 season games, we recommend you choose one of the following sportsbooks:
NFL Betting Sites Comparison
What makes some NFL betting sites better than others? Let's take a look at the top sites and their best NFL features!
Which one you end up finding the best for your betting needs is entirely up to you, but you won't go wrong with any of them.
You can jump straight to our Super Bowl section to check out the how-tos, best bets, and best places to wager them!
Bet99
Top Underdog Odds

Variety of Super Bowl Bets

Hundreds of Betting Markets

Exclusive NFL Live Streaming Deal

High Minimum Deposit
Known for its prop bets category, Bet99 boasts hundreds upon hundreds of varied Super Bowl betting markets. These include combo bets, parlays, and players' favourites such as the coin toss.
Additionally, the brand has some of the highest odds for the Super Bowl game, and has a cash out option for it.

Bettors can also enjoy HD live streams of the NFL games thanks to the exclusive sponsorship the brand has.
Just know that if you do opt for Bet99, your minimum deposit will be $20, compared to $10 most other sportsbooks require.
Betano
High Underdog Odds

Hundreds of Super Bowl Props

Super Bowl Song Prop Bets

Only Available in Ontario
Super Bowl lovers from Ontario will likely enjoy the ability to bet on which song gets performed during half-time! At the time of writing this, no other sportsbook in Canada is offering the option.
As you can see in our Betano review, the sportsbook goes above and beyond with its prop bets.
They even let you request a song that's not currently on the list.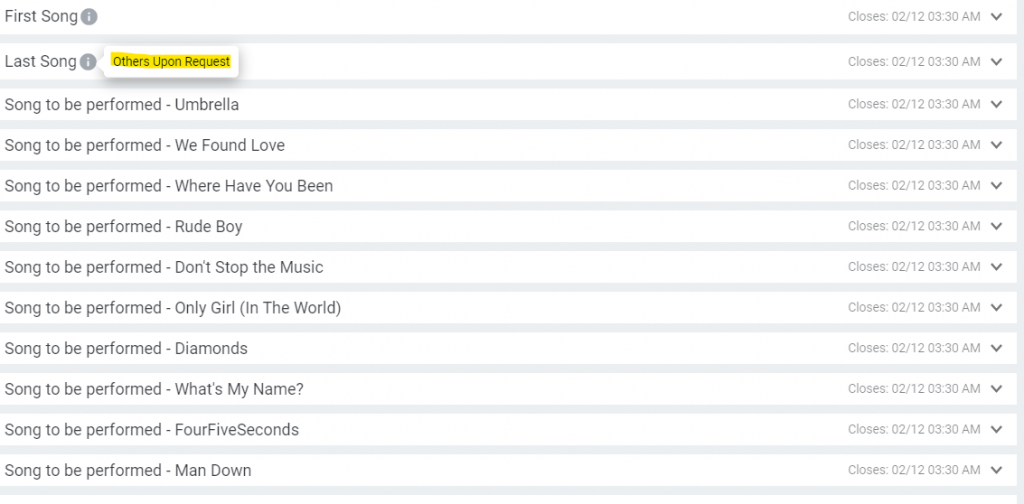 Those that don't feel like guessing Rihanna's hair and dress colour, or the colour of the liquid that will be poured (yes, you can bet on those, too) won't be disappointed, either, as there are hundreds of player and team props to wager on.
Along with Bet99, Betano has the highest odds for the event.
bet365
Hundreds of NFL Betting Markets Offered

Outstanding App

Auto Cash Out

Same-Game Parlays

Known to Limit Player Accounts
bet365 is among the most popular sportsbooks in Canada, and one of the best ones for the NFL.
Those looking to bet on Super Bowl will love the variety of betting markets on offer.
There were 284 at the time of writing this, most of them different kind of prop bets (player, score, team, quarter props…)
The betting tools at bet365 make these bets even more fun, with an auto cash out option to improve your chances, and same-game parlays that allow you to bet on multiple markets for this game, as part of the same bet slip.
Not many sportsbooks have this option!
Additionally, you can turn on alerts to receive live updates for the game, in case you're not able to watch it live via the sportsbook's HD live stream option.

However, one thing many bettors dislike is that bet365 is known for limiting players who end up winning huge sums of money.
Our advice is still to go for it, and if you do get limited, there are plenty of valid bet365 alternatives to choose from.
Sports Interaction
NFL Prop Bets Very Easily Accessible

Most Super Bowl Team Props Options

Site Available in French

No Live Streaming
French-speaking bettors from Canada will find it easy to place NFL bets over at Sports Interaction.
The sportsbook is certainly worth a try, with a plethora of team props and a super-easy way to access all NFL, CFL, and Super Bowl bets straight from the menu on the left!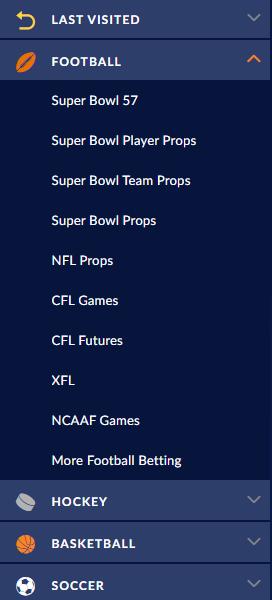 One downside of this sportsbook is the lack of live streaming, although you'll likely be able to catch the Super Bowl elsewhere.
FanDuel
Exclusive NFL/TSN Partnership

Partial Cash Out Available

Same-Game Parlays

Lacks in NFL Betting Markets

Only Available in Ontario
FanDuel isn't usually this high on our list of top sportsbooks, but we had to make an exception for the NFL.
Thanks to an exclusive NFL/TSN deal, FanDuel is able to provide a unique betting experience to its NFL-loving bettors.
Not only that, but the brand has a partial cash out option so you can "cut your losses" if things go sideways, and same-game parlays, allowing you to combine all your Super Bowl bets into a single bet slip.
However, the brand does lack in NFL betting markets compared to the other sportsbooks we recommend, and like Betano, it's only available in Ontario.
Other sportsbooks worth mentioning are official NFL partners BetMGM and Caesars.
Because they're the official NFL partners, they also tend to offer high odds for the league.
However, since these sportsbooks have far fewer betting markets and suffer from issues such as slow withdrawals, we didn't feature them among the very best NFL betting sites.
Which Canadian Sportsbook Has the Best NFL Odds?
And how do the NFL odds look like at these sportsbooks?
Our recommended betting sites all offer competitive NFL odds, and you're not likely to see a lot of variation from one sportsbook to the next. Here's an example for New York Giants vs. Washington Football Team:
| | | |
| --- | --- | --- |
| | New York Giants | Washington Football Team |
| Sports Int. | 2.52 | 1.56 |
| bet365 | 2.50 | 1.57 |
| Betano | 2.50 | 1.55 |
| Bet99 | 2.50 | 1.58 |
NFL Odds for New York Giants vs. Washington Football Team
Although Sports Interaction offers slightly better odds for the underdog, and Bet99 tops the list for the favourite, there are only minor differences.
Keep in mind that the NFL is a wildly popular league and sportsbooks will pay a lot of attention to these lines to ensure that they're as accurate as possible.
Therefore, the NFL and the SuperBowl might not offer as many value betting opportunities as more obscure leagues and sports like eSports.
Perhaps the softest category is the prop bets category, as this is usually less analyzed than moneyline and spreads, and you will find more odds variation from one sportsbook to the next.
But we'll cover prop bets in more detail very soon!
Is NFL Betting Legal in Canada?
Yes, it definitely is.
There are two options for NFL betting in Canada. You can make use of the provincial lottery sites. Up until recently, these provincial lottery sites only offered parlay betting.
However, the single-event betting legislation has opened the doors for these provincial sites to offer single-event betting.
In the case of Ontario, bettors can also access legal betting sites with an iGaming Ontario license.
In other provinces, you can make use of these international betting sites as well.
In our opinion, these sites offer better odds and a wider range of sports and betting markets than any other provincial site at the moment.
They're also perfectly safe to play at.
Since each website we promote already has an iGaming Ontario license or an AGCO approval, meaning it's adhering to Canadian fair play rules, you don't have to worry about your safety.
While these sites are not regulated and legalized in other provinces due to a lack of suitable laws, they're not illegal to bet at, either.
Can You Bet on Super Bowl in Canada?
Same as general NFL betting, betting on the Super Bowl is definitely possible and legal in Canada.
In fact, it is one of the main betting events of the year in the country!
We're going to walk you through the process step by step.
How to Bet on the 2023 Super Bowl in Canada
Find a sportsbook. You can browse our top list of safe NFL betting sites and pick the best fit for you.
Once you select your sportsbook, visit the site and create an account. When creating an account, you will be asked for personal details like name, email address, home address, and date of birth.
Make your first deposit using your preferred payment method.
Start by finding Super Bowl bets. At Bet99 (which has very competitive odds, as you'll see below) this is done by either finding football on the left side, or simply accessing the game straight from the homepage.

Place your Super Bowl bets. Simply choose the team you wish to bet on and how much you want to wager.
That's it! Easy, right?
The Best Super Bowl Betting Sites for Canada
What Is a Good Bet for the Super Bowl 2023?
Now that you know how to start betting on Super Bowl and which betting sites you can bet on, do you know which team you'll be betting on?
While Philadelphia Eagles have a small advantage at all sportsbooks, that automatically means the Chiefs have higher odds!
Here are the odds different sportsbooks have for the Chiefs vs Eagles game to help you choose which one you'll bet at:
| | | |
| --- | --- | --- |
| Sportsbook | Philadelphia Eagles | Kansas City Chiefs |
| Betano | 1.80 | 2.10 |
| Bet99 | 1.80 | 2.10 |
| bet365 | 1.80 | 2.05 |
| Sports Interaction | 1.79 | 2.04 |
| Betway | 1.83 | 2.00 |
Super Bowl 2023 odds
Bet99 and Betano are tied for the underdog, with odds of 2.10. Meanwhile, Betway offers slightly higher odds than the rest for the Eagles.
These may not sound like drastic differences, but let's look at it through an example.
If you're betting $100 on the Chiefs at Bet99 vs Betway, that's a $10 difference. Make that $500 and you have a $50 difference.
Bet99: $100 x 2.10 = $210
Betway: $100 x 2.00 = $200
Super Bowl Prop Bets
With the Super Bowl approaching, prop bets already started flowing! Some of the bettors' favourites are the MVP Super Bowl prop bets.
The greatest favourites include Jalen Hurts and Patrick Mahomes.
We compared the odds at some of the top sportsbooks to save you time while shopping for them.
| | | |
| --- | --- | --- |
| Sportsbook | Jalen Hurts | Patrick Mahomes |
| Bet99 | 2.19 | 2.28 |
| bet365 | 2.25 | 2.35 |
| Betano | 2.20 | 2.35 |
When it comes to the MVP prop bets specifically, bet365 currently has the best odds.
For the widest variety of prop bets available, though, you'll want to head over to Bet99 or Betano. Bet99 is famous for its incredible variety of prop bets, with categories like:
Most receiving yards
Largest lead
Team to score first
Team to score last
And many more!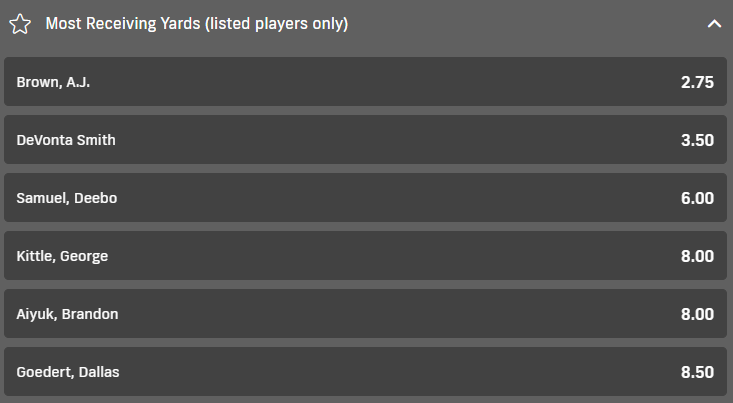 That being said, Betano is already letting you bet on the fans' favourite: which song is to be performed at half-time! Apart from this, it also has a variety of player props, including longest pass completions, longest rush, extra points made, etc.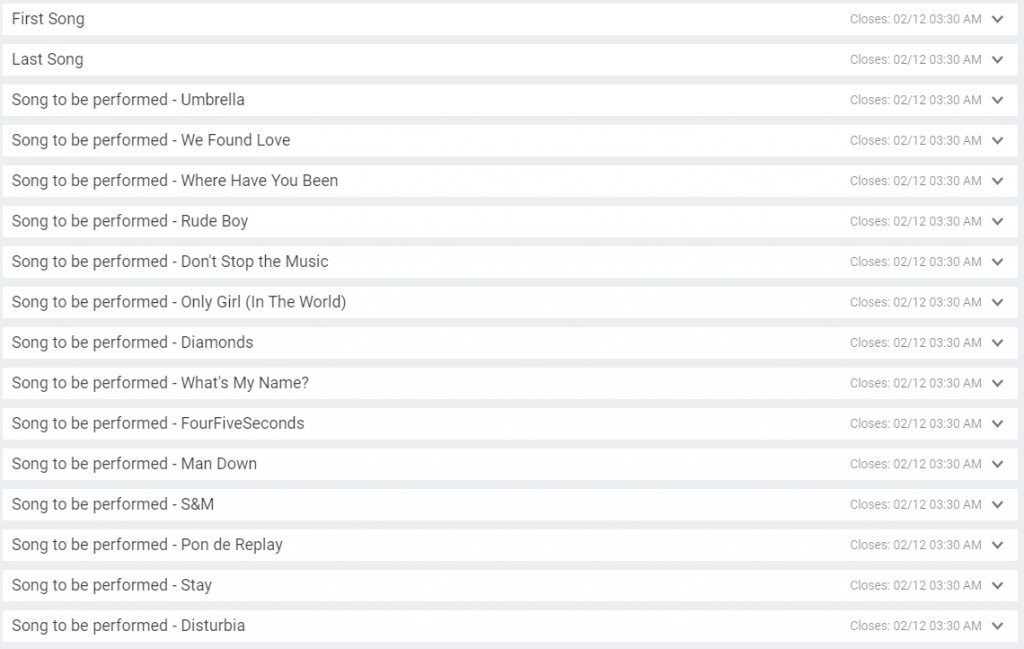 Which is the Best App for Super Bowl Betting in Canada?
Our favourite Super Bowl betting app is Bet99.
When reviewing sports betting apps, we found Bet99 to be one of the fastest apps, with no lag and excellent user navigation.
Apart from that, Bet99 has endless Super Bowl betting options and competitive odds to look forward to!
When and Where will Super Bowl LVII be Held?
The 57th Super Bowl will be held on February 12th 2023, at the State Farm Stadium in Glendale, Arizona.
Who Will Win Super Bowl LVII?
Currently, bookies seem to be favouring Philadelphia Eagles, but the differences in odds are fairly small, so anything could happen!
Types of NFL Bets
What kind of bets can you use when betting on the NFL? There are countless possibilities!
Let's have a look at the most popular ones, and where you can place these NFL bets.
NFL Moneyline Bets
An NFL moneyline bet is the easiest bet you can use when betting. You bet on which team will win or lose the game, and the odds will reflect the favourite and underdog for the game.
Since BetMGM and Caesars are official NFL sponsors, let's see how their moneyline bets fair against those of other betting sites.
| | | |
| --- | --- | --- |
| Sportsbooks | Buffalo Bills | Miami Dolphins |
| Caesars | 1.44 | 2.85 |
| BetMGM | 1.40 | 3.00 |
| Sports Interaction | 1.43 | 2.95 |
| Betway | 1.44 | 2.95 |
Moneyline NFL Bet
For instance, in this example for Buffalo Bills vs. Miami Dolphins, Buffalo Bills are the favourites to win, while Miami Dolphins are the underdog with higher odds.
Now, let's see what's the highest amount you stand to win.
If you bet $50 on Buffalo Bills at Caesars or Betway, you would get a payout of $72 (1.44 x 50), but a $50 bet on the underdog at BetMGM gives you a total payout of $150 (3.00 x 50).
Based on this example, it looks like BetMGM and Caesars tend to offer better odds for NFL games.
This isn't surprising, given that both sportsbooks are official NFL partners.
To be more precise, along with Betway, Caesars has the highest odds for the favourite, while BetMGM has by far the highest odds for the underdog.
Take note that we are using the decimal odds format, but you can easily change the format to American or Fractional odds at any sportsbook. We also have a detailed guide on how to read and convert odds that you may find useful!
NFL Point Spread Bets
Point spread bets are another popular option, and you'll find them at all NFL betting sites. With a point spread bet, you wager on which team will win the game and the points margin.
Confused? Don't worry, here's an example:

The first thing you'll notice is that the odds are closer together than a moneyline bet.
This is because a point spread bet acts as a handicap to create a level playing field between two teams that are not evenly matched.
And what about the '+2.5' and '-2.5'?
The plus sign indicates that New England is the underdog, while the minus sign marks Baltimore as the favourite. The number 2.5 shows how many points the team needs to win or lose by in order to win the bet.
Let's say you bet on New England:
If the New England wins by any number of points, you win the bet.
If the New England loses the game by less than 2.5 points, you win your bet.
If the New England loses the game by more than 2.5 points, you lose the bet.
The same concept applies to Baltimore:
If Baltimore wins the game by more than 2.5 points, you win the bet.
If Baltimore wins the game by less than 2.5 points, you lose the bet.
If Baltimore loses the game, you lose the bet.
What about Alternative Point Spreads?
You'll find more than one point spread betting option at a lot of NFL betting sites.
These alternative point spreads are different from the main point spread because of a variation in the point total and odds:
Having a range of alternative spread bets increases your betting options. Our recommendation is Sports Interaction because it's a sportsbook that definitely offers various alternative spread bets.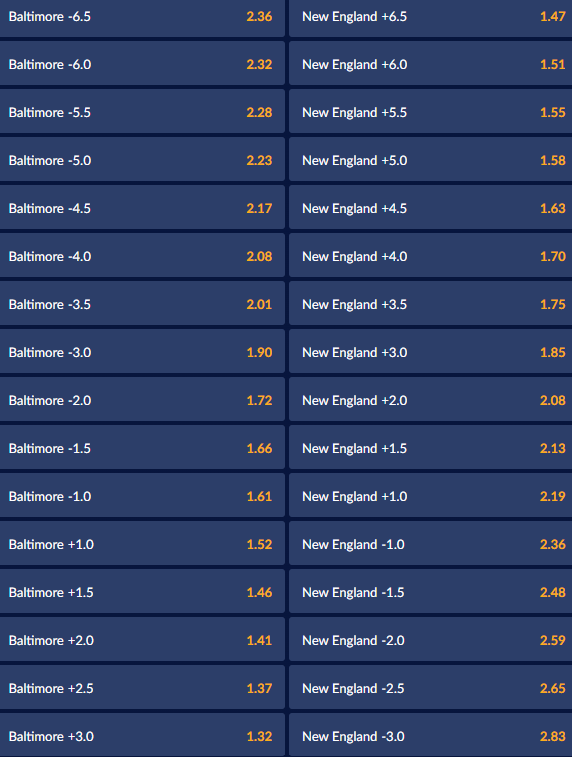 If you want to know more about point spread betting and whether it's the best option for you, check out our point spread betting guide!
NFL Totals Bet
A totals bet (also known as Over/Under betting) is a bet on the total points in a game and whether it is over or under a certain amount.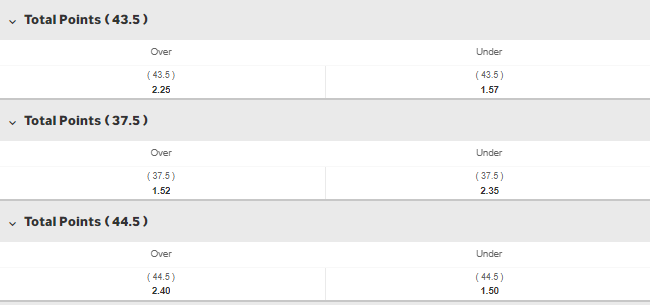 In this example, you can bet that the total points will be over or under a specific amount of points.
Some sportsbooks will list just one option, but others will have a lot of options to choose from, all of them with different odds to reflect the probability of it happening.
bwin is another solid option here, with one of the best selections of options we've seen at Canadian NFL betting sites.
NFL Prop Bets
The good thing about betting on such a popular event is that you're spoilt for choice.
NFL prop bets are numerous, and you'll find more and more of them as the Super Bowl approaches.
But what are prop bets?
You will find NFL prop bets in all forms, but the simplest definition is that these are bets that do not depend on the outcome of a match.
Apart from player props, there are team props, score props, quarter props, and more!
Should you bet using prop bets? Prop bets can be fun, but luck plays a big factor in most prop bets.
This decreases the probability of a win. On the plus side, prop bets are still a small market and NFL betting sites don't pay as much attention to prop bets as they do to the traditional bets.
This opens up more opportunities for value betting, and with some smart bets, you definitely look forward to some profit!
NFL Live Betting
Like all other major leagues and events, you can bet live on the NFL.
What this means is that you can bet while the game is ongoing. This can be interesting when the gameplay doesn't develop as predicted and you have a small window for a favourable bet before the lines change again.
Of course, to place live bets you need to be able to make some quick decisions. That's why we don't recommend it to beginners who might need more time to do thorough research before placing a bet.
NFL Betting Tips
There's no such thing as risk-free betting. Betting is always partly dependent on luck. However, here are a few tips to make smarter bets and reduce your losses.
Manage Your Bankroll
You can bet on the NFL practically all year round, and there's always something to look forward to. This is why you should set monthly budgets to make sure you don't get carried away and exceed your bankroll.
Our sports betting strategy guide delves into detail on how to best manage your bankroll using methods like the Kelly Criterion.
Shop for Odds
As we've already stated, NFL betting options are endless. Although a lot of sportsbooks offer similar odds, there will still be some variation, especially for softer markets like prop bets.
We recommend you sign up to 3-4 NFL betting sites, and check their odds before betting on each event. The few extra dollars really do add up over the months!
Use Your Logic
There are NFL teams that enjoy solid fan support regardless of performance.
What this means is that a lot of bettors will bet on their favourite team without analyzing the true winning probability.
This allows the sportsbooks to offer overpriced lines, knowing that the public will still bet on them, which works in favour of the underdog.
By leaving emotion to the side and use your logic to strategize these betting opportunities, you're going to have an overall better betting performance.
Simple enough, right? Check out our recommendations below and get started today!
FAQs
Can you bet on NFL games in Canada?
Yes, you definitely can! Our chosen NFL betting sites are all great options for Canadian bettors.
Can Canadians bet on the Super Bowl?
Absolutely! There are many legal, safe-to-use sportsbooks available in Canada which offer a plethora of Super Bowl betting options.
Is the NFL or College Football more profitable to bet?
College Football can be more unpredictable than the NFL. College Football players are not seasoned, professional players and they might perform inconsistently when compared to polished NFL teams.
This can lead to more betting profit because of value betting opportunities. However, it can also be unpredictable which will cost you more in the long run. Unless you're a seasoned bettor, we suggest you stick to the NFL.
Do all sportsbooks offer NFL football betting?
NFL is such a popular league that practically all sportsbooks offer it. This doesn't mean that all sportsbooks offer good NFL odds and promotions, which is why we suggest you stick to our recommended NFL betting sites!
Should I bet on the CFL or the NFL in Canada?
Both the CFL and the NFL offer good betting opportunities.
The CFL can be easier to bet on because it involves 9 teams as opposed to 32. Therefore, there's less research involved.
However, the NFL offers more betting opportunity as the season is longer, with more teams involved.
Where can I make bets on the Super Bowl?
When it comes to legal Canadian sportsbooks, they all let you bet on the Super Bowl, given that it's a huge event for sports lovers! Our favourites include Betano, Bet99, and Betway.