Written By:
Jelena Kabić
About Author
Jelena Kabic is a sports betting writer that focusses on responsible gambling. A psychologist by vocation, Jelena volunteered in a rehab facility, where she worked with gambling addicts. She now reviews all our content to ensure it discusses betting in a socially responsible way.
Fact Checked By:
Amy Webb
About Author
Amy's introduction to the gambling world was 6 years ago, when she joined a casino operator as a content specialist. Since then, she's helped launch and maintain gambling review sites in over 8 different countries. She's tested dozens of casinos and sportsbooks, which is how she can spot a subpar brand in an instant!
Best Sites for Betting on MLB | Odds & Bet Types Explained + Compared
Betting on MLB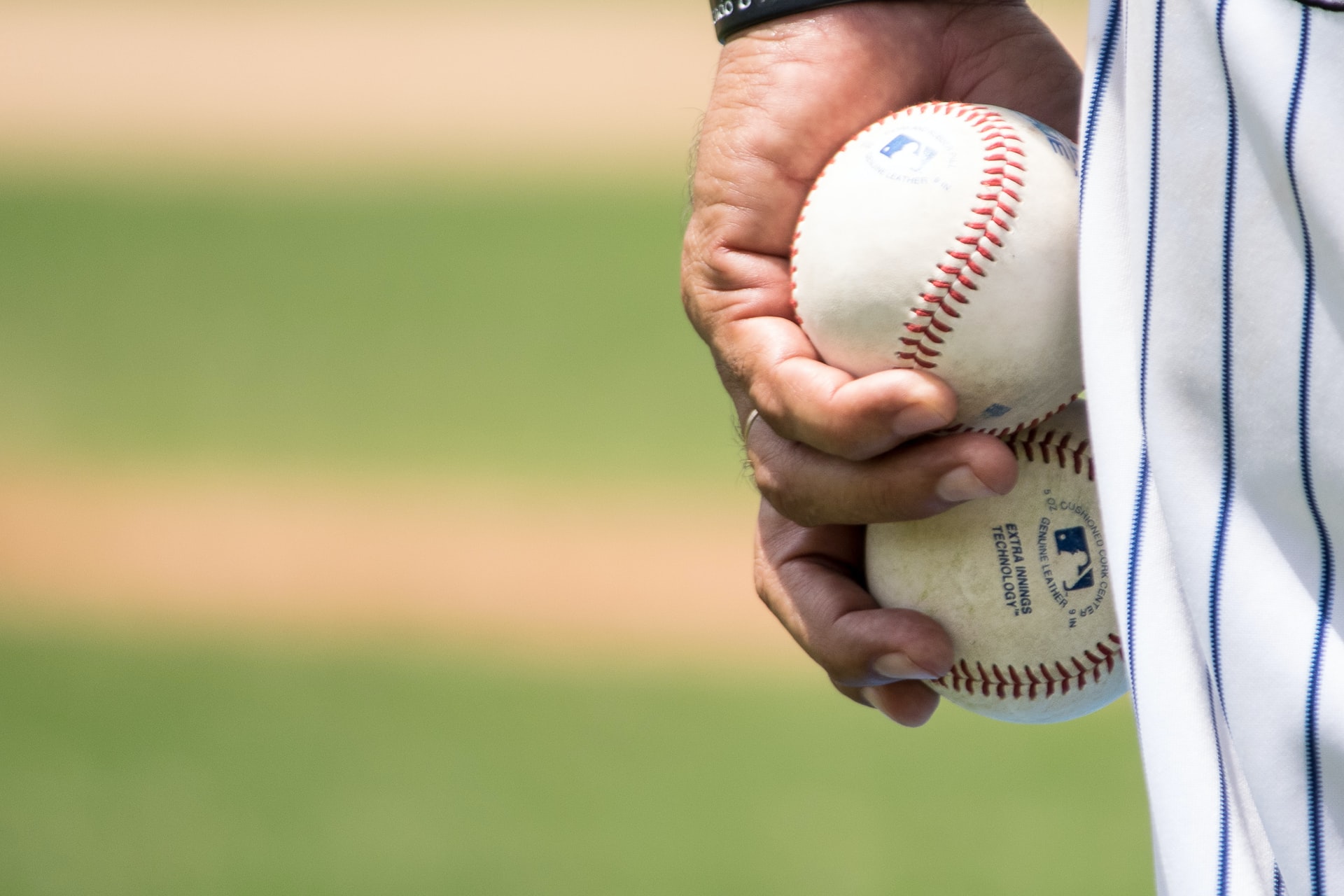 Baseball is among Canadians' favorite sports to watch — and bet on. And of all the major baseball leagues in the world, MLB is (quite literally) the nearest and dearest to them.
But in order to successfully bet on MLB, it's not enough to just love the game.
You need to know all about odds, types of bets, what influences a baseball game and, last but not least, which sportsbooks offer the best odds and most interesting betting markets.
Ready to learn all about it? Keep reading!
The 2023 MLB season is scheduled to kick off on March 30th! With the date fast approaching, it's clear what MLB lovers will be betting on this month.
Bet99 is an excellent sportsbook to bet on MLB, and here's why:
You can eaily check out the teams' performance thanks to a neat statistics tool.

Follow the games live via its live streaming option!

Find more bets than you would at many other Canadian sportsbooks, as Bet99 is famous for its prop bets.
BET ON MLB
How Do You Bet on MLB Games?
If you're just starting to bet on MLB games, here's a step-by-step guide on where to start.
Understand how baseball games work.
If you're an avid fan, you likely already know how baseball games work and what influences them. Following up with the latest stats and injuries will further help you make better betting decisions.
Understand different types of bets and odds.
There are plenty of betting markets sportsbooks allow you to choose from on a given MLB game. In order to pick out the best one(s), you need to know how they work, and which sportsbook offers the best odds for them.
To help you make an informed decision, we'll talk about it in more detail further down.
Once you've mastered bet types and odds, it's time to choose the perfect sportsbook to place your bet at. To help you make a choice, we'll talk about it at length.
Then, you need to register at the chosen sportsbook and place a deposit.
Next, find the MLB match you want to bet at. For example, Betway makes it easy to locate MLB and its matches via Quick Links.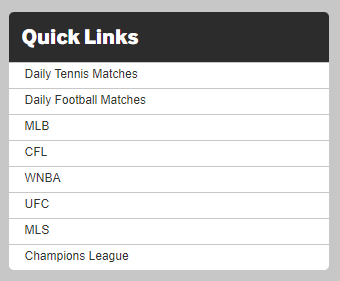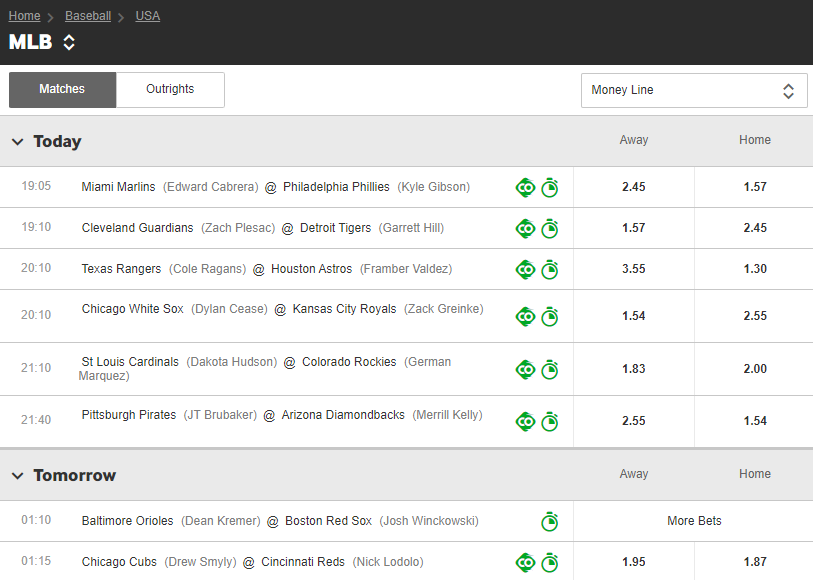 After finding the match you wish to wager at, find the betting market you're interested in.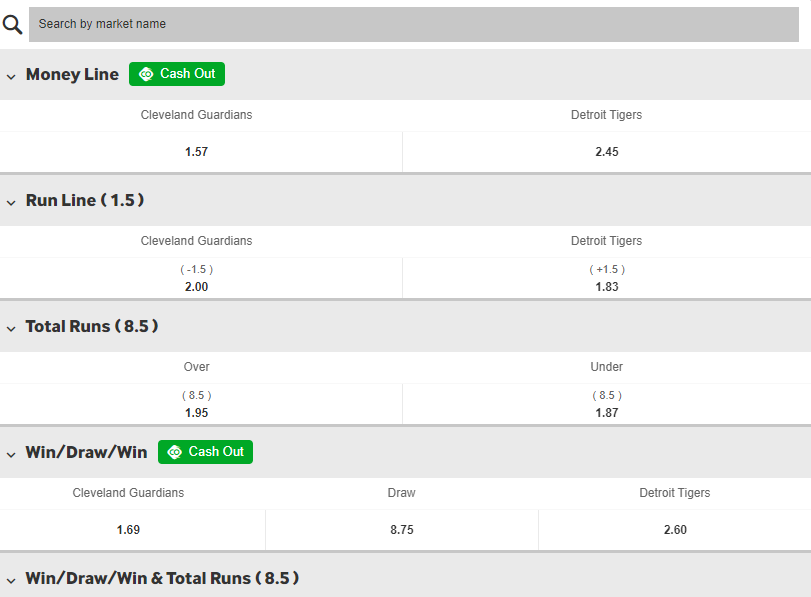 Finally, choose the option you want to bet at, specify the amount you wish to wager and place your first bet.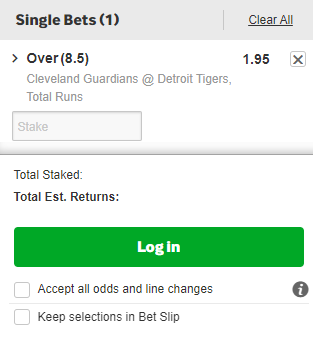 Types of Bets in Baseball
There are several different types of bets in baseball, but the most common ones are moneyline bets and totals (also known as over/under bets).
We'll also talk about run line, futures, and prop bets, which more seasoned bettors (as well as avid MLB fans) tend to enjoy.
Moneyline Bets in MLB
Moneyline bets are as straightforward as MLB bets get, which is why they tend to be the most popular choice. You're placing a bet on which team you think is going to win a match.
The team that's more likely to win is the favourite, while the less likely to win is the underdog.

Knowing when an underdog has decent chances to win can lead you to a value bet.
Win/Draw/Win bets are very similar to moneyline bets, but there's a third option — draw.
Totals Bets in MLB
Totals are another common type of baseball bets. Essentially, you're betting on how many runs there will be in a game. However, it isn't about the exact number of runs.
Rather, you're placing a bet on whether there will be more or fewer runs than a set number.

For example, if you think there will be at least 8 runs in a game, you can bet on "over 7" or "over 7.5".
The .5 in baseball totals is common since they ensure you're either winning or losing a bet, rather than having to be refunded.
Those who want to try more advanced bets can go for run line bets, prop bets, or futures.
The run line bet, or spread, as it's also called, means betting on whether a team is going to "cover the spread". For these types of bets, you'll also see numbers with .5, but this time, there will either be a "+" or a "-" sign before them.

With these wagers, you're wagering on whether the team is going to win or lose by a certain amount of runs. Much like with soccer, spreads in baseball are usually at 1.5 or 2.5, since there generally aren't many points per game.
Here's a quick overview of how it works:
| | |
| --- | --- |
| Spread | Meaning |
| -1.5 | The team will win by at least two runs. |
| +1.5 | The team will lose by no more than two runs, or they will win. |
| -2.5 | The team will win by at least three runs. |
| +2.5 | The team will lose by no more than three runs, or they will win. |
Spreads in baseball betting
Prop bets are the most varied types of bets out there. With prop bets, you're "proposing" what will happen in a match, and it can be plenty of things.
For example, you can bet on:
total pitcher strikeouts
whether a certain player will hit one or 2+ homeruns
player total bases
which pitcher is going to record the win
First Five Innings
Many baseball fans enjoy betting on only the first five innings. You can place any other type of bet here (moneyline, totals, etc.), but it will only apply to the first five innings, rather than the entire game.
Why do this?
Well, if you know the starting pitchers are likely to come on strong, and players more likely to fail later on in the game (think of the lack of focus and stress), it's easier to avoid a missed result if you're only betting at the "strongest" part of the game.
Parlay Bets
Finally, seasoned baseball bettors who are "in it to win it" often choose parlay bets. They let you combine different bet types, although you need to get them all right in order to have a winning bet slip.
So if you think you can correctly guess the result, but also the totals and the best-scoring player, you may want to think about trying a parlay bet or two.
Finally, futures bets are often placed at the beginning of a season. You're usually betting on which team will be in the first place at season's end, but you can also bet on other results: best pitcher, last team in the division…
What Types of Bets are Best in Baseball?
Now that we've covered the most common types of bets in baseball – which are the best ones to place?
The best bet types to start betting on baseball are moneyline and over/under bets.
For one, they're the easiest to understand. So long as you're following MLB, or even if you just take a look at current standings, you'll be able to more or less figure out who's the likely winner between the two.
Even if you're not sure, you can guess the favourite by which team has the lower odds.
As for the totals bets, they're also fairly easy to understand. If you have two teams that usually score a lot, and they're meeting each other, it's likely there will be a lot of runs.
Meanwhile, spread works with smaller differences and can be more difficult to guess. And betting on baseball prop bets requires you to really follow MLB closely!
Which MLB Betting Sites Offer the Best Odds?
To check which of our recommended MLB betting sites offer the best odds, we compared them for moneyline and totals bets.
But first, let's briefly explain how odds work in baseball.
There are three different types of odds:
American odds, written as +150, -150, etc.
Decimal odds, written in the form of 1.50, 2.50…
Fractional odds (used fairly rarely), that look like 4/5, 7/2 etc.
We'll only explain American and decimal odds in more detail, since these odd formats are used most often.
| | | |
| --- | --- | --- |
| | Favourite | Underdog |
| American | -150 | +150 |
| Meaning | You risk $150 to win $100 | You risk $100 to win $150 |
| Decimal | 1.67 | 2.5 |
| Meaning | You win your wager x 1.67 | You win your wager x 2.5 |
American and decimal odds explained
Now that you can recognize the favourite, the underdog, and understand what it means to you in terms of potential winnings, here are some real-life odds we used to compare different sportsbooks.
| | | |
| --- | --- | --- |
| Sportsbook | New York Yankees | Seattle Mariners |
| Betway | 1.76 | 2.10 |
| bwin | 1.85 | 2.05 |
| LeoVegas | 1.78 | 2.10 |
New York Yankees @ Seattle Mariners, moneyline bet
| | | |
| --- | --- | --- |
| Sportsbook | Cincinnati Reds | New York Mets |
| Betway | 3.55 | 1.30 |
| bwin | 3.30 | 1.34 |
| LeoVegas | 3.65 | 1.30 |
Cincinnati Reds @ New York Mets, moneyline bet
Since the NY Yankees @ Seattle Mariners game doesn't have a strong favourite, the fact that bwin offers much higher odds than the other sportsbooks makes them worthy of checking out.
On the other hand, Betway and LeoVegas both have higher odds for the underdog.
Similarly, in the second game, one with a clear favourite (New York Mets), bwin also offers the highest odds.
But if you have a nudge the underdog is going to take this one, then LeoVegas would be the sportsbook to go with.
| | | |
| --- | --- | --- |
| Sportsbook | Over | Under |
| Betway | 1.83 | 2.00 |
| bwin | 1.83 | 2.00 |
| LeoVegas | 1.83 | 2.00 |
New York Yankees @ Seattle Mariners, totals bet (over/under 7)
| | | |
| --- | --- | --- |
| Sportsbook | Over | Under |
| Betway | 1.80 | 2.05 |
| bwin | 1.80 | 2.05 |
| LeoVegas | 1.79 | 2.05 |
Cincinnati Reds @ New York Mets, totals bet (over/under 8)
When it comes to totals bets in these two games, the odds are virtually identical. The only difference is LeoVegas' slightly lower odds for "Over" in the Cincinnati Reds @ New York Mets game.
That means you won't be wrong to go with any of these sportsbooks for a totals bet.
However, Betway does have icing on cake, as it lets you combine moneyline (or win/draw/win) + totals bets on select games. For example, you can bet on Favourite+Over, Underdog+Under, or any other combo.

Are These Betting Sites Legal?
All MLB betting sites we recommend have an iGO license, which means they're fully legal in Canada's only regulated market thus far, Ontario.
Their willingness to offer their services legally in Ontario shows they're safe and offer fair baseball betting options.
However, many of them are available in other provinces as well.
What's more, these online betting websites are focused on responsible gambling, and help bettors get help when they need it.
Which MLB Teams to Bet On
Now that you understand the types of bets in MLB and know which sportsbook you want to bet at, you may be wondering which MLB team you should be betting on.
Based on both how season 2021 ended, and the current standings in the season 2022, some of the good choices include:
New York Yankees
Toronto Blue Jays
Houston Astros
Seattle Mariners
New York Yankees and Toronto Blue Jays have finished last season in, respectively, first and second position in the East division.
The same goes for Houston Astros and Seattle Mariners for the West division.
What's more, all these teams have the same standings this season so far as well.
This makes them the favourites in virtually any MLB game, and a good place to start betting on MLB games.
What Can Influence a Baseball Match?
Knowing which team is the favourite isn't enough. Many different things can influence a baseball match and help decide the winner.
The two most common ones are injuries and weather.
Keeping up with the top players' injuries is something you'll definitely want to do to ensure your bets are as smart as possible.
Toronto Blue Jays may be the clear favourite in a certain game, but if Jordan Romano is away with injury, the underdog may as well come on top.
Weather is another game changer (quite literally) you definitely shouldn't underestimate.
From the temperature to air density, seemingly small things can change the course of a game.
While weather affects many sports, even hockey (players prefer "fat ice"!), it's especially important when it comes to baseball, due to the size of the ball.
For example, during summer months, the ball tends to fly farther due to the dry air. That's why, in theory, home runs would be more likely to happen in August than in, say, October.
Weather that's too hot or too cold can have an effect on players. They will either end up sweating, or their fingers will go slightly numb. In both cases, gripping the ball properly may be more difficult.
Finally, air density can play a pivotal role in deciding the winner. If your favourite player likes throwing curveballs and sliders, lower air density may end up breaking the ball.
Therefore, they're more likely to throw well during spring or autumn months, when the air is denser.
Finally, something as "silly" as cloudy skies can change the course of a game, by affecting how well an outfielder can see the ball.
FAQs
Where can I place a bet in MLB?
What does +1.5 mean in MLB betting?
When you're betting on a run line bet (spread), +1.5 stands for the number of runs a team needs to "cover the spread". So if you bet on +1.5, you'll win the bet if the team you bet on loses by less than 2 runs, or even wins.
How often do underdogs win in MLB?
While underdogs won 44.43% of MLB games in the last 10 years, the situation is a bit different in 2022, as they are only winning 39% of the time. Still, finding an underdog likely to surprise usually yields higher winnings than simply betting on the favourite.
Can you bet on MLB series?
Yes! However, while MLB league games allow for a wider variety of bets, with the MLB World Series, you can generally only bet on the outright winner.
What is the best way to bet on MLB?
To start successfully betting on MLB, you first need to be familiar with the sport and understand the different bet types and odds. Next, choose a good, legal sports betting site, and place your first bet.