Written By:
Jelena Kabić
About Author
Jelena Kabic is a sports betting writer that focusses on responsible gambling. A psychologist by vocation, Jelena volunteered in a rehab facility, where she worked with gambling addicts. She now reviews all our content to ensure it discusses betting in a socially responsible way.
Fact Checked By:
Amy Webb
About Author
Amy's introduction to the gambling world was 6 years ago, when she joined a casino operator as a content specialist. Since then, she's helped launch and maintain gambling review sites in over 8 different countries. She's tested dozens of casinos and sportsbooks, which is how she can spot a subpar brand in an instant!
Best Baccarat Online Casinos in Canada | Play for Real Money
Baccarat Online Casinos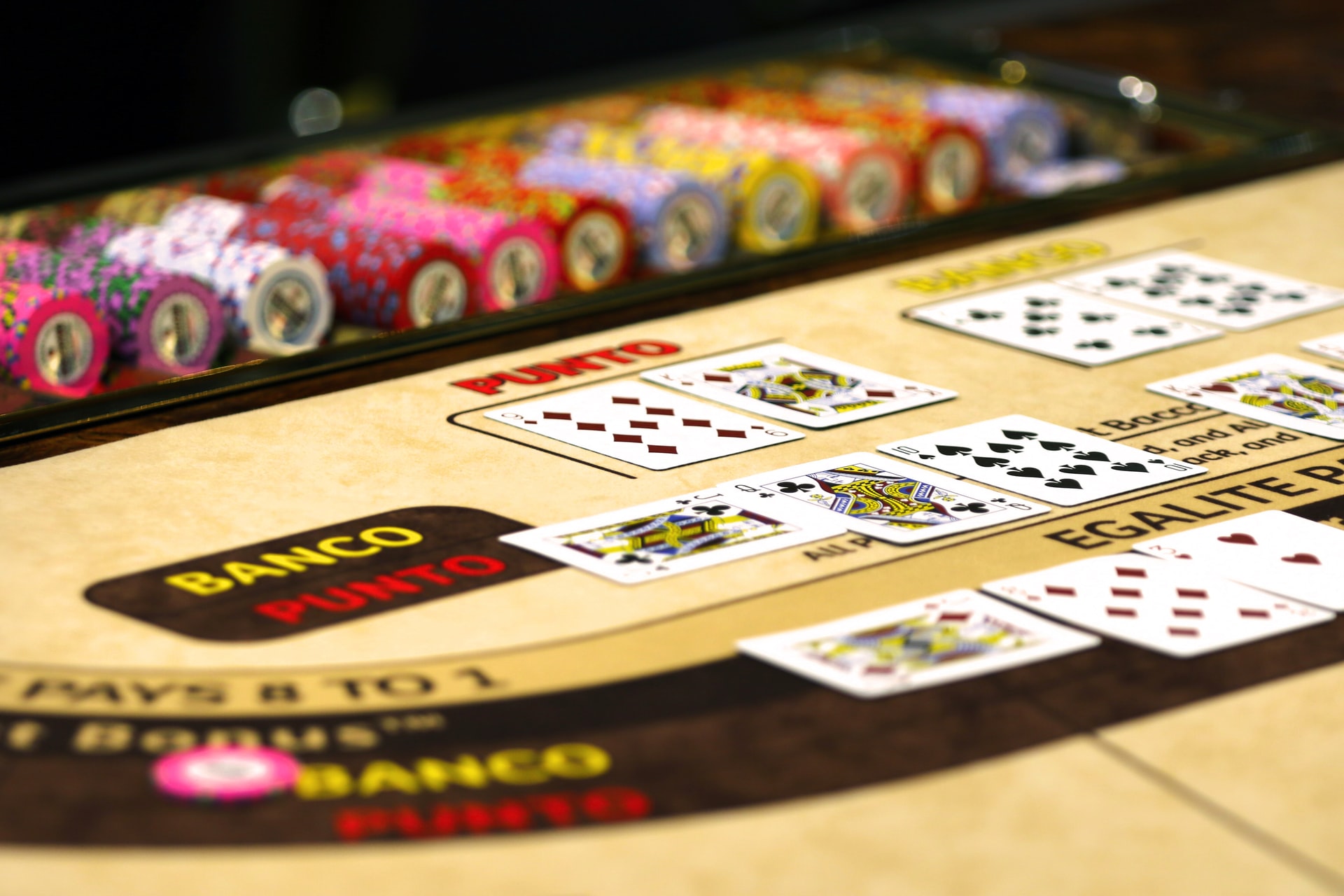 Baccarat is a quick, exciting game to bet on, and the favourite of many seasoned casino-goers (James Bond included!)
In our guide, we'll present you with the best baccarat online casinos available in Canada, the rules of the game, and strategies to follow.
Is Baccarat a Good Game to Play?
Betting Limits Often High
No Advanced Strategy Needed
Because there's no skill involved in playing baccarat, players that dislike it can try games like blackjack, which are more decision-based.
Best Baccarat Online Casinos
Why We Recommend These Online Casinos
While there are plenty of online casinos that offer baccarat, not all of them are safe to play at.
What's more, many of them lack what makes playing baccarat online fun, such as fun side bets or mobile apps for easier access.
The websites we recommend are a great choice due to their:
Safety
Each baccarat online casino we mention has an official iGO license, meaning it's legal in Ontario.
However, many are available in other provinces as well.
Low minimum bets
While online baccarat casinos often have high minimums, casinos like PlayOJO let you play for just $1!
Side bets
Many players are happy just playing classic baccarat, but others find side bets to add to the fun. The casinos we recommend tend to offer interesting side bets to spice up the experience.
Variety of payment methods
Whether you prefer depositing money via iDebit, paysafecard, or the more traditional methods like Visa and Mastercard, you'll find a casino on our list that accepts it.
Ease of use
Nothing kills the thrill of online gambling faster than poor and slow navigation — so we chose online casinos that make it a breeze.
Mobile experience
Baccarat is a short game, perfect for playing on mobile while commuting or just relaxing.
That makes the best betting apps and a good mobile experience crucial.
For some, relying on luck is a good thing, while others prefer having more control over the game.
Overall, baccarat is a simple, fun game to play. The rounds are short with low minimums, high limits, and lots of side bets included.
How to Play Baccarat
Depending on which variation of baccarat you're playing, there will be between seven and 14 seats for the players.
At the start of each round, only two hands are dealt: one for the Banker, and one for the Player. Each gets two cards.
Occasionally, the third card is dealt, but this only happens under certain circumstances.
The premise of the game is simple: you bet on the Player's hand, the Banker's hand, or a tie.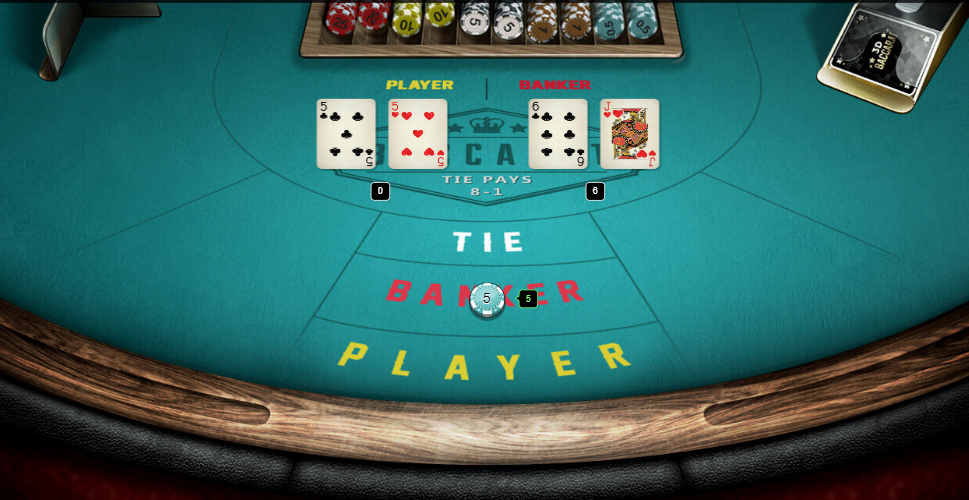 Baccarat Rules
The points in baccarat are counted very easily:
| | |
| --- | --- |
| Picture cards | 0 |
| Aces | 1 |
| Other cards | Their number |
Counting points in baccarat
Once the total amount of points in either the Player or the Banker's corner crosses into double digits, the second number represents the new total.
If the Player has a 7 and a 6, that totals 13. His points now equal the second digit, meaning – 3.
The winning hand in baccarat is the one closest to 9.
When a hand totals 8 or 9, this is called a natural win and the game is over.
However, both the Player and the Banker can draw a third card under certain circumstances.
For the Player, those circumstances are pretty straightforward:
If the player's total is 0-5, and the Banker doesn't have 8 or 9, the Player draws a third card.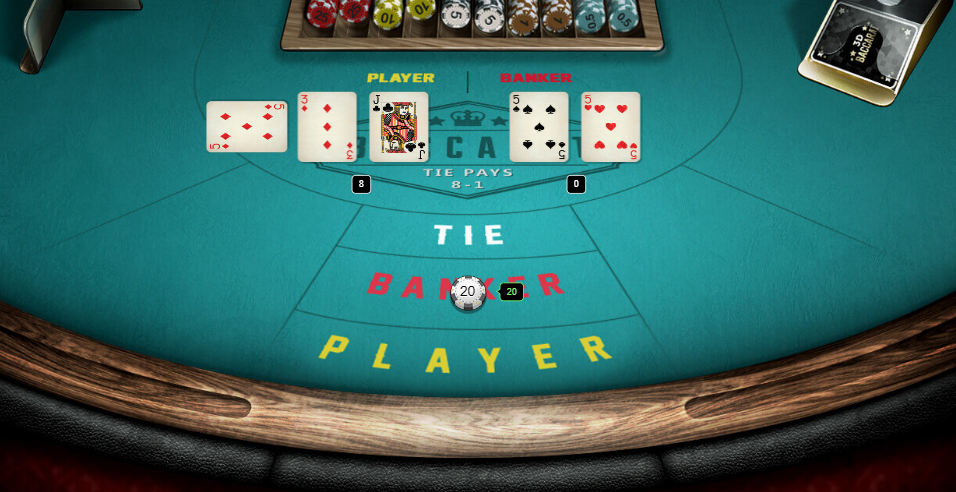 For the banker, there are more rules, and they are somewhat more complicated.
Luckily, you don't need to know them by heart. The more you bet on the game, the easier you'll learn them.
The banker draws a third card if the Player doesn't have 8 or 9, and the Banker's cards are 0-6.
Below is a more detailed overview. If the bank has:
0, 1, 2: The Banker draws.
3: Draws unless the Player's third card is an 8.
4: Draws unless the Player's third card is 0, 1, 8, or 9.
5: Draws if the Player's third card is 4, 5, 6, or 7.
6: Draws if the Player's third card is 6 or 7.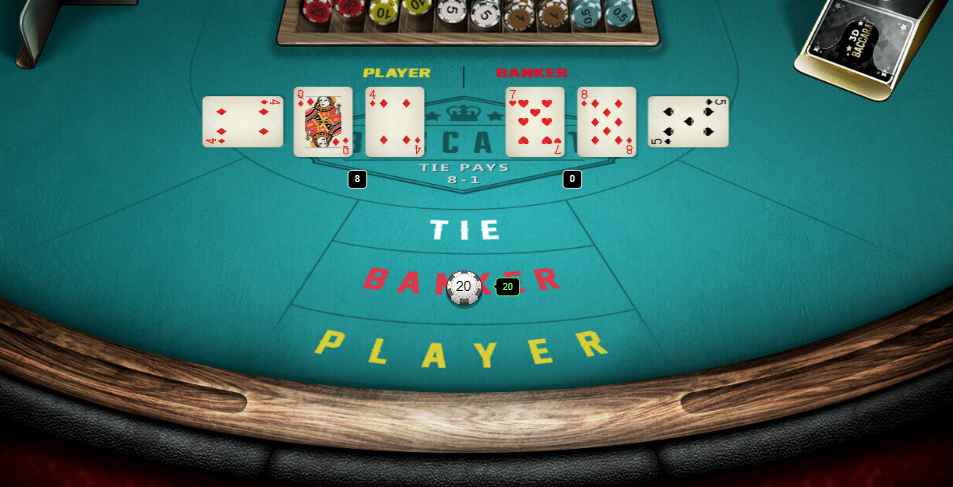 What is Mini Baccarat?
Mini baccarat, more commonly known as punto banco, is the smallest, quickest version of baccarat. It features only 7 players.
Physical casinos often let players touch the cards (as part of the fun, rather than to influence the result) at bigger baccarat tables.
But in mini baccarat, they usually don't.
Additionally, minimum wagers tend to be smaller for mini baccarat, so if you like quick rounds and don't feel like wagering a lot, this would be the ideal version to try.
Other Baccarat Variations
There's also midi and maxi (big) baccarat.
Midi Baccarat
In midi baccarat, there are 9 players. Casinos will usually offer the players with big wagers to see the cards in advance (again, as part of the fun, nothing more).
Big Baccarat
Meanwhile, big (or maxi) baccarat is usually considered the classic baccarat. Featuring 14 players, it also tends to have the longest rounds.
In casinos, players with large bets at the maxi baccarat table will also be offered to see the cards first.
Live Baccarat
When playing online, many baccarat enthusiasts prefer betting on live baccarat.
With a real dealer, the cards being dealt hands-down, and an authentic feel of a baccarat game, the bettors get the sense that they're actually sitting at a casino table.
Chemin de Fer
This version of baccarat — the original one which appeared in France — somewhat differs from the ones we've mentioned thus far.
For one, the number of players is between 8 and 12. All of the players will shuffle the cards before the dealer shuffles them for the final time.
The Banker is the player sitting right next to the dealer, on his right. He is the first to put down the amount of money he's willing to risk.
The players can now either side with the Banker, or bet against him. Once the cards are dealt, the player who bet the highest amount will represent all other players.
The rest of the game is similar to all the other variations: after the two cards are dealt, either the winner is announced, or the third card will be drawn.
3 Card Baccarat
Another version which differs significantly from what you'll usually see is the 3 card baccarat. The difference lies in that three cards are dealt for both the Banker and the Player right away, instead of the usual two.
There is no further dealing after that. The points are added up and whoever is closer to 9 wins.
Some casinos let totals get into double digits for 3 card baccarat, rather then cutting out the first digit.
Side Bets
We already mentioned that side bets are, in part, what makes baccarat so fun to bet on.
There's a multitude of side bets to choose from, and we'll present some of the more interesting ones.
EZ baccarat
EZ baccarat has the same rules as standard baccarat, but it has the option of two side bets.
Dragon 7: you're betting on the Banker's third hand totaling 7.
Panda 8: You're betting on the Player's third hand totaling 8.
With EZ baccarat, there has to be a third hand for you to have a winning chance. That's why Dragon 7 usually pays 40:1, and Panda 8 pays 25:1.
Here are some other fun side bets and how much they usually pay.
Bet
What it is
It pays…
All Red / All Black
The player's hand will be made up of all red/black cards.
22:1 (red)
24:1 (black)
Double 8
Both the Banker and the Player's total will be 8
15:1
Dragon bonus
The winning side will have a natural win by a certain margin.
30:1 (for a margin of 9)
Egalite bets
There will be a tie and the value will be a specific number
80:1 (for 8 or 9)
Royal match
Either the Banker or the Player will be dealt a King and a Queen in their opening hand
75:1 (same suit)
30:1 (different suit)
Fun baccarat side bets
Side bets are a good idea if you're looking for more excitement than simply choosing among three possible outcomes. And should lady luck be on your side, you can get a pretty good payout out of them.
But if all you're after is a quick, simple game, then you can skip the side bets.
What Is the Best Baccarat System?
As we mentioned before, baccarat is essentially a game of luck, not unlike online roulette or Keno. So when choosing your approach, you're actually opting for a betting strategy, rather than a game strategy.
Regardless of your approach, make sure to have both a winning and losing limit.
After all, baccarat (or any other game for that matter) is only fun so long as you're playing for pleasure, and know when to walk away.
Some of the good strategies to try are:
Martingale. In short, the Martingale strategy says you should double your bet every time you lose, and reset the bets when you win.
Fibonacci. This one is a bit more complex. It poses you should follow the Fibonacci sequence with each loss – aka, add the previous number to the current one and make it your next bet.
The Fibonacci sequence starts with: 1, 2, 3, 5, 8, 13, 21… Which means you should start with $1 (or $10).
Should you lose, bet $2/$20, then $3/$30, and reset when you win or hit your limit.
Baccarat is among the games with the lowest house edge of only 1.06%.
Other than these betting strategies, there are a few more baccarat systems you can try to improve your chances.
Keep track of past hands. Use a scoreboard, notice a run, and don't bet against it! Sometimes, the Banker or the Player can have a run of 12 or 16 wins, so it makes more sense to stick with it.
If unsure, bet on the Banker. A tiny house edge is still a house edge, so betting on the Banker is a popular choice. But be aware that a banker winning also means that the dealer gets 5% of your bet.
How Much to Bet at Baccarat
The good thing about baccarat is that there are online casinos that allow you to bet as little as $1! When figuring out how much to bet, there's one golden rule:
Choose the amount of money you wouldn't mind walking away without.
That's the sum of money you should bet on a given day. Just don't bet it all at once, especially in the case of baccarat.
Baccarat rounds are very short, and you likely don't want to spend your entire budget in a couple of minutes.
Another thing to keep in mind are the odds. If you're betting on player or banker, odds are 1:1 (-5% commission if the banker wins).
In the case of a tie bet, chances are 8:1, but there's a good reason. Tie bets win only 9.6% of the time.
FAQs
Can I play baccarat online?
Yes, online baccarat is available at many casinos!
What casinos offer baccarat?
Can you win money playing baccarat?
As with any games at legal, safe online casinos, you can win money by playing baccarat. Whether you'll win and how much depends on luck and the amount you're wagering.
How do you play baccarat and win online?
You can easily play online baccarat, and if you're betting at safe online casinos, you can win, too. It takes some luck, winning and losing limits, and a good betting strategy.