Written By:
Luke Garrison
About Author
Luke Garrison is a professional writer from the Greater Toronto Area in Ontario, Canada. He has been writing about sports, sports betting, and casino-related content since 2011. When he's not writing, you can usually find him at a concert or on the beach.
Fact Checked By:
Jelena Kabić
About Author
Jelena Kabic is a sports betting writer that focusses on responsible gambling. A psychologist by vocation, Jelena volunteered in a rehab facility, where she worked with gambling addicts. She now reviews all our content to ensure it discusses betting in a socially responsible way.
Betano App Review 2023: Casino, Sportsbook & How It Works
Betano App
The Betano app is taking the Great White North by storm, but is it worth the hype? Here at LegalBet Canada, our top priority is to provide you with all of the latest and most relevant information surrounding the Canadian betting scene.
Today, I'll be reviewing whether or not the Betano app is a feasible option for those Canadians looking to get some skin in the game.
LegalBet Canada follows pretty strict criteria when it comes to sportsbooks we trust, and this app review will tell you everything you need to know and more.
Betano App Overview
Available for iOS and Android
Reliable & Functional App
Unique Features like SpeedBet
Casino App Redirects to the Browser
Fairly Easy to Get Logged Out
Betano App Download System Requirements
In order to download and use the Betano app, you must be using a compatible device. System requirements include:
Size: 149.7 megabytes
iPhone & iPod Touch: Compatible with iOS 13 or later
Android: Compatible with Android 5 or later
iPad: Compatible with iPadOS 13 or later
Apple Watch: Compatible with watchOS 5 or later
If you have a device that can run the Betano app, I'd highly recommend using the app instead of the web browser.
In addition to being convenient, the app also comes with special features that aren't available through the web browser version.
Before downloading the Betano app for iOS or Android, be sure to register for a new account on the Betano website – ideally from a PC.
Consult our official Betano review for an in-depth registration walkthrough.
Until recently, Betano was only available in Ontario and therefore couldn't be accessed from other provinces.
But a few weeks ago, the sportsbook and casino became available in the rest of the Canadian provinces as well.
How to Download the App
We found that the app can be easily downloaded off the website, in just two clicks — and there are two separate options to do that.
One lets you download the app by accessing the iOS & Android icon on the left side of the screen:

The other option is scrolling to the bottom of the page.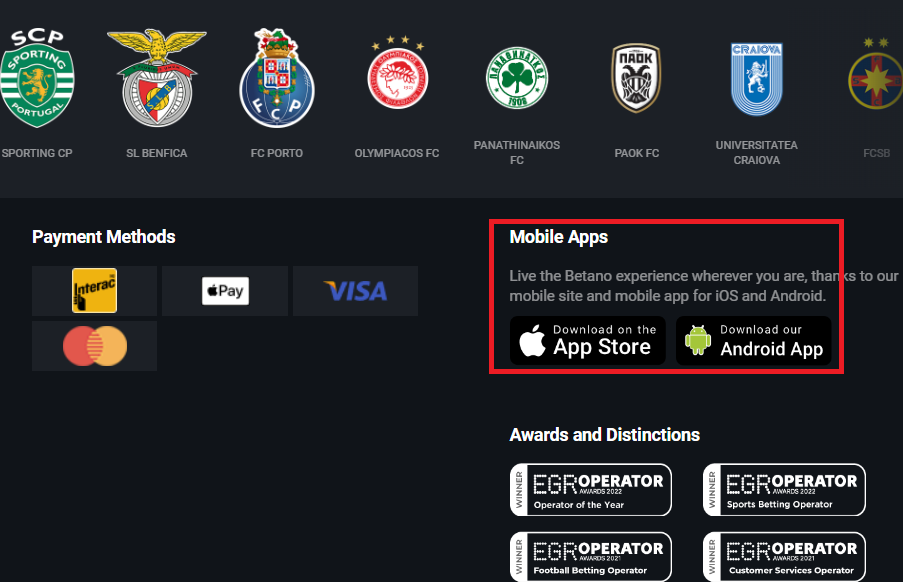 What's more, Betano also has a dedicated guide explaining how to download and use their app.
If you don't want to download the app off the website, you can also do so via the respective app stores, as explained below.
How to Download Betano App for iOS
Easy to Download

Often Automartically Verifies Location
To download the Betano app for iOS from the App Store, you must:
1.Go to the Apple App Store on an iOS-compatible device.
2. Using the search bar, look up 'Betano' and download the official app from the developer 'Kaizen Gaming International Limited.'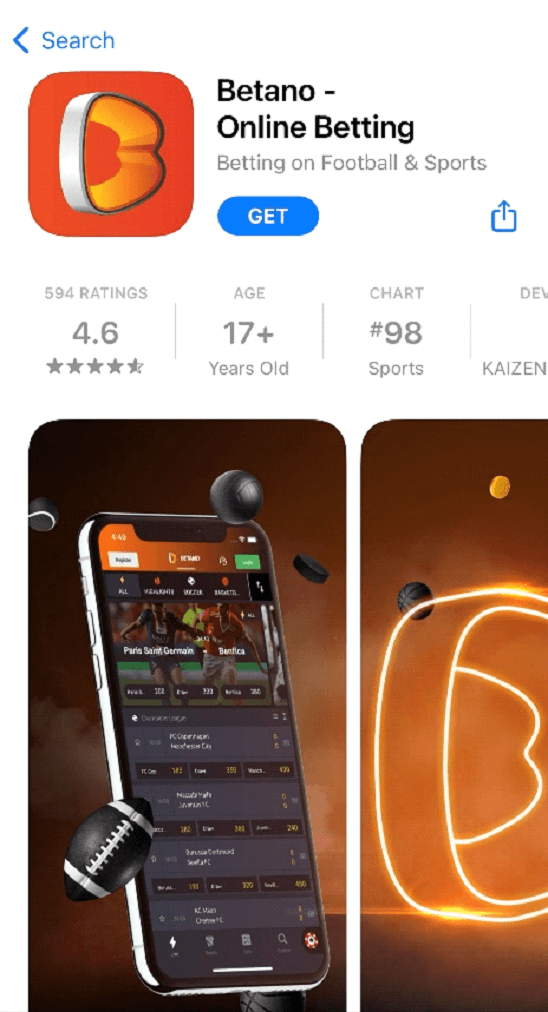 3. Tap 'Get' to begin downloading the app.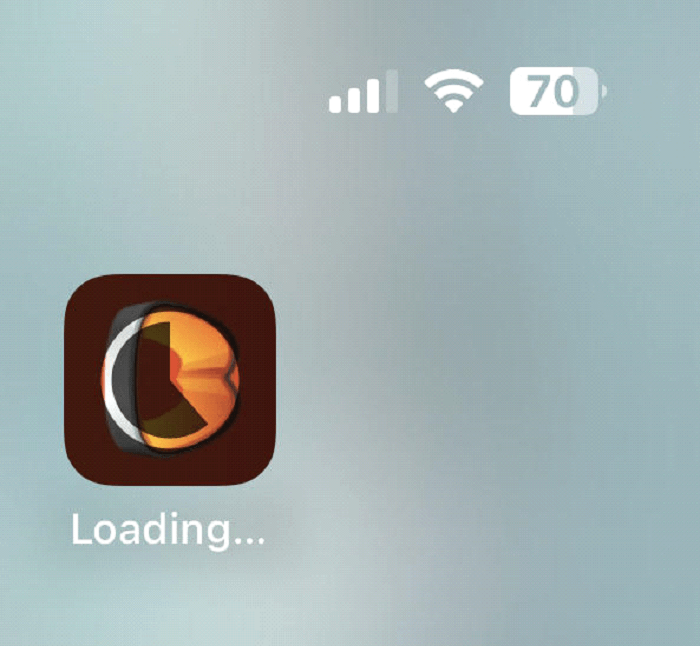 4. After the installation is complete, the app can be opened and you will be able to log in from your mobile device.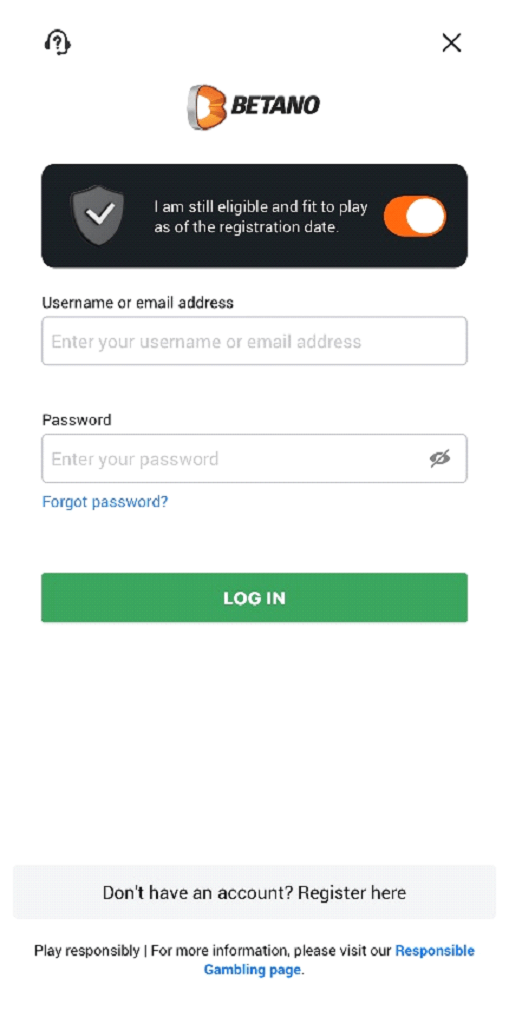 How to Download the Betano App for Android
To download the Betano app for Android from the Play Store, you must:
Go to the Google Play Store on an Android-compatible device.
Using the search bar, look up 'Betano' and download the official app from the developer 'Kaizen Gaming International Limited.'
Tap 'Install' to begin downloading the app.
After the installation is complete, the app can be opened and you will be able to log in from that mobile device.
Confirming your Location
Betano may ask to install a geolocation plugin, usually if you're using a PC with a wired connection.
Since Betano has two separate sportsbooks for Ontario and the rest of Canada bettors, it needs to make sure it's showing you the right interface based on your location.
If using a mobile device, or a PC connected to Wi-Fi, your physical location is often automatically verified via GPS data.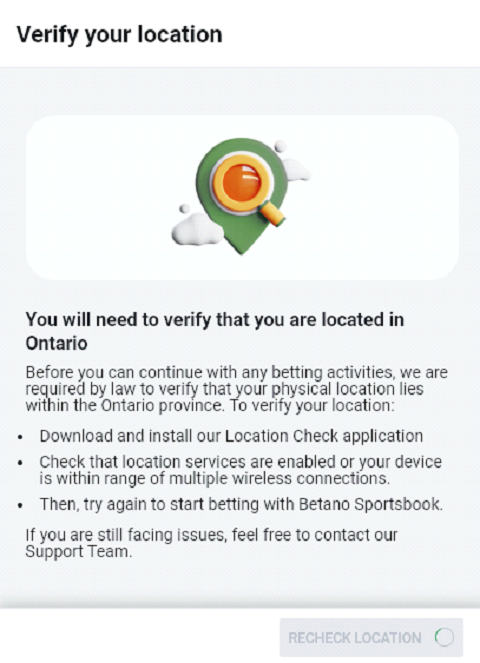 If your physical location can't automatically be tracked, you will get a message similar to the one pictured above. Follow the outlined steps as your first means of troubleshooting.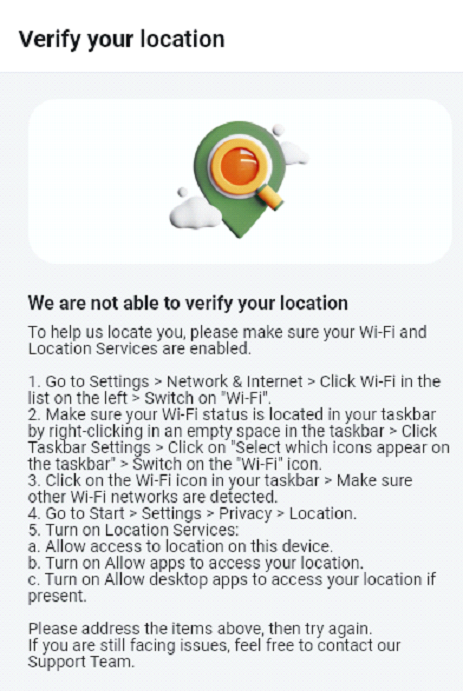 If the location check app is still unable to verify your physical location, you will then receive a message like the one above.
If exhausting these steps doesn't lead to a solution, the Betano Support Team is available to provide further assistance via email, live chat, and/or social media channels.
Is Betano App Safe?
Yes, Betano is a well-established, world-wide brand with an official operator license issued by iGaming Ontario. The site is also overseen by the AGCO in partnership with iGaming Ontario.
Additionally, Betano's website states that 'Kaizen is committed to endorsing responsible gaming (RG) as well as promoting the awareness of problem gambling and improving prevention and intervention'.
Betano App's Look and Feel
Quick Tabs Make Navigating Simple

Dark Mode Available

Casino App Redirected to Browser

Auto-Logouts Fairly Common
One of the best things about the Betano app is its organized design. The bottom of the screen features convenient quick tabs that make navigating easy.
Other built-in features, such as dark mode, give the app an even sleeker look if that's your prerogative. The ability to go incognito is also a nice privacy option.
The only caveats are the frequency with which you are signed out and the lack of a true mobile casino.
Accidentally closing the app for even a second can lead to an auto-logout; however, it's also easy to get back in via facial recognition.
Clicking 'Casino' under the 'Explore' tab will unfortunately re-direct you to the web browser.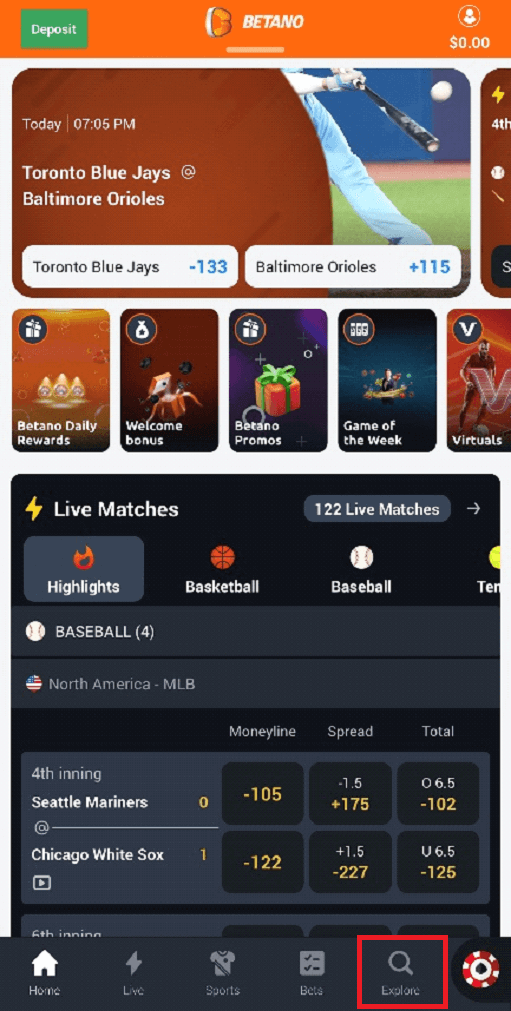 The app is well-made, but it will definitely become much better once the mobile casino is enabled.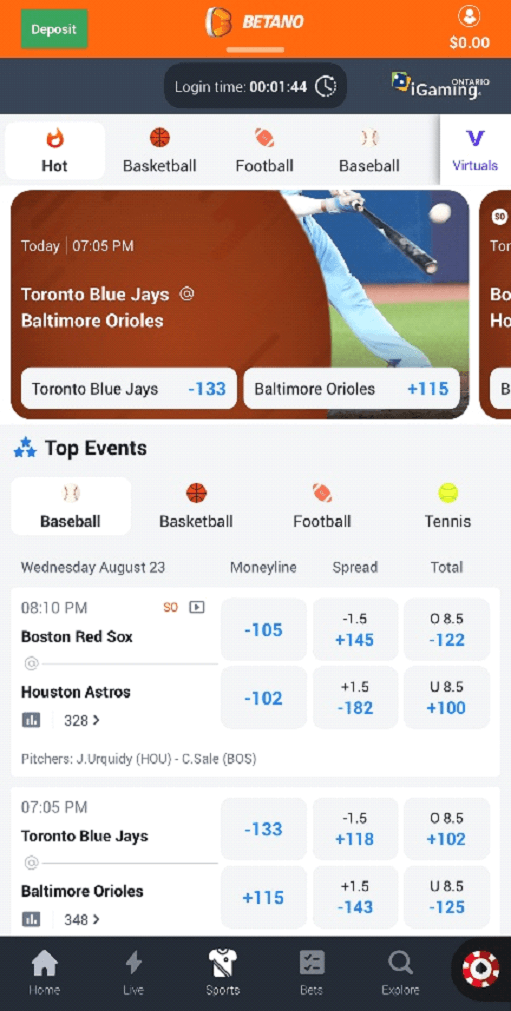 Betano Sportsbook App Review
Live Betting Tab

Highlights Sub-Tab
The aesthetic of Betano's app design, combined with the smooth gaming engine behind the scenes, makes it easy to engage in on-the-go sports betting.
A dedicated live betting tab is the hallmark of any worthwhile sportsbook app, and Betano has a good one.
Live sports betting events can be sorted in a variety of ways including alphabetically and by start time.
The selection of sports is unique as there are even rarer betting markets like snooker and darts.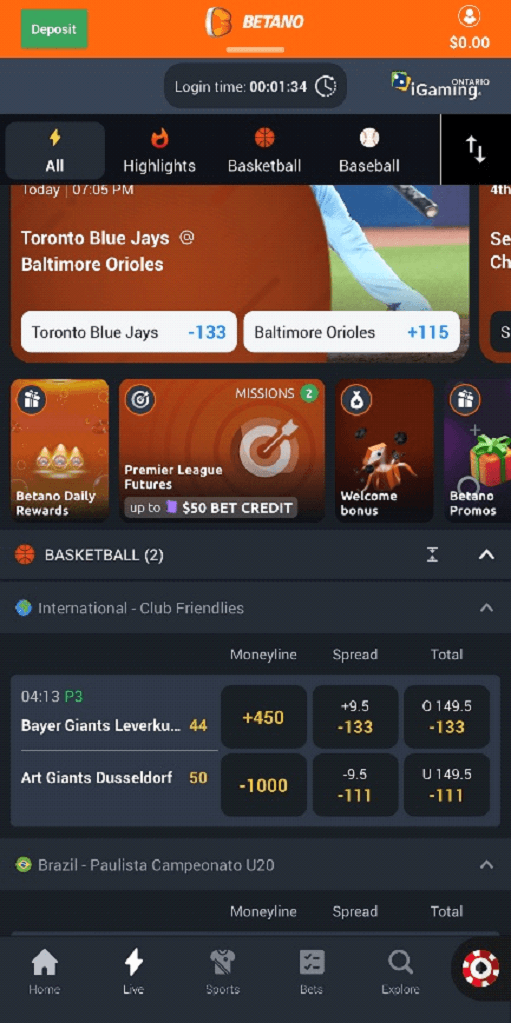 There's also a 'Highlights' sub-tab that will show the best live sports that are currently available for betting.
Bugs will sometimes arise, but the app is generally reliable and features a wide array of sports to choose from.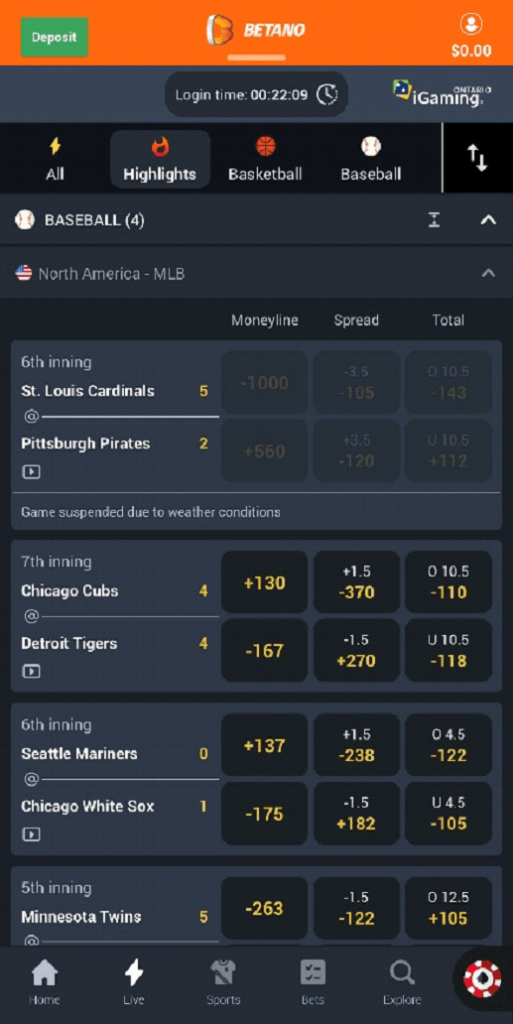 Betano Sportsbook – Unique Mobile Features
Watch & Bet on Virtuals

Smart Notifications

Customizable "My Live" Tab
There are a couple of cool features that make the Betano Sportsbook app unique.
One is the ability to watch and bet on virtuals via the 'Virtuals' option under the 'Explore' tab.
Others include some of the app's special functionalities including 'Smart Notifications', 'Speedbet', and 'My Live'.
Smart Notifications: Get notifications about specific news items including (but not limited to) game updates.
SpeedBet: Place a bet in just two seconds with this feature. Just press and hold on to any odds' selection to use SpeedBet.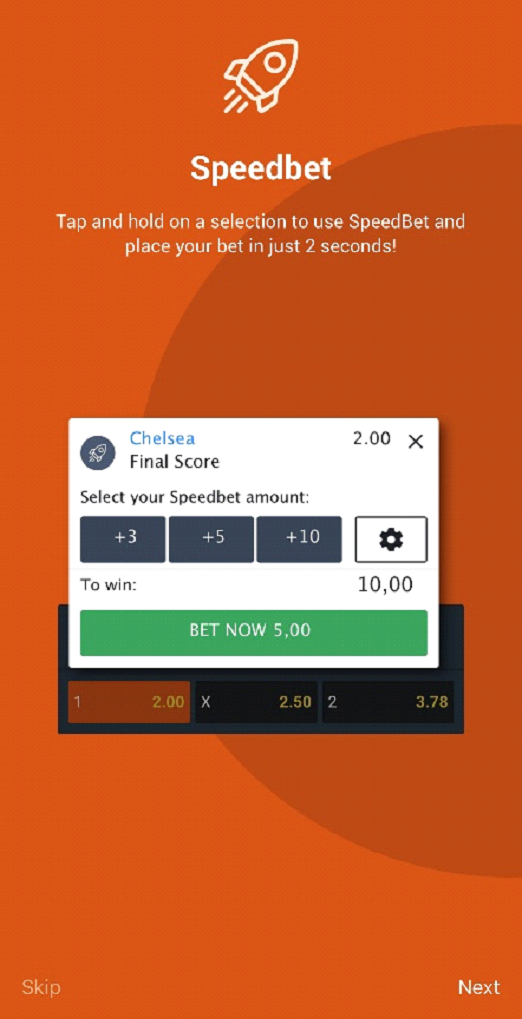 My Live: Setup your 'My Live' page any way you'd like. Choose the sports and events you'd like to see first when you click on your 'My Live' dedicated tab.
Betano Casino App Review
1700+ Games

14 Software Providers

Cannot be Accessed via App
The Betano Casino catalogue is rich with games to choose from. There are 1,741 different games stemming from 14 casino software providers, which has a lot of appeal in its own right.
Unfortunately, the Betano Casino cannot be accessed directly through the app.
There is a 'Casino' button under the 'Explore' tab, but all it does is re-direct you to the mobile browser.
The game selection may be impressive, but the lack of a true mobile casino app is a bit of a head-scratcher.
FAQs
Is downloading the Betano app worthwhile?
Yes, the Betano app is worth downloading. Betano was actually voted 'Operator of the Year' at the 2022 EGR Awards and boasts a 4.6-star rating on iOS and a 4.3-star rating on Android. It's also ranked within the 'Top-100 Sports Apps' at the Apple App Store.
Can I find the app on both the Apple Store and the Google Play Store?
Yes, you can find the Betano app at both the Apple Store and the Google Play Store. Betano can also be used via web browser on PCs and mobile devices, however it's not recommended as the app provides a superior experience.
Do I need to download location software in order for the app to work?
Yes, you may be asked to install a geolocation plugin if using a PC with a wired connection. If using a mobile device, or a PC connected to Wi-Fi, your physical location is often automatically verified via GPS data.
How much storage space do I need to download the app?
The Betano app occupies 149.7 megabytes of storage space on iOS and Android. More space may also be temporarily required during app use depending on the functions being accessed.