Written By:
Jelena Kabić
About Author
Jelena Kabic is a sports betting writer that focusses on responsible gambling. A psychologist by vocation, Jelena volunteered in a rehab facility, where she worked with gambling addicts. She now reviews all our content to ensure it discusses betting in a socially responsible way.
Fact Checked By:
Ana Gomes de Almeida
About Author
Before joining the team three years ago, Ana worked for five years behind the scenes for household brands like Betway and Betsson. She knows the ins and outs of casinos and sports betting sites. Having witnessed both the positive and negative aspects of the industry, she's eager to share her expertise with fellow punters.
Responsible Gambling Tools (And How They Work)
Responsible Gambling Tools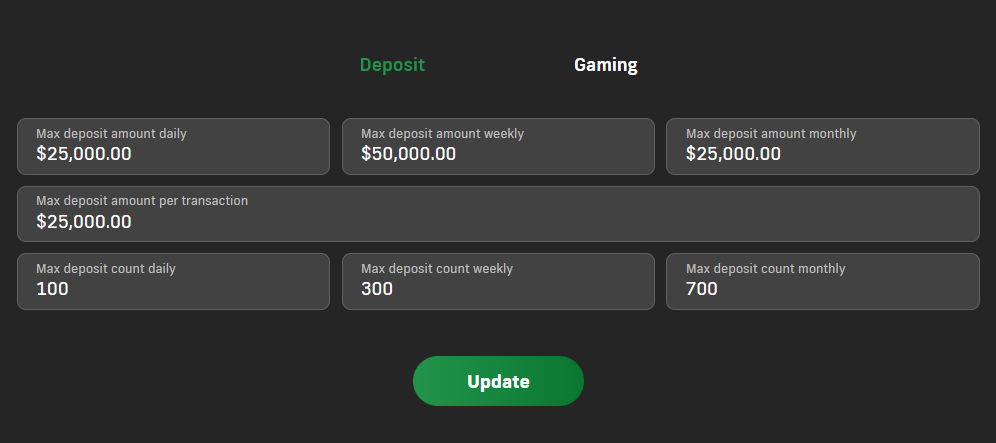 At Legalbet Canada, we understand the importance of responsible gambling practices and always ensure the sportsbooks we recommend have all the tools necessary to help individuals maintain control and enjoy their betting experiences.
In this article, we will explore those gambling tools, explain how you can make the most of them, and how they can contribute to a safer gambling environment.
What Does It Mean to Gamble Responsibly?
Responsible gambling, in essence, is the practice of engaging in betting activities while maintaining control over your actions and ensuring that gambling remains an enjoyable and entertaining pastime.
If you are in charge of your betting activities, you're gambling responsibly. If they're in charge of you, you're on the wrong path.
Responsible gambling involves understanding the risks involved, setting limits, and utilizing tools that promote responsible behaviour.
Are Gambling Tools Obligatory for Sportsbooks?
One of the biggest reasons we recommend you always stick to regulated sportsbooks (in Canada, that means going for those with an iGaming Ontario license) is precisely due to their obligations when it comes to responsible gambling.
Between making it clear that gambling can lead to addiction and providing enough responsible gambling tools to help prevent and recognize it on time, legal sportsbooks are the best place to be placing your wagers.
After all, responsible gambling tools are not only beneficial for individuals, but they also contribute to the overall integrity and reputation of the sportsbook.
That said, the inclusion of different responsible gambling tools does vary among sportsbooks, and not all those we'll cover below will exist on all sportsbooks in the same way.
For example, bet365 has Reality Checks (which we'll cover in detail below), while Betano gives easy access to software that can protect minors from betting.
These sportsbooks ensure you're betting responsibly and have enough tools to stay on the right path:
Sportsbook
Responsible Gambling Tools
Betano
Loss & financial limits
Self-exclusion and Take a Break options
Gambling problems awareness information
Information and tools to protect minors
Links to find help and support
Bet99
Deposit & loss limits
Time out option
Self-exclusion
Local help contacts
Self-assessment tests
Information about warning signs
bet365
Gambling activity tracking
Deposit & loss limits
Reality checks
Time out option
Self-exclusion
Now let's explore some of these and see how you can use them to stay safe while betting.
Different Responsible Gambling Tools & Their Purpose
Some of the responsible gambling tools you'll be able to locate in Canadian sportsbooks are:
Deposit and loss limits
By setting daily, weekly, or monthly deposit/loss limits, you can control the amount of money you spend on gambling.
These limits help prevent excessive spending, promote responsible bankroll management, and maintain a healthy balance between gambling and personal finances.
What's more, most sportsbooks won't let you increase these limits that easily. It will take between 24 and 72 hours for the new limits to be set, giving you enough time to get help if you need it.
How to use deposit limits:
To set deposit limits, you'll usually have to go to your account and locate the "Limits" button. Follow the instructions provided, and choose the desired limits that suit your gambling budget and financial situation.

The "Deposit" tab refers to deposit limits, while the "Gambling" tab lets you set loss and transaction limits.
Most sportsbooks urge you to set these limits as soon as you sign up, and navigate you to this segment of their website.
Time Limits and Session Reminders (Reality Checks)
Users can set limits on the amount of time they spend gambling and receive reminders to take breaks during their betting sessions. This tool helps prevent excessive gambling, encourages balanced gameplay, and ensures individuals have time for other important aspects of their lives.
How to use it time limits:
Access the responsible gambling settings and locate the "Time limits and session reminders" or "Reality checks" option. Set the duration for your gambling sessions and choose the frequency of reminders that best suits your habits.
Self-Exclusion
This tool allows you to restrict or exclude yourself from accessing gambling websites or participating in online gambling activities for a predetermined period.
It is designed to help individuals who feel they have a gambling problem by providing a tool to limit their own access to gambling platforms and reduce the potential harm caused by excessive gambling.
How to use self-exclusion:
On most sportsbooks, you'll be able to locate the self-exclusion tool simply by visiting your account. Then choose whether you want to exclude yourself for a while or permanently.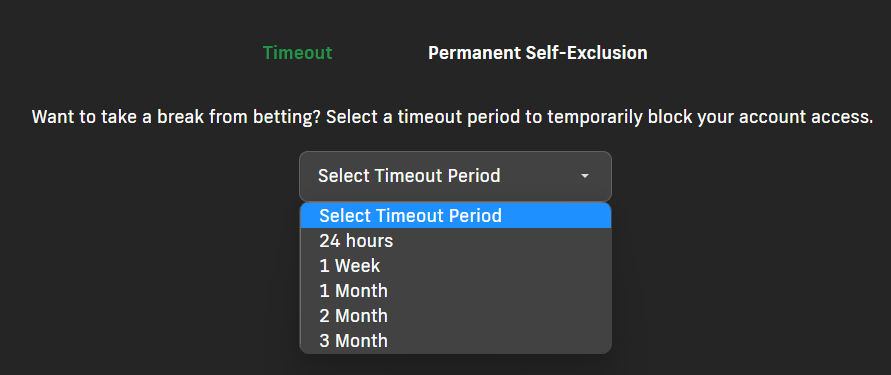 Self-Assessment Tests
Gambling addiction tests, also known as self-assessment tests or self tests, are designed to evaluate an individual's gambling behaviour and measure their risk of developing a gambling addiction.
These tests typically consist of a series of questions that delve into various aspects of gambling habits, attitudes, and consequences.
The responses you provide can help generate an assessment of your gambling behaviour and indicate whether further action or support may be necessary.
How to use a self-assessment test:
Navigate to the responsible gambling section of the sportsbook you're at. You should be able to easily locate the self-assessment test.
Once you decide to do it, we encourage you to always be honest with the answers, as this can help identify problem gambling and prevent gambling addiction.

Responsible Gambling Information and Resources
Finally, sportsbooks often provide access to valuable information and resources related to responsible gambling.
These resources include educational materials and contact details for helplines or support organizations. Make use of these resources to enhance your understanding of responsible gambling practices and seek assistance if needed.
The Importance of Identity (and Age) Verification
To ensure a safe gambling environment, sportsbooks also implement strict age and identity verification measures. These measures are put in place to prevent underage gambling and ensure that individuals are who they claim to be.
As we recently wrote, minors are more prone to developing gambling problems, so having a KYC (Know Your Customer) process is an additional step to help promote responsible gambling.
By verifying the identity and age of users, sportsbooks create a more responsible and secure betting environment for all participants.
Additional Responsible Gambling Practices
Several other things encourage responsible gambling, and you should also look for those when accessing different sportsbooks and casinos:
"Gamble Responsibly" Messaging: Pay attention to the responsible gambling messaging displayed on the sportsbook platform. These messages often remind users to gamble responsibly and provide access to responsible gambling tools and resources.
Collaboration with Responsible Gambling Organizations: It is worth noting that major sportsbooks have taken the initiative to collaborate with responsible gambling organizations. Many operators, such as bet365, have committed to donating a portion of their profits towards promoting responsible gambling and supporting initiatives that address problem gambling. This commitment demonstrates their dedication to fostering a safe and responsible gambling environment.
How to Stay Safe While Gambling: Conclusion
In conclusion, responsible gambling tools are essential for sportsbooks to promote a safe and enjoyable betting experience.
By offering deposit limits, time limits, reality checks, self-exclusion, and access to responsible gambling information and resources, sportsbooks empower their users to maintain control over their gambling activities.
We urge all individuals engaging in gambling to take advantage of these tools and make responsible gambling a priority.
Remember, responsible gambling is about having fun while staying in control.
Set limits, take breaks, and utilize the resources available to you. Always gamble responsibly and seek help if you feel that your gambling habits are becoming problematic.
Together, we can create a gambling environment that prioritizes the well-being of individuals and ensures that betting remains an enjoyable and safe form of entertainment.
FAQs
How do you ensure responsible gambling?
Firstly, set limits on your betting activities, both in terms of time and money. Stay informed about the risks involved with gambling, and make well-informed decisions based on this knowledge. Regularly assess your gambling behaviour and seek help if you feel it is becoming problematic. Utilize self-exclusion options provided by gambling platforms if you need a break.
How do casinos promote responsible gambling?
Casinos promote responsible gambling through various strategies. They implement age verification procedures to ensure only legal-age individuals can access their services. They offer responsible gambling tools such as self-exclusion programs and limit-setting options for players. Additionally, casinos provide educational materials about the risks of gambling and collaborate with organizations that provide support for problem gambling.
How do you maintain discipline in gambling?
Maintaining discipline in gambling requires setting clear boundaries and adhering to them. This includes establishing a gambling budget and sticking to it, avoiding chasing losses, and knowing when to walk away. Developing a strategy, such as using a predetermined betting system, can also help in maintaining discipline and making rational decisions rather than succumbing to impulsive behaviour.