A Complete Guide to How a Betting Bonus Works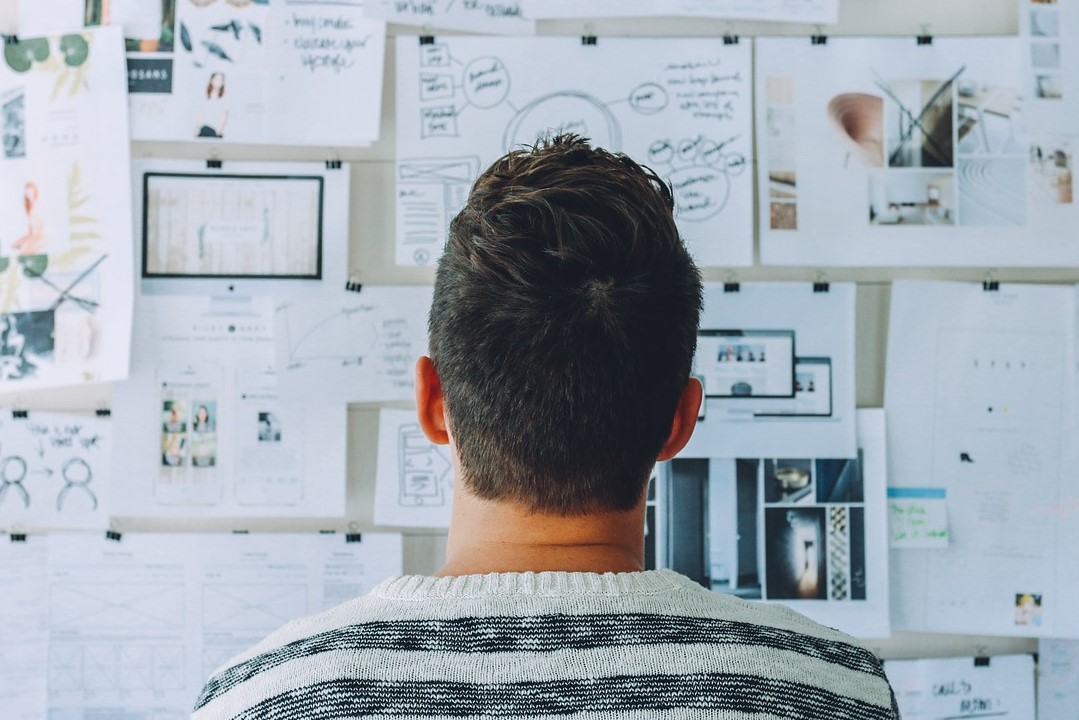 Wagering requirements? Rollover? Match Deposit?
If you're baffled by all these bonus terms, you're not alone. It can be difficult to understand how betting bonuses work, but that is where we come in!
On this page, we explain the ins and outs of bonuses at gambling sites. We'll look at different types of bonuses, wagering requirements, terms and conditions, and a lot more!
By the end of our guide, you'll be a bonus pro!
What is a Sportsbook Bonus?
In simple terms, a sportsbook bonus is free money offered by a sportsbook that you can use to bet.
While this may seem counterproductive for the sportsbook, bonuses are a great way to attract bettors and maintain a loyal customer base. This is crucial for a sportsbook to be successful in a very competitive market.
As we will explain below, these bonuses can appear in different forms.
Deposit Bonus
A deposit bonus is the most common bonus you'll find at sportsbooks. You can also find deposit bonuses described as match deposit bonuses.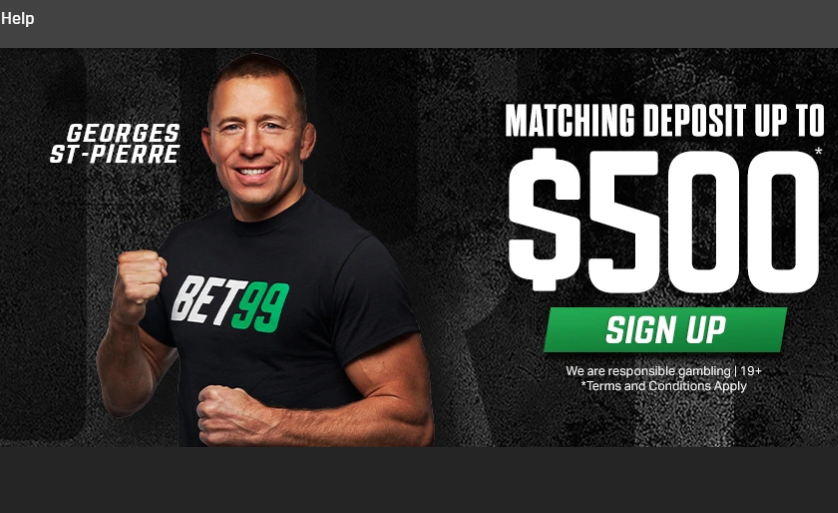 In the example above, Bet99 is offering a 100% match deposit bonus of up to $500.
What this means is that your deposit is matched with a bonus of an equal amount. Let's look at a few scenarios:
| Deposit Amount | Bonus Received | Total Bankroll |
| --- | --- | --- |
| $20 | $20 | $40 |
| $150 | $150 | $300 |
| $300 | $300 | $600 |
| $500 | $500 | $1000 |
| $700 | $500 | $1200 |
100% up to $500 Bonus
The bonus matches the deposit amount except in the last example. Although we deposited $700, the offer only matches up to $500, so that's the maximum bonus we can receive.
The vast majority of deposit bonuses will offer a 100% match, however, you can also find a 50% match that matches half your deposit.
For example, you deposit $20 on a 50% up to $100. The bonus you'll receive will be $10.
What we love about a match deposit bonus is that you can use it for multiple bets. This gives you more flexibility and reduces your betting risk.
No Deposit Bonus
A sportsbook rarely offers a no deposit bonus, but you will find casino no deposit bonuses.
A no deposit bonus does not require a deposit and is offered to players upon registration of a new account.
Here's an example from 888 Casino: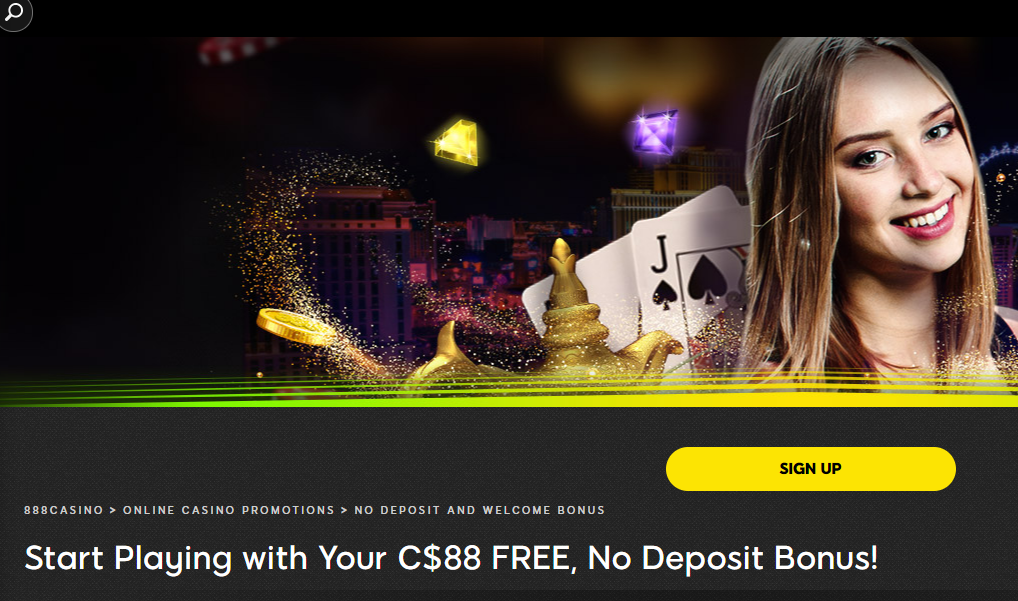 In this example, 888 casino is offering an $88 no deposit bonus upon registration. The amount is above average, as no deposit bonuses do not usually exceed $20.
A no deposit bonus has its perks:
Bet at a gambling site without making a deposit
Faster to claim because less paperwork is needed
Good way to test the site without a personal money commitment
If you think this is too good to be true, you're kind of right.
You have to be extra careful with no deposit bonuses because they have stricter terms and conditions.
These include:
Higher wagering requirements than deposit bonuses
A low cap on winnings
Tight time restriction for wagering requirements
This doesn't mean that no deposit bonuses are not worth claiming, but we advise you to always read the terms and conditions before claiming any bonus.
Free Bet Bonus
The term 'free bet' can be slightly confusing as not every sportsbook uses this term in the same way.
Some sportsbooks use 'free bet' as a general term for all sportsbook bonuses. In fact, you might see a match deposit bonus marketed as a free bet.
However, the term 'free bet' is often used to refer to bonus credit that you can use in one go.
Free bets are also frequent, ongoing promotions at a sportsbook and are generally tied to specific events.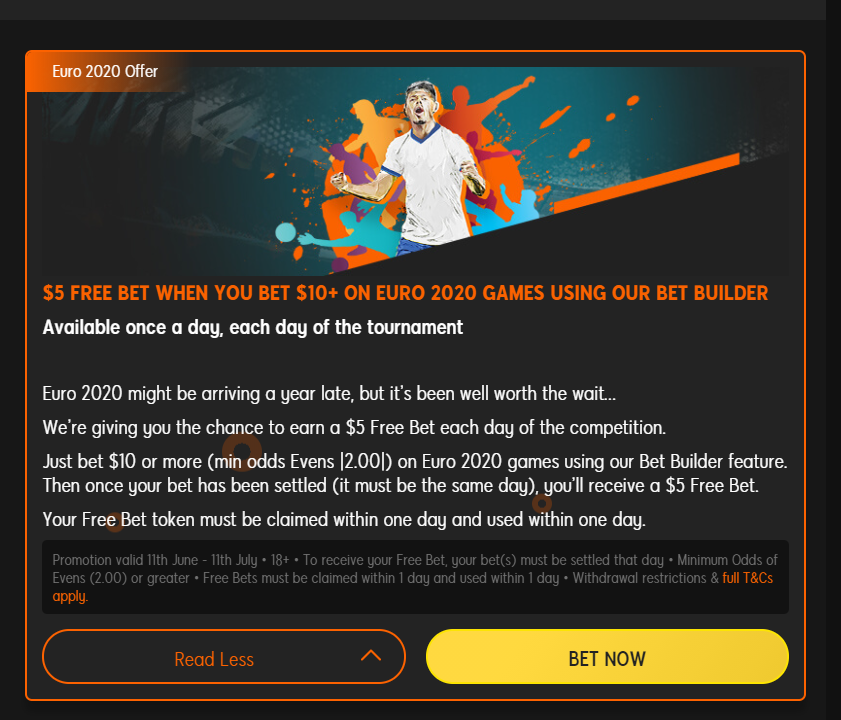 In this example from 888 Sport, the sportsbook is offering a $5 free bet when you bet $10+ on the Euro 2020.
There are two important things to take note for free bets.
A free bet can't be separated into smaller bets. You have to use the total amount in one bet.
If you win a bet with your free bet token, you will only receive the winnings. The free bet stake will not be included in your returns. Here's how it works:
| Bet Amount | Win | Payout |
| --- | --- | --- |
| $5 Free Bet | $50 | $50 |
| $5 Normal Bet | $50 | $55 |
VIP Bonus
VIP bonuses can be found at sportsbooks (and casinos) with a VIP program, such as 10bet. A VIP program can also be referred to as a Loyalty Club.
VIP bonuses are bonuses that you would start receiving once you've reached a certain level on the VIP scale.
They are generally exclusive bonuses that offer bigger amounts and more favourable odds.
Cashback Bonus
A cashback bonus is a bonus where part of your bet is returned to you. You will also see cashback bonuses referred to as Risk Free Bets, as in the example below: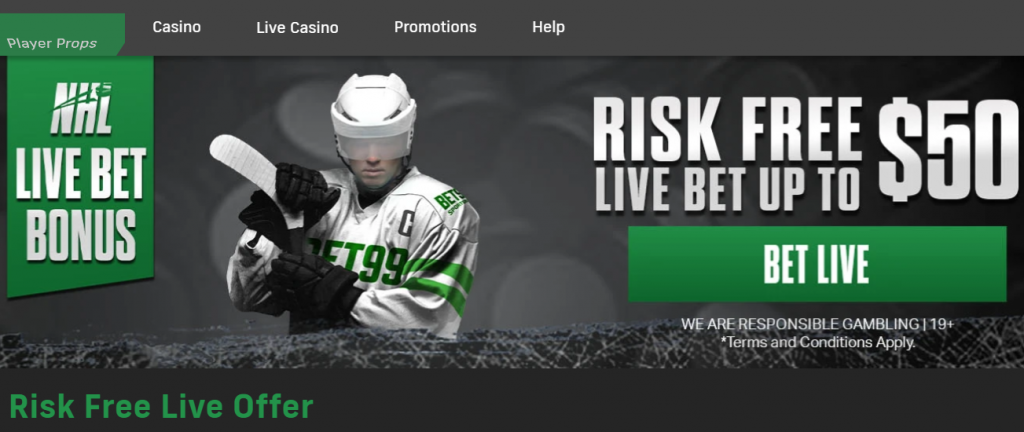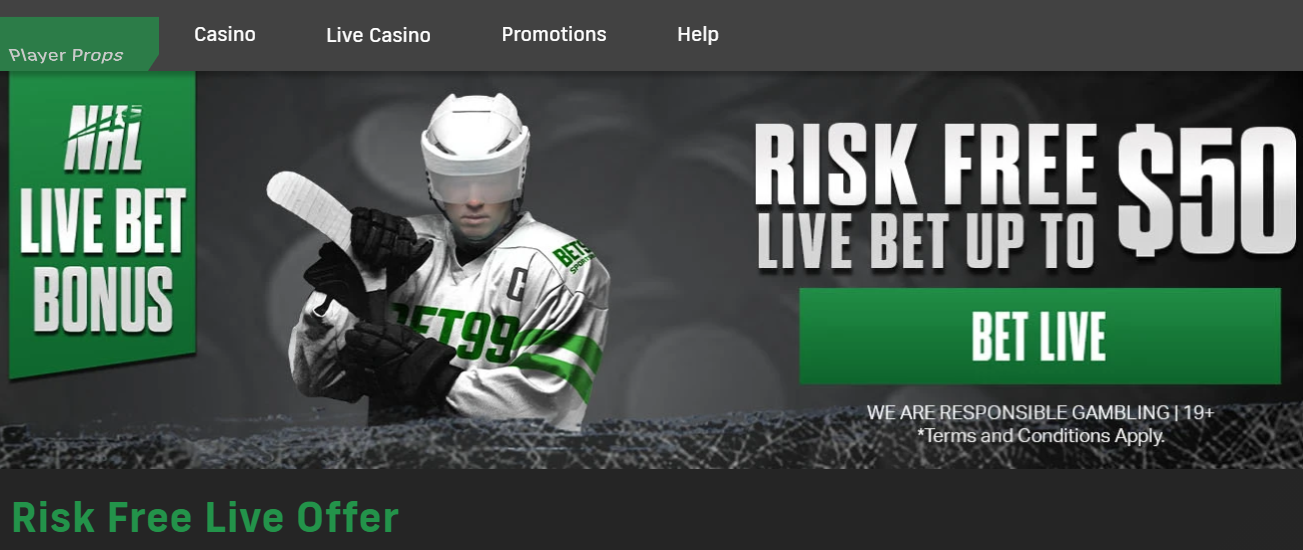 This cashback bonus is specific to NHL live betting and the sportsbook will refund you up to $50 if you lose your first live bet.
This is a great way to limit your losses, especially for beginners who are just starting out. As always, do keep in mind that there are terms and conditions attached.
Generally, the refund is in the form of 'bonus money' and this bonus money needs to be wagered before it can be withdrawn.
What Are Wagering Requirements?
We've mentioned wagering requirements several times already. But what are wagering requirements, and why are they so important?
Wagering requirements refer to the amount of money you need to wager at a sportsbook before you can withdraw your funds.
Let's say you have a $20 bonus with 5x wagering requirements.
You use that bonus to place a $20 bet on Tampa Lightning.
You need to wager $20 x 5 = $100 before withdrawing any winnings.
You might also see wagering requirements referred to as playthrough or rollover requirements. These terms mean exactly the same!
Why Do Wagering Requirements Exist?
No one likes wagering requirements, but gambling sites do have a valid reason for keeping wagering requirements in place.
Gambling sites need to ensure bonuses are profitable for them. If you claim a $600 bonus, bet $10, lose the bet and then withdraw $590, that is not a desirable outcome for the sportsbook or casino.
Betting bonuses without wagering requirements can be an easy way to launder money. Enforcing wagering requirements is the sportsbook's way to abide to anti-money laundering regulations.
What's the Average Rollover Requirement?
The average rollover requirement in Canada differs from a sportsbook to a casino.
For a sportsbook, the average rollover is 5-7x the bonus amount, or the bonus and deposit amount.
However, we've seen rollover requirements as high as 16x at some Canadian sportsbooks.
If you compare a sports bonus with a casino bonus, you will see that casino wagering requirements are a lot higher.
In fact, it averages 35x – 45x wagering requirements for casino-specific bonuses. However, we've even seen it go as high as 70x!
Does this mean that sportsbook bonuses offer more value than casino bonuses?
Not necessarily. Casino bonuses generally offer more attractive amounts.
For instance, at the time of writing, Spin Sports offers a $200 sports welcome bonus. The casino bonus is five times that amount with an offering of a $1000 welcome bonus.
The higher wagering requirements reflect that jump in amount.
How to Calculate Wagering Requirements
Another factor to keep in mind is that there are two types of wagering requirements:
Wagering on the bonus amount
Wagering on the bonus and deposit amount
A lot of bettors overlook this distinction, but it does have a vital role to play. We're going to explain how to calculate the wagering in these two different scenarios.
Let's say that you deposited $20 to get a $100 sportsbook bonus with rollover requirements of x5.
Deposit Amount
Bonus Amount
x5 Rollover (Bonus)
x5 Rollover (Bonus & Deposit)
$20
$100
$100 x 5
= $500
$120 x 5
= $600
As you can see, the type of rollover significantly increased the amount you need to wager before you withdraw.
We recommend you always stick to bonus offers that restrict the wagering requirements to just the bonus amount.
Is there a way you can avoid wagering requirements altogether?
Wager-free bonuses do exist. As their name suggests, these bonuses are offered with no wagering requirements attached.
However, these bonuses are scarce and are usually offered by casinos, not sportsbooks.
Your best option is to stick to the lowest wagering requirements possible and keep some tips in mind that we'll present in the next section.
Sportsbook Bonus Strategy
Apart from sticking to low wagering requirements, there are other ways you can try to get the most value for money with your free bets.
Go For Long Odds
Since a lot of betting bonuses will not return the stake as part of the payout, you need to find a way to reduce this impact.
One of the best ways to do this is to bet on long odds rather than short odds.
For example, if you bet $50 on favourite with odds of 1.3, the total is $65.
$65 – $50 original bet = $15 in your pockets.
On the other hand, if you bet $50 on the underdog with odds of 4.00, the potential total is $200.
$200 – $50 original bet = $150 in your pockets.
That's quite the difference!
Of course, you can argue that the underdog has a far less likelihood of winning, but use the opportunity of a bonus to conduct research and spot value bets.
Split the Bonus
When you can, do split your bonus into smaller bets. This helps you minimize your risk as one loss does not mean losing your total bonus amount.
We recommend you stick to match deposit bonuses for this as it offers more flexibility and allows you to split the amount up.
Other Terms and Conditions to Consider
We've looked in detail at rollover requirements for betting bonuses, but they're not the only terms and conditions you'll encounter with bonuses. Here are some common ones:
Minimum Odds
A sportsbook bonus offer will nearly always have minimum odds to stop you from betting on sure favourites.
The minimum odds are usually around 1.5 – 2.00, although you might find odds of 1.3.
Comparing minimum odds is a good way to verify which bonus is right for you.
For example, if you have a specific bet in mind with odds of 1.3, but the sportsbook bonus has a minimum of 2.00, then you can't use that bonus for that bet.
Time Limit
Time limit comes in two different forms. First of all, you need to use the bonus within a specified period. The sportsbook generally gives you around a week.
Secondly, you need to meet rollover requirements within the specified time period.
30 days to meet rollover requirements is common, but it can go down to a week or even three days for specific bonuses.
Deposit Limit
For bonuses that require a deposit, there will be a minimum deposit listed. The minimum deposit is relatively standard and averages $15 – $20.
Max Winnings
Gambling sites need to protect themselves from wins that will result in a massive payout. They generally do this by introducing a cap on winnings.
For example, you can win a maximum of $200 with this sports offer.
Sports Eligibility
If you have a specific sport in mind, double-check that the bonus offer allows you to bet on it. Unfortunately, some sports, especially horse racing tend to be excluded from offers.
The same goes for bet types; sportsbooks might restrict prop bets, for example.
Can You Withdraw Bonus Bet Winnings?
The terms and conditions mentioned above are crucial to keep in mind because they will affect your withdrawal.
Withdrawal requirements might vary from one sportsbook to the next, but generally speaking, you need to first complete your wagering requirements before withdrawing your winnings.
If you do not complete your wagering requirements, you forfeit your bonus and any winnings.
Also, keep in mind other terms and conditions that might affect this withdrawal, such as a time limit and maximum cashout.
Moreover, the original bonus amount is not present at withdrawal.
Are Sports Betting Bonuses Worth It?
Whether sports betting bonuses are worth it is dependent on a lot of factors, mainly:
Terms and Conditions
Your bankroll
As we've explained above, favourable terms and conditions can make all the difference in the world when it comes to your payout.
If for example, the rollover requirements are very high and you don't want to wager that amount of money, then a sportsbook bonus might not be ideal for you.
What we suggest is to do a quick calculation of the rollover requirements and then ask yourself:
Do I have a big enough bankroll to wager this amount in order to withdraw my winnings?
Will I be able to wager this amount in the specified time period?
Is the sports I want to bet on covered by this promotion?
Is the type of bet I want to place covered by this promotion?
If you answered no to any of these questions, that sportsbook bonus might not be worth your time.
If you answered yes, keep in mind our rollover strategy to help maximize your profit.
Can I Opt Out Of Sportsbook Bonuses?
Yes, you definitely can! Although sportsbooks usually advertise a bonus on the sign up page, this doesn't mean that you need to claim it.
If you don't feel that is the right option for you, then opt out of it.
There are usually two ways of going about this.
Some sportsbooks will ask you to tick a box if you want to claim the sportsbook bonus. This happens on the registration page.
Other sportsbooks might let you register first, and then you have the option to select the bonus you want from the post-login account section. In this case, just don't select any of the bonuses.
When in doubt, you can always reach out to customer support and they will guide you accordingly.
Want to Ask Us a Bonus Question?
Have we answered all your queries about betting bonuses? Leave a comment below with any questions you may have, and we'll do our best to help you!
If you feel confident about your bonus knowledge, and want to claim a bonus, check out our list of recommended betting sites for Canada!
FAQs
What is a 40x wagering requirement?
A 40x wagering requirement refers to the number of times you need to wager your bonus amount before being able to withdraw any winnings.
For example, if you have a 40x wagering requirement on a $50 bonus:
40 x 50 = $2000
You need to wager $2000 to withdraw any money from the bonus and its winnings.
Can you cash out bonus bets?
The answer is no. If you claim a $30 free bet, you can't withdraw those $30 in cash. You will need to use those $30 to place a bet. If the bet wins, you will generally need to satisfy rollover requirements before making any withdrawals.
Although this will vary from one sportsbook to the next, you will generally only be able to withdraw your winnings and not your original bet.
How does rollover work in betting?
Rollover, otherwise known as wagering requirements or playthrough requirements, refers to the amount of times you need to wager your betting bonus amount before withdrawing.
A 5x rollover requirement on a $50 bonus equals to (50 x 5) = $250 to be wagered at the sportsbook.
What does Playthrough mean?
Playthrough is the number of times you need to wager a bonus amount, or a bonus amount with deposit in order to withdraw your funds.
For example, a 5x playthrough requirement on a $20 bonus is 5×20=$100. $100 to wager at the sportsbook before withdrawing any winnings.
Playthrough can also be referred to as rollover, or wagering requirements.