Written By:
Rory Breasail
About Author
Rory has been writing about basketball for the last decade plus for outlets including Covers.com, The TwinSpires Edge, and NBA Math. His focus over the three last three years has been as a professional handicapper and sports betting analyst covering the NBA, WNBA, and international basketball competitions.
Fact Checked By:
Jelena Kabić
About Author
Jelena Kabic is a sports betting writer that focusses on responsible gambling. A psychologist by vocation, Jelena volunteered in a rehab facility, where she worked with gambling addicts. She now reviews all our content to ensure it discusses betting in a socially responsible way.
Toronto Raptors 2023-24 Betting Guide
Betting Guide for Toronto Raptors 2023/24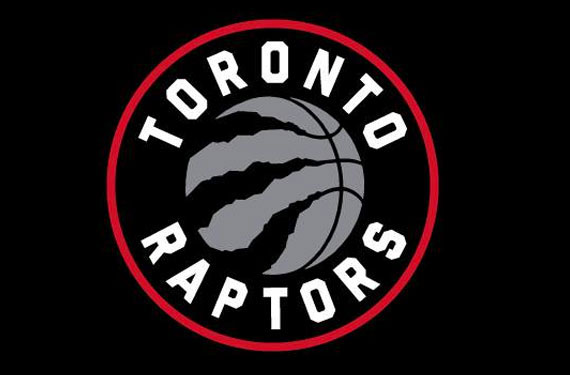 If you're looking to wager on the Toronto Raptors for the upcoming 2023-24 NBA season, you've come to the right place.
Below I share my insights and analysis that will help you make informed betting decisions about the Raptors, while also providing detailed background information on the franchise.
Toronto Raptors in a Nutshell
| | |
| --- | --- |
| Conference | Eastern Conference |
| Division | Atlantic Division |
| Founding Date | 1995 |
| Location | Toronto, Canada |
| Arena | Scotiabank Arena |
| G-League Affiliate | Raptors 905 |
| Championship seasons | 1 (2019) |
| Conference titles | 1 (2019) |
| Division titles | 7 (2007, 2014, 2015, 2016, 2018, 2019, 2020) |
| President of Basketball Operations | Masai Ujiri |
| 2022-23 regular season record | 41-41 |
Team Schedule
Oct. 25: vs. Minnesota
Oct. 27: at Chicago
Oct. 28: vs. Philadelphia
Oct. 30: vs. Portland
Nov. 1: vs. Milwaukee
Nov. 2: at Philadelphia
Nov. 5: at San Antonio
Nov. 8: at Dallas
Nov. 11: at Boston
Nov. 13: vs. Washington
Nov. 15: vs. Milwaukee
Nov. 17: vs. Boston (In-Season Tournament)
Nov. 19: vs. Detroit
Nov. 21: at Orlando (In-Season Tournament)
Nov. 22: at Indiana
Nov. 24: vs. Chicago (In-Season Tournament)
Nov. 26: at Cleveland
Nov. 28: at Brooklyn (In-Season Tournament)
Nov. 29: vs. Phoenix
Dec. 1: vs. New York
Dec. 11: at New York
Dec. 13: vs. Atlanta
Dec. 15: vs. Atlanta
Dec. 18: vs. Charlotte
Dec. 20: vs. Denver
Dec. 22: at Philadelphia
Dec. 23: vs. Utah
Dec. 27: at Washington
Dec. 29: at Boston
Dec. 30: at Detroit
Jan. 1: vs. Cleveland
Jan. 3: at Memphis
Jan. 5: at Sacramento
Jan. 7: at Golden State
Jan. 9: at Los Angeles Lakers
Jan. 10: at Los Angeles Clippers
Jan. 12: at Utah
Jan. 15: vs. Boston
Jan. 17: vs. Miami
Jan. 18: vs. Chicago
Jan. 20: at New York
Jan. 22: vs. Memphis
Jan. 26: vs. Los Angeles Clippers
Jan. 28: at Atlanta
Jan. 30: at Chicago
Feb. 2: at Houston
Feb. 4: at Oklahoma City
Feb. 5: at New Orleans
Feb. 7: at Charlotte
Feb. 9: vs. Houston
Feb. 10: vs. Cleveland
Feb. 12: vs. San Antonio
Feb. 14: vs. Indiana
Feb. 22: vs. Brooklyn
Feb. 23: at Atlanta
Feb. 26: at Indiana
Feb. 28: vs. Dallas
March 1: vs. Golden State
March 3: vs. Charlotte
March 5: vs. New Orleans
March 7: at Phoenix
March 9: at Portland.
March 11: at Denver
March 13: at Detroit
March 15: vs. Orlando
March 17: at Orlando
March 20: vs. Sacramento.
March 22: vs. Oklahoma City
March 23: at Washington
March 25: vs. Brooklyn
March 27: vs. New York
March 31: vs. Philadelphia
April 2: vs. Los Angeles Lakers.
April 3: at Minnesota
April 5: at Milwaukee
April 7: vs. Washington
April 9: vs. Indiana
April 10: at Brooklyn
April 12: at Miami
April 14: at Miami
Due to the introduction of the In-Season Tournament, NBA teams are only currently scheduled for 80 games rather than the full 82. Those two games will be added to the schedule the week of December 4th.
Notably, the Raptors have their two longest road trips condensed into a short period of time.
Nine of Toronto's 15 games in January are on the road, and they will be on the road for six games in a row twice separately between January 3rd and February 7th.
That adds up to 21 days on the road, a difficult period that could make or break the Raptors' playoff hopes.
Toronto Raptors' Biggest Rivals
The Toronto Raptors finished last in the Atlantic Division in the 2022-23 regular season, and ninth in the Eastern Conference with a 41-41 record.
Finishing ahead of them in the Atlantic Division were the Boston Celtics (57-25), Philadelphia 76ers (54-28), New York Knicks (47-35), and Brooklyn Nets (45-37).
The Nets are the only team in the Atlantic that I believe the Raptors are likely to be competitive with in the standings.
Though Brooklyn finished four wins ahead of Toronto last season they figure to be much worse following the mid-season trades that sent superstars Kevin Durant and Kyrie Irving to the Western Conference.
The Raptors are one of the league's younger franchises and as such they don't have storied rivalries that compare to those of say the Los Angeles Lakers.
However, the Raptors' greatest rivals in some order would be fellow Atlantic Division competitors the 76ers and Celtics, as well as the Cleveland Cavaliers.
The Raptors and Celtics have had numerous playoff wars, including a dramatic seven game series in the so-called NBA Bubble in 2020.
The 76ers and Raptors have also played many times in the current Raptors era, with Toronto memorably defeating the 76ers in the 2019 Eastern Conference Semi-Finals.
Kawhi Leonard's iconic Game 7 buzzer beater sent the 76ers home en route to the Raptors' first championship in franchise history.
Lastly, the Cavaliers under LeBron James eliminated the Raptors in three consecutive playoffs (2016-2018) per Statmuse winning 12 of the 14 games the two teams played.
While not a rivalry in the traditional sense, James was the ultimate Raptors foil for many years.
What Are the Toronto Raptors' Preseason Odds to Win the Atlantic Division for 2023-2024?
The Toronto Raptors are available at +2800 to win the Atlantic Division via Betway, the longest odds in their division. Other legal sportsbooks don't differ much.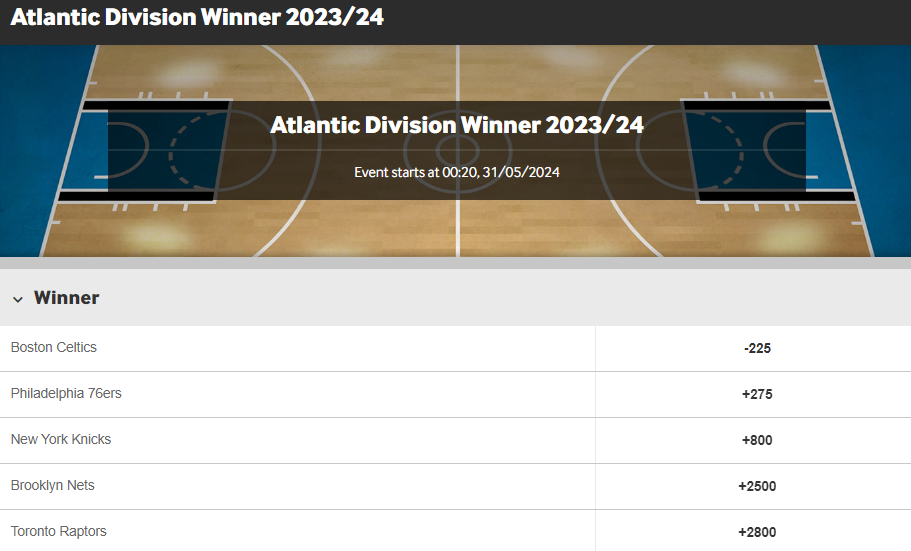 What Are the Toronto Raptors' Preseason Odds to Win the Eastern Conference?
The Toronto Raptors are available at +2800 to win the Eastern Conference via Betway, the 8th-best odds in the conference.
These are the same odds the Raptors are getting just to win the Atlantic Division, so there is no reason you should bet them at this number.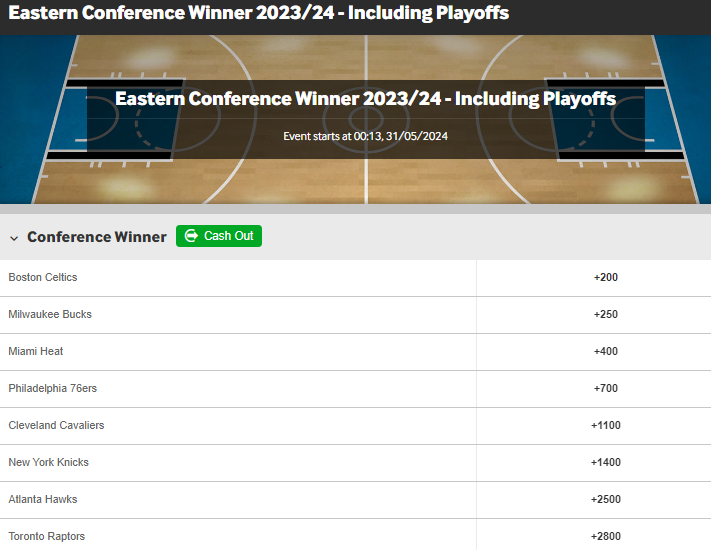 What Are the Toronto Raptors' Odds to Win the NBA Championship?
Betway currently lists the Raptors as +8000 to win the NBA championship in the 2023-24 season. Even at such a price, I would advise against betting on such an unlikely outcome.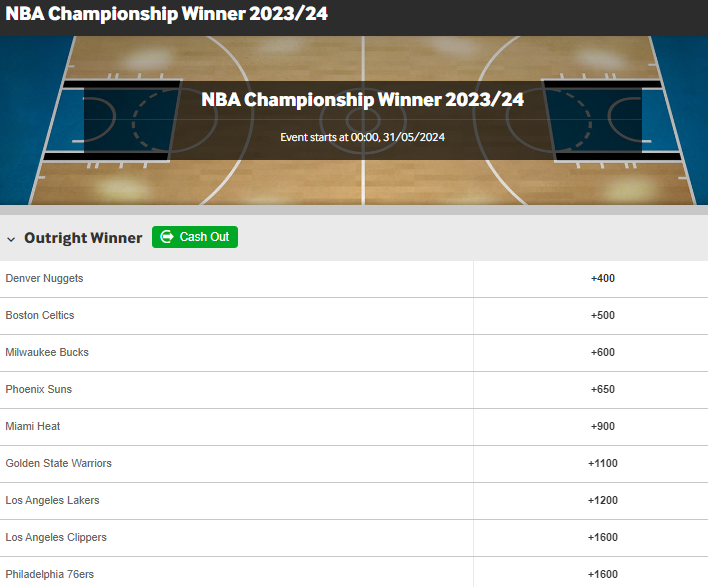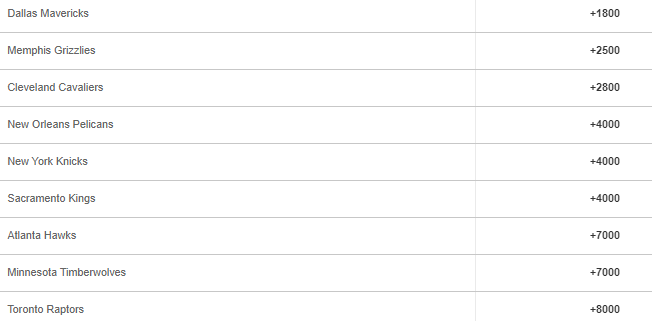 Reasons Why the Toronto Raptors Can't Win the NBA 2023-24 Championship
In my view the Raptors are not genuine contenders to win the 2023-24 NBA championship.
Talent wins in the NBA, and Toronto's best player — Pascal Siakam — is not close to one of the ten best in the NBA, a bar that nearly every previous champion has cleared.
True contenders almost always have a Top-5 player (for example Nikola Jokic, Giannis Antetokounmpo, Steph Curry) as well as a player typically as good as or better than Siakam as their running mate.
Quote
But it's not just that the Raptors lack talent but also that the talent they do have does not fit cleanly together. They are stacked with forwards, many of whom cannot shoot and so need the ball or occupy similar parts of the court.
Their first shot halfcourt offence ranked sixth to last in the 2022-23 season per Cleaning the Glass, a number that is likely to get worse with the departure of Fred VanVleet.
Without VanVleet's shooting and creation, the rest will likely add up to less than the sum of their parts.
By point of comparison, the 2014-15 Golden State Warriors at +2800 were the team with the longest preseason odds to win an NBA championship since 1984-85.
That makes the Raptors at +8000 nearly three times less likely than that per oddsmakers. In my opinion you should not make any serious bet on a team with such long odds to win the title.
What Changes Are We Likely to See With Darko Rajakovic's Coaching Debut With the Raptors?
The Raptors took the unusual step of firing the most successful coach in franchise history this offseason when they let go of Nick Nurse.
Nurse-led the Raptors to their first and only championship in 2019 in his first year on the job and is widely respected for being one of the league's most creative playoff tacticians.
However, over the past two seasons the bloom had somewhat come off the rose with Nurse, who critics charge showed too little trust in his bench and played his starters too many minutes.
This led to the underdevelopment of Toronto's young players as well as wear and tear injuries.
The Raptors conducted a wide-ranging search for Nurses' replacement, eventually landing on first-time head coach Darko Rajakovic.
It is highly unlikely that Rajakovic will prove as able an NBA strategist as Nurse, and the roster problems that Rajakovic faces are the same ones that undid Nurse only worse.
Still, sometimes NBA teams just need a new voice, and Nurse's had undoubtedly gone stale.
Rajakovic could prove a better fit than his predecessor if he continues his excellent track record of player development and finds a better balance between the starters and the bench.
Rajakovic was also at least partly brought in due to the impact his positive personality can have on the team, but the recent lawsuit brought by the New York Knicks against Rajakovic and other members of the Raptors has put a damper on that before the season has even begun.
While that is a developing story, the charges of stolen proprietary information are quite serious. This distraction could undermine Rajakovic in his first year on the job.
Key Trades and Substitutions
The Raptors attempted to pursue a strategy of retention with regard to their key free agents VanVleet and Jakob Poeltl this offseason.
Toronto acquired Poeltl at the trade deadline from the San Antonio Spurs, and the team went 15-11 with him in the lineup.
However, this strategy backfired when the Houston Rockets made an aggressive offer to VanVleet that ultimately saw the All-Star point guard depart Toronto in free agency.
The loss of VanVleet is a major setback for the Raptors. VanVleet was the team's best on-ball creator on the perimeter, one of the team's two primary leaders, as well as a dogged defender.
Furthermore, though the Raptors managed to retain Poeltl on a four-year deal, a big part of Poeltl's value was his ability to act as a roller in pick and roll with VanVleet.
Quote
While Siakam and Scottie Barnes are both capable playmakers, their inability to shoot off the dribble makes the same actions with Poeltl much easier to defend.
The Raptors ultimately signed German guard Dennis Schroder to fill out their guard depth, but as another non-shooter, he is not going to slide naturally into the void left by VanVleet.
Who are the Raptors' best players for the upcoming season so far?
The Raptors' best players for the upcoming season figure to be Siakam and OG Anunoby, while Barnes is another key player to watch.
Siakam is a 29-year-old power forward who has made two All-NBA teams as well as two All-Star games, though he missed out on both honors last season in large part due to Toronto's underwhelming record.
Siakam is a strong defensive player, rebounder, finisher, and an adept passer for his size.
Anunoby is also a forward, sliding between three and the four.
Regarded as one of the best wing defenders in the NBA, he is also a career 37.5% 3-point shooter, making him the Platonic ideal of the coveted "3 and D" wing archetype.
Barnes was the 2020-21 NBA Rookie of the Year, but he struggled through an underwhelming sophomore season.
He's a similar player to Siakam in many ways as a playmaking forward with limited shooting ability, but with a long way to go to being Siakam's equal.
Will the new In-Season Tournament impact their performance?
It is unlikely the newly established In-Season Tournament will have a major impact on the Raptors' season.
However, it is possible that the additional two games yet to be scheduled have a minor effect on the difficulty of their schedule the week of December 4th.
FAQ
How many NBA championships have the Toronto Raptors won?
The Toronto Raptors have won one NBA championship, in 2019.
Where do the Toronto Raptors play their home games?
The Toronto Raptors play their home games at Scotiabank Arena in downtown Toronto.
Are the Toronto Raptors any good?
The Toronto Raptors have been one of the best teams from a management and player development standpoint for several years, but the team is in a transition phase and is far from finding a clear path to championship contention. You should consider them an average to below average team for the 2023-2024 season.