Written By:
Jelena Kabić
About Author
Jelena Kabic is a sports betting writer that focusses on responsible gambling. A psychologist by vocation, Jelena volunteered in a rehab facility, where she worked with gambling addicts. She now reviews all our content to ensure it discusses betting in a socially responsible way.
Fact Checked By:
Amy Webb
About Author
Amy's introduction to the gambling world was 6 years ago, when she joined a casino operator as a content specialist. Since then, she's helped launch and maintain gambling review sites in over 8 different countries. She's tested dozens of casinos and sportsbooks, which is how she can spot a subpar brand in an instant!
Cricket Betting Canada 2023 | Best Cricket Betting Sites
Cricket Betting Canada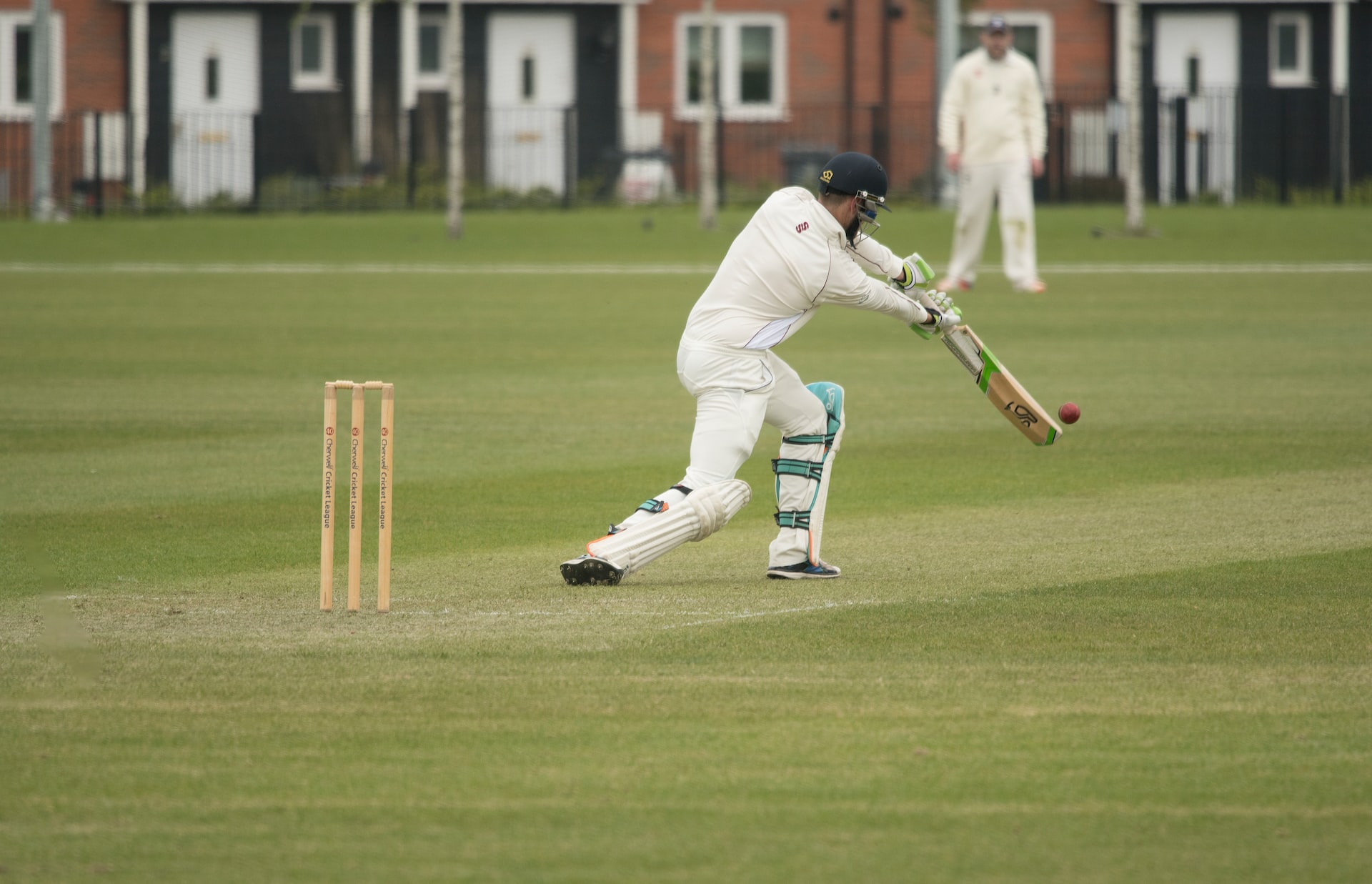 Despite being a fairly small sport in Canada, cricket has some die-hard fans It's getting more and more popular, and with it, betting on this sport is, too.
Our guide will serve as a starting point for all those who are looking to bet on cricket in Canada.
Find out about the best betting sites and apps, which tournaments to bet on, and learn important tips for cricket betting.
Let's get the ball rolling!
Is Cricket Betting Legal in Canada?
The good news for cricket lovers is: yes, cricket betting is completely legal in Canada.
The only prerequisites are that you're betting on legal betting sites, and are of legal gambling age for the province you're from.
But which betting sites are legal?
When it comes to offshore operators (which tend to be more popular than local online betting sites), it's different across provinces.
For now, Ontario is the only province that lets offshore operators apply to offer their services legally.
Every operator we recommend on this page has acquired the official iGaming Ontario license and is fully legal in Ontario.
Many of these operators, including Pinnacle, can be accessed in other Canadian provinces as well, although there is no way for them to legalize their presence there.
However, the fact that they own the only legal license they can currently own in Canada shows they're reputable and trustworthy, which is why bettors from all over Canada choose them when placing cricket bets.
Best Cricket Betting Sites in Canada
Not all sportsbooks let you bet on Canadian sports like curling, cricket, or lacrosse, and there are some noticeable differences among those that do.
For one, they're not all safe to bet at. The betting sites we recommend are all legal in Canada and perfectly trustworthy.
What's more, they cover a variety of cricket leagues and tournaments and offer good betting markets. These include some interesting prop bets as well!
What Is the Best Cricket Betting App in Canada?
When it comes to cricket betting apps, Betway is among the fan-favourites. However, there are plenty other functional cricket betting apps available in Canada.
Betway is among the best cricket betting apps available in Canada, and for a good reason:
Easily Accessible Bets

Simple to Navigate

Easy to Download

Competitive Odds
SIGN UP
Thanks to responsive mobile betting apps, you can bet on cricket on the go and make sure you don't miss any important games.
But not all apps are created equal, and it's important to make sure you're choosing a high quality one.
We chose these apps because they are:
Easily downloadable on both iOS and Android
Have a great and easy-to-navigate interface
Make cricket betting a breeze
Best Cricket Betting Apps in Canada
Other than Betway, we recommend two more betting apps to Canadian bettors.
Bet99 is among the best betting apps in Canada — period. Cricket is no exception, thanks to:
Events coverage. Australia, England, India, Pakistan, New Zealand… You name it, Bet99 has a cricket betting market on it.

Perfect for in-play betting. Responsive app + quick odds updates = perfect in-play betting experience!

Live Streaming. All great betting apps need live streaming, and Bet99 doesn't disappoint.
SIGN UP

This list isn't complete without one of Canada's favourite sportsbooks — bet365. But what makes it a good cricket betting app?
Unique live streaming experience. Watch the game, bet live, and read stats side-by-side. No other betting app has anything like it!

Bet on GLobal T20 League. Many sportsbooks cover the world's biggest cricket leagues, but bet365 covers Canada's league as well!

Quick odds updates. We all know the main reason to use a betting app vs website lies in in-play betting. bet365 makes it a breeze thanks to quick odds updates.
SIGN UP
19+. Gambling can be addictive. Please play responsibly.
Online Cricket Betting Odds
One important thing to look into when deciding where to bet on cricket is which online betting site offers the best odds.
To test that, we looked into a couple of matches, starting with The Hundred.

For The Hundred, bwin offers odds on two different matches. Meanwhile, Betway allows bettors to choose between three cricket games.

While the odds for the London Spirit vs Birmingham Phoenix are identical on Betway and bwin, they slightly differ on Northern Superchargers vs Oval Invincibles.
Namely, Betway offers odds of 1.66 on the away team, compared to bwin's 1.67.
The next thing we looked into is how many interesting prop bets you can find.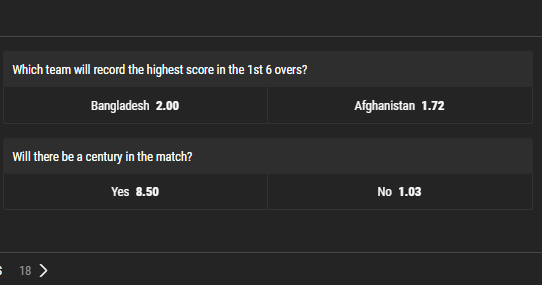 To begin with, bwin offers total match sixes. team to have the highest score in the 1st 6 overs, and a century happening.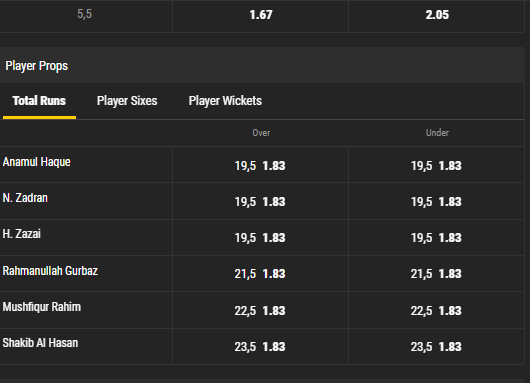 Then there is a wide variety of player props: runs, sixes, wickets, scores.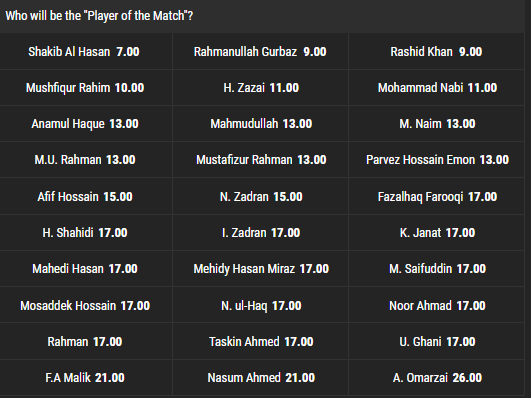 Finally, you can choose the player of the match, as well as the best player on each team.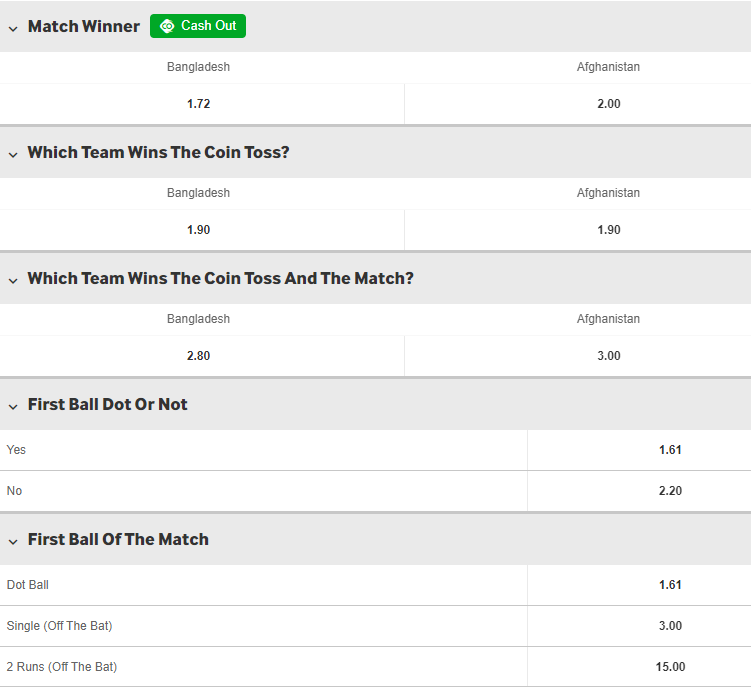 Meanwhile, Betway offers fewer additional bets, with some interesting extras like guessing the coin toss, or who hits a six.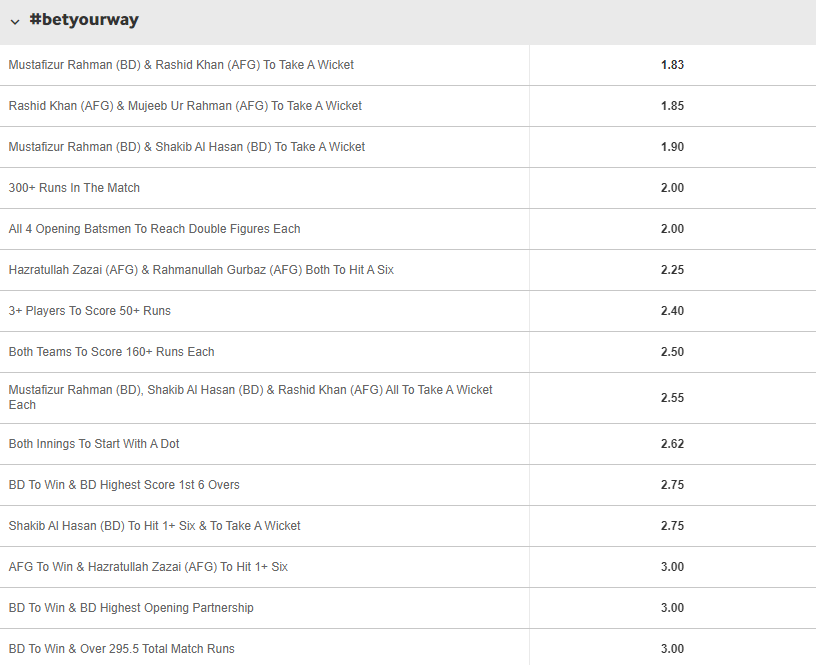 How to Start Betting on Cricket
With over 40,000 cricket players across Canada, cricket is undoubtedly growing in popularity.
That being said, for now, it is still considered a "minor" sport. But that's not necessarily a bad thing! Because it's not as popular as baseball or soccer, it's easier to find value bets in cricket.
Ready to start betting?
Here's where to begin.
The first step to take when starting to bet is to be knowledgeable about cricket.
If you're already a fan of the sport, this should be no issue!
But if you're only a casual follower who knows the basic rules, catching up on some stats isn't a bad idea (more about stats and their importance for predicting matches below).
Next, you'll want to find a legal online betting site that offers cricket betting.
By going with one of our recommended websites like Bet3655 Canada Betway, or bwin, you're ensuring they have an official Ontario gambling license, and are available in the rest of Canada.
Let's say you picked bwin — here's how to start betting.
First, you'll need to register at this website and place a deposit. You can use our quick guide to walk you through it.
Next, find cricket on the list of sports.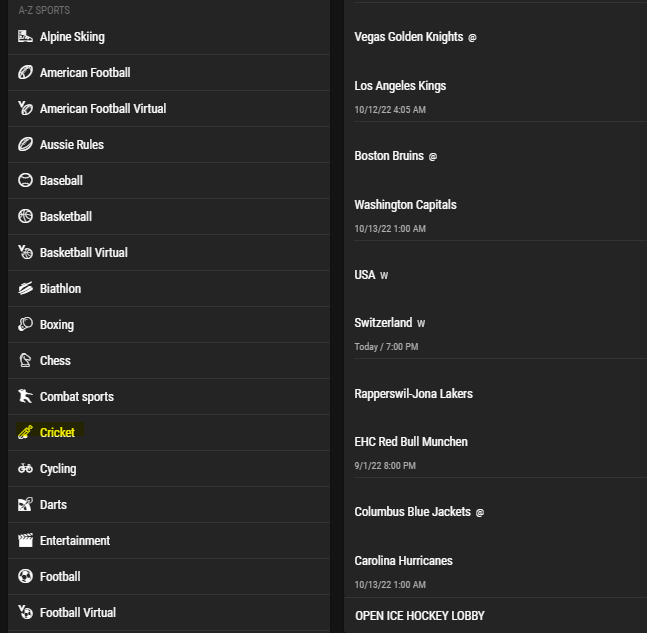 Once you're in, you'll be able to choose between tournaments and individual matches.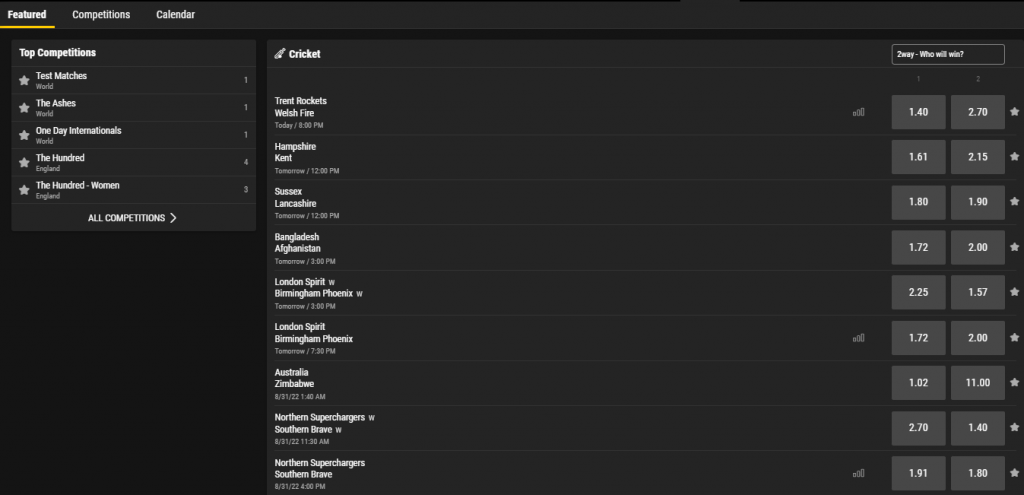 Take your pick and choose the betting market, be it moneyline, over/under, or a prop bet.

Take your pick, choose a bet and the amount you want to wager — and place your first cricket bet!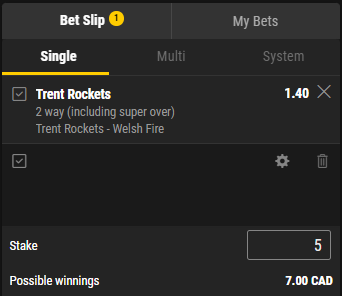 Best Cricket Bets
Now you know how to start betting on cricket from Canada, but do you know which bets you'll want to place?
When it comes to cricket, the most common options you'll find include:
Moneyline bets, in which you try to determine the winner of the match.
Futures bets, where you bet on an event that's weeks or months away. Usually, you'll be betting on the outright winner of the tournament or a league.
For example, you can place a bet on the winner of IPL in 2023. Betano has some very good odds for those bets:

At times, you may be able to catch some prop bets, such as:
Maximum fours
Maximum sixes
Top batsman
Best bowler
But unfortunately, with cricket still largely being a niche sport, such bet types are quite rarely found.
Biggest Cricket Tournaments and Leagues
While there aren't too many cricket events across Canada, out in the world and in countries with rich cricket history, there are plenty of tournaments to enjoy and bet on.
Here are some of the biggest ones:
ICC Men's T20 World Cup
Organized by the International Cricket Council (ICC), this tournament currently features 16 teams. Ten of the teams are the top ranking ones, while the remaining six qualify through the T20 World Cup Qualifier.
Though the tournament is generally held every two years, 2020 was an exception due to the Covid-19 pandemic. This year, the tournament is being played in Australia from October 16th-November 13th.
Border–Gavaskar Trophy
The Border–Gavaskar trophy is awarded to the winner of the match between Australia and India. This Test series, deemed as the highest form of cricket, is held every two years. The next installment will play out in 2023, from February to March.
Indian Premier League
As one of the unofficial national sports in India, cricket has a special place. Known officially as TATA IPL, this is a Twenty20 cricket league, comprising 10 cricket teams.
ICC Cricket World Cup
Held every 4 years, this major cricket tournament has 10 teams fighting for the crown. The next installment is in October and November of 2023.
Asia Cup
Comprising 6 teams, Asia Cup gathers the strongest competitors from the continent. Every two years, it alternates between two formats, T20 and ODI.
After the tournament was rescheduled due to the Covid-19 pandemic, the Twenty20 Internationals were finally held in August and September of 2022.
Big Bash League
Another country with rich cricket history is Australia. Its Big Bash League is a professional Twenty20 league. The twelfth edition will be held from December 2022 to January 2023, with 8 teams competing.
The Hundred
This list wouldn't be complete without England's recently founded 100-ball cricket tournament. Eight men and eight women's teams from all over England and Wales are competing every summer for the prestigious title.
This year, the competition is held from August 3rd to September 3rd.
How to Predict Cricket Match Results
No matter how well you investigate a cricket match, you can never be 100% sure of the outcome. However, you can significantly raise the chances of getting it right, by analyzing two things.
Stats
We mentioned previously that following up on match and player stats is crucial if you're betting on cricket.
This can help you determine how probable it is that a player will perform well and, consequently, that a team will win.
For example, if the team has had 3 losses in a row, they're not in a good form, so it's less likely they'll win the next match.

Sportsbooks like Bet365 provide you with in-depth stats you can use to choose the smartest bets.
SIGN UP
19+. Gambling can be addictive. Please play responsibly.
The first thing you'll want to know is whether a strong player is suffering from an injury or is otherwise prevented from playing. Without a good player, even the strongest team's chances go down.
Even if the player is not hurt and can play, they may be in poor form, so check all the info before jumping the gun.
On the other hand, some players and teams that usually underperform could be in the best shape of their careers, and that's certainly not something to overlook.
Finally, some teams may simply be under more pressure to win than others. And while a few thrive under pressure, many others crumble.
For example, the Indian national team is largely made up of young players. Due to their years, they may not be the best choice to bet at if something big is at stake.
Think of Home Field + Weather Advantage
Winning a game has a lot to do with skill and strategy, but that's not all there is to it.
Players that are familiar with the field and prefer certain weather conditions can easily surprise or, if the opposite is true, underperform.
Take home advantage as an example.
It's no secret that teams across all sports tend to play better on their home field. They know the nooks and crannies of it, plus they're getting ample support from their fans.
Another thing that's worth taking into consideration is the weather.
Strong batters can easily underperform if the weather is humid.
Similarly, they can dominate the field when the weather is warm and sunny.
So if the entire team is carried by a batter (think Joe Root of the England Text team), think twice before betting on them should the rain be in the forecast.
FAQs
Can I bet on cricket in Canada?
Yes, as betting on cricket is perfectly legal in Canada. There are several safe, legal, quality sportsbooks that let you bet on cricket, including Bet99 and Bet365.
How can I bet on cricket online?
Betting on cricket online is simple. Find a reputable betting site, place a deposit, choose your bet and start betting!
Which is the best betting site for cricket?
Which cricket betting app is genuine?
Can you bet on IPL in Canada?
Yes, Canadians can bet on Indian Premier League at several sportsbooks, including Betano and Bet99.
Can you bet on cricket at Bet99 from India?