Written By:
Luke Garrison
About Author
Luke Garrison is a professional writer from the Greater Toronto Area in Ontario, Canada. He has been writing about sports, sports betting, and casino-related content since 2011. When he's not writing, you can usually find him at a concert or on the beach.
Fact Checked By:
Ana Gomes de Almeida
About Author
Before joining the team three years ago, Ana worked for five years behind the scenes for household brands like Betway and Betsson. She knows the ins and outs of casinos and sports betting sites. Having witnessed both the positive and negative aspects of the industry, she's eager to share her expertise with fellow bettors.
Alberta Online Casino Sites [Legality + Our Recommendations]
Alberta Casinos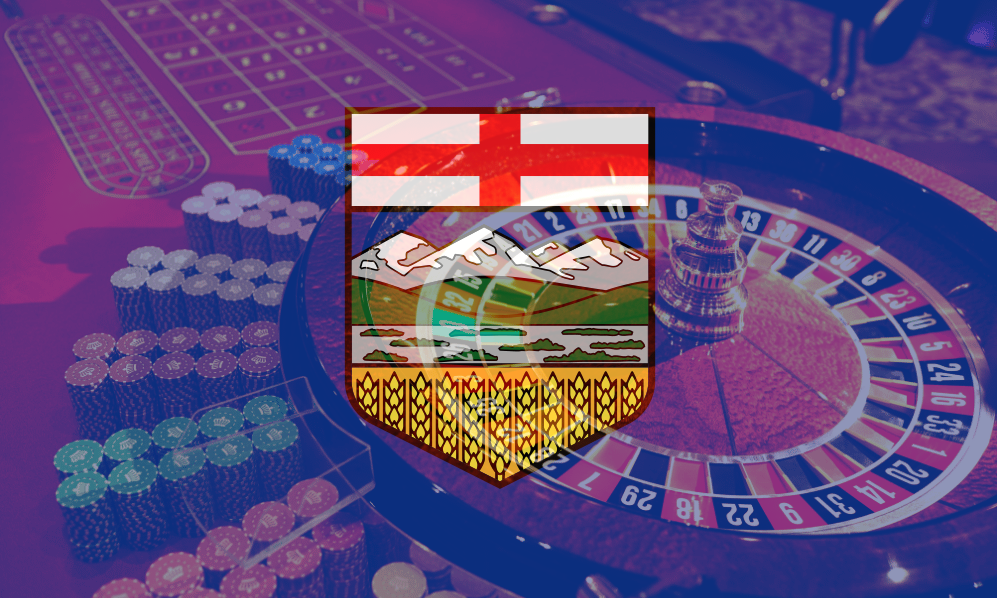 On September 1st, 2021, the AGLC (the Alberta Gaming, Liquor, and Cannabis agency) legalised online gambling, including both online casino sites and single-game sports betting via PlayAlberta.
They were the eighth province to do so, and there are now a few different options at the disposal of Albertans looking to play.
This guide will cover everything you need to know about the legal developments in the province and finding the best online casino sites in Alberta.
Are there advantages to using an online government-regulated casino instead of safe, international website alternatives?
What are the best alternatives anyway? Read on to find out more.
Are Online Casinos Legal in Alberta?
Yes, online casinos are legal in Alberta, with PlayAlberta being the only online casino that is currently regulated by the AGLC.
The alternatives include international operators like Betano and bet365.
Most of these types of offshore casinos are still legal and safe to access, as they've accrued licensing from other international gaming commissions.
With online casinos and single-game sports betting having only been legalized a couple of years ago, the room for growth is astronomical.
Alberta has a population north of 4 million people, with many being legally able to participate in iGaming activities.
Other provinces like Ontario have welcomed large, popular operators such as PointsBet and FanDuel, but whether or not Alberta will follow suit remains to be seen.
There have been several attempts at this degree of legalisation, but PlayAlberta, along with a handful of trustworthy offshore operators are still the only options at this point.
PlayAlberta vs. International Casinos
There are arguments to be made for using both the PlayAlberta online casino and international casinos.
Some choose PlayAlberta simply because all generated revenue goes back into the Government of Alberta's 'General Revenue Fund'.
From there, it's used to fund community programs and other services used by most Albertan citizens.
The fact that PlayAlberta is regulated by the province itself also adds a layer of security, giving peace of mind to those who would rather play at a government-operated casino.
On the other hand, most international online casinos are safe as well, and offer a wider selection of games, amongst other features.
For example, PlayAlberta offers roughly 200 games from popular providers, including Evolution Gaming and IGT, but Betano offers 1,700+ casino games.
Convenience and ease of use are also more easily found through international online casinos.
For example, PlayAlberta does not currently have an app to download for phones, tablets, or other portable electronic devices.
Our Recommended International Online Casinos in Alberta
There are a few different offshore online casinos to choose from in Alberta, with some popular options including Betano, Bet99, bet365, and Sports Interaction.
Read below to discover what the pros and cons are for each casino site.
Betano
Playtech & Pragmatic Play

Crash Games Available

Easy to Use App

Only 300+ Games
Betano is arguably the best international online casino available in Alberta.
From its comprehensive app to its wide selection of traditional and live casino games, Betano has quickly risen to the top half of the biggest casino operators.
Not only does it have games by Playtech & Pragmatic Play, but recently, Betano also started adding crash games to its offering, which are wildly popular globally but still hard to find at Canadian casinos.
Bet99
3000+ Games

Games Easy to Navigate

App Could be Better
Bet99 boasts a vast catalogue (3000+!) of games stemming from some of the best iGaming developers around.
Bet99 has also done a good job appealing to the Canadian market, both through establishing a strong bilingual site and via its partnership with the NHL.
The mobile app isn't as strong as the one released by Betano or Bet365, but it's still fairly reliable and easy to use.
Bet365
Well-Established, Trustworthy Brand

2000+ Games
Bet365 has been around for a long time, first launching in England in the year 2000. With offices throughout the world and several partnerships with large sports and casino organizations, Bet365 is well-established.
Customer support is helpful and reliable, and there are also many payment options as well. With 2000+ online casino games to choose from, including many live casino games, there's a lot to like about Bet365.
Sports Interaction
Exclusive Games

Excellent Game Filters

RTP Info Available
Sports Interaction is better known for its sportsbook, but there's a lot to like about its online casino as well.
The selection of games isn't as plentiful as Betano or Bet365, but exclusive games are available.
Helpful, user-friendly filters also make it easy to find any game you're after.
What's more, the app is very comprehensive. Security and customer support are also well above average.
How to Start Playing at Alberta Casinos
To start playing at online casinos in Alberta, the first thing to do is to sign-up for your site of choice.
For example, to sign-up for PlayAlberta, simply visit the website and click 'Sign up' in the top-right corner.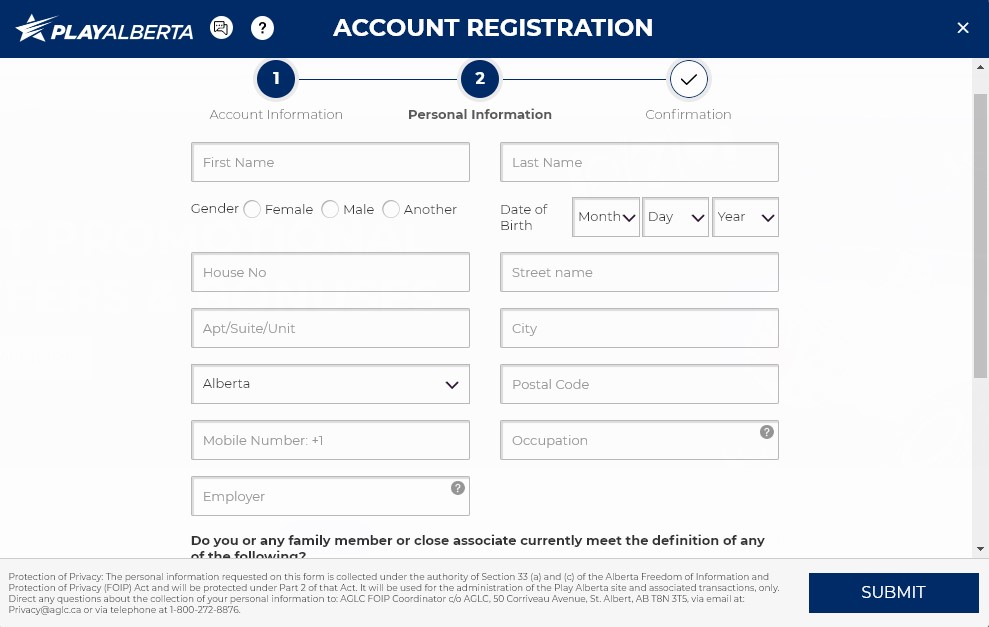 From there, you will be prompted to create an account by inputting your email, a safe password, and other personal information including your name, DOB, address, and occupation.
A soft check of your credit via Equifax will also be conducted to verify your identity but don't worry, it will not affect your credit score in any way.

Once your account has been created, and your identity confirmed, you can make your first deposit and begin to play at the online casino.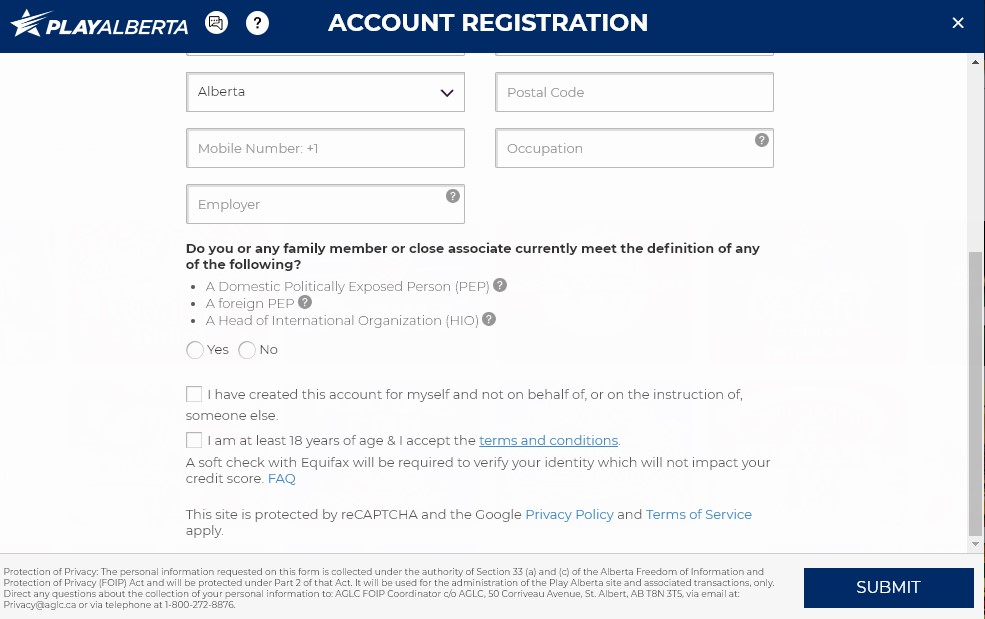 Many of the major payment methods are accepted including debit, credit, and PayPal.
Are There Casino Apps in Alberta?
Yes, there are a few different casino apps in Alberta, most of which also have a betting app included.
One of the most popular is the Betano app, thanks to its easy-to-use interface and wide selection of games.
Most apps are available on both iPhone and Android as well.
FAQs
What are the legal gambling sites available in Alberta?
Legal gambling sites that are currently available in Alberta include PlayAlberta, Betano, Bet99, bet365, and Sports Interaction.
What is the most trusted online casino in Alberta?
The most trusted online casino in Alberta is PlayAlberta, thanks to its affiliation with both the AGLC and the Government of Alberta.
Can I play online using bet365 in Alberta?
Yes, you can access and play casino games using Bet365 within the province of Alberta.