Written By:
Jelena Kabić
About Author
Jelena Kabic is a sports betting writer that focusses on responsible gambling. A psychologist by vocation, Jelena volunteered in a rehab facility, where she worked with gambling addicts. She now reviews all our content to ensure it discusses betting in a socially responsible way.
Fact Checked By:
Amy Webb
About Author
Amy's introduction to the gambling world was 6 years ago, when she joined a casino operator as a content specialist. Since then, she's helped launch and maintain gambling review sites in over 8 different countries. She's tested dozens of casinos and sportsbooks, which is how she can spot a subpar brand in an instant!
bet365 App Review — Should You Download It?
bet365 App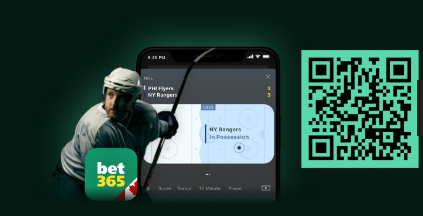 Avid bettors often find themselves looking for a decent betting app so they don't have to be near a computer in order to easily place a bet.
Luckily, bet365 has a responsive app, and as you'll see from our review, one that is very useful for live betting and makes the betting process overall super easy.
However, it's not without its flaws, either, so be sure to read the full review to know what to expect.
Bet365 App Look and Feel
Easy to Navigate

Responsive Design
The bet365 app boasts a clean and visually appealing interface that is both easy to navigate and pleasing to the eye.
The top menu provides quick access to various sports, allowing users to browse and place bets effortlessly.
Once you click on a certain match, you're presented with another menu that lets you easily choose the betting market you're after. When you place the bet, browsing through various betting tools is a piece of cake.
But it's not just about the good navigation: the app's responsiveness enhances the live betting experience, making it intuitive and hassle-free.
What the Users Say
While the users are generally satisfied with the app itself, we did come across one interesting comment on the App Store:
I've tried several times to pass my KYC process with multiple photos documents and etc. My profile was locked and unable to bet for a long time. The app was redirecting me to do the same steps over and over again without really telling what went wrong. I reach out the support team and they fix it finally for a short time. In General the support was fast and good but I didn't like that I need to reach them by chat for something that was support to work out of the box with no real informative message what did wrong.
It seems like the user might have encountered a KYC problem more so than an app problem, which is something we're covered in our extensive guide of Ontario betting account verification.
Overall, based on 181K Ratings on Apple Store, this app boasts 4.7/5 stars, followed by comments such as:
"App – Easy to use in general terms. Lots of in play bet selections, very lucrative. Almost all games are covered, lower and upper leagues."
However, some users have noticed that the app can be down when important events are on. That's likely due to more bettors than usual accessing the app, but it still doesn't excuse the brand entirely.
We hope to see them fix this issue so bettors won't have inaccessible bets during events such as Super Bowl.
How to Use the bet365 App
Simple to Use

Quick Download

Requires 50MB of Storage
Getting started with the bet365 app is a breeze. Simply download the app onto your device and access it to begin your betting journey.
Creating an account at bet365 is a straightforward process, and once you're in, you can easily browse through sports and explore the casino offerings.
When you're ready to place a bet or play a game, the app guides you through every step of the way.
How to Download the bet365 App
For Android users, the Canadian-specific bet365 app is easily downloadable by scanning the QR code available on the homepage or by clicking on the Google Play Store sign.

iOS users can find the app directly on the App Store, as there's no way to download it off bet365's official website for the time being.
New bet365 Canada App
In March 2023, Bet365 launched an official 'Canada App' to prepare for its launch in Ontario's new iGaming market.
This Canadian version of the bet365 app is a mirror of the previous (grey market) version.
Since recently, bet365 has a built-in, dedicated authenticator app inside the betting app, so there's no need to download any additional, external locators.
We find this to make the whole betting experience a lot simpler!
App vs. Mobile Experience
There are certain crucial differences between the app and mobile experience of betting at bet365.
These mostly refer to where the menus are located. For example, while the app gave us plenty of useful top menus, to get to the list of sports on a mobile browser, we had to click on Sports and were only then presented with a left-hand menu list.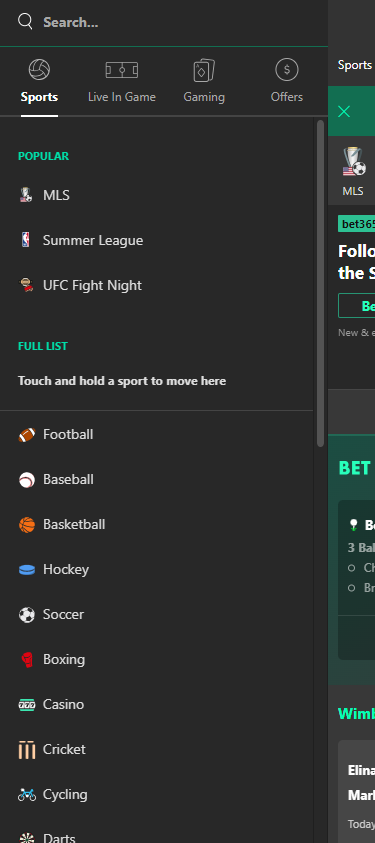 However, we didn't like that this list was also covering a big portion of the rest of the screen.
Because of these user experience differences, we definitely prefer the app.
bet365 Sportsbook App
Variety of Useful Betting Tools

Live Streaming

Live Statistics

Partial & Full Cash Out
The bet365 Sportsbook app excels in providing an extensive selection of sports and competitions for Canadian users.
Whether you're a fan of Basketball, American Football, Soccer, Baseball, Ice Hockey, Golf, Tennis, or Boxing/MMA, you'll find all the major leagues and tournaments readily available.
Most notable are the NHL and eSports sections, which (as our bet365 review will tell you) offer particularly rich betting markets, surpassing those of other sportsbooks in Canada.
Same Game Parlays
bet365 offers a rare feature called Same Game Parlays, allowing users to combine multiple bets within a single event. It's not commonly found on legal Canadian sportsbooks, despite many bettors enjoying it.
Live Betting Tools
The app's live betting tools are another standout feature. We love the HD live-streaming option and the ability to cash out bets in more ways than one (both partial and full cash-outs are available!)
Even for games with no live streaming, we really like the way that the statistics are presented inside the app, as they're quite easy to track.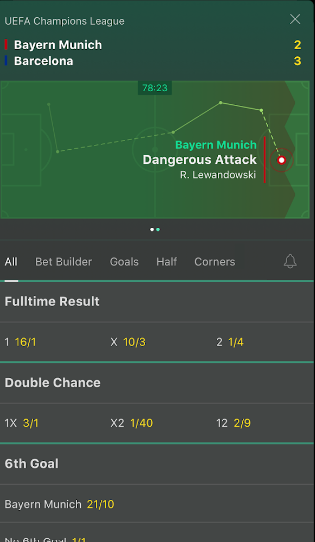 Cricket Betting in Canada with bet365 App
bet365 app is one of the best apps for cricket betting.
Not only is it fast and provides the same experience as the desktop version, but it's also straightforward to navigate.
What makes it the best app for cricket betting are very competitive odds and HD live streaming. Furthermore, you can get game stats and watch a cricket match side-by-side with live in-play.
Not to mention that bet365 covers various cricket betting markets, including the Canadian GLobal T20 League — one of the world's top cricket leagues.
Bet365 Casino App Review
Playtech and Microgaming Games

Responsive Live Casino

Very Few Games
While some sportsbooks have a separate casino app, bet365 isn't one of them. You can easily switch between the sportsbook and casino inside a single app.
The bet365 casino app offers an impressive array of exclusive games for casino enthusiasts. They come from the likes of Playtech and Microgaming, so we weren't surprised to see they loaded quickly and were quite responsive.
Whether you enjoy slot machines, table games, or live dealer experiences, the app delivers a flawless and immersive casino environment.
That said, with less than 100 games on offer, it can hardly compare to the top gambling apps in Canada — for example, Betano app has 1700+ while Bet99 boasts 3000+.
Live Casino App Review
Besides providing a seamless and glitch-free experience, we also found bet365's live casino section to have a decent offering.
You can enjoy a range of live dealer games, such as roulette and blackjack, and expect to find 15-20 different options for each.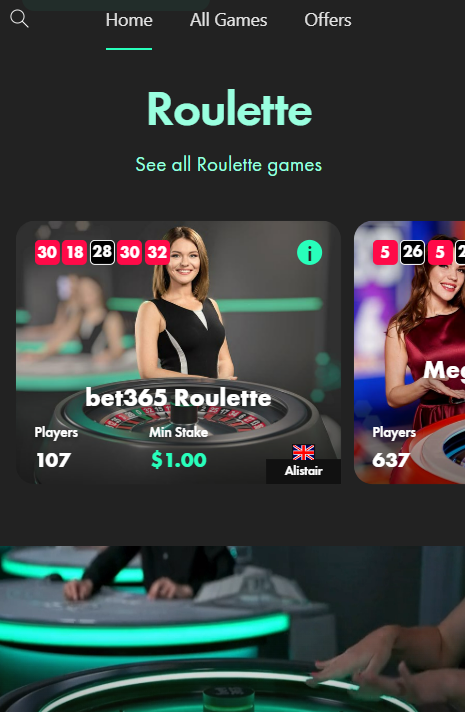 Common Bet365 App Issues
We've seen complaints by some users regarding the bet365 app, and they mostly come down to two issues:
the app won't install
the app won't work
Luckily, once we've managed to replicate the issues, the fix for both was fairly easy.
If you cannot install the app, ensure that you've downloaded the correct version for your device and have sufficient storage space.
For the bet365 app, you'll need to free up at least 50MB.
We also suggest you download the app straight from the bet365 website, because that way you can be sure it's safe.
If the app is not working, check your internet connection and make sure geolocation isn't giving you issues. If all is well on that front, it might be a temporary issue on their side.
You can always double-check this with customer service to be sure.
How to Deposit & Withdraw on bet365 App
Variety of Payment Methods

One-Touch Deposit

Simple Withdrawal Process
Depositing funds on the Bet365 app is simple. Simply visit the Deposit page under your account, where you can add and edit payment details.
The app conveniently stores your card information for future transactions, and a one-touch deposit feature helps make the process a lot quicker.
For withdrawals, navigate to the Withdraw section via the Account menu.
Take note that the app will ask you to withdraw using the same payment method used for the initial deposit, as is common on Canadian sportsbooks.
Luckily, various payment methods are available, so you can pick and choose which works best for you:
Credit Card (Visa and MasterCard)
Apple Pay
Interac
iDebit
paysafecard
INSTADEBIT
Click to pay
ecoPayz.
Just be aware that some of these methods cannot be used for withdrawals (such as paysafecard).
Our Verdict
The bet365 app for the Canadian market earns a well-deserved 5/5 stars from us. With its user-friendly interface, extensive sports offerings, and rich betting markets, it provides a top-notch betting experience.
That said, one of the most important things we look at when reviewing a betting app is how responsive or glitchy it is.
With bet365 app, we found every aspect — from the menu to the live betting and live casino — to be super responsive.
And although there was a user who struggled with a KYC glitch, we couldn't replicate it.
The inclusion of live streaming and cash-out options further enhances the app's appeal.
Additionally, the seamless integration of the casino section, along with exclusive games, adds another layer of excitement.
Because of all that, we were ready to disregard a very low number of casino games on offer.
Overall, the bet365 app stands out as a reliable and comprehensive platform for sports betting and online gaming enthusiasts.
Yes, bet365 does have an app, specifically designed for the Canadian audience.
Is there a bet365 app for Android?
Yes, bet365 offers a Canada-specific app for Android users.
Is there a bet365 app for PC?
No, the bet365 app is not available for PC. It's only designed for mobile and tablet devices.
How do I bet on the bet365 app?
To bet on the bet365 app, create an account, make a deposit, select a bet, and start wagering.
Yes, the bet365 app is free to use!