Best Betting Apps in Canada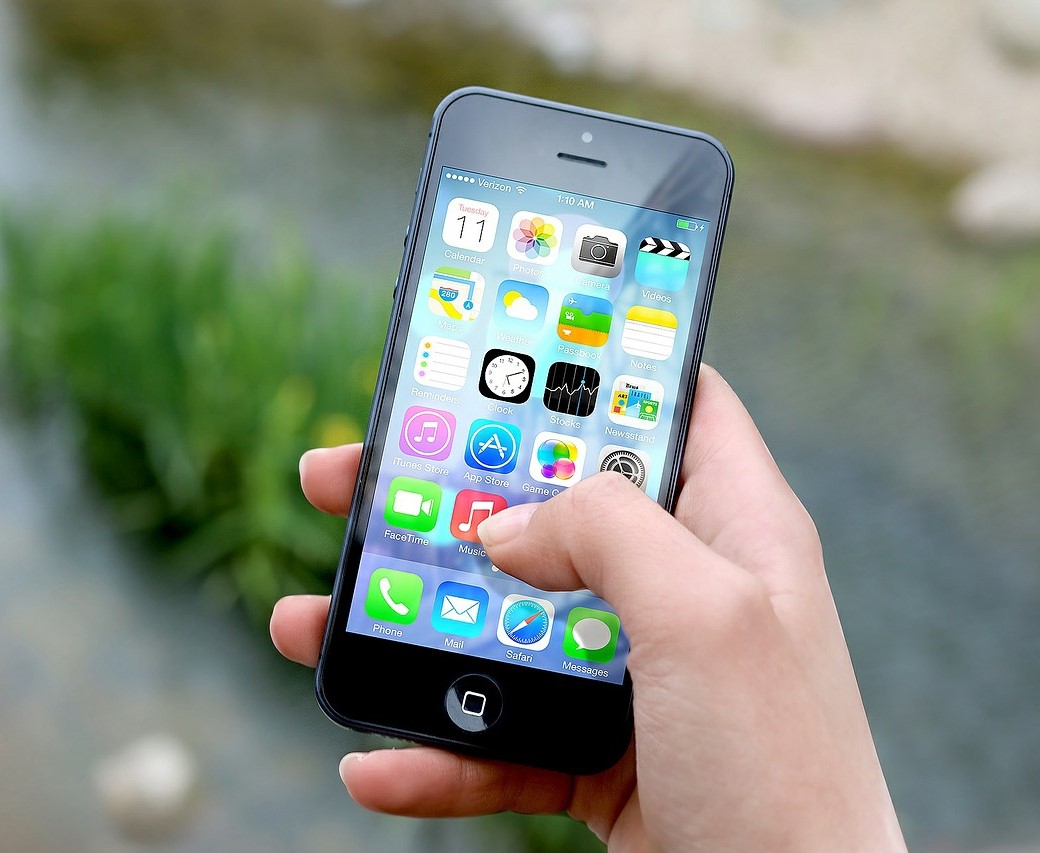 Looking for a good sports betting app in Canada? We have the answer!
Our sports betting apps guide compares the best sports betting apps, as well as lists any other information you might need when betting on mobile.
Let's get started!
The Top Sports Betting Apps in Canada for 2022
Betting Apps Overview
How do our selected sports betting apps perform? Let's do a quick comparison before having a look at some of them in more detail.
Best Sports Betting Apps in Canada: Compared
Bet99 App
Available in One App

Light and Dark Theme

Quick Download

Can Be Slow
Bet99 has an easy-to-use app perfect for in-play betting. Thanks to Bet99's focus being solely on Canadian bettors, you can expect to find all you need for sports like ice hockey, football, and basketball.
Bet99's app allows you to access both the sports and casino sections.
The navigation is user-friendly, also thanks to Bet99's extensive filters that help you filter through the hundreds of games and sports available.
You can also switch between light and dark theme on the app, which is a nifty feature that a lot of users will appreciate!
Unfortunately, we did find the app to be somewhat slow at times. We hope that this is because it's still a work in progress and that the app will be updated soon.
How to Download the Bet99 App on Android and iOS
On the plus side, downloading the app is straightforward and can be done on both Android and iOS phones.
Access Bet99 on mobile.
Open the side menu. You will get a popup to install the app.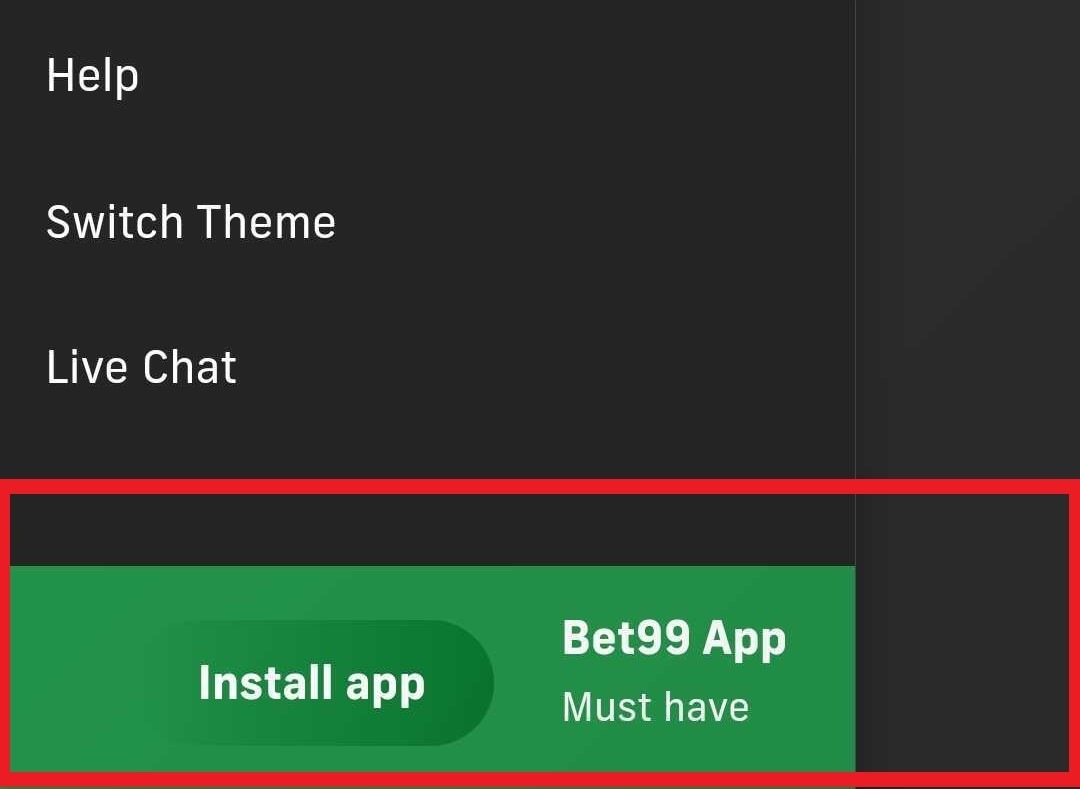 The Bet99 app only used up 269KB of storage on our phone, which makes it one of the less bulky apps.
LeoVegas App
Fast and Reliable

Easy Navigation

Quick Download

Slow spins

App per Vertical
LeoVegas puts the mobile experience first, and it shows. Not only is the app available for both iOS and Android users, but it also won multiple awards:
Mobile Operator award in 2019
Innovation in Casino Entertainment in 2020
LeoVegas app offers the same smooth gaming experience and easy navigation as desktop and mobile sites. Plus, you'll have all verticals in one app!
You can bet on over 35 sports, including ice hockey, basketball, boxing, and even niche sports like darts, squash, and chess.
Moreover, LeoVegas' eSports section offers Canada's favourite electronic sports like CS:GO, Dota 2, LoL, and Valorant.
In addition to 75 live casino games, the in-app casino offers more than 1700 slots, and there's also a bingo section and 40 jackpot games.
Some users report that spins can be occasionally slow, though we didn't experience this. Luckily, the customer support team is quick to resolve any issues.
How to Download LeoVegas App
To download LeoVegas app, you'll have to visit the App Store or Google Play store, depending on your smartphone OS.
All you need to do is:
Click on our link and follow instructions. You need to sign up and log in first.
Once you're logged in, scroll to the bottom of the homepage and click on 'Our Apps'.
Follow instructions depending on whether you're an Android or iOS user.
Click "Install" and have fun betting!
888Sport App
Fast and Intuitive

Simple to Use

Seamless Experience

Doesn't Save Login Info
No matter if you're betting on your phone or tablet, the 888 betting app is designed to provide the best experience. The app is fast and incredibly simple to use.
If you like betting on 888Sport's site, you'll love the app since it provides the same seamless experience.
Since all verticals can be found in one app, you'll have access to both betting and casino games.
You'll be able to bet on over 20 sports, including hockey, basketball, rugby, boxing, but also eSports such as Dota, CSGO, and LoL.
In addition to classic casino games and scratch cards, you can also enjoy live casino games like poker, blackjack, and roulette.
One downside we noticed is that the app doesn't save login information. It can be a bit annoying to constantly have to log in, but the 888 support team reported this was a bug and would be fixed soon.
How to Download 888Sport App
Downloading the 888 app is very simple.
1. Visit the site from your mobile device.
2. Click "Get the App" in the upper right corner.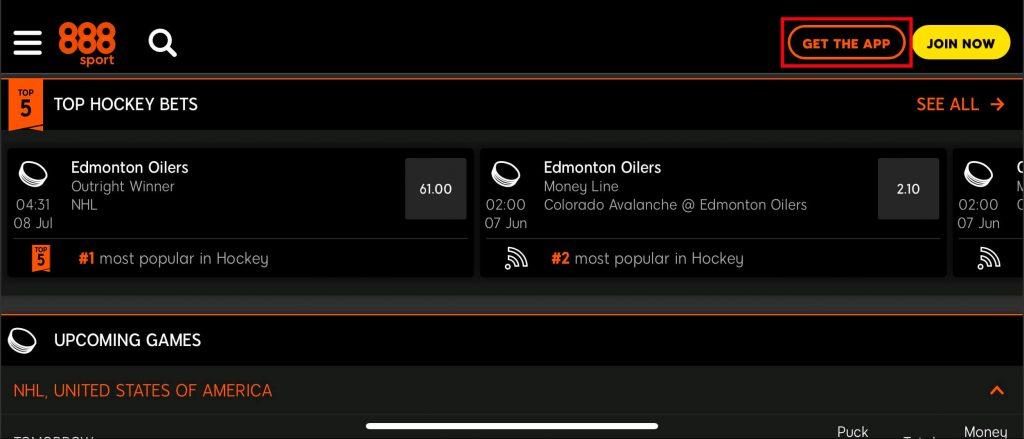 4. The system will recognize your phone OS and take you to the app store.
5. Click "Install" and you'll soon be able to bet!
Betway App
All Verticals in One App

Excellent Navigation

Easy Download

Noticeable Lag
Betway has a lot of positive features to boast of. It's known for its comprehensive cashout feature that clearly indicates which bets are eligible for cashout.
Betway Canada is also one of the best eSports options in the country, although MLB fans should check it out as well. This app comes with a range of betting markets available.
Betway's mobile app covers both the sports and casino verticals, so there's no need to download multiple versions of the app and you can easily switch tabs between different products.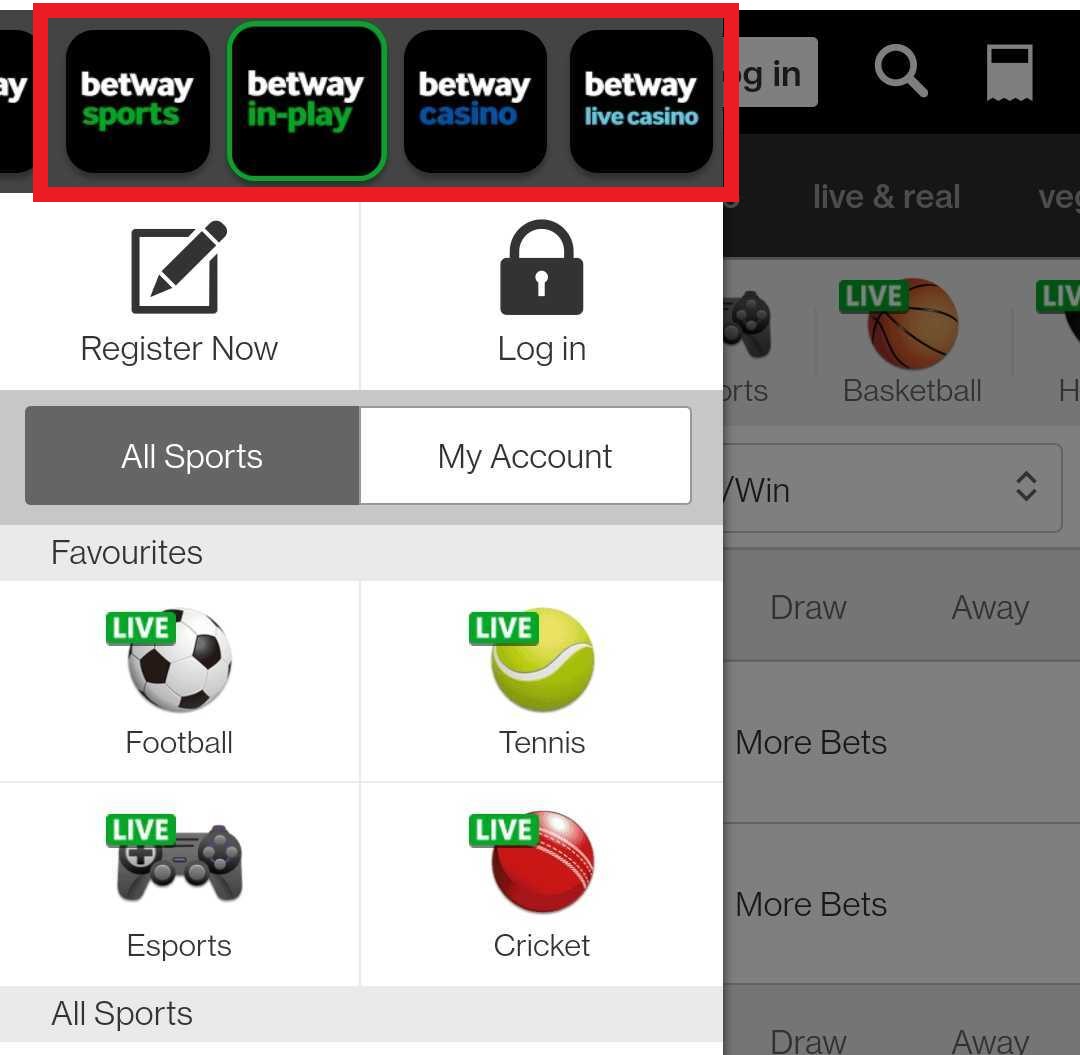 Aside from that, Betway offers excellent navigation and we had no problem navigating the app. We particularly liked the bottom menu that gives you instant access to your bets, and other important features.
One thing that lowered the quality of our experience was a noticeable lag when switching from one thing to the next, and not something we experienced on the in-browser mobile site, or on desktop. We feel that other apps performed better in this aspect.
How to Download the Betway App
Access Betway on mobile.
When the homepage loads, start scrolling down. You will find a section on downloading the Betway app. Choose whether to download it via Play Store or App Store.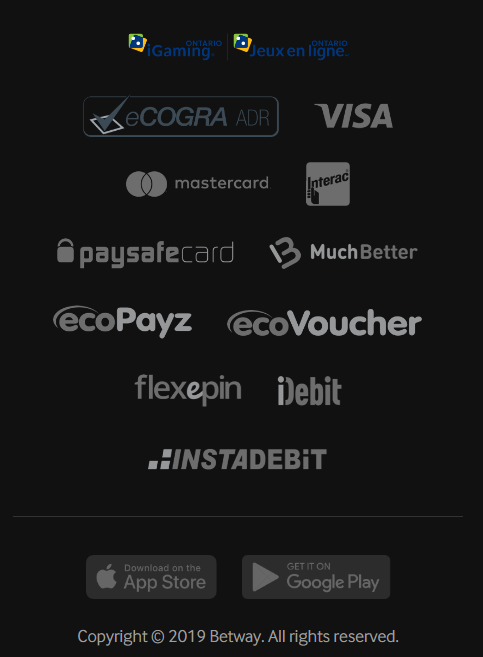 And that's it! You'll be taken to the store to download and install the app. Betway app uses up around 100MB of storage, so make sure to leave some space prior to installation.
PointsBet App
Great User Experience

Satisfied Users

Easy to Download

Occasional Bugs
PointsBet app is the preferred choice of many bettors, and for a good reason.
Not only does it come with a great sportsbook and quality casino games, the user experience is top-notch. Finding your preferred sport, match, and bet is a breeze.
The app also counts down to major sports events, which helps keep you in the loop and build up excitement!
And while the PointsBet app has a limited choice regarding the number of casino games (just over 70), they collaborate with reputable game studios to make sure the games offered are top-notch, and responsive on mobile.
The only downside is the occasional bugs some users report. However, PointsBet makes sure to answer them promptly and provide help.
How to Download the PointsBet App
Downloading the PointsBet app is super simple:
Scroll to the bottom of PointsBet's website and choose your operating system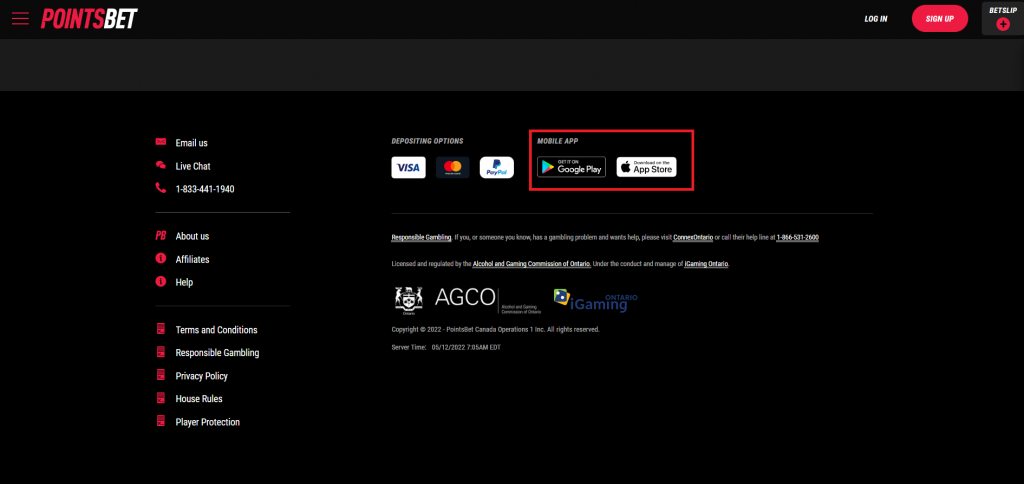 Or download it from the left side menu.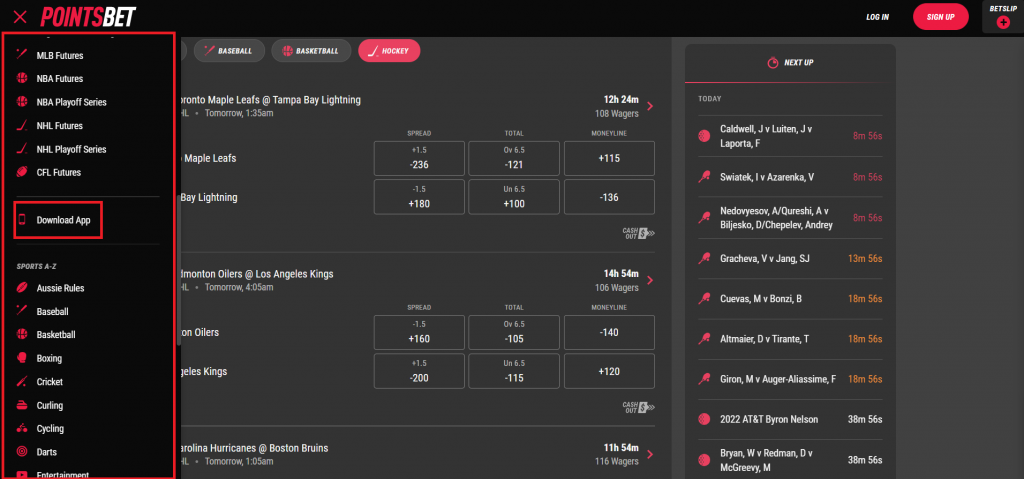 And you can start betting!
BetMGM App
Easy to Navigate

Easy to Download

Separate Apps for Sportsbook, Poker, and Casino
BetMGM is one of the rare sportsbooks that created an app so good, it's easier to navigate than the desktop version.
While the desktop version is quite cluttered, the app is neat and noticeably simplified in comparison.
But in order to unclutter it, BetMGM had to separate it into three apps: one for the sportsbook, the other for casino, and the third for poker.
While undoubtedly helpful in simplifying things, this also makes switching between the three segments complicated.
The good thing is, BetMGM apps have something for everyone.
Sportsbooks lovers will find the selection that consists of Canadians' favourites like NHL, basketball, and soccer, as well as more niche sports such as darts and biathlon.
To spice it all up, bettors can edit their bets in-app!
Meanwhile, casino enthusiasts can enjoy live poker, poker tournaments, and exclusive games.
How to Download the BetMGM App
Downloading any of the three apps is super simple:
Visit the website using your smartphone.
Find the A-Z menu at the bottom.
Click on the app you want to download.
Once you're taken to the app store, simply click "Install".
And there you have it! If you need more details about downloading the app, we have a whole segment about it in our BetMGM review.
Best NBA Betting Apps in Canada
More and more Canadian players are interested in betting on NBA teams. With the NBA finals coming up, we decided to test out the apps and present you with the best ones for betting on the league.
Now, all of the above apps are great, but when it comes to betting on the NBA, we loved LeoVegas the most.
LeoVegas offers a greater range of NBA markets. However, live streaming is what won us over.
While a lot of NBA betting apps have live streaming, the very noticeable app lag on most of them makes the experience subpar.
Best Hockey Betting Apps in Canada
Ice hockey and the NHL run in Canadians' veins, so it's only natural to test the apps and see which one is the best for betting on the NHL.
Our favourite for this category is Bet99.
Bet99 takes the top spot for hockey betting. The sportsbook's main perk is its competitive hockey odds and vast range of bets. Bet99 also has a separate category for prop bets, offering far more interesting prop bets than most other betting brands.
Which Apps Can You Bet on the Super Bowl?
A lot of our readers ask specifically for Super Bowl betting apps. Since the Super Bowl is such a popular event, all of our recommended apps will cover bets for the Super Bowl and any other NFL bets.
However, if we had to pick our favourite Super Bowl app, it would be Bet99.
Bet99's app isn't always smooth, but the brand makes up for it with good odds and a separate props section.
All You Need to Know Before Downloading a Sports Betting App
Now that we know what makes a good betting app, what should you keep in mind when downloading an app? Let's take a look.
Storage Size
Betting apps can take up a significant amount of space, which is why you should check for the app size before downloading. As you will see later on in this guide, you can expect the app to take up to 100MB.
Compatibility
Up until a few years ago, checking for iOS and Android compatibility was a big thing as some apps were only developed for one operating system.
Nowadays, it's no longer an issue as the best sports betting apps are usually compatible with both systems.
However, you should still check to see if the betting app is compatible with your Android and iOS version and that it meets the minimum software requirements.
Features
Do you want to have live streaming? Or an H2H (head to head) comparison between teams? Are you looking for partial cashout?
These are features you should list so that you can easily eliminate any sports betting apps that do not meet your requirements.
Mobile Sites vs. Mobile Apps
If you want to bet on mobile, there are two options to choose from.
You can use your browser to access a mobile-optimized site, or you can download a mobile app.
But which option should you choose? We've summarised the pros and cons so that you can make an informed choice!
Pros and Cons of a Mobile-Optimized Site
All Sportsbooks Have the Option
No Notifications for Offers
Pros and Cons of a Downloadable App
Can Activate Notifications
Can Be Slower than Browser Site
Might Need Multiple Apps per Brand
Not Available for all Sportsbooks
As you can see, choosing one of the two options boils down to personal preference.
In this guide, we focus on downloadable apps but do keep in mind that every site we recommend has an optimized mobile site if you prefer to use that.
Top Features When Choosing Betting Apps
What makes a good mobile app?
First of all, most requirements that apply to the best betting sites are kept in mind when reviewing apps.
That is, we expect the sportsbooks to offer competitive odds, safety, and a range of betting markets.
On top of that, we add a few extra requirements for mobile:
Easy Navigation
On the smaller mobile screen, it's imperative that navigation is as user-friendly as possible so that everything is within easy reach.
Fast Loading Time
A common issue with sports betting apps is that there might be some lag and the app is slower to respond than an in-browser. We make sure to test this and let you know if we experience any slow-loading pages.
Same Experience as Desktop
We don't want a downloadable app to offer only half the options of its desktop version. We expect the best sports betting apps to deliver the same product that we would access via desktop or browser.
Bet on Mobile Today
Throughout this guide, we've seen that there are plenty of legitimate sports betting apps for Canadians.
Which betting app you choose is ultimately dependent on your personal betting needs. Get started on mobile today by picking one of the best Canadian options:
FAQs
What is the best app for sports betting?
The best sports betting app depends on your personal preferences, but we higly recommend betting apps like Bet99. You can check out our full list for Canada in our guide!
What betting apps are legal in Canada?
Betting apps like Bet99 and LeoVegas are legal in all Canadian provinces. Other apps like BetRivers, PointsBet, and BetMGM are only legal in Ontario.
Where can I download sports betting apps?
The easiest way to download sports betting apps is to access the sports betting site on mobile and download the app directly from there. You can usually find a link to download the app at the bottom of the homepage. We suggest you check out our list of the best sports betting apps and make your choice.
What should I keep in mind before downloading a sports betting app?
Check the storage space you will need for your chosen betting app. Moreover, double-check that it's available for your device.
What is the most reliable betting app?
The most reliable betting app in Canada is LeoVegas. It's super smooth and easy to use.