Is FanDuel Sportsbook Legal in Canada? | Latest Updates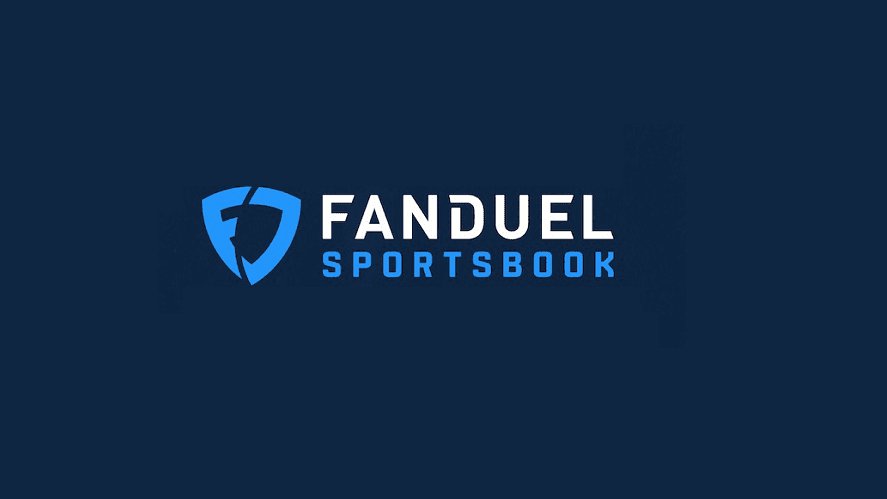 The recent legalization of single-event betting in Canada is bringing about lots of changes in the market, with one of the changes expected to be the inclusion of regulated private operators in some provinces.
One of the operators that will likely be one of the biggest players in sports gambling is FanDuel, with analysts expecting it to take up 16% of the Canadian market in the next 5 years.
FanDuel is no stranger to Canadians since it has been offering DFS legally for years. However, the FanDuel sportsbook remains illegal in Canada for the time being.
FanDuel Sportsbook Alternatives
We're super excited for the day we can bet on sports at FanDuel, but in the meantime, there are plenty of other great betting sites available.
When Will FanDuel Sportsbook Be Legalized?
As of August 27th, 2021, single-event betting is legal in Canada. It is now dependent on each province to regulate single-event sports betting as they wish.
Ontario is currently the only province that is going to open up the market to private operators, so we will likely see FanDuel sportsbook legalized there first.
However, the inclusion of regulated private operators in Ontario is set to happen towards the end of 2021.
So, we will likely see FanDuel Sportsbook in Ontario by December 2021.
The LegalBet Canada team will keep you updated on all the latest news, so stay tuned!
Can I Use FanDuel in Canada in the Meantime?
There are plenty of offshore sportsbook operators that are available to Canadians without any legal issues. However, the FanDuel sportsbook is not available to play in Canada.
You can use FanDuel to play DFS in Canada, the same as its competitor, DraftKings.
When you play DFS, you build a virtual team of real sports players for online prediction games. You then earn points based on the performance of the player in real life and play against other managers.
Let's take a closer look at what to expect from FanDuel's DFS section.
DFS Options at FanDuel
You can find some of the most popular sports leagues to play fantasy games. These include:
and more!
There are also different game types to choose from.
Take your pick from tournaments, multipliers, head to heads, 50/50s and more.
If you're a beginner to DFS, you can even participate in beginner contests, where you can compete with players of the same experience level.
Although these contests have smaller prize pools, it is a good entry point if you want to get familiar with the world of fantasy sports.

Entry fees start as low as $1, and you'll find plenty of options in the range of $10.
How to Sign Up at FanDuel Canada
Signing up at FanDuel to play DFS can't be easier!
Visit the FanDuel homepage. Click on the 'Fantasy Sports' button.
You will be directed to a short registration form. All you need to do is enter email, screen name, and password. Click 'Play Now'.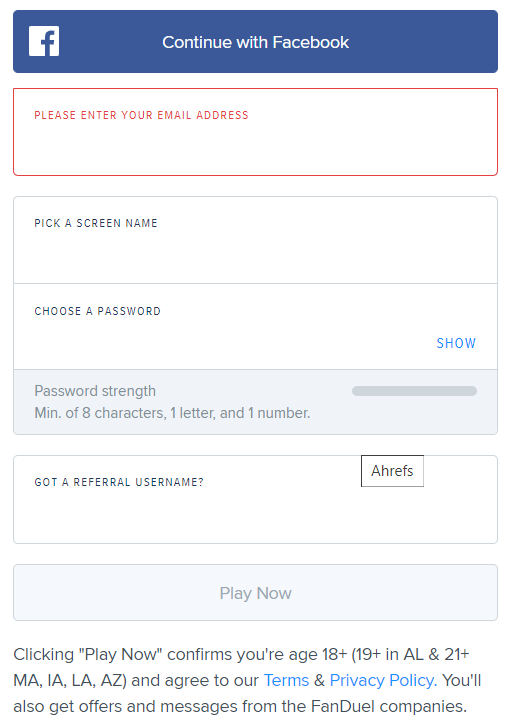 That's it! FanDuel requires no extra verifications at this stage.
If you proceed to make a first deposit, you can look forward to a sign up bonus. The current welcome bonus at FanDuel Canada is an awesome 20% up to $500!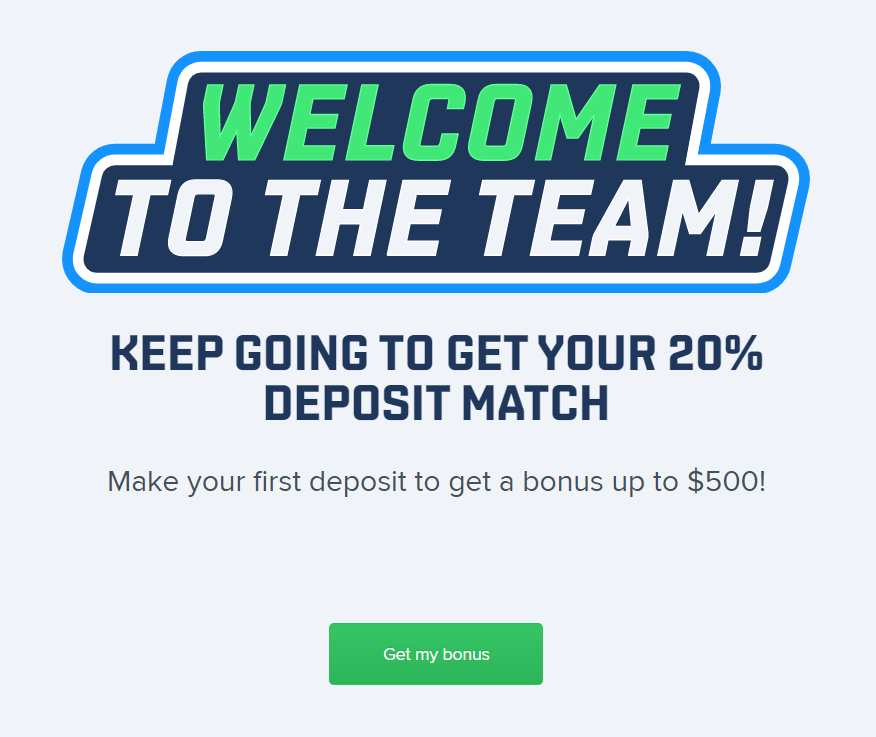 Can I Download the FanDuel App in Canada?
What about the FanDuel app? Unfortunately, you cannot use the FanDuel app in Canada at the moment.
We suggest you access the DFS section on your desktop or on your mobile browser.
FAQs
Does FanDuel pay real money?
Yes, FanDuel pays real money for its DFS section. You need to pay an entry fee to enter tournaments. If you are elegible for a prize, FanDuel will pay that in real money to your account.
How do I get on FanDuel Canada?
Just access the FanDuel site via your browser. Unfortunately, the downloadable app is not available in Canada at the moment.
Can I use a VPN to access FanDuel sportsbook in Canada?
No, we don't recommend using a VPN to access an unavailable product. Firstly, FanDuel can pick up on VPN use and restrict your account. Secondly, it will cause issues later when it comes to document verification and payouts.
Can you lose money on FanDuel?
Yes, like all forms of betting, there's always a risk that you can lose money if you lose bets or DFS tournaments. That is why we recommend that you use an appropriate bankroll management strategy.