Is FanDuel Sportsbook Available in Canada? | Latest Updates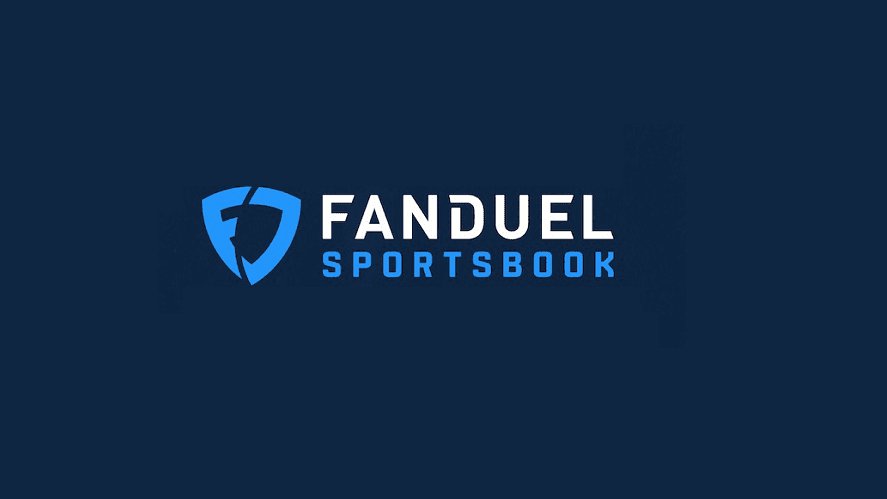 The recent legalization of single-event betting in Canada is bringing about lots of changes in the market, with one of the changes expected to be the inclusion of regulated private operators in some provinces, namely Ontario.
One of the operators that will likely be one of the biggest players in sports gambling is FanDuel, with analysts expecting it to take up 16% of the Canadian market in the next 5 years.
The site is no stranger to Canadians since it has been offering DFS legally for years, but is FanDuel available in Canada?
Sadly, the FanDuel sportsbook remains unavailable in most of Canada for the time being.
| Province | Is FanDuel Available? |
| --- | --- |
| Ontario | Yes |
| Quebeck | No |
| Nova Scotia | No |
| New Brunswick | No |
| Manitoba | No |
| British Columbia | No |
| Prince Edward Island | No |
| Saskatchewan | No |
| Alberta | No |
| Newfoundland and Labrador | No |
If you're outside of Ontario, here are some FanDuel alternatives:
When is FanDuel Sportsbook Coming to Canada?
Ontario opened up the online market on the 4th of April 2022 and FanDuel has an approved Ontarian license.
However, FanDuel Sportsbook will only be available in Ontario for the foreseeable future.
This is because it is up to each province to regulate single-event sports betting as they wish.
Is FanDuel Legal in Ontario?
Ontario is currently the only province that has opened up the market to private operators, so FanDuel sportsbook has been legalized in Ontario first.
Does that mean I can sign up to Fanduel sportsbook in Ontario?
Yes, you can! However, our users have been reporting a few issues when signing up to FanDuel sportsbook. These include:
FanDuel not allowing them to sign up
Users sign up, but cannot place bets
Problems with verification on both the app and desktop version
FanDuel not showing settled bets
This is likely to be a temporary issue till FanDuel is fully operational in Canada and solves some geotargeting and verification problems.
To avoid a frustrating experience, we suggest you wait a few days before signing up to FanDuel and stick to betting sites like BetMGM, which seems to be having a smoother transition into the market.
Is FanDuel Sportsbook Available in Quebec?
No, FanDuel sportsbook is only available in Ontario and bettors in Quebec can't access this betting site.
Is FanDuel Sportsbook Legal in British Columbia?
As we've already indicated, FanDuel sportsbook is not available in provinces like British Columbia. This means that BC bettors cannot access and bet at FanDuel.
This does not exclude these provinces (and all other provinces) from allowing FanDuel Sportsbook to operate in the future.
The LegalBet Canada team will keep you updated on all the latest news, so stay tuned!
Can I Download the FanDuel App in Canada?
What about the FanDuel app? If you're in Ontario, you can download the FanDuel app.
Unfortunately, you cannot use the FanDuel app in Canada at the moment.
We suggest you access the DFS section on your desktop or on your mobile browser.
FanDuel Alternatives
In the meantime, here are some alternative betting sites available in all other Canadian provinces.
All the betting sites we recommend have an Ontario license, which is a sign of safety and reputability in Canada.
Can I Use FanDuel in Canada in the Meantime?
There are plenty of offshore sportsbook operators that are available to Canadians without any legal issues. However, the FanDuel sportsbook is not available to play in most of Canada.
As long as you don't reside in Ontario, you can use FanDuel to play DFS in Canada, the same as its competitor, DraftKings.
When you play DFS, you build a virtual team of real sports players for online prediction games. You then earn points based on the performance of the player in real life and play against other managers.
Let's take a closer look at what to expect from FanDuel's DFS section.
DFS Options at FanDuel
You can find some of the most popular sports leagues to play fantasy games. These include:
and more!
There are also different game types to choose from.
Take your pick from tournaments, multipliers, head to heads, 50/50s and more.
If you're a beginner to DFS, you can even participate in beginner contests, where you can compete with players of the same experience level.
Although these contests have smaller prize pools, it is a good entry point if you want to get familiar with the world of fantasy sports.

Entry fees start as low as $1, and you'll find plenty of options in the range of $10.
How to Sign Up at FanDuel DFS Canada
Signing up at FanDuel to play DFS can't be easier!
Visit the FanDuel homepage. Click on the 'Fantasy Sports' button.
You will be directed to a short registration form. All you need to do is enter email, screen name, and password. Click 'Play Now'.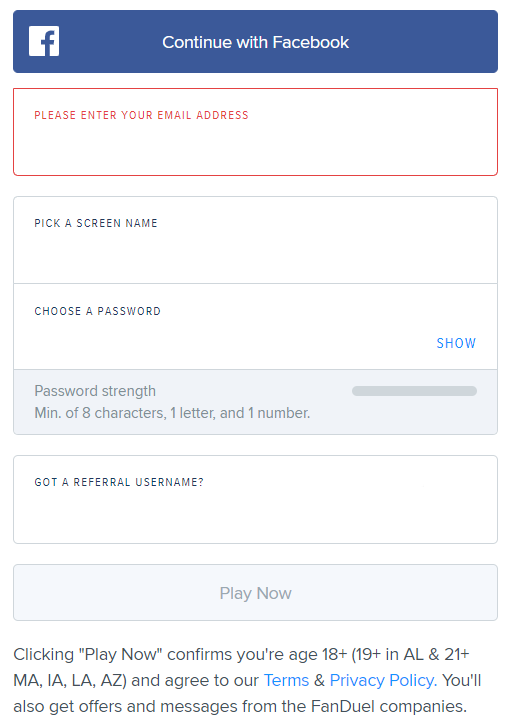 That's it! FanDuel requires no extra verifications at this stage.
If you proceed to make a first deposit, you can look forward to a sign up bonus.
Best Alternative for FanDuel's Same Game Parlays
FanDuel is known for innovative features like Same Game Parlays, which gives it an edge over other betting sites where this is still not an option.
While Same Game Parlays are extremely hard to find, we have good news for you. LeoVegas, which is also regulated in Ontario, has recently launched a new feature that allows you to place parlay bets on the same game!
This feature is available for major leagues and popular events like the Super Bowl game between LA Rams and CIN Bengals!
Other FanDuel Canada Updates
While we wait for FanDuel Canada sportsbook to be available across Canada, there are plenty of other things happening as the brand prepares for its entry. Here's a summary of the latest updates:
04.04.2022 – FanDuel Sportsbook is in Ontario
FanDuel sportsbook is officially legal and operational in Ontario. You can sign up and place your bets.
01.04.2022 – FanDuel Withdraws DFS from Ontario
As of April 1st, FanDuel will no longer operate its daily fantasy product in Ontario. This decision was taken in order to comply with regulations from the Alcohol and Gaming Commission of Ontario (AGCO).
While users from this province can no longer take part in the DFS, they can instead use the sports betting platform.
5.11.2021 – NBA Names FanDuel as a Betting Partner
Both FanDuel and DraftKings are named as official sports betting partners of the NBA in Canada.
18.10.2021 – Dale Hooper is Appointed General Manager of Canada
FanDuel announces that Dale Hooper will join the company as General Manager of Canada, and will be responsible for long-term strategy in Canada.
Hooper was previously a partner at Deloitte Canada, where he focused on the cannabis industry.
FAQs
Does FanDuel pay real money?
Yes, FanDuel pays real money for its DFS section. You need to pay an entry fee to enter tournaments. If you are elegible for a prize, FanDuel will pay that in real money to your account.
How do I get on FanDuel Canada?
Just access the FanDuel site via your browser. Unfortunately, the downloadable app is not available in Canada at the moment.
Can I use a VPN to access FanDuel sportsbook in Canada?
No, we don't recommend using a VPN to access an unavailable product. Firstly, FanDuel can pick up on VPN use and restrict your account. Secondly, it will cause issues later when it comes to document verification and payouts.
Can you lose money on FanDuel?
Yes, like all forms of betting, there's always a risk that you can lose money if you lose bets or DFS tournaments. That is why we recommend that you use an appropriate bankroll management strategy.
The DFS section of FanDuel is in Canada, but the FanDuel sportsbook is not yet available in most provinces except, as of April 4th, Ontario. On the other hand, users from Ontario will no longer be able to access the daily fantasy section of FanDuel.