Written By:
Jelena Kabić
About Author
Jelena Kabic is a sports betting writer that focusses on responsible gambling. A psychologist by vocation, Jelena volunteered in a rehab facility, where she worked with gambling addicts. She now reviews all our content to ensure it discusses betting in a socially responsible way.
Fact Checked By:
Amy Webb
About Author
Amy's introduction to the gambling world was 6 years ago, when she joined a casino operator as a content specialist. Since then, she's helped launch and maintain gambling review sites in over 8 different countries. She's tested dozens of casinos and sportsbooks, which is how she can spot a subpar brand in an instant!
Newfoundland and Labrador Betting Sites in 2023
Newfoundland and Labrador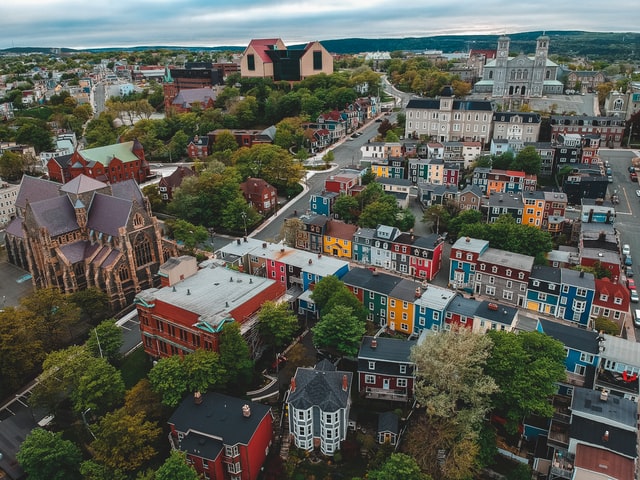 Over the years, several Canadian provinces changed their gambling regulations to provide various online betting products to their residents.
The most recent example is Ontario, which regulated the online sports betting market to end grey market operations.
It's possible to see this trend in other regions, but one province is adamant about going the opposite way.
Newfoundland and Labrador have always been very vocal about their interest in decreasing the number of virtual lottery terminals in the province and have the same posture regarding other forms of online gambling.
So, what does this mean to the residents who want to bet on Newfoundland and Labrador betting sites? This guide will answer all your questions and give you the list of options you can use to wager on your favourite sports.
Regulated Sports Betting in Newfoundland and Labrador
Newfoundland and Labrador are part of the Atlantic Lottery Corporation (ALC), along with New Brunswick, Prince Edward Island, and Nova Scotia.
Betting is legal in the province, but it tends to be frowned upon by the government.
But though the laws established by the provincial government decreased the number of available gaming locations by 15%, residents can still place their wagers online through the ALC's platform — Pro-Line.
The sports betting website has developed its features to become similar to internationally renowned operators.
Due to the recent legislation surrounding single-event betting, Pro-Line bettors can also place their bets on individual matches.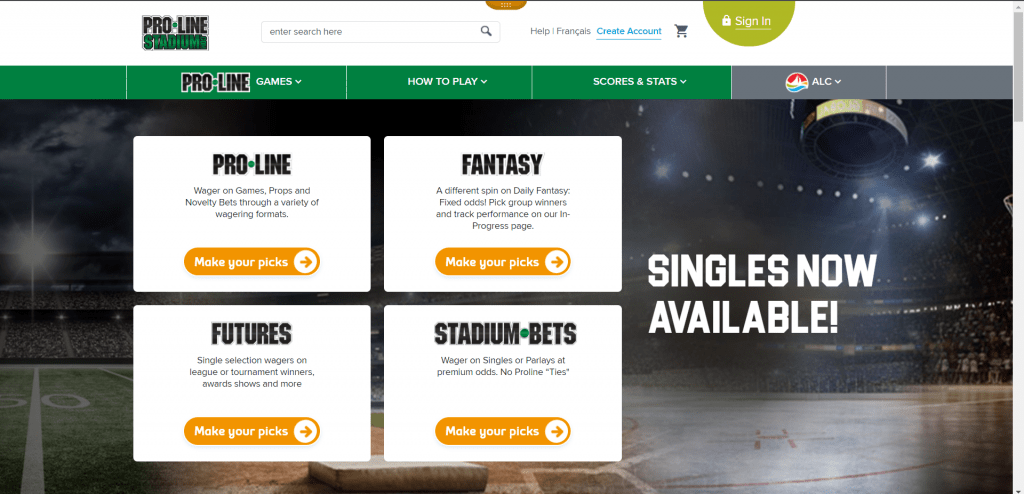 Pro-Line covers nine sports, including popular ones like hockey, basketball, and baseball. Bettors can choose from both local and international leagues. Some of the most popular include Spain, Germany, and France.
The platform also allows betting on eSports competitions, such as the of League of Legends, CS:GO, and Call of Duty.
Even though the ALC has been making several efforts to update and expand Pro-Line's offering, the sportsbook still falls short compared to international operators.
Pro-Line is the only provincially regulated sportsbook in the region. However, sports fans can still place their bets on international operators.
While the province doesn't regulate these international sportsbooks, they remain accessible to residents of Newfoundland and Labrador.
Are International Operators Safe?
Not all international betting sites are built from the same cloth.
But those with numerous international licenses, who decide to apply for Canada's gambling licenses as well show they're trustworthy, reputable, and have nothing to hide.
Many of these sports betting websites are already regulated by the likes of United Kingdom Gambling Commission or the Malta Gaming Authority.
And with Ontario's recent efforts to regulate its online betting market, more and more betting websites are acquiring an Ontario gaming license.
The websites we recommend are legal in Ontario, meaning the province ensures that the sportsbooks meet all the requirements to be considered safe and fair.
It also guarantees that the sports betting websites follow all the responsible gaming protocols and offer tools to help their players.
Best Newfoundland and Labrador Sportsbooks
Bet99
Bet99 began its operations in 2020 and quickly rose in popularity due to its abundance of prop bets.
The brand has 30+ sports on offer, and allows players to cash out their winnings and live stream popular sports.
bet365
bet365 was launched over 20 years ago and is available in 200 countries worldwide. It covers dozens of different sports' major international competitions and smaller events alike.
The most popular choices include soccer, baseball, basketball, hockey, and more.
The HD live-streaming option makes it one of the leading sportsbooks in the market. It also has pretty competitive odds, which is rare in popular sportsbooks.
To top it off, bettors can also place same-game parlays and choose a partial cash-out option.
Are Casinos Illegal in Newfoundland?
Even though some of the provinces regulated by the ALC have embraced the corporation's gambling products, NL governors are reticent about online gambling in their territory.
Online gambling is legal in NL, but the provincial government has been fighting gaming expansion for decades.
For instance, in 1996, the local government established a policy forbidding the opening of land-based casinos. In 2005, other regulations were put into place to decrease the number of video lottery terminals in the province.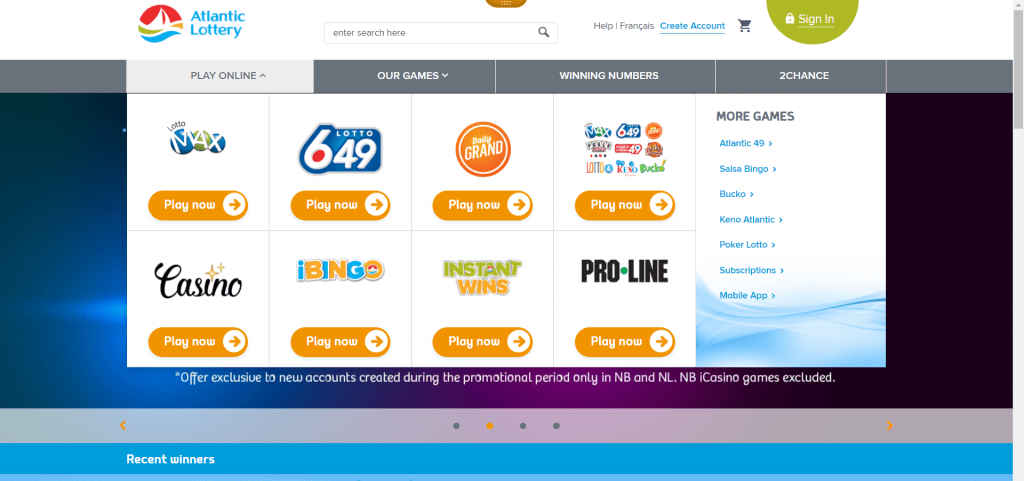 The Atlantic Lottery Corporation Platform
The Atlantic Lottery Corporation allows players to purchase lottery tickets online and provides an online casino and sportsbook. The online casino offers a good range of games, such as:
Slots
Jackpots
Blackjack
Poker
Baccarat
Roulette
But despite NL's governors working hard to put a stop to any and all gambling activities inside the province, international operators are still available to Newfoundland bettors.
Safe Casinos Available to Newfoundland Bettors
For those unhappy with ALC's offering, we recommend choosing international casinos with an iGO license, as it's the only one available in Canada for now.
This still means you'd be choosing safe casinos that adhere to Canadian standards of fair play.
What's more, many of these casinos have 1000+ games to choose from, with some like PlayOJO boasting over 3000 titles.
Newfoundland gamblers can pick and choose not only the most common casino games, but also progressive jackpots and live casino games provided by top software operators.
Below is an overview of the best international operators in Newfoundland and Labrador, all of which have the iGaming Ontario license.
Landbased Betting and Gambling in Newfoundland and Labrador
There is only one retail location where players can bet on sports and play casino games in NL. The St. John's Racing & Entertainment Center is a horse track located in Goulds where players can also find five gaming machines.
It's possible to find virtual lottery terminals throughout the province. However, as explained above, the government is focusing on the continuous decrease of the number of these gaming machines.
The decision to lower the possibilities for online gambling came after a steady increase in gambling addiction throughout the province.
Due to this, many NL residents opt to play on the numerous international online casinos currently available in the province.
Related reads:
FAQs
Is bet365 legal in Newfoundland?
Newfoundland doesn't have a law preventing bettors from accessing international operators. So while bet365 is only fully legal in Ontario, you can still access it from Newfoundland with no legal repercussions.
Can I buy online lottery tickets in Newfoundland and Labrador?
Yes, residents in NL can buy lottery tickets online at the Atlantic Lottery Corporation's website. All the major national and provincial lotteries are available, and players can also find casino games and sports betting options.
Is online gambling legal in Newfoundland?
Yes, you can legally gamble online in Newfoundland. You can choose between the interprovincially regulated option and international operators.
Who regulates online gambling in NL?
The entity responsible for regulating and overseeing gambling activities is the Atlantic Lottery Corporation. This is also the organization in charge of the gaming operations in other provinces, including Nova Scotia and New Brunswick.
Are there any sports betting mobile apps in Newfoundland and Labrador?
Yes, residents in NL can download and install the mobile apps of international sportsbooks. Almost all well-known brands developed specialized apps for Android and iOS devices, where players access the same odds, sports, and bet types as on the website.
How old do I need to be to gamble in Canada legally?
Players must be at least 19 years old to gamble legally. The minimum age to place bets may vary from one province to another, so always confirm this information if you intend to travel and wager in other regions.