Written By:
Jelena Kabić
About Author
Jelena Kabic is a sports betting writer that focusses on responsible gambling. A psychologist by vocation, Jelena volunteered in a rehab facility, where she worked with gambling addicts. She now reviews all our content to ensure it discusses betting in a socially responsible way.
Fact Checked By:
Amy Webb
About Author
Amy's introduction to the gambling world was 6 years ago, when she joined a casino operator as a content specialist. Since then, she's helped launch and maintain gambling review sites in over 8 different countries. She's tested dozens of casinos and sportsbooks, which is how she can spot a subpar brand in an instant!
The Best Sports Betting Strategies
Sports Betting Strategy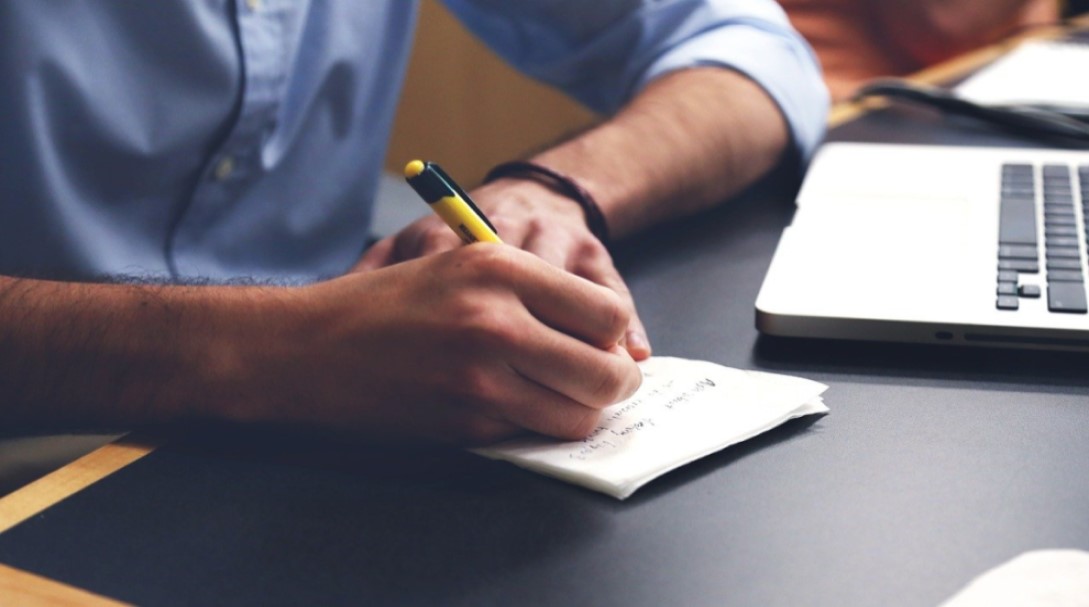 If you're new to the sports betting scene, we're here to help! Our detailed guide covers basic sports betting strategy so that you can bet wisely and increase your profits.
Continue reading to learn about bankroll management, specialization in a sport, fading the public, and a lot more! But first…
Keep in mind that sports betting strategy helps you master some key concepts, but luck plays a central role in the outcome of any bet!
How to Get Started
Let's start from the basics. The first step to take when considering sports betting is to choose an online sportsbook and sign up. We've listed some of our recommendations below:
The Top Sportsbooks for Canada
Why are these sportsbooks some of the best options for Canadian bettors?
We've selected these based on their excellent reputation, competitive odds, and top betting features. They also offer superb customer service and a wide range of sports to bet on.
More importantly, these sportsbooks all offer good welcome bonuses, which boost your budget and let you try out new betting strategies.
Once you register, you're ready to place your first bets!
If you're not familiar with basic concepts like sports betting odds and value bets, we suggest checking out our article on how odds work before reading this guide.
If you already know how odds work, here are some more betting tips to help you maximize your strategy.
Focus on One Team
Sign up at a sportsbook, and you'll find a multitude of sports you can choose from and dozens of bet types. If you feel like you don't know where to start, you're not alone. The endless possibilities can definitely be overwhelming.
Quote
Our suggestion is to focus on one sport and specialize in one team.
Does that limit your prospects of winning? Yes, it does limit you in some ways and will make you miss out on value bets for other teams and sports, but it will also give you a long-term advantage when you've studied your team thoroughly.
It will also open up the opportunity to study the other half of the matchup in more detail, giving you an edge over most bettors.
Analyze your team's statistics, watch past games, keep up-to-date with the latest team news, and find trends. This will all help you bet more strategically than the average bettor.
Once you've mastered this and got used to the system, then you can consider expanding to other teams and sports.
Check Weather Stats
Once you've selected your team, make sure to check the weather reports before every game.
This might sound a bit strange, but it is a well-known fact that a team's performance can be affected by weather changes.
Checking the weather is particularly useful for a totals bet (or over/under bet), where you bet on the total number of points in a game. Here's a more concrete example: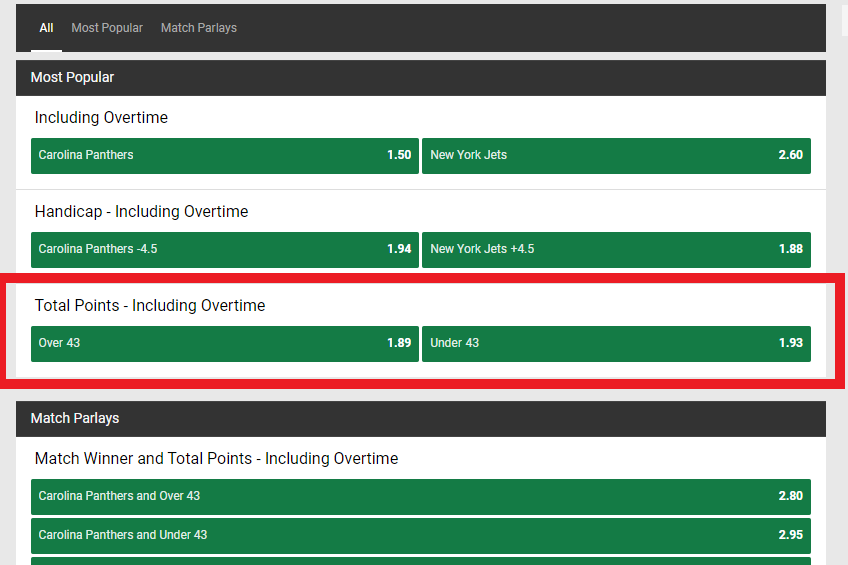 In this example, Carolina Panthers are playing the New York Jets in an NFL match. If you look at total points, you can bet that the total points will be over 43. That's the 'over' bet.
On the other hand, you can bet that the game will end with less than 43 points. That's the 'under' bet.
Weather will affect the total number of points, particularly for sports like football and baseball. One aspect to pay attention to more than anything is the wind.
Strong winds can significantly impact the total when it comes to football. This is because strong winds will make it difficult to throw the ball, leading to more incompletions and fewer first downs. This can all lead to a lower total of points.
Another aspect to keep in mind is whether the match is indoors or outdoors. Indoors can provide the best environment in the absence of weather conditions that impact the game.
You can check weather sites like Accuweather to help you with your choice of bets.
Choose Different Sportsbooks
Like we mentioned before, we review all sportsbooks for Canada and come up with the best recommendations for Canadian players.
All the sportsbooks we recommend have competitive odds, but they will vary slightly from one event to the next, and even when you're betting during the game.
Keeping an open mind and checking a few of your favourite sportsbooks before betting on an event can do you a world of good.
Let's take an example of Brooklyn vs. Milwaukee in an NBA match and compare the odds from different sportsbooks:
| | Betway | bwin | Unibet | Sports Interaction |
| --- | --- | --- | --- | --- |
| Brooklyn | 2.80 | 2.80 | 2.90 | 2.80 |
| Milwaukee | 1.44 | 1.48 | 1.45 | 1.45 |
According to this table, the best place to bet on Brooklyn is Unibet. The 0.10 difference in odds will result in an extra $5 if you bet $50.
On the other hand, bwin is the best option for betting on Milwaukee. A $50 bet will result in a $24 win.
Betway's odds of 1.44 will give you a win of $22, which is two dollars less than that.
It might sound like there are only minor differences, but these few dollars here and there will add up and will help you increase your winnings over time.
Fade the Public
Fading the public is another popular sports betting strategy to keep in mind, and it involves betting against the team that the public is wagering on.
Sportsbooks need to operate at a profit, so there are instances where sportsbooks create shaded lines.
A shaded line is when a sportsbook prices a bet at a higher value than it actually is because they know bettors will bet on it anyway.
Sportsbooks are aware that bettors will likely bet on favourites, home teams, popular teams and overs, so they capitalize on these betting tendencies.
For example, let's take the Toronto Maple Leafs, which have a big fan base and will always get their support.
Let's say the true price should be odds of 1.45.
However, the sportsbook will shade the line and present the odds as 1.43.
Here's a better breakdown of what this means:
| Bet Amount | Decimal Odds | To Win |
| --- | --- | --- |
| $100 | 1.45 | $45.45 |
| $100 | 1.43 | $42.55 |
That's $2.90 less in your pockets, but the sportsbook knows that the public won't care too much and will bet on an overpriced line anyway.
This works in your favour with the underdog, as the line will get shaded in a positive manner. If you feel the underdog has a better chance than projected, betting on that team will give you a better profit margin if you win that bet.
Does Fading the Public Always Work?
The answer is no. Superior teams are public favourites for a reason and they will have far more wins than losses.
We don't recommend you fade the public every time because it will probably lead to many losses. You might also risk getting restricted from a sportsbook if you're constantly betting against the public.
Instead, use this strategy as a tool, and keep a few things in mind before placing your bets. Here are a few questions to help you:
Is there a team with a loyal fan base?
If yes, the chances are that a lot of die-hard supporters will always support the team because of emotional betting.
Is a perennial winner involved?
Successful teams like the New York Yankees will always attract a lot of bets.
Does a team get a lot of sports coverage?
Check TV channels like ESPN and you will see which teams get a lot of coverage and are more likely to have the public's support.
Some tools can also help you make this decision. Consensus stats are available for most major leagues.
Consensus stats will give you a decent idea of where the public is placing its bets and then decide after analyzing all other factors if you want to bet against the public or not.
Bankroll Management
We will now cover another essential topic for your sports betting strategy: managing your bankroll.
Your bankroll is the money you have to bet. Some people have $50 to bet, others $200 and others $1000.
Why should bankroll feature in your sports betting strategy?
Managing your bankroll well means knowing how to wager the right amount on each bet, according to the value of your initial bankroll, to get the best return.
Unfortunately, there are many cases of good bettors who lose all their money, not because they have a poor success rate, but because they didn't know how to manage their bankroll.
Here's a TERRIBLE example:
"I have $100 to spend on bets!
I'll just bet my $100 that Montreal Canadiens will win because I've always been a fan and they've won over Vegas Golden Knights plenty of times."
Vegas Golden Knights go on to win the game, which leads to a $100 loss.
Putting your whole bankroll on a single bet that is guided by loyalty to the team is probably not the wisest way to handle your bankroll.
You need to assess the risks, so you don't shoot yourself in the foot at the very start of the race.
Fortunately, there are easy-to-follow sports betting strategies to help you manage your money.
How Much of My Bankroll Should I Bet?
There are different ways of going about this, but one of the best strategies we've found is to use a fixed percentage system.
How does this work?
With a fixed percentage system, you always risk a fixed amount of your bankroll on each bet placed. This is usually between 5-10% of your bankroll.
That means that if the value chosen is 10%, you always bet 10% of your bankroll on each bet.
Suppose you start with $100, risking 10% on each bet:
| Bankroll | Wager Value | Result |
| --- | --- | --- |
| $100 | $10 | Correct |
| $110 | $11 | Correct |
| $121 | $12.10 | Wrong |
| $108.90 | $10.89 | Wrong |
| $98 | $9.80 | Correct |
| $107.80 | $10.78 | Correct |
| $118.58 | $11.85 | Wrong |
The Fixed Percentage Betting System
This example is quite simple and assumes that we're always betting on events with odds of 2.00. Of course, this isn't always the case, and you should adjust your calculations accordingly.
Kelly Criterion
While the fixed percentage system helps you keep your losses under control, the Kelly Criterion takes it a step further.
The Kelly Criterion is a popular method that takes into account the odds of the event to determine how much to wager on a given bet.
There are a few variations of the Kelly Criterion. We'll introduce you to the simplest one whose formula is:
( B x P – Q) / B
B = Presented decimal odd
P = True probability
Q = 1 – P
Let's say that you are betting on the match of Montreal Canadiens vs. Vegas Golden Knights.
| | Montreal Canadiens | Draw | Vegas Golden Knights |
| --- | --- | --- | --- |
| Odds | 3.20 | 3.95 | 2.04 |
| Probability | 31.5% | 25.32% | 49.02% |
Let's say that after your detailed analysis (also using our strategy tips!), you think that the true probability of Vegas Golden Knights winning is 60%.
P = 0.60
B = 2.04 – 1 = 1.04
Q = 1 – 0.60 = 0.40
Therefore:
(1.04 x 0.60 – 0.40) / 1.04 = 21.54%
The Kelly Criterion suggests that for this sports bet, based on the odds presented to us and our assessment of the true probability (0.60), we should bet 21.54% of our bankroll.
For some, the percentage may seem too high. In fact, it's a known problem with this method. It's up to you to weigh all options before betting a large amount as part of your sports betting strategy.
We suggest you never bet more than 15% of your bankroll. If you want to do so, we recommend it's on an outcome you're very confident about.
The Kelly Criterion in Action
The key to the Kelly Criterion method is using your expertise to identify good betting opportunities. We're going to use a real-life example from an MMA match to illustrate this point.
Rounda Rousey vs. Holly Holm
November 2015 is a date that fans of MMA will never forget. Favourite Ronda Rousey had completed a run of 12 professional fights without a loss.
The hype surrounding this fighter reached levels that, for some, bordered on ridiculous, with Ronda Rousey even featuring in Hollywood movies.
Some factors you should keep in mind to properly understand the situation:
The weakest part of Rousey's game was her boxing.
Holm, her opponent, was a boxing world champion.
Rousey was very dominant in wrestling.
Holm had defended 100% of her takedown attempts before her fight with Rousey.
In MMA (and almost every other sport) all athletes eventually lose. It's rare to maintain such a long winning streak (especially in the women's division).
Rousey had shown too much confidence by being quite aggressive during press conferences.
Still, even after learning these facts, it didn't imply that one should automatically bet on Holm. It all depended on the value of the odds.
Initially, the odds for Holm's victory were 9.00 and 8.00 at most sportsbooks.
This was adjusted later on, and the sportsbooks lowered these odds to 7.00!
Even though Rousey was a clear favourite for most people, there were several indicators that Holm had a chance of winning.
How can we apply the Kelly Criterion in this situation with a bankroll of $500?
A bettor, an expert in this sport's markets, might have calculated that Holm's true probability of winning was 18% (P = 0.18).
Knowing this, he would place his bet on Holm winning when the odds were 9.30 before the sportsbooks lowered them.
Using a simple version of the Kelly Criterion, this means that:
P = 0.18
B = 9.30 – 1 = 8.30
Q = 1 – 0.18 = 0.82
(8.30 x 0.18 – 0.82) / 8.30 = 8.12%
To the surprise of many fans, Holm won with a fantastic KO in the 2nd round, precisely because she knew how to exploit the weaknesses in her opponent's boxing game, finishing the fight with a fantastic kick.
With this in mind:
| Bankroll | Kelly Criterion | Wager Value | Odds | Winnings |
| --- | --- | --- | --- | --- |
| $500 | 8.12% | $40.60 | 9.30 | $377.58 |
How Does the Kelly Criterion Compare to Other Betting Strategies?
The Kelly Criterion is not the only betting strategy you can make use of. For example, the Fibonacci and Arbitrage methods are also popular amongst bettors.
We specifically recommended the Kelly Criterion because it contains a far lower risk than other bankroll methods and will safeguard your bankroll.
On the other hand, the Kelly Criterion will not lead to massive profits, so don't expect to become rich overnight.
Ready to Use Your Betting Strategies?
We've covered some essential betting tips to help you increase your winnings. However, we encourage you to take our tips and experiment and adapt to your needs.
You can only do that by signing up at a sportsbook and start putting this knowledge to practice.
Check out our sportsbook recommendations below, as well as our thorough guide on various sports betting systems, and start betting with confidence!
FAQs
How do you win consistently in sports betting?
You will always have losses in sports betting, even if you employ the best sports strategy possible. However, keeping in mind our sports betting tips will help you improve your win rate.
Can sports betting make you rich?
Yes, sports betting can make you rich. However, this can only be done with a lot of patience and use of sports betting strategy. Also, keep in mind that betting always has an element of luck, and you should never bet more than you can afford.
What sport is easiest to win betting?
We suggest you stick to the sports you're most familiar with. Having said that, football, tennis and basketball tend to be more predictable than sports like baseball.
How do you bet without losing?
You can never bet without the risk of losing a bet. However, some strategies like the Kelly Criterion can help you limit your losses.