Written By:
Jelena Kabić
About Author
Jelena Kabic is a sports betting writer that focusses on responsible gambling. A psychologist by vocation, Jelena volunteered in a rehab facility, where she worked with gambling addicts. She now reviews all our content to ensure it discusses betting in a socially responsible way.
Fact Checked By:
Amy Webb
About Author
Amy's introduction to the gambling world was 6 years ago, when she joined a casino operator as a content specialist. Since then, she's helped launch and maintain gambling review sites in over 8 different countries. She's tested dozens of casinos and sportsbooks, which is how she can spot a subpar brand in an instant!
The Top UFC Betting Sites in Canada for 2023
The Top UFC Betting Sites in Canada for 2023
If you're looking for good UFC betting sites in Canada, you've come to the right place.
Our UFC/MMA betting guide lists and compares the best sites, and also gives information on bet types, popular MMA events, and UFC betting tips.
Check out our top list below, or continue reading to discover more information about UFC betting.
Important: Due to integrity concerns, UFC betting is for now prohibited in the province of Ontario. Should anything change, we'll be sure to update you.
The Best UFC Betting Sites For Canadian Bettors
A Comparison of Our Selected UFC Betting Sites
We've listed what we consider to be the top MMA betting sites for Canadians. But what makes them stand out?
These sites all offer good odds and a range of UFC events to bet on.
However, there are also some differences between these top sites that can help you make your choice depending on what you're looking for.
Bet365
Bet365 bettors can enjoy a lot of perks, including an excellent mobile app and live streaming of events.
This sportsbook offers betting options mainly on the UFC and Bellator and includes bets like 'fight outcome', 'method of victory', etc.
Moreover, Bet365 generally offers slightly better UFC odds for the favourite than other Canadian sportsbooks. Let's look at an example:
| | | |
| --- | --- | --- |
| | Rogerio Bontorin | Brandon Royval |
| Bet365 | 1.58 | 2.40 |
| Betway | 1.53 | 2.40 |
| Sports Interaction | 1.54 | 2.45 |
UFC Fight Night – Rogerio Bontorin v Brandon Royval
For this UFC match, Bet365 is offering the best odds for the favourite, while Sports Interaction is the best option for the underdog.
Although we experienced this for a few other UFC matches we analyzed, do keep in mind that odds will vary from one match to the next. We delve into more detail about this topic in our UFC betting tips section!
Betway
On the other hand, Betway's strong point is its coverage of smaller MMA events like Oktagon, Glory, KSW, LFA, and the Eagle Fighting Championship.
Therefore, if you're looking for more MMA action than the UFC, Betway is one of your best options.
Betway also has a downloadable app, live streaming, and a comprehensive cashout feature.
Sports Interaction
Sports Interaction takes it a step further and offers insights and analysis on upcoming UFC matches, which is ideal for beginners who need more context before placing a bet.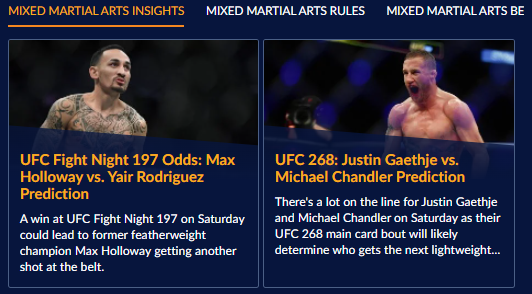 Sports Interaction offers options for the UFC, Bellator, and other events like the LFA.
While it covers popular bet types like winner, total rounds etc, it doesn't offer as many betting options as sportsbooks like Bet365 and Betway.
How to bet on UFC in Canada
Regardless of which betting site you choose to place your first UFC bet at, the way to do that won't differ much.
We'll use Sports Interaction to guide you through the process step by step.
To start betting on UFC in Canada:
Sign up to the website and verify your identity. At Sports Interaction, you can do it this way.
You'll need to place a deposit before placing any bets.
Next, you'll want to browse through the sports section and find UFC or MMA.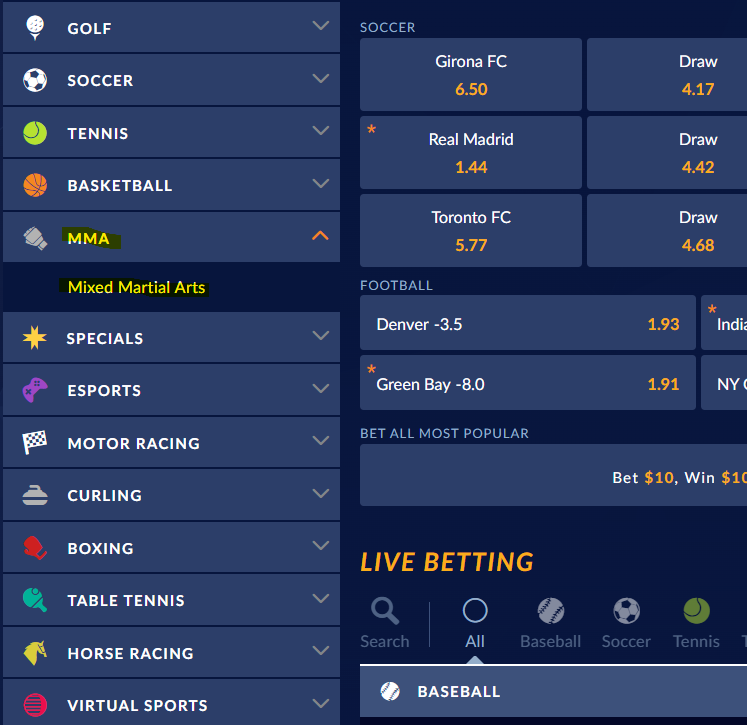 Then, choose the match you want to bet on and click on the link to find all the available betting markets.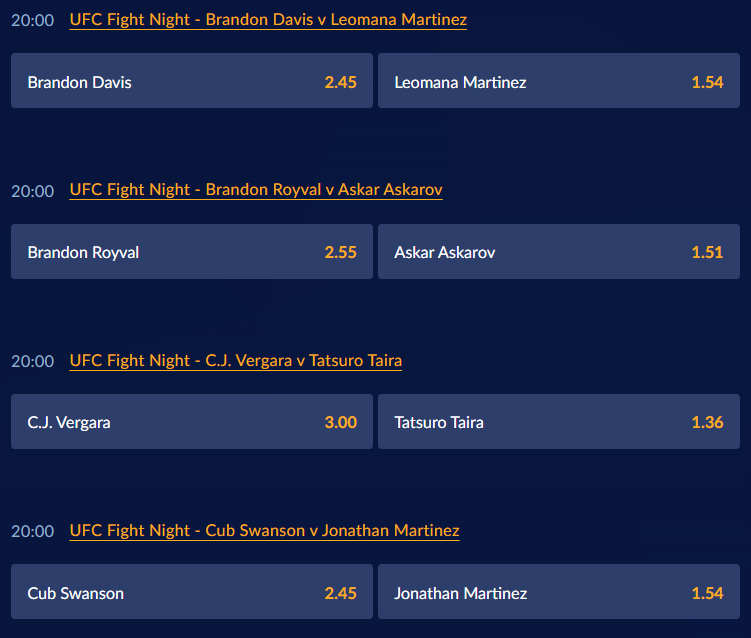 After that, simply click on the bet you wish to make, choose the amount you want to wager on it, and place your first UFC bet!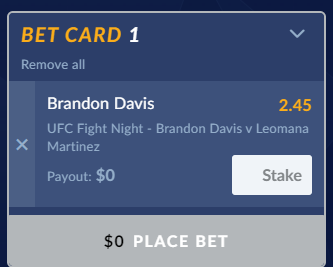 Is UFC Fight Night Free to Watch?
On top of betting on them, Fight Night lovers love being able to stream these events, too.
However, in order to do that, you'll likely need to purchase an ESPN+ subscription.
While many betting sites have live streaming (even HD live streaming in the case of Bet365), that tends to be reserved for more popular sports such as basketball or soccer.
We'll be sure to update you if any of our recommended websites start offering UFC fight night streaming!
What's the Best App to Bet on the UFC?
If you're looking to bet on the UFC on mobile, some of the best MMA betting sites have excellent mobile apps.
Our favourite downloadable betting apps for the UFC are Bet365, bwin, and 888Sport. If you want to know more about these apps before signing up, check out our detailed guide on the best betting apps in Canada.
UFC vs MMA
When visiting online sportsbooks, you're likely to find UFC and MMA terms used nearly interchangeably. However, there is a distinction between the two.
To put it simply, MMA is the sports category of Mixed Martial Arts. In this category, the most popular event is by far the UFC (Ultimate Fighting Championship).
Since the vast majority of betting markets are for UFC, it tends to dominate at online betting sites.
However, there are other MMA events like Bellator and Cage Warriors, as we will see later on in this page.
Is MMA Betting Legal in Canada?
Another thing we need to clear up before we continue with this guide is whether MMA/UFC betting is legal in Canada.
And the answer is yes, MMA betting is definitely legal in Canada and you can bet on MMA events at a couple of provincial sites or international sportsbooks like Bet365.
Do keep in mind that MMA is not the most popular sports category, so you're more likely to find variation in odds when compared to more established sports like basketball.
MMA betting is also not offered by all sportsbooks, which is where our top list comes in handy.
Types of UFC Bets
Although some bet types are common to practically all sports, you'll also find betting options that are unique to UFC. Let's walk through the main betting options:
Fight Winner Bet
Betting on the fight's winner, otherwise known as the moneyline bet, is the simplest bet of them all and you essentially bet on who will win the fight.
Here's an example of a UFC moneyline bet for Dakota Bush vs. Rong Zhu.

According to the odds, Zhu is the favourite to win the bout, while Bush is the underdog.
UFC moneyline bets are the most common bet type, and you can find them at all UFC sportsbooks. In fact, a lot of less popular MMA events tend to have only moneyline bets available.
Rounds Bet
Similar to total points in NBA betting, or number of sets in tennis, MMA has a betting market for total number of rounds.
With this type of bet, you calculate the total number of rounds in a bout and whether it will go over or under the set amount.
For example, there's a bet for Dakota Bush vs. Rong Zhu that the bout will go over 1.5 rounds, or under 1.5 rounds.
1.5 is the most common number of rounds you'll find for three-round events, or 2.5 for five-round events.
Since every round is 5 minutes, if you've bet the 'over 1.5', you need to exceed the 2.5-minute mark for that round to count.
Method of Victory Bet
In this type of bet, you bet on who will win AND how they will win the fight.
A bout can end by decision (split, unanimous, majority), draw, KO/TKO (knockout / technical knockout), or submission.
That's a lot of technical words, so let's look at it step by step.
Submission: one fighter gives in to the opponent.
KO (Knockout): fighter falls to the ground and does not answer the referee's count.
TKO (Technical Knockout): Referee stops the fight because he deems one fighter to be unable to meaningfully defend themselves.
Unanimous Decision: All three judges pick the same fighter as the winner.
Majority Decision: Two of the judges agree on a fighter as the winner, while the other judge deems it a draw.
Split Decision: Two judges give the win to one fighter, while the other awards the second fighter.
Draw: All judges consider the fight a draw.
Do keep in mind that method of victory can be a tougher bet to win, especially when coupled with choosing the winner, as there are more variables that can cost you your bet.
Fight Will Go the Distance Bet
With this bet, you will wager that the fight will finish the number of rounds without being stopped before. This provides another exciting way to bet on the UFC.
This bet is not as popular as the moneyline or other common bets, so you will find this option only at the best UFC betting sites.
Most Popular MMA Events to Bet On
Although MMA is not the most popular and established sport in the market, there are still plenty of events to bet on.
The UFC is by far the most important MMA event, which is why UFC and MMA terms are often used interchangeably. You will find different UFC events scattered throughout the year, averaging around 2-3 monthly events.
Practically all MMA betting sites offer UFC betting markets.
Bellator
Bellator is the second most popular MMA event after the UFC, and you'll find events to bet on every couple of weeks for most months. Of particular importance are the Grand Prix events that became a regular addition to the Bellator calendar in 2018.
Bellator is a smaller market, so from our experience, you're more likely to find value betting opportunities because of sportsbooks miscalculating the odds for an event.
Cage Warriors
Cage Warriors is Europe's leading and longest-running mixed martial arts promotion and is associated with MMA legends like Conor McGregor.
It does not have as frequent events as the UFC or Bellator, but it one of the more common options you'll find at UFC betting sites.
Same as Bellator, it tends to have more value betting opportunities than the more popular UFC events.
UFC Betting Tips
As always, betting is dependent on luck, but there's also an element of strategy that you can apply.
Compare UFC Odds
From our experience, UFC odds tend to vary quite a bit from one sportsbook to the next.
This is typical with sports that are less established and not as likely to have whole teams of analysts analyzing and adjusting odds.
This is good news for you because it opens up the opportunity to identify value bets!
From our experience, you're a lot more likely to find value bets for UFC than for more established sports markets like tennis, and popular leagues like the NHL.
Let's take a quick look at an example:
| | Dakota Bush | Zhu Rong |
| --- | --- | --- |
| Bet365 | 1.80 | 2.00 |
| Betway | 1.80 | 2.05 |
| Sports Interaction | 1.71 | 2.05 |
UFC's Dakota Bush vs. Zhu Rong
In this example, we see Sports Interaction offering considerably lower odds for the favourite, while Bet365 has somewhat lower odds for the underdog.
Placing a $100 bet on the favourite at odds of 1.80 instead of 1.71 equals a difference of $9 in your pockets.
We always suggest you compare odds for each event before betting at a sportsbook because the pattern can vary.
Consider Fighter's Age
MMA fighters' age plays a huge part in the winning chances of a fighter. According to MMA statistics, a mere 5-year difference between fighters can lead to a 62% chance of the younger fighter winning the match.
This is why you should take some time to analyze data, compare fighters' ages and see how the odds stack up.
Keep in Mind How Fighters Win Fights
Does the fighter usually submit in a match? Or does a fight tend to end in a KO?
When you're placing bets on method of victory, make sure to check data for that fighter and compare it to that of his opponent.
This will help you place smarter bets.
FAQs
Can I bet on UFC in Canada?
Yes, you definitely can. There are plenty of UFC betting sites that accept UFC bets from Canadians.
Where can I bet on UFC legally?
You can bet on UFC at international sportsbooks like Bet365. You can do so without any legal issues.
What does over 1.5 rounds mean in UFC?
This is another form of an over/under bet that you will find for other sports as well. In the case of UFC, over 1.5 rounds means that you're betting that the match will last more than 1.5 rounds. Since every round lasts five minutes, the second round needs to go over the 2.5 minute mark to win the bet.
Does a submission count as a TKO in UFC?
If it's submission due to strikes, it is considered a TKO (technical knockout) because strikes are not a submission hold.
What is the best UFC betting site?
All of the betting sites we recommend have something to offer to UFC bettors. However, we especially recommend Sports Interaction and Betway.