Written By:
Jelena Kabić
About Author
Jelena Kabic is a sports betting writer that focusses on responsible gambling. A psychologist by vocation, Jelena volunteered in a rehab facility, where she worked with gambling addicts. She now reviews all our content to ensure it discusses betting in a socially responsible way.
Fact Checked By:
Amy Webb
About Author
Amy's introduction to the gambling world was 6 years ago, when she joined a casino operator as a content specialist. Since then, she's helped launch and maintain gambling review sites in over 8 different countries. She's tested dozens of casinos and sportsbooks, which is how she can spot a subpar brand in an instant!
The Top Tennis Betting Sites for Canada
Tennis Betting Sites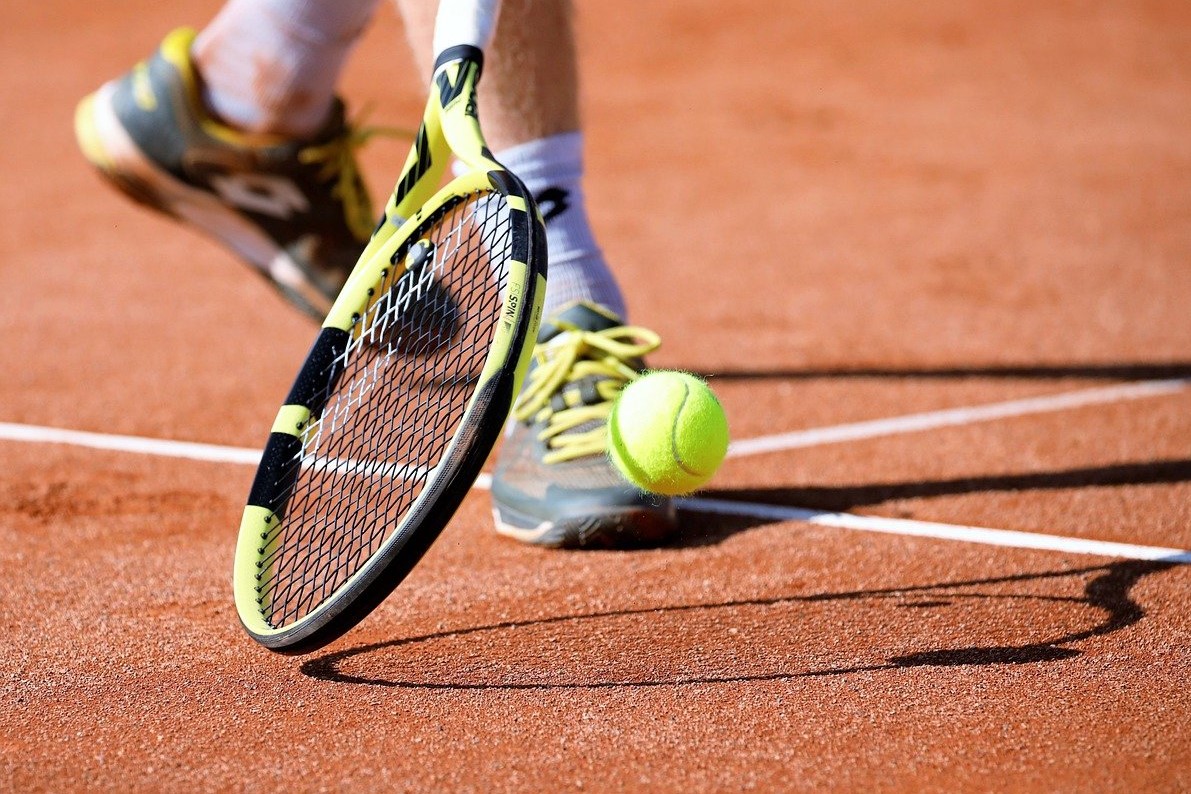 Want to start betting on tennis like a pro? In this guide, we'll suggest the best tennis betting sites for Canada and walk you through all the information you need to start betting on tennis.
Learn all about common tennis bets, popular tennis events, and a lot more!
Let's get started!
Our Recommended Tennis Sportsbooks for Canadians
How Do We Rate Tennis Betting Sites?
Why do these sites make the cut and others don't? We keep the following factors in mind when reviewing tennis betting sites:

Range of Tennis Events
We expect the sportsbook to offer betting on a variety of tennis tournaments and events, not just the Grand Slam tournaments.
Tennis Live Betting Options
Live betting is a must for proper tennis betting and will allow you to bet as the game unfolds.
Sites with good live betting options open up exciting opportunities for value bets, which is why sites with a strong live betting category get extra points!
Competitive Tennis Odds
As we explain in our sports betting strategy guide, even a small change in odds can mean a significant difference to your payout.
We make sure our recommended tennis betting sites all offer competitive tennis odds so that you get the most bang for your buck.
How to Bet on Tennis in Canada
Betting on tennis in Canada is super easy! Let's list the steps you need to take.
Select your sportsbook and click on the sign up button.
Fill in your personal details and click 'Submit'.
Check your email inbox and click on the verification link. You're now logged in.
Go to the cashier section and make a first deposit.
Choose the tennis game you want to bet on.
Choose your bet type. Once you select it, your betting slip is immediately updated.
Proceed to pay the bet.
Common Tennis Bets
To be successful at tennis betting, you need to understand the different betting options for tennis.
We'll describe each main type of tennis bet in more detail below.
Although all our recommended sportsbooks offer these tennis bets, we'll also be making suggestions based on our experience at these tennis betting sites.
Outright Winner Bets
With an outright winner bet, you bet on who you think will be the tournament's overall winner.
This type of bet carries more risk than a match winner bet because the winner will need to win several matches to be crowned as the winner.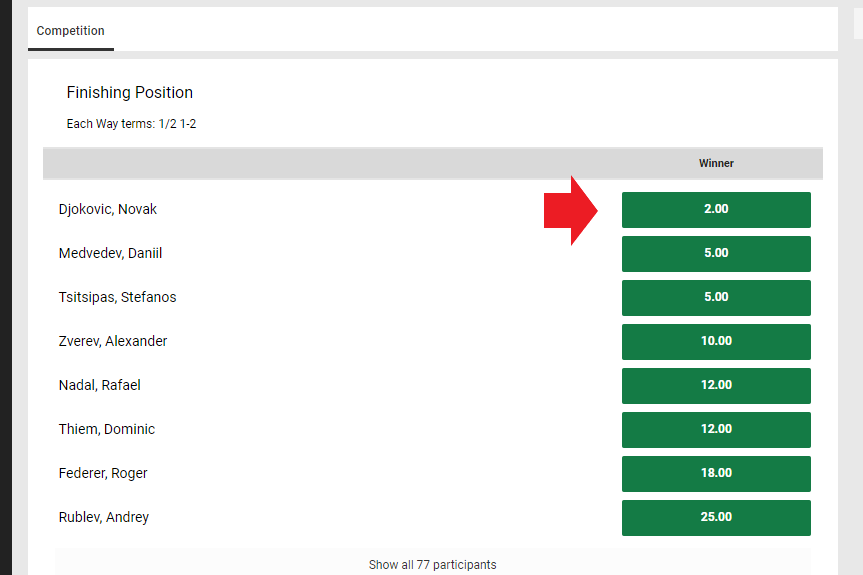 In the example above, you can bet on the winner of the US Open.
Novak Djokovic has the shortest odds of 2.00, which indicates that he's the favourite to win this tournament, and the payout will reflect that.
Match Winner Bets
Match winner bets are the most straightforward tennis bets you can make, and you bet on who will win the match. If we look at a concrete example: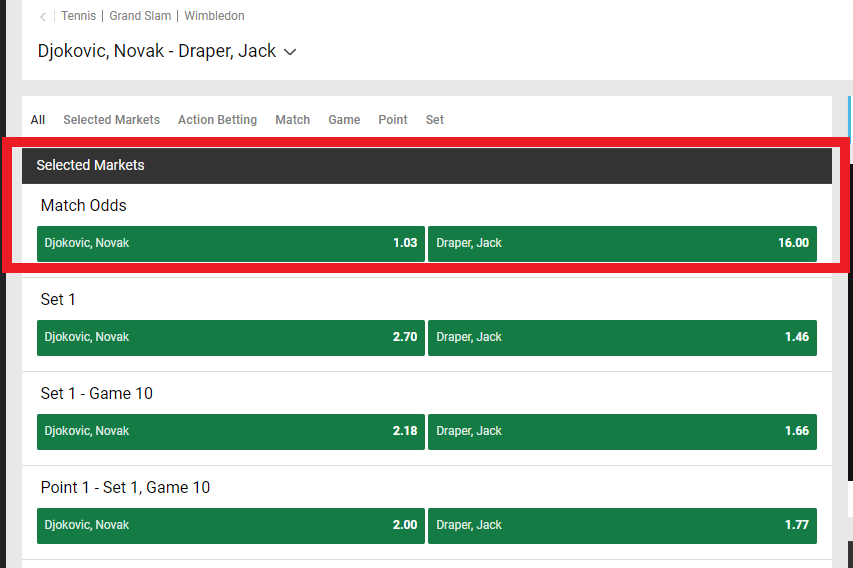 In this Wimbledon match, Novak Djokovic is playing against Jack Draper. There is a big difference between the two odds, so Draper winning the match is definitely a long shot.
If you bet $50 that Novak Djokovic wins that match, you will make a profit of $1.50.
On the other hand, if you bet $50 on the underdog Jack Draper, his win would give you a profit of $550.
That tidy sum of money might sound enticing, but the big payout also indicates that Jack Draper winning the match is an unlikely scenario!
Over/Under Bets
In Over/Under bets, the winner of the match is inconsequential to winning your bet.
Instead, you bet on the number of games or sets that will be played.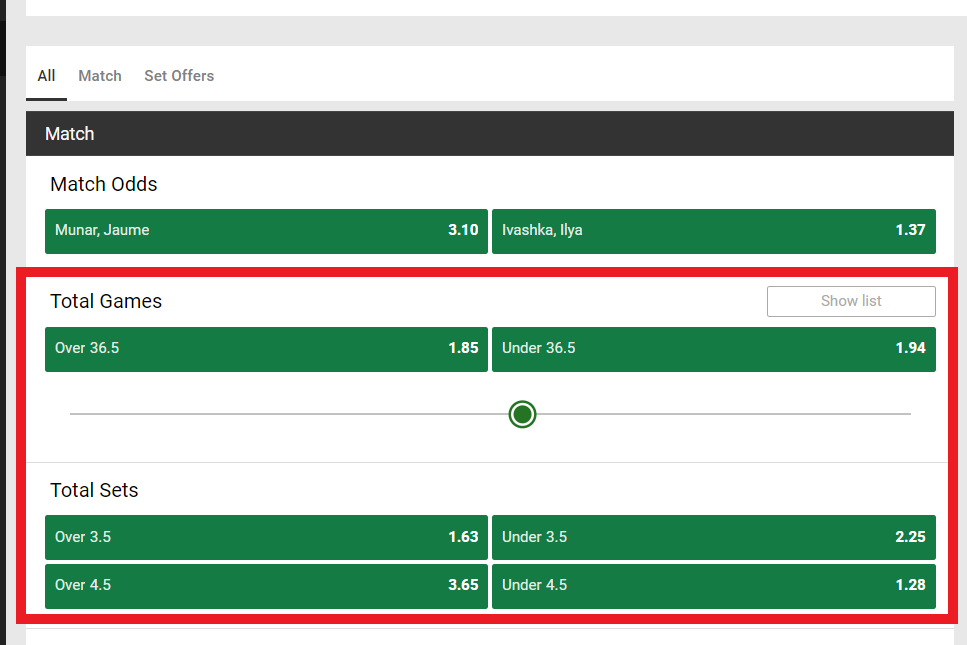 In this Wimbledon match between Jaume Munar and Ilya Ivashka, you can bet that the total games will be over or under 36.5.
You can also bet the total number of sets will be over or under 3.5 sets, or over/under 4.5 sets.
Our Recommendation
Bet on Wimbledon and other major tournaments at Bet99!
Get Started
Live Tennis Betting
Live tennis betting refers to bets that you can place while the match is ongoing.
We don't recommend live tennis betting to beginners, because you have to be quick on your feet when placing bets. This limits the time you have to do proper research and you might regret those quick decisions later.
However, if you're more familiar with the ins and outs of tennis betting, live tennis bets can offer good value bet opportunities.
Parlay Bets
A parlay tennis bet can also be referred to as a combination bet. In this bet, you combine multiple wagers in one bet.
Keep in mind that the wagers need to be on different events to be considered a valid parlay bet.
For example, in this parlay bet, we are betting on Thomas Jordan, Alexei Popyrin, and Novak Djokovic to win their upcoming Wimbledon matches.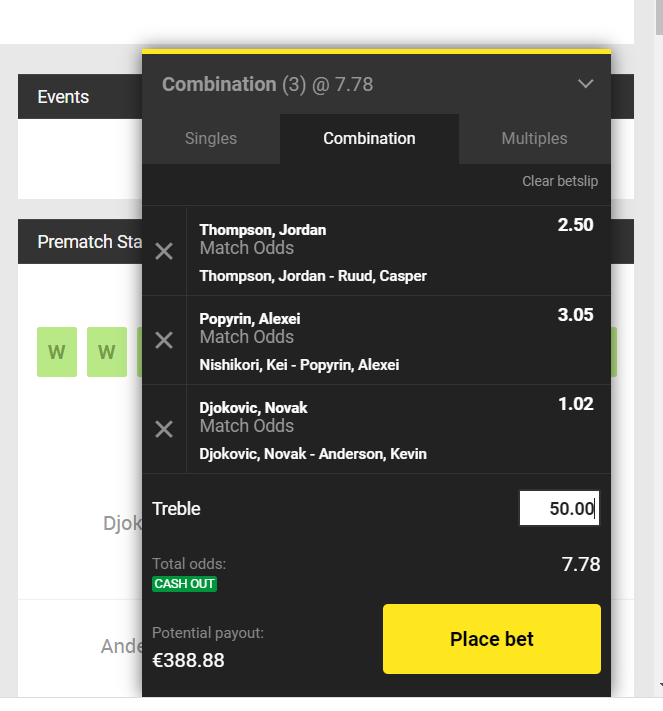 Since the odds are combined, the payout is a lot bigger than if we had to bet on these events individually.
However, parlay bets do come at a high risk as losing one part of the bet makes the whole bet fall through. In fact, parlay bets average a massive 30% house edge.
This is why we recommend that you only use parlay bets sparingly and not try to chase the big payouts.
Handicap Bets
Handicap bets are also known as spread bets. With a tennis handicap bet, you bet on a player to perform as expected or better.
Here's an example of a set handicap bet for a Wimbledon match between Novak Djokovic and Kevin Anderson.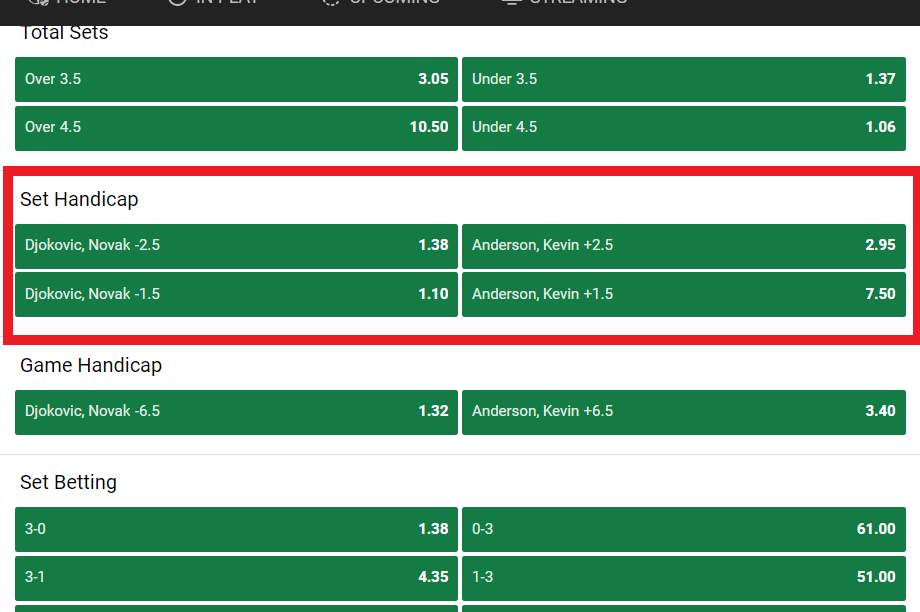 In the first option, you bet that Novak Djokovic or Kevin Anderson will win by more than 2.5 sets.
The '-' indicates that Novak Djokovic is the favourite to win more by more than 2.5 sets, while Kevin Anderson is the underdog.
If you bet on Novak Djokovic:
If Novak Djokovic wins more than 2.5 sets, you win the bet.
If Novak Djokovic loses by more than 2.5 sets, you lose the bet.
If you bet on Kevin Anderson:
If Kevin Anderson wins more than 2.5 sets, you win the bet.
If Kevin Anderson loses by more than 2.5 sets, you lose the bet.


Our Recommendation
During our reviews, we discovered 888Sport offers some of the most varied options for tennis handicap bets!
Get Started
Popular Tennis Events
Now that we've looked at the different types of tennis bets you can use, what tennis events can you bet on?
Our recommended sportsbooks all offer betting options for these popular events:
Australian Open
The Australian Open occurs in mid-January and is the first Grand Slam event on the tennis calendar.
The Australian Open is played at Melbourne park and features men's and women's singles, men's, women's. and mixed doubles.
Since 1988, the Australian Open has been played on hardcourt surfaces.
Who were the 2021 Australian Open Single Champions?
The 2021 champion of the men's singles was Novak Djokovic.
The 2021 Women's Singles champion was Naomi Osaka.
Who Won the 2022 Australian Open?
The 2022 Australian Open occurred between January 17 and January 30 2022.
It was an edition full of surprises and controversy. For starters, Djokovic was detained by the Australian border force because he failed to meet Covid vaccine requirements.
Djokovic eventually overturned the decision in court but was still deported as he's facing investigations over false travel declarations and discrepancies. Djokovic's withdrawal from the tournament opened up the path for Daniil Medvedev to take the title as champion of the men's singles. However, in a surprise move, underdog Rafael Nadal claimed his 21st Grand Slam title.
The winner of women singles was Australian Ashleigh Barty, becoming the first Australian to win home Grand Slam in 44 years.
French Open
The French Open is also known as Roland Garros, and is the second Grand Slam event of the tennis year.
It occurs in late May each year and is spread over two weeks.
The French Open is the only Grand Slam tournament held on a clay surface.
The clay surface leads to a slower pace and higher bounce, which makes it hard for big servers and serve-and-volleyers to dominate.
Wimbledon
Wimbledon is the oldest tennis tournament in the world, and one of the most prestigious.
This tournament takes place over two weeks in early July, which makes it the third Grand Slam event of the year.
Wimbledon is the only Grand Slam tournament to be played on grass.
US Open
The United States Open Tennis Championship is the fourth and final Grand Slam tournament of the year. The US Open generally starts at the end of August and lasts for two weeks.
The tournament is played on acrylic hard courts in Flushing Meadows-Corona Park in New York City.
Canadian Open
The Canadian Open is an annual tennis tournament in Canada, and is only second to Wimbledon in age.
It is also known as the Canada Masters and is currently referred to as the National Bank Open.
The tournament is held on outdoor hard courts in Montreal or Toronto, and is held in August.
ATP Finals
The ATF finals are the final championships of the ATP Tour.
The event features the world's best eight qualified singles players and double teams. It has been held in various cities around the world, but from 2021-2025, the event will be held in Turin's Pala Alpitour stadium.
The ATP finals generally occur in November and is held on tennis hard courts.
Tennis Betting Strategy
Like all other sports, taking the time to strategize will help you maximize your betting opportunities.
We're going to list a few tips that we've found helpful when betting on tennis.
Keep Court Surfaces in Mind
Tennis is played on three main types of surface:
clay
grass
synthetic or hard floor
Due to variations in ball speed and player mobility on the different surfaces, a player's level of performance can vary depending on the type of court the game is played on, as we will explain below.
Clay Court
Clay is the slowest of all tennis surfaces, and it also provides the highest bounce.
Due to the ball's reduced speed, points last longer, which is ideal for players with a more defensive style of play.
The French Open uses a clay court and players like Roger Federer and Rafael Nadal have consistently dominated the clay courts.
Grass Court
Grass is the traditional tennis court surface, but Wimbledon is currently the only Grand Slam tournament that is played on grass.
Grass is a fast surface that favours more aggressive players, especially when it comes to serving.
It also has a low ball bounce. Since the surface can be a bit uneven, the bounce can be a bit unpredictable at times.
Hard Court
A hard court is considered to be a fast surface with a high, predictable ball bounce.
The hard court is considered a 'democratic court' because it provides a level playing field to various styles of play.
Despite its versatility, the hard court still favours players with a good serve and baseline players.
Analyze Player Stats
Every tennis player has their strengths and weaknesses.
This is why you should analyze player stats before placing a bet. A player's performance is highly dependent on the type of court (clay, grass, etc) they'll be playing on and the style of play they use.
Go a step further and also analyze head-to-head records. How does the player you want to bet on compare to his opponent?
If he has consistently lost all matches with his opponent, you might want to reconsider your bet.
Shop for Odds
All our recommended tennis betting sites provide great tennis odds. However, there will be some slight variation from one event to the next.
That's why we recommend checking a few sportsbooks and comparing odds before placing your tennis bet.
Here's a quick example of how odds look for a Wimbledon match between Roger Federer and Richard Gasquet.
| | Unibet | Betway | Sports Interaction |
| --- | --- | --- | --- |
| Roger Federer | 1.22 | 1.20 | 1.19 |
| Richard Gasquet | 4.40 | 4.50 | 4.33 |
From that selection of sportsbooks, Unibet offers the best odds for Federer, while Betway offers the best value for money for Richard Gasquet.
This will not be the case for every match, so we recommend you double-check the odds before placing any bets. Our list of tennis betting sites with competitive tennis odds is a good place to start!
FAQs
Where can I bet on tennis?
What is +1.5 handicap in tennis?
Set handicap betting in tennis is when one player is given a set advantage while the other is given a disadvantage. The '+' for 1.5 indicates that the player is the underdog to win that match. You will win that bet as long as the player wins the set or doesn't lose by more than 1.5 matches.
Is tennis a good sport to bet on?
Yes, tennis offers a lot more betting options than most other sports like for example UFC. There are also events all year, which means that you will always have something to bet on.
It's also a sport that you can read a lot of stats on to make more informed bets.
How often do tennis favourites win?
According to statistics, pre-game favourites for Grand Slam matches average a 78.9% win rate. This is a bit higher than 250 events (68.5%), 500 events (70.5%), and Masters 1000 events (70.8%).