Written By:
Jelena Kabić
About Author
Jelena Kabic is a sports betting writer that focusses on responsible gambling. A psychologist by vocation, Jelena volunteered in a rehab facility, where she worked with gambling addicts. She now reviews all our content to ensure it discusses betting in a socially responsible way.
Fact Checked By:
Amy Webb
About Author
Amy's introduction to the gambling world was 6 years ago, when she joined a casino operator as a content specialist. Since then, she's helped launch and maintain gambling review sites in over 8 different countries. She's tested dozens of casinos and sportsbooks, which is how she can spot a subpar brand in an instant!
Soccer Betting Basics: Learn About Bet Types and Tips
Soccer Betting Basics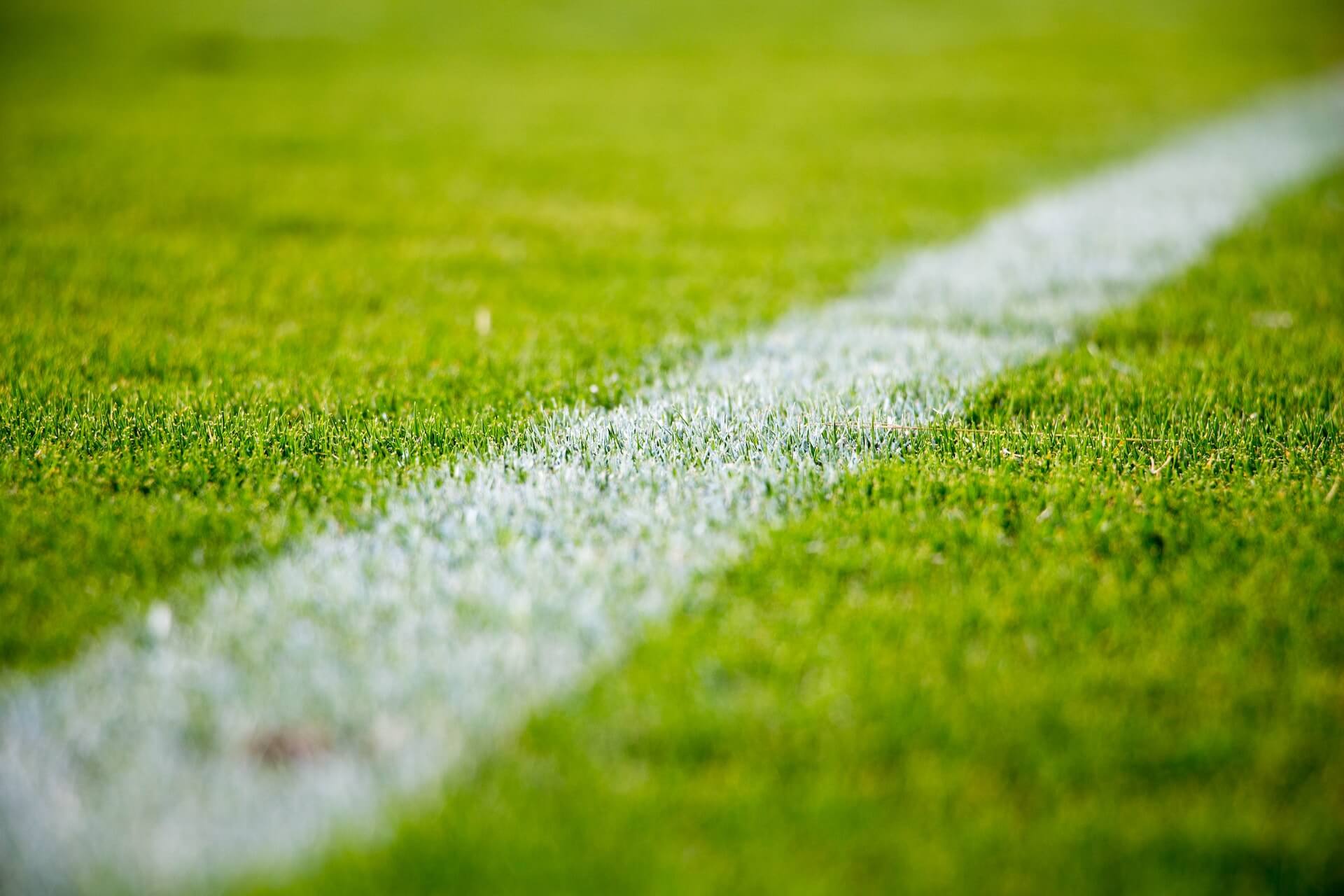 Betting on soccer is quite popular in Canada, with only basketball having more bets.
In this guide, you'll learn about popular bet types, which ones are better for novice bettors, what differences there are among the popular leagues, and you'll learn some betting tips to get you started.
Meet Our Experts
Our soccer content is written by the top soccer names in Canada and wider. They've spent years honing their skills and placing numerous bets, and they're happy to share their inside knowledge with you. Find their top tips below!
Quote
Manage your bankroll by staking additional units based on confidence and edges.
Quote
Start on basic lines before advancing to more sophisticated betting markets.
Popular Soccer Bet Types
Some of the most common betting markets to go for in soccer include moneyline, futures, and prop bets.
With a moneyline bet, you're trying to determine the winner of the game. There are two kinds of bets you can choose from:
Read more about:
Soccer betting sites
Betting on goals
Live soccer betting
Three-Way Moneyline Bet (1×2)
This is the more common type of bet when it comes to soccer, and the simplest for new bettors to understand.
The "three" in three-way means there are three possible outcomes: the home team wins, the away team wins, or it ends in a tie.
Similarly, the other way to write it, 1×2, refers to the three possible outcomes: the host winning (1), tie (x), or the guest team winning (2).
A tie happens quite often in soccer, which is why this bet type is more common than its two-way counterpart.
Two-Way Moneyline Bet
Meanwhile, a two-way moneyline bet means you can only place a bet on one of the two teams winning. With the draw option removed, the odds are adjusted accordingly.
If you opt for a two-way moneyline bet, in the case of a draw, your original wager is returned to you.

To learn more about reading and understanding soccer odds, visit our dedicated page.
Spread (Goal Line)
With a goal line, you're betting on whether the total amount of goals will cross a certain threshold.
Much like with baseball, since a soccer game doesn't usually end with too many points, the goal line is commonly set to -1.5.
The exceptions are games with obvious favourites, in which case the goal line is often pushed to -2.5.
After all, a result of 2-0 is far more expected if Forge FC is playing against Cavalry FC than if their opponents are FC Edmonton.
With the latter, a result of 3-0 or even a higher one is not unlikely, so the goal line is likely to be adjusted.
But how does it work exactly?
Imagine you're betting on a spread of -1.5 on the favourite, and they win by 2 goals or more. In that case, you win the bet, because they won by more than 1.5 goals. If they win by less, draw, or lose, you lose.
If you bet on the underdog on a goal spread of 1.5, they could lose by 1 goal and you'd still win the bet.
Over/Under
Once more, due to the very low goal counts in soccer, the Over/Under bet is slightly different than in other sports.
Namely, it has to be played in multiples of .25 goals, rather than in whole scores. You'll often see bookmakers setting a total of 2.25 or 2.5.
Here's how it works:
Imagine you're betting on over 2.25 goals. In that case, you're technically placing two bets: one on over 2, and one on over 2.5.
If the result is 2:0, it pushed and you're refunded for the over 2 bet, but you lose the over 2.5 bet. You'd need a 3:0 or 2:1 in order to win both bets.
Here's a quick overview if you bet on over 2.25:
| | | |
| --- | --- | --- |
| RESULT | OVER 2 | OVER 2.5 |
| 1:0 | Lose | Lose |
| 2:0 | Refund | Lose |
| 3:0 | Win | Win |
| 2:1 | Win | Win |
Example of a bet over 2.25
Prop Bets
Prop bets are among the seasoned bettors' favourites in all sports. Basketball, golf, or soccer, it's always fun to bet on virtually anything you can imagine.
In soccer, such bets include who scores first, in what minute, when the first yellow card will be issued, whether someone will win despite being a goal behind…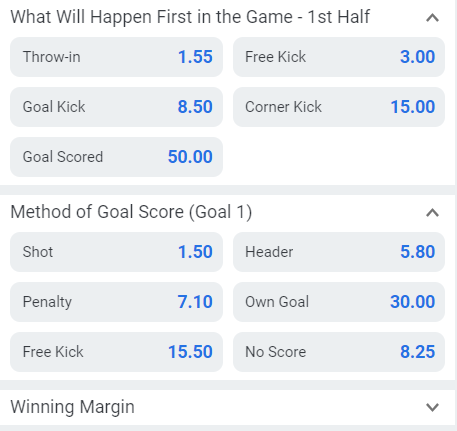 Futures
Finally, there are the futures/outrights bets. The "future" here suggests you're not betting on an immediate event.
Good examples include predicting the top scorer of the Premier League or Bundesliga, or guessing the winner of the upcoming UEFA European Cup.
You can also bet on the top 2 teams, top 4, or the top London club in the Premier League, for example.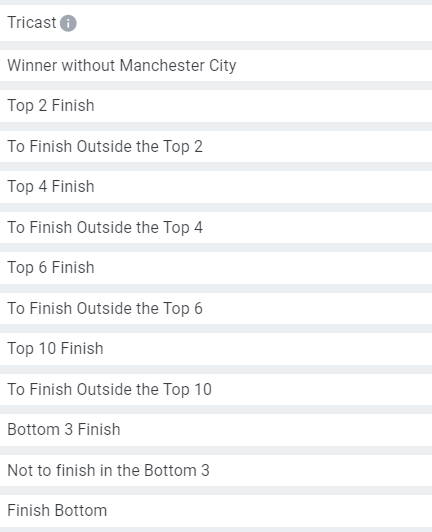 Parlay Bets
While not a separate type of bet per se, a parlay bet is still a popular betting option for seasoned soccer bettors.
It allows you to combine different betting markets into a single bet. Granted, having several bets makes it harder to get them all right; however, if you do, the payout is better.
And in the case of same-game parlays, you can even combine different betting markets of the same game.
What's more, bet365 has something called Parlay Bets+, allowing you to combine several single-game parlays into one big parlay bet!
Most Popular Soccer Leagues and Tournaments to Bet On
Read more about:
MLS Betting
EPL Betting
CL Best Bets
While virtually every country has its national soccer league, some are more popular (and fun to watch) than others. Among the most popular leagues Canadians follow and bet on are:
Premier League England
England's Premier League is the world's most-watched sports league.
It's being broadcast to over 200 territories and has an audience of more than 4 billion people, and Canadians like watching and betting on EPL, too.
20 clubs compete in the Premier League, with Manchester City, Chelsea, Liverpool, and Tottenham being considered the strongest teams in recent years.
Premier League runs from August to May.
Serie A
The third strongest league according to UEFA's rankings for 2023/24, Serie A has been through a lot of ups, downs, and scandals throughout the years.
Known for its defensive play, it may not be the top league to bet on goals, but it certainly is one of the strongest for other popular bet types, such as 1×2 or futures bets.
The league runs between August and May.
Spanish La Liga
According to UEFA's rankings, Spanish top soccer league — La Liga — has been the top league in Europe between 2013 and 2019.
The strongest teams, Real Madrid and Barcelona, are among the main favorites of Europe's biggest competitions, year after year.
La Liga runs between August and May.
Bundesliga
The International Centre for Sports Studies analyzed dozens of European soccer teams a few years ago. Their conclusion was: Bundesliga has the biggest following and highest attendance.
The strongest of its 18 teams are Bayern Munich and Borussia Dortmund, and the league is known for its dynamic games, lots of goals, and is overall one of the more exciting leagues to watch and bet on.
Bundesliga runs from August to May.
Meanwhile, the most popular tournament year after year is the Champions League.
Major League Soccer
While there are fans who enjoy betting on the domestic league, many avoid it since it's notoriously unpredictable and hard to bet on.
Major League Soccer (MLS) is currently the strongest soccer league featuring Canadian teams. Three of 28 teams come from Canada – Toronto FC, Vancouver Whitecaps FC, and CF Montréal.
The rest of the teams stem from the USA.
So do the two strongest clubs, New York City FC and Seattle Sounders FC.
In 2023, MLS will run from February 25th to October 21st. Such timing often conflicts with big international competitions such as the World Cup (although it wasn't the case in 2022).
While there are fans who enjoy betting on the domestic league, many avoid it since it's notoriously unpredictable and hard to bet on.
Canadian Premier League
Since its inception in 2019, the Canadian Premier League (CPL) has been at the top of the Canadian soccer league system.
Currently, eight professional soccer teams compete in it.
The first two seasons were won by Forge FC. Runner-ups and Forge FC's biggest opponents include Calvary FC and HFX Wanderers.
CPL runs from April to October.
It's a good idea to learn more about transfer windows, as you can also bet on soccer transfers.
Top Competitions
Champions League comprises Europe's 32 top-division clubs, which progress from round robin group stage into double-legged knockoffs to decide the winner.
But once every 4 years, soccer enthusiasts get to follow, cheer, and bet on the European Championship, as well as the FIFA World Cup.
The European Championship has 24 European countries competing for the title. It's held every four years in a different country.
The FIFA World Cup is the largest soccer competition in the world. Every four years (two years after the most recent European Championship) 32 countries compete for the title.
Like with the European Championship, the country where the competition is being held switches every year.
Soccer Betting Tips
While each league has its specific betting tips, some of them can be applied no matter what league or competition you bet on.
Play Responsibly.
This is the number one tip we always have. No other tip matters unless you're making good use of responsible betting tools, you have good bankroll management, and use betting limits.
Know Not All Leagues Are Equal.
Betting on the Bundesliga isn't the same as betting on, say, Serie A.
While in the former you can expect a dynamic play with lots of goals, the second is known for its defensive playing style.
This makes late-game twists a lot less realistic, for example.
Ensure you know the ins and outs of each league you're betting on to improve your odds.
Follow the News.
If you plan to bet on a team that just announced their top player will sit out the next game, you'll want to know about it beforehand.
Following the news and press conferences before games is crucial to improve your winning chances.
Know the Statistics.
While there are leagues where statistics may not always mean much (such as MLS), for the most part knowing how a team or a player has been performing lately can give you a pretty good idea of what to expect from them in the next game.
There are plenty of websites you can use, such as Soccer Stats.
We also invite you to follow our experts on Twitter, as they often tell you about clubs and players to watch out for!
FAQs
What is the best bet in soccer?
The most common and most straightforward bet in soccer is the three-way moneyline bet. However, seasoned bettors love proposition bets. Futures bets are popular as well, especially with the World Cup 2022 coming up.
What is the safest way to bet in soccer?
If you're just starting out, choosing a three-way bet is a good place to start. Guessing the winner based on proper statistics is far easier than jumping straight into prop bets, for example.
What is the most popular bet in soccer?
Once again, 1×2 is the most common bet to go for precisely because it's very simple to understand, and doesn't require as much knowledge as, say, parlay betting.