FIFA World Cup Betting in Canada: Which Site to Bet On?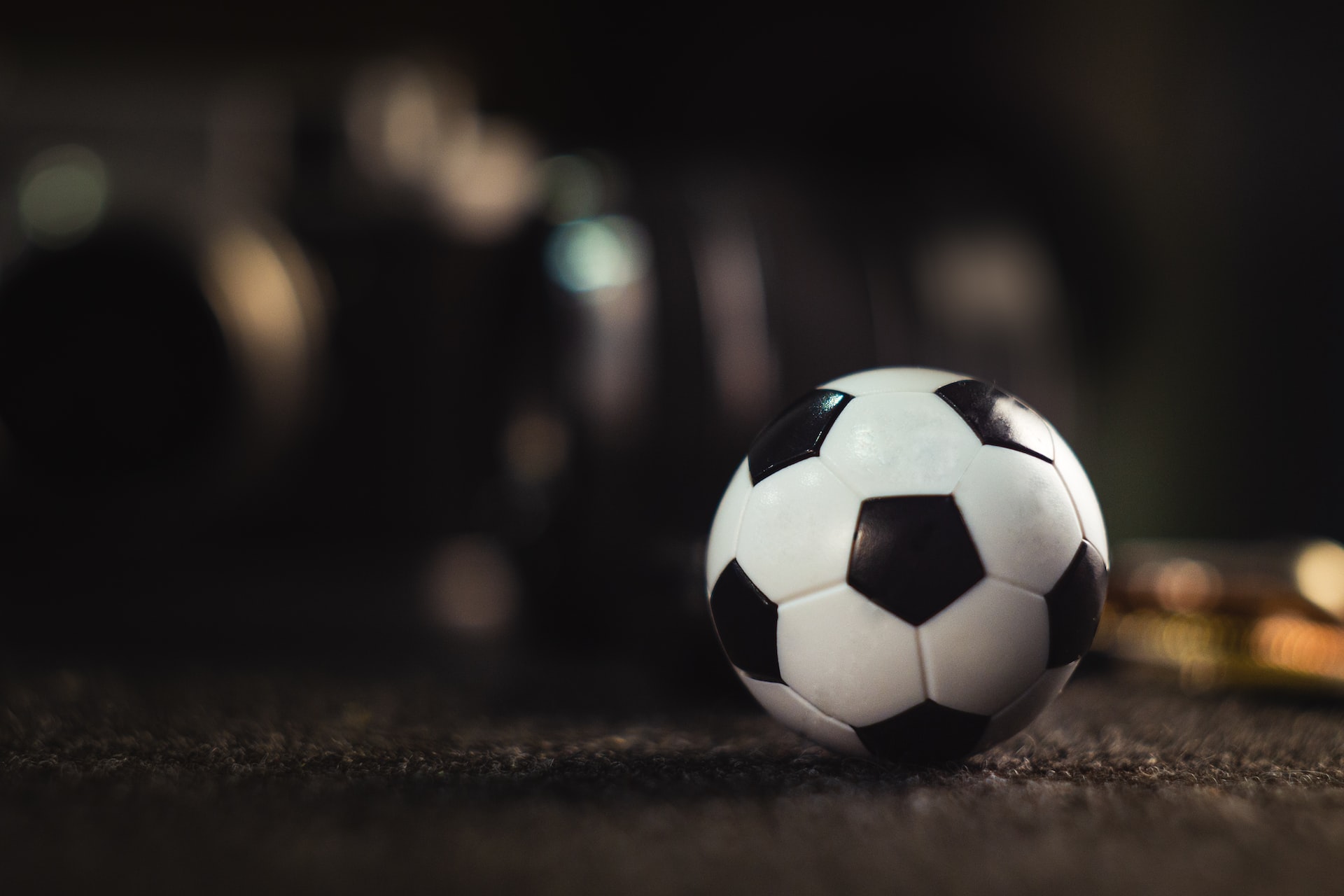 The event all soccer fans look forward to once every four years is finally around the corner!
With the World Cup fast coming, many soccer fans are wondering whether they can bet on it in Canada, and if so, where they should be doing it.
Our guide will provide answers to those questions, and give you all the additional info you need to know, such as the types of bets you can choose from.
Best World Cup Betting Sites for Canada
Why We Chose These Websites
There are plenty of betting sites available in Canada, and virtually all of them have the option to bet on World Cup.
But we chose these specific websites for a couple of reasons:
The websites we recommend are all legal in Ontario. Many of them are also available in other provinces, so all our readers can enjoy betting on World Cup at safe, legal sportsbooks.
You'll be able to find the outright winner bet on virtually any FIFA betting site, but there are certain websites that offer far more bets.
The best sportsbooks let you bet on the top goalscorer, Golden Ball Winner, how many points Canada will get in the group stage, and much more!
If you're betting on the World Cup, you're likely not just doing it for fun, but for profit as well.
To ensure your potential winnings are satisfactory, we've picked and compared the betting sites offering the best World Cup odds.
Types of Bets Available
There are so many different bet types when it comes to the World Cup, especially on renowned betting sites.
The most common ones you'll find are:
Outrights (cup winner, Golden Ball winner)
Finalists
Top goalscorer
But better sportsbooks also have plenty of prop bets to choose from.
World Cup Outrights
The most obvious outrights to bet on are Cup Winner and Golden Ball Winner.
Brazil, France, and Argentina are the top 3 favorites. Let's see how their odds compare across different sportsbooks:
| | | | |
| --- | --- | --- | --- |
| | Brazil | France | Argentina |
| 888Sport | 5.00 | 6.50 | 7.50 |
| bwin | 5.00 | 7.00 | 7.00 |
| Sports Interaction | 3.49 | 4.72 | 5.34 |
World Cup futures bets comparison
Even if you're betting on the clear favourite, you can still gain more by betting at certain providers.
By betting $100 on Brazil at 888Sport or bwin, you stand to gain $500 (minus the original wager), compared to $349 at Sports Interaction.
And if you're betting on Argentina, placing $100 at 888Sport could win you $750-$100=$650.
But while the outright winner is the bet most will be placing, there are other outrights with even higher odds to consider.
Golden Ball Winner
The Golden Ball award goes to the best player of the competition. Not surprisingly, Mbappe is the number one favourite to win it this year.
But Kevin De Bruyne isn't unlikely to win it, either, and by betting $100 on him, you stand to win $1,365!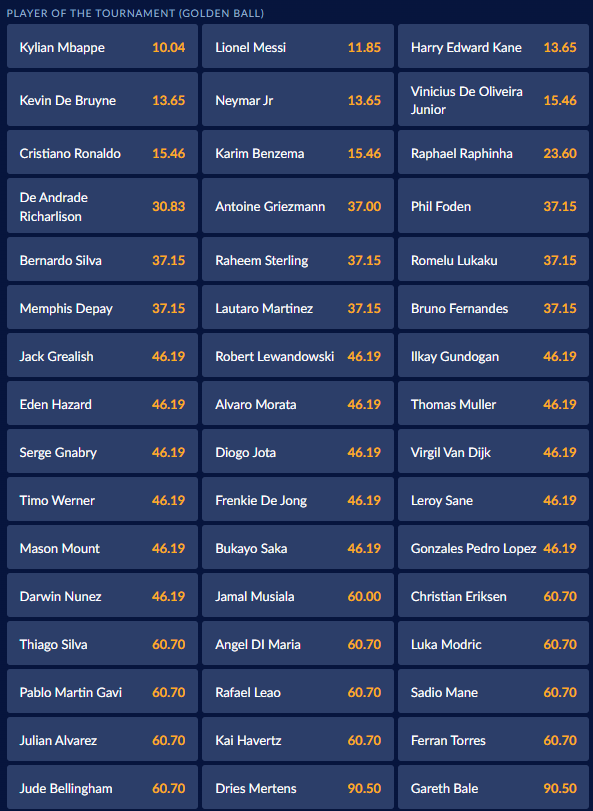 Guess the Finalists
Another bet type worth mentioning is betting on which teams will reach the grand final.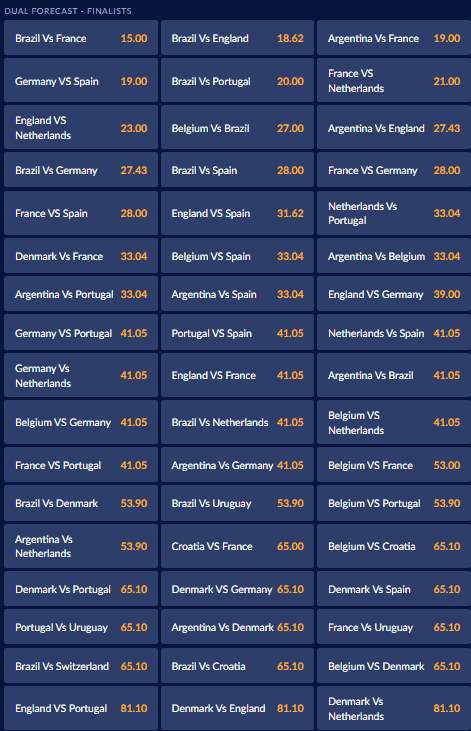 Even by betting on the likely finalists, Argentina and France, you're looking at odds of 19.00 at Sports Interaction, compared to 15.00 on Betway.
World Cup Prop Bets
True soccer fans love betting on all sorts of prop bets. Let's take a look at the ones available for the 2022 World Cup.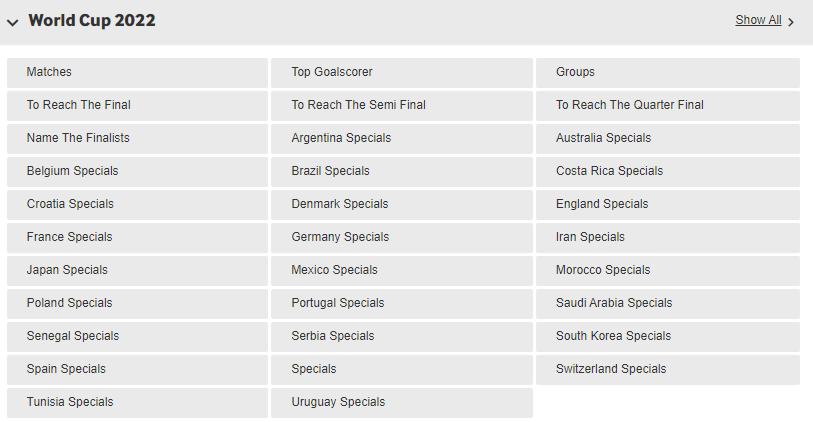 Betway may not have the best odds for the finalists, but it has some decent prop bets to choose from.
However, Sports Interaction takes the cake here.
Canadian fans can go to this sportsbook and bet on the exact number of points Canada gets in the group phase, the first Canadian goalscorer, and a wide variety of other bets.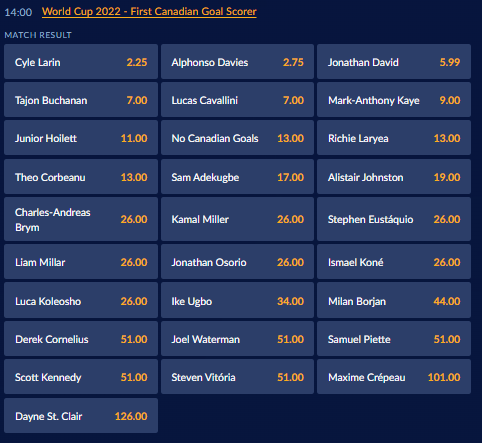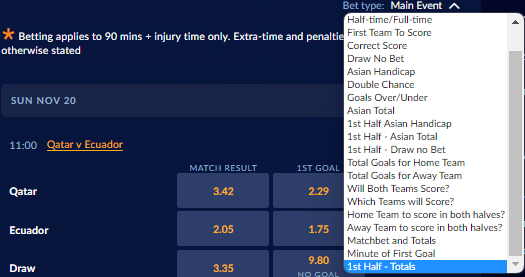 Who Is the Favourite to Win the World Cup 2022?
Currently, according to sportsbooks, most likely to win the World Cup is Brazil.
However, France is a close second, while the third favourite keeps changing. For a long while it was England, but right now it's Argentina.
This just goes to show the importance of keeping track of the current developments so you can place the smartest bet possible.
Whoever you decide to bet on, here's something thrilling you should know:
PointsBet will have 130 live betting options per match during the World Cup!
This makes PointsBet a quality FIFA betting site, and one worth visiting.
Canada in the World Cup
While we have to be honest and admit that Canada is certainly not among the favourites to win the tournament, they shouldn't be written off that easily, either.
The young team recently had a piece of good news — after suffering an injury on the field, Alphonso Davies has traveled to Qatar with the national team.
However, it's still uncertain whether he'll be able to play in Canada's opening match with Belgium. This could be a serious issue for the squad.
Luckily, there are a couple more young yet experienced players ready to face Belgium and make them sweat.
So, do Les Rouges stand a chance, with or without Davies? We created a detailed infographic to try and answer that question!
FAQs
Can you bet on the FIFA World Cup in Canada?
You absolutely can. Many safe, legal betting sites allow Canadians to place anything from outrights to prop bets when it comes to the World Cup.
What are the betting odds for Canada to win the World Cup?
It depends on the sportsbook. For example, on Sports Interaction, the odds are 99.80, while on Betway they are far higher — 251.00!
Where can I bet on the World Cup?
We recommend you always choose one of the legal, safe betting sites for placing your World Cup bets. These include Bet99, Sports Interaction, Betway, and many more.