Written By:
Jelena Kabić
About Author
Jelena Kabic is a sports betting writer that focusses on responsible gambling. A psychologist by vocation, Jelena volunteered in a rehab facility, where she worked with gambling addicts. She now reviews all our content to ensure it discusses betting in a socially responsible way.
Fact Checked By:
Amy Webb
About Author
Amy's introduction to the gambling world was 6 years ago, when she joined a casino operator as a content specialist. Since then, she's helped launch and maintain gambling review sites in over 8 different countries. She's tested dozens of casinos and sportsbooks, which is how she can spot a subpar brand in an instant!
FIFA World Cup Betting in Canada: Which Site to Bet On?
World Cup Betting Canada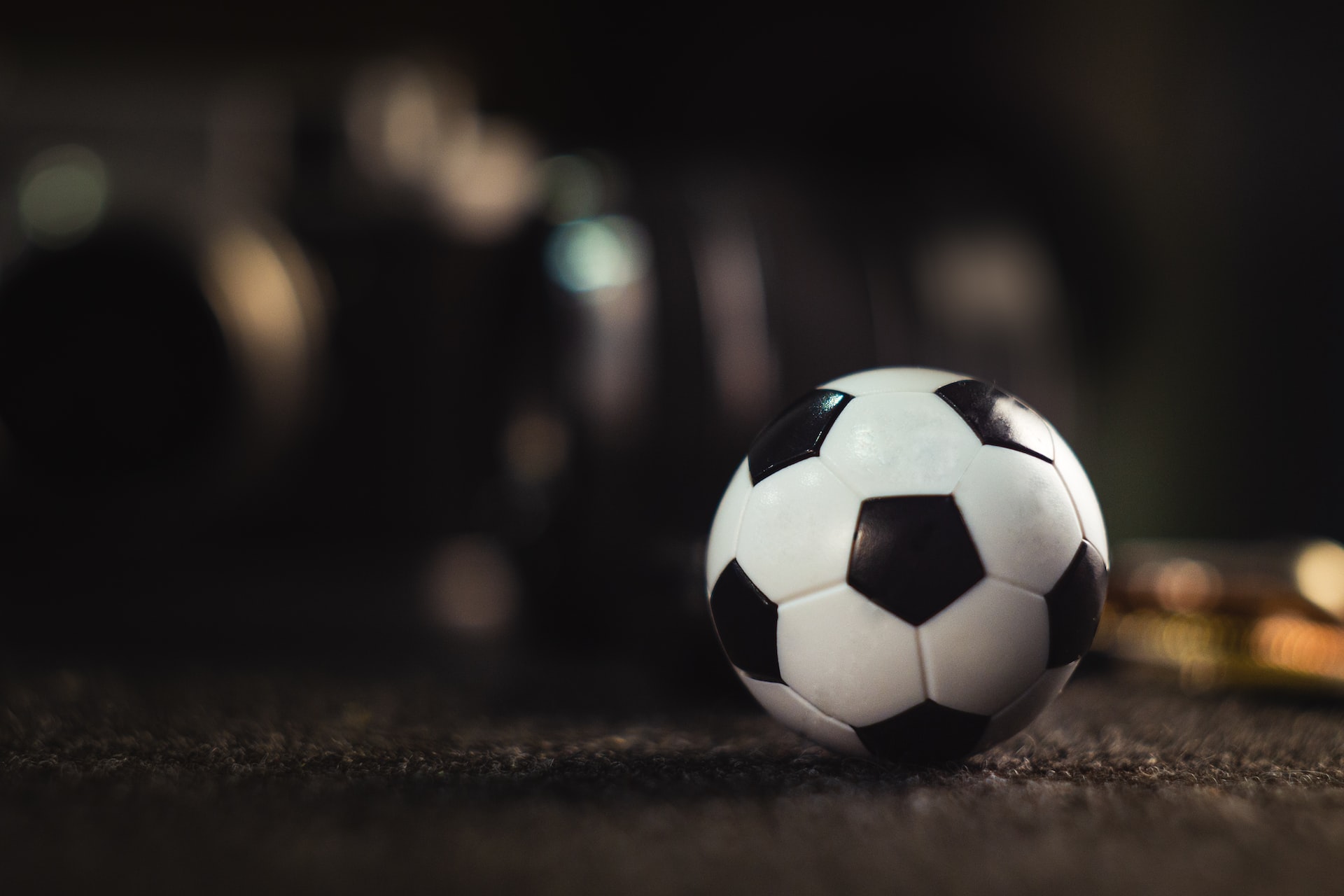 The event all soccer fans look forward to once every four years is finally around the corner!
With the World Cup fast coming, many soccer fans are wondering whether they can bet on it in Canada, and if so, where they should be doing it.
Our guide will provide answers to those questions, and give you all the additional info you need to know, such as the types of bets you can choose from.
You can also find out more about betting on FIFA Women's World Cup 2023.
Best World Cup Betting Sites for Canada
Why We Chose These Websites
There are plenty of Woirld Cup betting sites available in Canada, and virtually all of them have the option to bet on World Cup.
But we chose these specific websites for a couple of reasons:
The websites we recommend are all legal in Ontario. Many of them are also available in other provinces, so all our readers can enjoy betting on World Cup at safe, legal sportsbooks.
You'll be able to find the outright winner bet on virtually any FIFA betting site, but there are certain websites that offer far more bets.
The best sportsbooks let you bet on the top goalscorer, Golden Ball Winner, how many points Canada will get in the group stage, and much more!
If you're betting on the World Cup, you're likely not just doing it for fun, but for profit as well.
To ensure your potential winnings are satisfactory, we've picked and compared the betting sites offering the best World Cup odds.
Best World Cup Betting Apps for Canadians
You now know which sportsbooks are the top ones for the soccer World Cup. But if you're looking for quick, on-the-go betting, it's better to opt for one of our recommended betting apps instead.
All of these brands have an iGO license and are perfectly safe to bet at!
How to Bet on the World Cup in Canada
Ready to place your first World Cup bet? Follow these few simple steps to learn how:
Choose which sportsbook you want to place your bet at.
Sign up and place a deposit.
Find the World Cup section — sportsbooks like Betano and Bet99 make them easy to find via the side/main menus.


Choose the game and type of bet you wish to place (more on that in the guide below).
All that's left to do is decide how much you want to wager, and you're ready to place the bet!
Types of Bets Available
There are so many different bet types when it comes to the World Cup, especially on renowned betting sites.
The most common ones you'll find are:
Outrights (cup winner, Golden Ball winner)
Finalists
Top goalscorer
But better sportsbooks also have plenty of prop bets to choose from.
World Cup Outrights
The most obvious outrights to bet on are Cup Winner and Golden Ball Winner.
Brazil, France, and Argentina are the top 3 favorites. Let's see how their odds compare across different sportsbooks:
| | | | |
| --- | --- | --- | --- |
| | Brazil | France | Argentina |
| 888Sport | 5.00 | 6.50 | 7.50 |
| bwin | 5.00 | 7.00 | 7.00 |
| Sports Interaction | 3.49 | 4.72 | 5.34 |
World Cup futures bets comparison
Even if you're betting on the clear favourite, you can still gain more by betting at certain providers.
By betting $100 on Brazil at 888Sport or bwin, you stand to gain $500 (minus the original wager), compared to $349 at Sports Interaction.
And if you're betting on Argentina, placing $100 at 888Sport could win you $750-$100=$650.
But while the outright winner is the bet most will be placing, there are other outrights with even higher odds to consider.
Golden Ball Winner
The Golden Ball award goes to the best player of the competition. Not surprisingly, Mbappe is the number one favourite to win it this year.
But Harry Kane isn't unlikely to win it, either, and by betting $100 on him, you stand to win $1,365!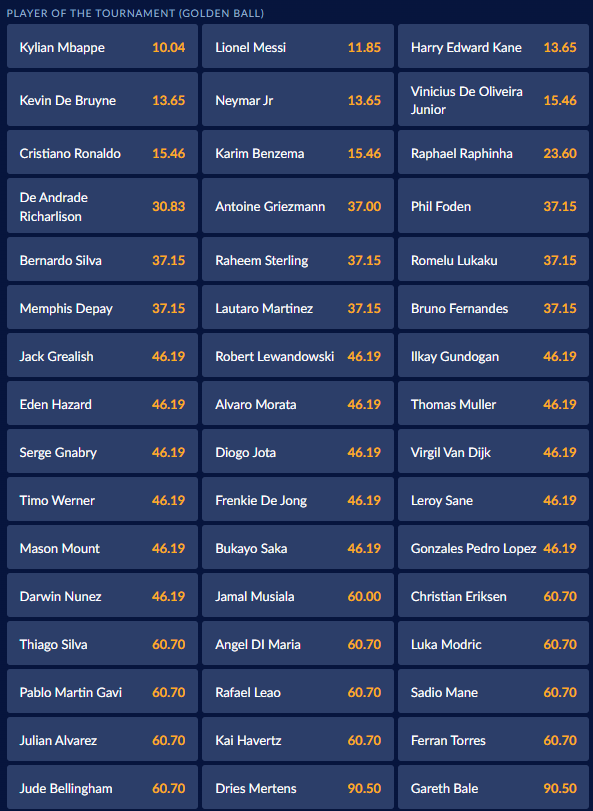 Guess the Finalists
Another bet type worth mentioning is betting on which teams will reach the grand final.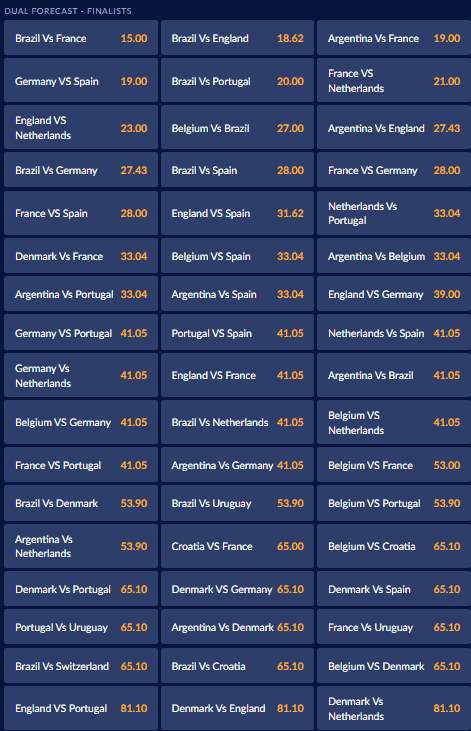 Even by betting on the likely finalists, Argentina and France, you're looking at odds of 19.00 at Sports Interaction, compared to 15.00 on Betway.
World Cup Prop Bets
True soccer fans love betting on all sorts of prop bets. Let's take a look at the ones available for the 2022 World Cup.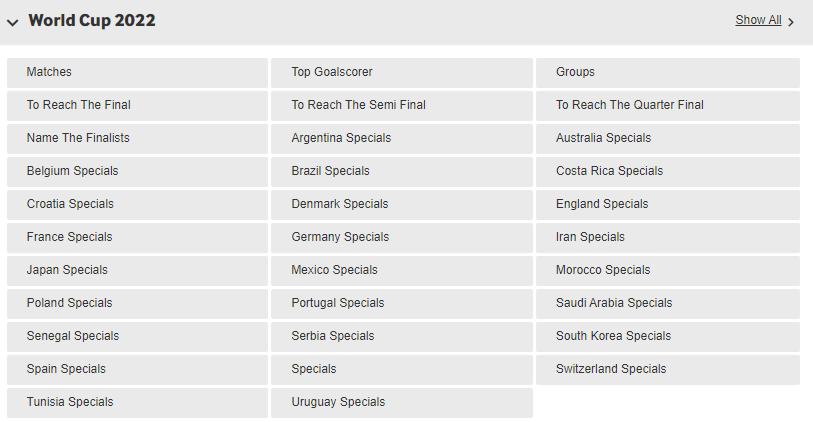 Betway may not have the best odds for the finalists, but it has some decent prop bets to choose from.
However, Sports Interaction takes the cake here.
From Golden glove to the runner up and whether there will be a first time winner, Sports Interaction gives Canadians a chance to bet on virtually anything.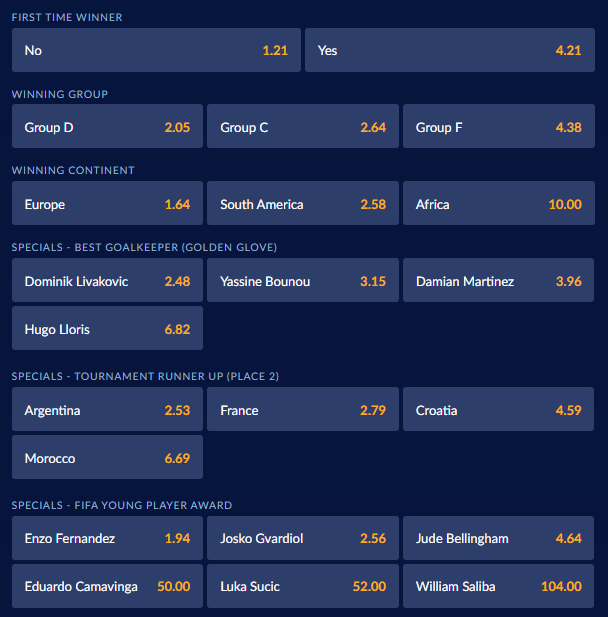 Who Is the Favourite to Win the World Cup 2022?
With Brazil out of the competition, France has the best odds to win the competition. However, Argentina is a close second, with Croatia being the third most likely winner.
Who knew the odds would change so much since the start of the tournament? This just goes to show the importance of keeping track of the current developments so you can place the smartest bet possible.
Whoever you decide to bet on, here's something thrilling you should know:
PointsBet will have 130 live betting options per match during the World Cup!
This makes PointsBet a quality FIFA betting site, and one worth visiting.
Canada in the World Cup
Sadly, the Canadian team had to say goodbye to the World Cup after the group phase. After playing more than decently against Belgium, they scored their very first World Cup goal against Croatia.
However, none of that was enough to get them into the knockout phase. But let's be honest: they competed against the two teams that have now reached the semifinals, which was no easy task.
Be all that as it may, Canada is among the several national squads (most notably Morocco, Japan, and Saudi Arabia) that defied the odds and made betting on this competition a lot more interesting.
So as far as FIFA betting in Canada goes, despite the fact that Les Rouges dropped out, there are still plenty of interesting games to bet at!
Below, you can take one final look at the difficulties Canada faced in the World Cup, and the top players it had.
Related reading: Premier League Betting
FAQs
Can you bet on the FIFA World Cup in Canada?
You absolutely can. Many safe, legal betting sites allow Canadians to place anything from outrights to prop bets when it comes to the World Cup.
Where can I bet on the World Cup?
We recommend you always choose one of the legal, safe betting sites for placing your World Cup bets. These include Bet99, Sports Interaction, Betway, and many more.
Is FIFA betting popular in Canada?
Thanks to the Canadian national team having competed in the World Cup after 36 years, Canadians' interest in the FIFA World Cup seems to be higher than expected!