Written By:
Jason Ence
About Author
Jason Ence has been giving betting and fantasy advice for nearly a decade, and is extremely familiar with the Premier League, Serie A, and the Champions League. He is a strong advocate for responsible betting and bankroll management, and always recommends utilizing multiple sports books in order to shop for the best lines in order to maximize your bankroll.
Fact Checked By:
Jelena Kabić
About Author
Jelena Kabic is a sports betting writer that focusses on responsible gambling. A psychologist by vocation, Jelena volunteered in a rehab facility, where she worked with gambling addicts. She now reviews all our content to ensure it discusses betting in a socially responsible way.
Premier League Predictions for 2023/2024
EPL Winner, Golden Boot Predictions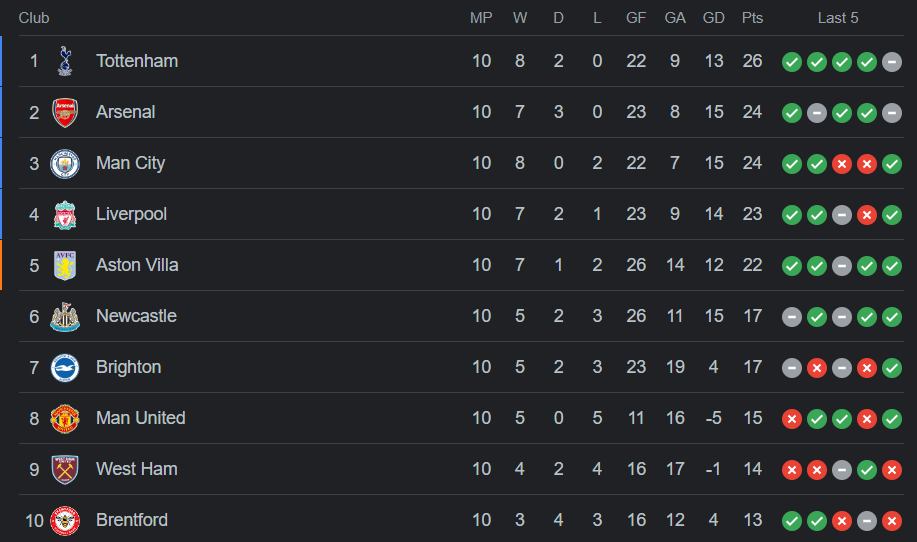 The Premier League is already underway, but with plenty of time to go, the number of betting markets you can go for is virtually endless.
I'll lay out some of the top ones, present my predictions, and show you the odds you can currently find at top Canadian sportsbooks.
Types of Premier League Betting Markets
There are many great futures markets that you can wager on when it comes to betting on soccer, especially on the Premier League.
With this betting market, it's important to keep in mind a lot can change in just a couple of games.
For example, Man City started its last five games well with two victories, but two losses followed immediately.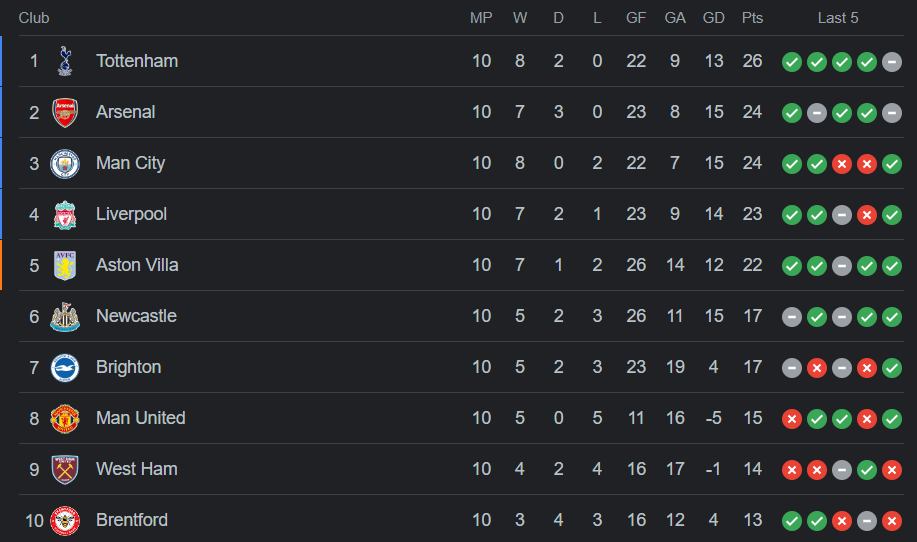 This is to say that the futures market is fun to play, and there's plenty of data to help you pick the right bets, but ultimately it's a marathon and not a sprint.
Now, not only can you wager on who will win the title, but every book will offer futures on who will take home the Golden Boot for the top goalscorer this season.
In addition to top scorer, many books will allow you to wager on who records the most assists.
Goalkeepers aren't forgotten either, as you can usually find a few options for which one will keep the most clean sheets.
Premier League Title Favourites
As they have been for months, Manchester City are odds-on favorites to win the 2023/24 Premier League title. Right now, a $100 wager at Betano on Man City to repeat as champions would return you just $160.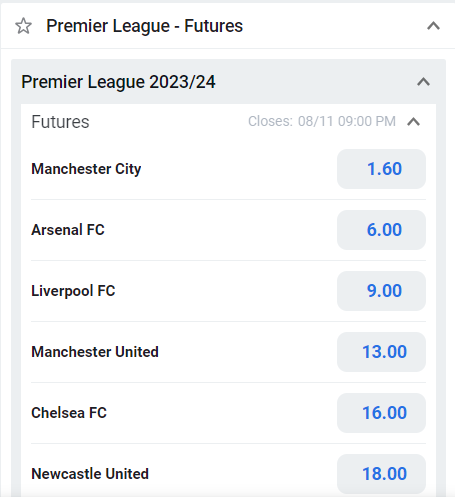 It's rare to see a team be this heavily favoured before a long season has even begun, but the depth of talent and excellent coaching the Citizens possess prove difficult to ignore.
Man City are coming off only the second "treble" in England history as they also won the FA Cup and Champions League a season ago.
Who Will Win the Golden Boot?
Arsenal and Liverpool both look poised to give Man City a challenge, while Manchester United, Chelsea, and Newcastle are all hoping to get their hands on the trophy as well.
Haaland & Kane
Haaland and Harry Kane of Tottenham Hotspur finished atop the Premier League golden boot race a season ago, so it's no surprise to see them leading the EPL betting markets again this season.
This is despite the growing rumours swirling around Kane of a possible move to Bayern Munich in the Bundesliga.
Just as his team is favoured to win the title, Haaland is expected to run away with the Golden Boot.
Not only did Haaland set a new Premier League record with 36 goals, but…
His 52 goals scored in all competitions were the most of any player in a single season in the history of England's top flight!
You would win only $165 at Betano on a $100 wager at his current odds.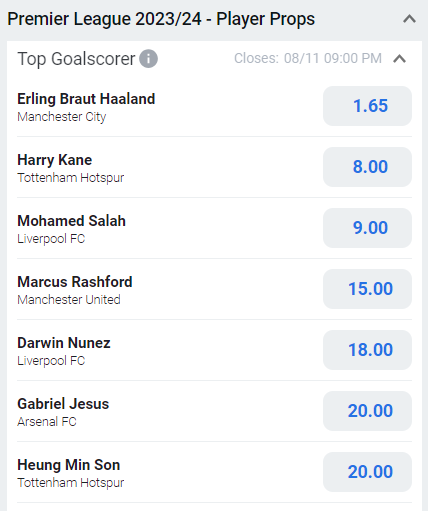 Mohamad Salah
It was a bit of a down season for Mohamed Salah after the Liverpool winger managed to score "only" 19 goals.
But Liverpool have made some changes, including pushing Trent Alexander-Arnold into midfield, that should return Salah into the golden boot discussion.
Other Top Favourites
Quote
Marcus Rashford of Manchester United, Liverpool's Darwin Nunez, and Arsenal's Gabriel Jesus all will be expected to have strong seasons as well, and could present value given their current prices.
Christopher Nkunku of Chelsea is a newcomer, and could offer a solid betting choice should he settle in quickly.
Most Assists Betting Market
When it comes to picking who will set their teammates up the most this season, it could be a wide-open race.
De Bruyne is fourth all-time in Premier League assists, and he benefitted quite handsomely from Haaland's dominance as he registered a league-high 16 this past season.
Alexander-Arnold's shift into the midfield late last season saw him end up with nine goal contributions.
His price of 9.00 to lead the league in assists at bet365 could be one of my favorite Premier League betting values available.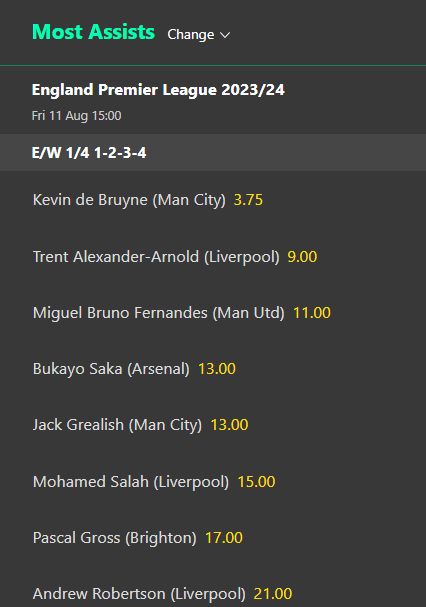 But Alexander-Arnold isn't alone in offering some solid return for leading assists. In fact, there's a chance he doesn't even lead his team this year.
Salah set up 12 goals a season ago and 14 the year before, and with bet365 offering him at 15.00 he presents tremendous value.
Manchester United have improved their team quite a bit, and Bruno Fernandes could be set to improve on his performance from a season ago.
Meanwhile, Arsenal will likely rely more on the play of Bukayo Saka out wide, and he's already posted a few assists during their preseason matches.
Other Betting Markets to Try
Another fun futures market is wagering on which teams will finish ahead of one another.
But just as you can place bets on who will be the best this season, you're also able to wager on who will be among the worst.
The relegation market can offer some solid value as you bet on which teams will finish among the bottom three, earning them a demotion to the EFL Championship.
Luton Town are expected by nearly everyone to be the worst team in the league this season.
Winners of the EFL Championship promotion play-off, their stadium is the smallest in the league.
They will be hard-pressed to find a way to escape the relegation zone with their current squad.
That's why Betano is only offering $135 on a $100 bet should they get sent back down after the season.
That's just a sample of some of the terrific markets available to Premier League bettors.
You'll find a variety of fun and engaging areas to place bets:
They range from predicting the exact finish of the top four teams to picking who will score the most goals among two or three selected players.
When it comes to betting on the Premier League, you have quite a few good options.
You can't go wrong with Bet365, Betano, or Bet99 as your primary book, and utilizing all three can yield you the best results by shopping for the best lines.
There are other terrific options you can't go wrong with, such as Betway, Sports Interaction, and Powerplay.
Be sure to check out our sportsbook reviews to help choose the site that is right for you!
FAQs
Which club had the highest points in Premier League 2023?
With 89 points, Manchester City won the Premier League for season 2022/23.
Who will win the Premier League 2023/2024?
Multiple teams are vying for the trophy this season, all of which have a strong chance to come through. Manchester United and Chelsea have made key acquisitions this summer that will strengthen their chances, while Liverpool and Arsenal are hopeful injury issues won't plague them again this year.
That said, Manchester City is favored for a reason. They're likely to add another piece or two before the end of the transfer window, and they have so much depth that their second squad could finish mid-table.
While it's a boring bet for many, taking Manchester City to win the league is the most logical play this season.
What are the odds on Man City winning the treble in 2024?
For the time being, the odds for Man City winning their second treble are 17.00 over at bet365.