Written By:
Jason Ence
About Author
Jason Ence has been giving betting and fantasy advice for nearly a decade, and is extremely familiar with the Premier League, Serie A, and the Champions League. He is a strong advocate for responsible betting and bankroll management, and always recommends utilizing multiple sports books in order to shop for the best lines in order to maximize your bankroll.
Fact Checked By:
Jelena Kabić
About Author
Jelena Kabic is a sports betting writer that focusses on responsible gambling. A psychologist by vocation, Jelena volunteered in a rehab facility, where she worked with gambling addicts. She now reviews all our content to ensure it discusses betting in a socially responsible way.
Best Premier League Betting Sites in Canada
EPL Betting Sites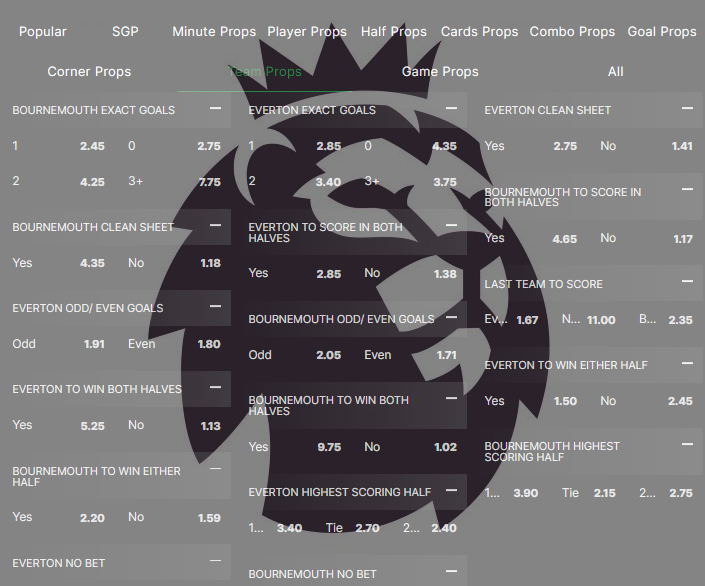 The English Premier League is by far the most popular soccer league to follow and bet on. Canada is no exception, as Canadian bettors are all over the Premier League bets.
But not all betting sites are equal in terms of offering good EPL betting markets, value odds, or simply having enough betting tools to make it worth the wager.
In this guide, we'll take you through choosing the best Premier League betting sites for your wagering needs and compare them in detail so you don't have to do the research yourself.
Finding the Best Premier League Betting Sites
People who are looking to bet on the Premier League may not know where to start. With so many options out there for soccer bettors, it can be somewhat daunting.
Thankfully, I'm here to help!
When it comes to finding the best Premier League betting site for you, it's very important to keep four key factors in mind:
Reliability
Reputation
User experience
Ease of deposit and withdrawal
That said, these are also good guidelines for any soccer betting and are paramount when looking for the best MLS betting sites as well, for example.
Settling on a sports betting site does you little good if it lacks reliability.
Odds can change in an instant and knowing you can rely on your chosen service to respond quickly and be available is of vital importance.
Knowing the history of a sportsbook is an integral part of the decision-making process.
You want to use a provider who is not only legally licensed in your area but is trustworthy and has a proven track record of keeping your money safe and secure.
It's frustrating to go and place a bet and be lost as to where your desired match is located.
Having a website and app that are easy to navigate is one of the biggest things I look for when deciding who gets my money.
Finally, nobody wants to jump through hoops to cash in or out.
You'll want to choose a book that combines multiple methods of deposit with the ability to easily and quickly cash out and get your money in hand.
With that in mind, we recommend betting on the Premier League by using one of the following sites.
Best Premier League Betting Sites Compared
These providers are licensed and reputable, and will provide you with outstanding betting options alongside tremendous service.
Betano
Bet99
bet365
Sports Interaction
Betway
So which site is best for Premier League betting? It honestly depends on what you are most interested in wagering on. Thankfully, there are options available for every type of player!
Betano
For those simply wishing to place standard bets on individual matches or attack the props market, you will love the options available at Betano.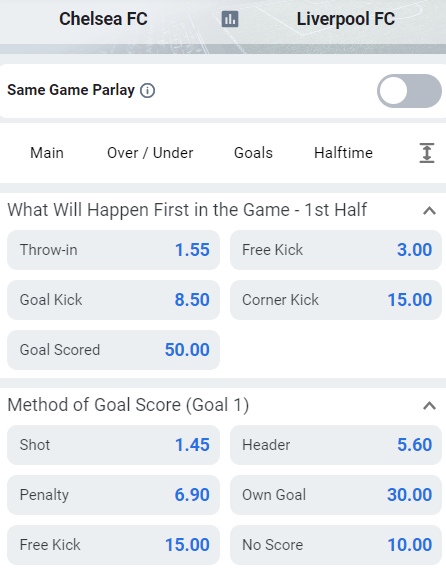 Betano has long been available in Ontario, but recently became available to all provinces. They were named Operator of the Year in 2022, and their tools for responsible gaming are among the best in the industry.

With nearly every match prop on offer that you could imagine in addition to numerous pre-built parlays, Betano allows you to utilize your knowledge of the Premier League to find the best value play for any given Premier League fixture.
Bet99
Speaking of parlays, few have you covered like Bet99 and their amazing "Bet Builder" feature.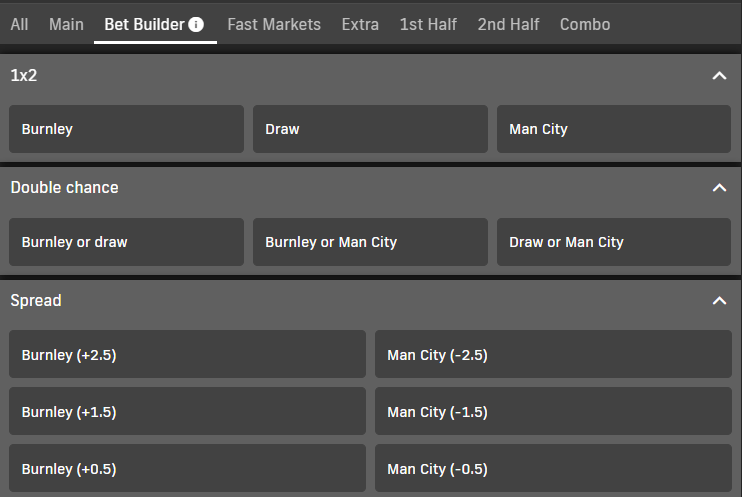 Bet99 has a terrific selection of markets available for combining plays, and their website makes it easy to build your perfect multi-leg wager.
Whether looking to play a two-leg parlay or put together a 10-leg lottery ticket, you'll find a plethora of options to choose from.

Just like Betano, you'll find a multitude of Premier League prop bet markets available at Bet99.
Here's an example of prop bets available for Everton vs Bournemouth: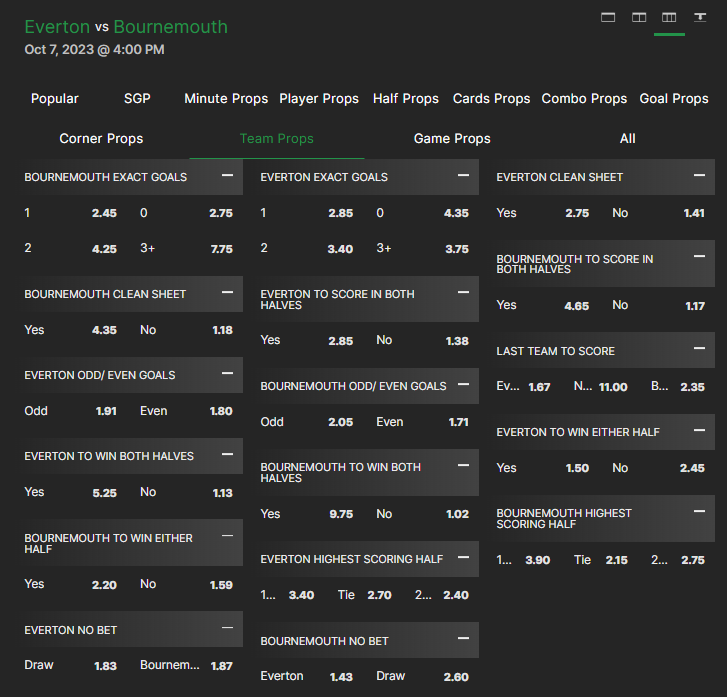 While a relatively new book, they've already partnered with multiple teams in Quebec, including the Alouettes and CF Montreal.
Bet99 also has a top-notch user experience. Not only is their betting app and website very easy to navigate, but they offer support in both English and French!
They also have a strong portfolio of responsible gaming tools for you to utilize.
bet365
If you're looking to play the futures market, it's hard to beat bet365. Not only are they one of the most recognized names in sports gambling, they offer the most extensive list of futures in Canada.
Not only does bet365 allow you to wager on standard futures like who will win the league, they offer special props like Over/Under totals on player goals.
They even allow you to bet on which Premier League team from a specific region – such as London – will have the highest finish.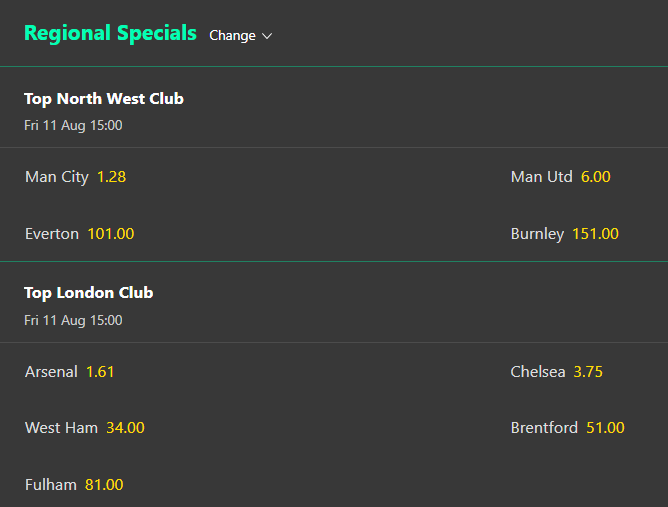 With bet365's multiple deposit options and their auto cash-out feature, it's easy to add money to your account or get it back whenever necessary. They also have a proven dedication to promoting safe gambling.
Odds Comparison
I always recommend shopping for odds before placing a bet.
To give you a general idea of how each of these sportsbooks' odds compare, I picked two Premier League games and showcased the moneyline odds:
| | | | |
| --- | --- | --- | --- |
| Sportsbook | Fulham FC | Draw | Manchester United |
| Betano | 3.15 | 3.65 | 2.18 |
| Bet99 | 3.10 | 3.35 | 2.15 |
| bet365 | 3.20 | 3.60 | 2.20 |
For this game and betting market, bet365 is the best choice for both the favourite and underdog, while Betano has the highest odds for the draw option.
| | | | |
| --- | --- | --- | --- |
| Sportsbook | Brentford FC | Draw | Westham United |
| Betano | 2.10 | 3.60 | 3.40 |
| Bet99 | 2.05 | 3.35 | 3.30 |
| bet365 | 2.05 | 3.60 | 3.50 |
In this example, Betano is the top choice for the favourite, bet365 for the underdog, and the two sportsbooks share the same odds for the draw.
These two examples illustrate the importance of shopping for odds, but they also demonstrate that bet365 and Betano tend to have more competitive odds than Bet99.
Betting $100 on Westham United at bet365 vs Bet99 could get you an extra $20 in your pocket, which is no small difference.
These are just some of the examples of what the top sportsbooks can offer you.
We urge you to navigate their websites, read in-depth reviews such as the ones on our website, and make the best decision for you!
Where can I bet on Premier League games?
You'll find that practically every sportsbook available in Canada lets you place bets on the Premier League. It's no wonder, since it's likely the most popular soccer league to bet on. That said, at LegalBet Canada, we always strongly recommend you only bet at sportsbooks with an iGaming Ontario license.
Which betting site is best for EPL?
As we discussed earlier, you can't go wrong with Betano, Bet99, or bet365. I'd recommend having at least two, if not all three, of these books in your rotation so you can find the best odds for a given wager.
Where can I bet on Premier League winner?
Futures or outrights, the most popular of which is the Premier League winner can be found on virtually every Canadian sportsbook. However, odds can widely differ, but Betano tends to have competitive ones.