Written By:
Jason Ence
About Author
Jason Ence has been giving betting and fantasy advice for nearly a decade, and is extremely familiar with the Premier League, Serie A, and the Champions League. He is a strong advocate for responsible betting and bankroll management, and always recommends utilizing multiple sports books in order to shop for the best lines in order to maximize your bankroll.
Fact Checked By:
Jelena Kabić
About Author
Jelena Kabic is a sports betting writer that focusses on responsible gambling. A psychologist by vocation, Jelena volunteered in a rehab facility, where she worked with gambling addicts. She now reviews all our content to ensure it discusses betting in a socially responsible way.
How to Read Soccer Odds [+ Finding Value Bets]
Understanding Soccer Odds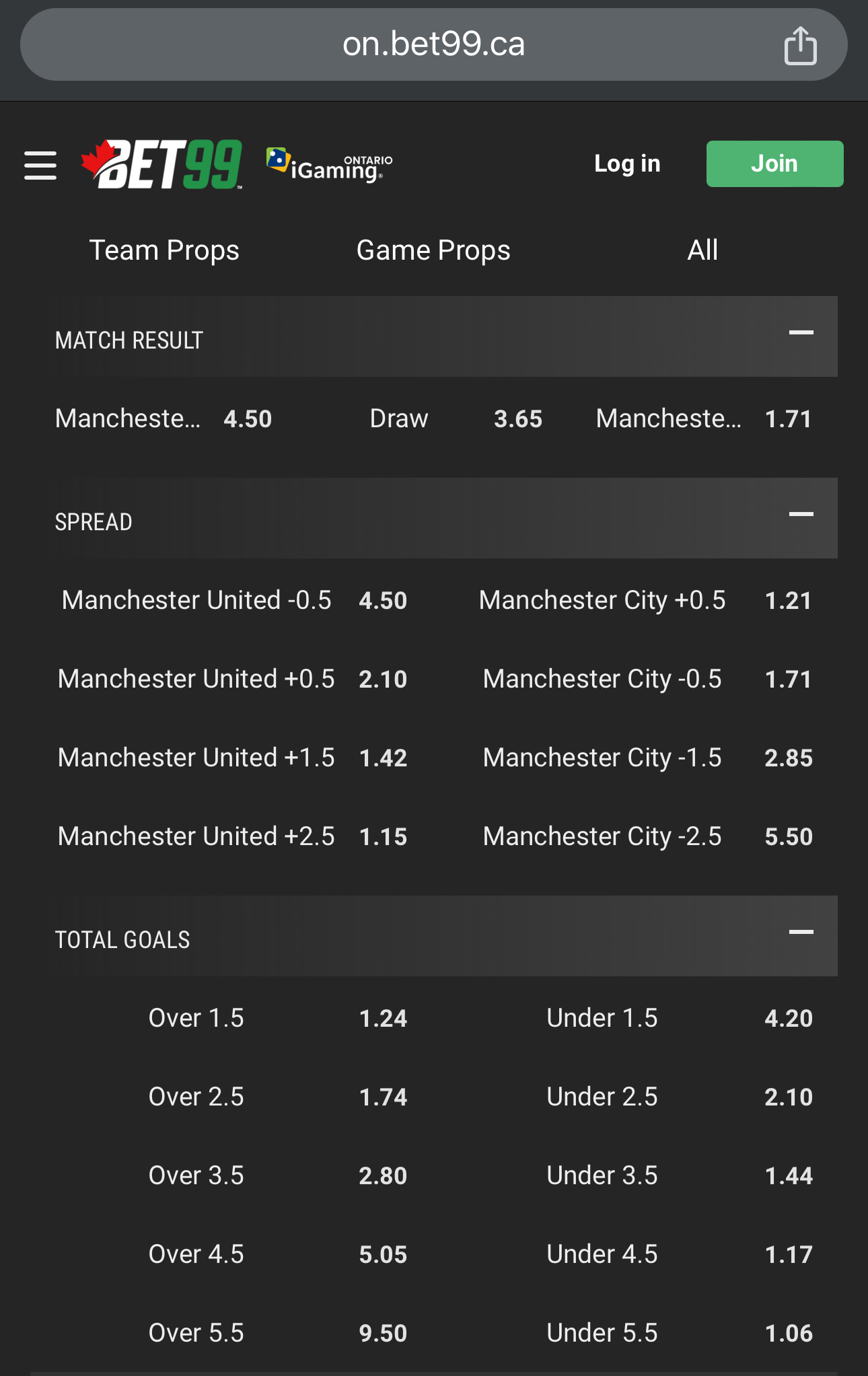 Soccer is the most popular sport in the world, and the past decade has seen soccer betting grow at a fast pace.
As the game is not always a zero-sum affair, it can be confusing to figure out what exactly you're betting on.
Thankfully, I'm here with a guide to teach you how to read soccer odds and use it to place smart bets!
To learn more about soccer betting markets, go here!
Types of Soccer Odds
Understanding soccer odds is a must-know when it comes to betting on soccer.
The three primary type of soccer odds most books will offer you are:
American odds
Decimal odds
Fractional odds
While not every book will have all three available, they will typically have at least two of these options on offer.
American odds utilize plus and minus numbers to represent the payout for their bets.
For decimal odds, the number shown is the dollar amount you win for each dollar staked if you are successful in betting correctly.
As the name suggests, fractional odds are showed as fractions.
The number on top of the fraction represents how many dollars you will profit from betting the dollar amount on the bottom.
Depending on where you are in the world, you're more likely to see a specific odds set.
American odds are most commonly found in—you guessed it—the United States of America.
Decimal odds are typically used in Canada and Europe. Meanwhile, England sportsbooks will typically use fractional odds.
The odds type doesn't differ from league to league, but rather region to region and sportsbook to sportsbook.
Many will allow you to select the odds type you want to use, even if that book has a display method they prefer.
For the purposes of our guides, our site tends to use decimal odds.
That's because they're the simplest to read, and are the only ones that include the entire payout—both profit earned, and stake placed—for a winning wager.
How to Read Soccer Odds
Next, I'm going to go over how to read soccer odds, and how you will use that information to set yourself up with the best bet.
American Odds
First, I'll dive into American odds. Let's use bet365 for an example. Here are the odds for the recent Champions League match between AC Milan and PSG: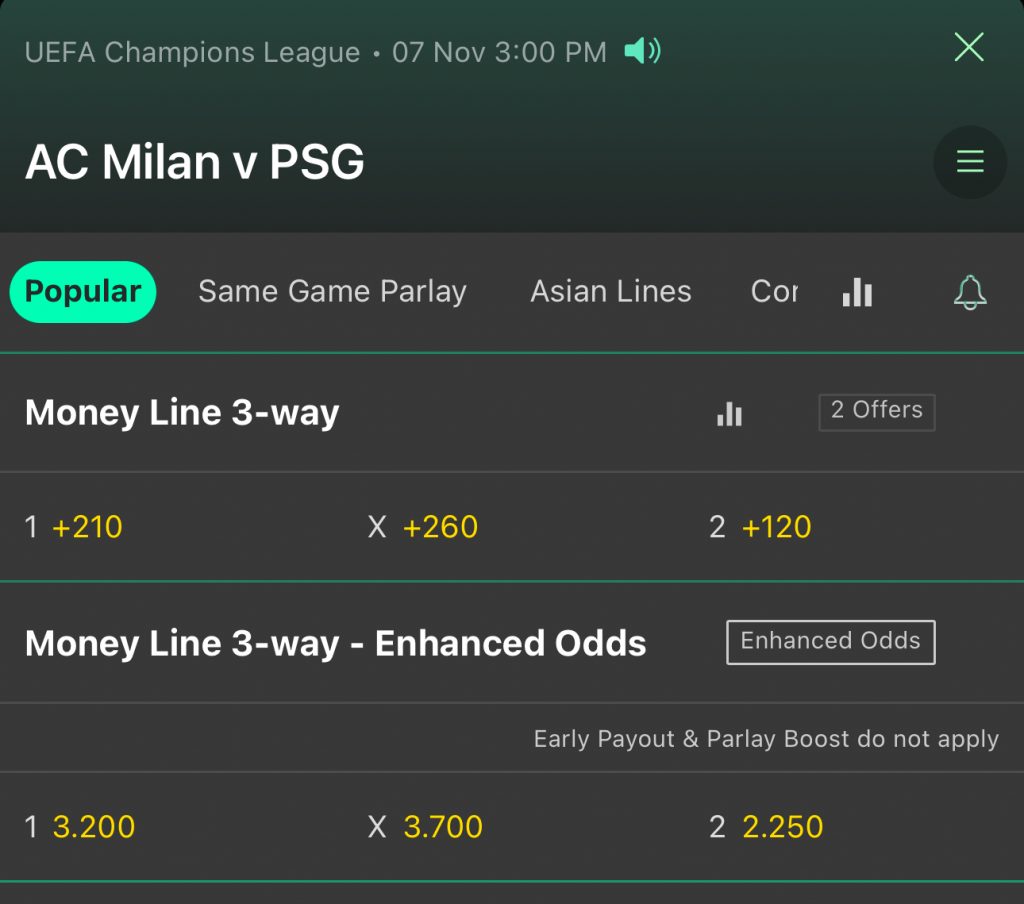 As you can see, the moneyline uses the 1X2 method to display the teams. If you're not aware, the 1 is always the home team, with the 2 being the away side. The X represents a draw.
When looking at American odds, the first thing to do is figure out if the number on offer is a plus or minus.
You'll see that all three of these odds are plus-odds. That means they indicate the amount of money you would win as profit if you wagered $100.
For this match, AC Milan are getting +210 odds. In other words, a $100 bet on Milan to win would return you the $100 stake, plus $210 profit for a total return of $310.
Compare that with PSG, and the odds of +120 mean you'll win $120 for a $100 bet should they come out on top, with the stake also being given back for a $220 total return.
These numbers are all positive, but PSG is the lowest number. That indicates they are the favourites.
Most betting lines, such as the total, will only have two options. Let's take a look at an example, also at bet365.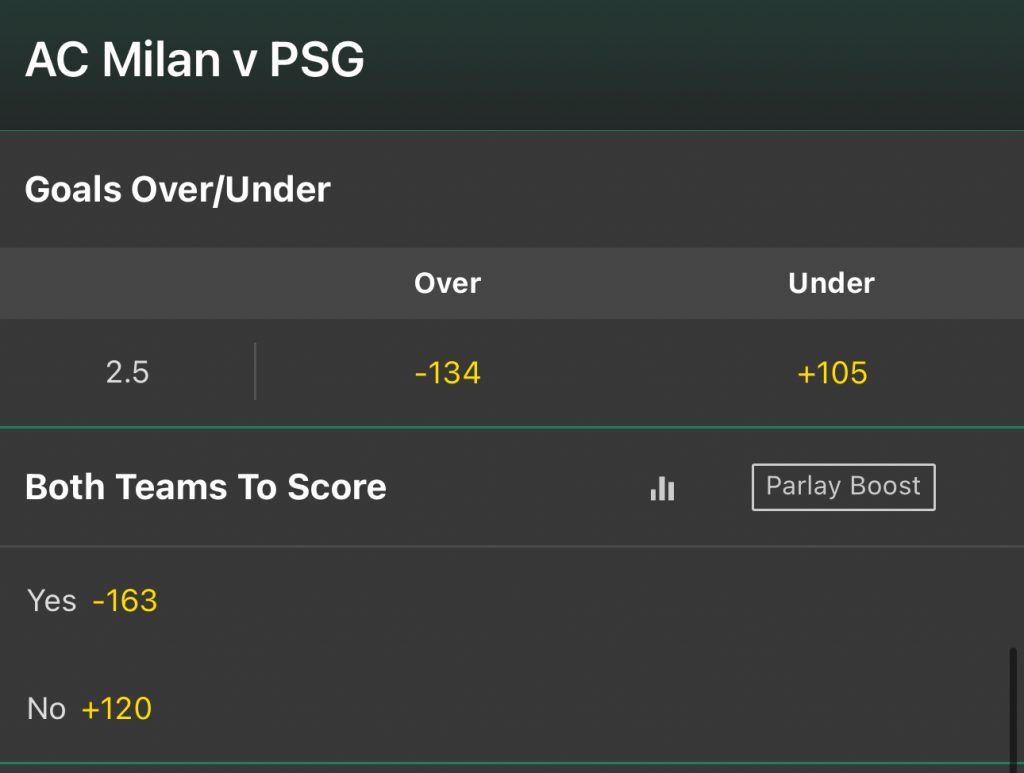 You'll see the Over 2.5 goals is priced at -134. Negative odds mean that, instead of winning an amount on a $100 bet, you instead have to bet this amount to win $100.
Therefore, a 3-1 final score would see you win $100 profit if you wagered $134 on the Over 2.5 and you would also reclaim your staked amount.
On zero-sum wagers with two options, you will know the favourite by which option has minus-odds.
There may be situations where both have them, such as -110, due to the book viewing both options as equal probability.
In these cases, there's no real favourite.
If a line has very high plus-odds, it means they're a substantial underdog. A line with very low minus-odds, such as -1000, indicates a heavy favourite.
A team getting -800, for example, requires you to bet $800 to win $100 profit!
Keep in mind with American odds that you don't actually have to bet $100! You will simply scale your betting unit and payout in accordance.
So if you're betting $10 on a +120 line, you'd return $12 profit instead of $120.
Decimal Odds
If you looked closely at the first example, you noticed bet365 was showing decimal odds for their enhanced odds.
Sportsbooks will sometimes do this for special markets, even if you're set to American odds. But it leads us perfectly into our next breakdown.
With decimal odds, the number shown is the dollar amount you win for each dollar staked if you are successful in betting correctly.
The lower the return, the higher the likelihood of that bet hitting. Conversely, higher odds mean the sportsbook believes that wager has a much smaller chance of winning.
Let's look at an example. Manchester United and Newcastle United will play in November in the EFL Cup, a competition in England.
Over at bet365 you can see the odds for the two teams.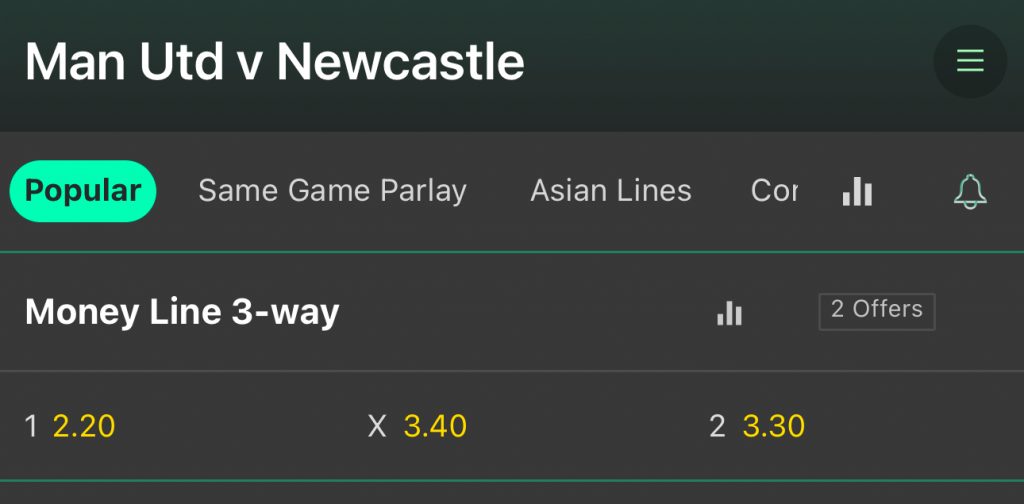 The 1, or Manchester United, is priced at 2.20 for a win. Newcastle, listed as the 2, pays out a bit more with odds of 3.30, while odds of 3.40 are given for X, or the draw.
So what's the return for those bets. If you were to place $10 on these options, you would return $22 for a Manchester United victory, and $33 for a Newcastle win.
Should the match end in a draw after 90 minutes, you'd return $34. Take away the $10 stake and you have your profit.
You'll notice the payout for Manchester United's win is a bit lower than the other two.
That's the indication they're the favourite in this match. Usually the favourite will be either the 1 or the 2, as it's rare to see the draw providing the lowest price.
Sometimes, it's easy to determine who the favourite is.
For example, I'm going to use one of the biggest matches of the Premier League season—the derby between Manchester United and Manchester City.
To read more about betting on the Premier League, check out my recent article.
Now, let's take a look at the main odds available before this match at Betano.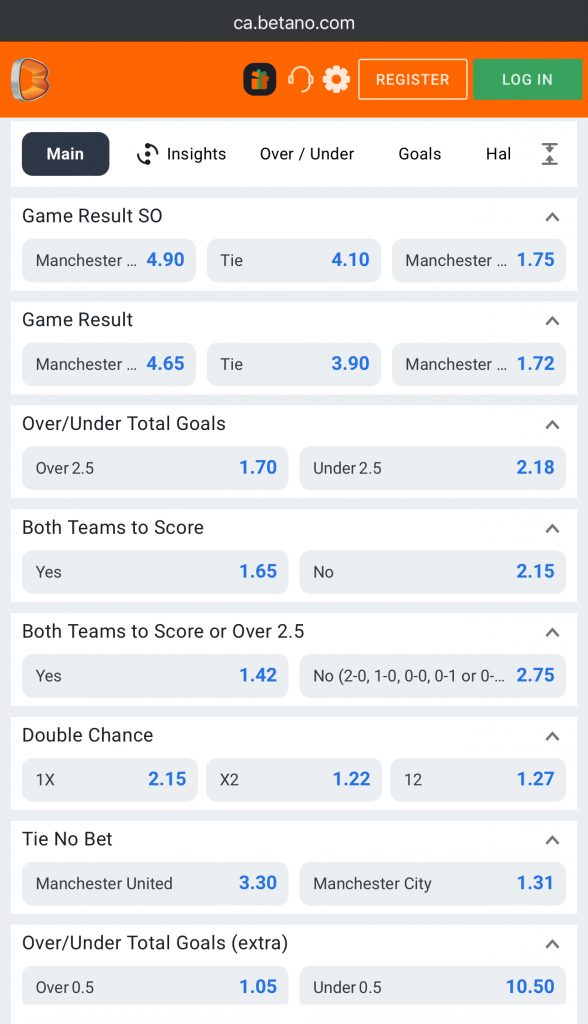 On the 1×2 moneyline, Manchester United as the home team was given 4.90 odds, while the tie or draw was priced at 4.10 and Manchester City saw 1.75 odds.
That makes Manchester City the clear favourite, with the far lower-number odds.
Manchester City, or the 1, would return $17.50 on a $10 stake, for a profit of $7.50 on your bet.
This is in contrast to betting on a draw, or X, which would return $41 for a $10 bet.
You'd receive a $49 payout if you were to bet on Manchester United and they came away with the win.
When the odds are close together, as they are with the EFL Cup match, it usually means there's about a 35-45% chance of the favourite winning.
The price will be slightly lower, but it's not prohibitive enough to prevent people from playing the favourite without laying a larger stake.
In the case of the Manchester Derby, it was clear who was favoured.
Manchester City's price of 1.75 indicates that you'd have to wager more than you would profit in order to achieve a win.
That is always the case for a bet with below 2.00 odds.
When odds are close together, it means the sportsbook and the public see both options being viable within a small percentage of each other.
Let's look at our Totals for the Manchester Derby over at Betano.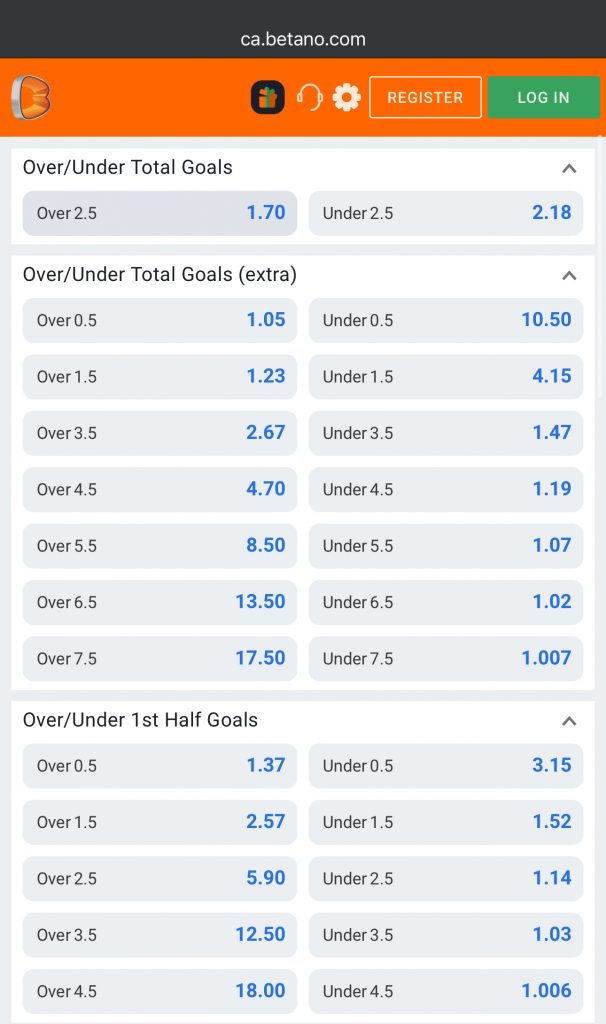 The Over 2.5 goals is priced at 1.70 while the Under 2.5 has 2.18 odds. That means the Over would pay $17 on a $10 wager, and you'd receive $21.80 for an Under win. Those payouts aren't very far apart.
But let's look at the alternate lines. You'll notice the Over 0.5 goals priced at 1.05 odds. That means you would have to stake $100 just to return a profit of $5!
That high of a price indicates an almost certainty of hitting in the eyes of the oddsmakers.
On the flip side, you would return $105 on a $10 bet were the match to end in a scoreless draw, and you bet on the Under.
Going the other way, the higher the goal tally goes, the more the Over pays out—and as expected, the Under begins to pay out less.
You'll see this same type of balancing of odds no matter what two-side options you are playing, be it goals, corner kicks, or booking numbers.
Fractional Odds
Fractional odds aren't used very often outside of England and Europe, but you may encounter them from time to time.
A fractional odd indicates the amount of profit returned based on the dollar amount wagered.
The bottom number on the fraction, or the denominator, is the number of dollars you would have to wager in order to win the number of dollars indicated by the top number, or the numerator.
These odds are not always straight-forward, and may require some math. Our example below from Bet99 shows some odds from that AC Milan vs PSG match I discussed earlier.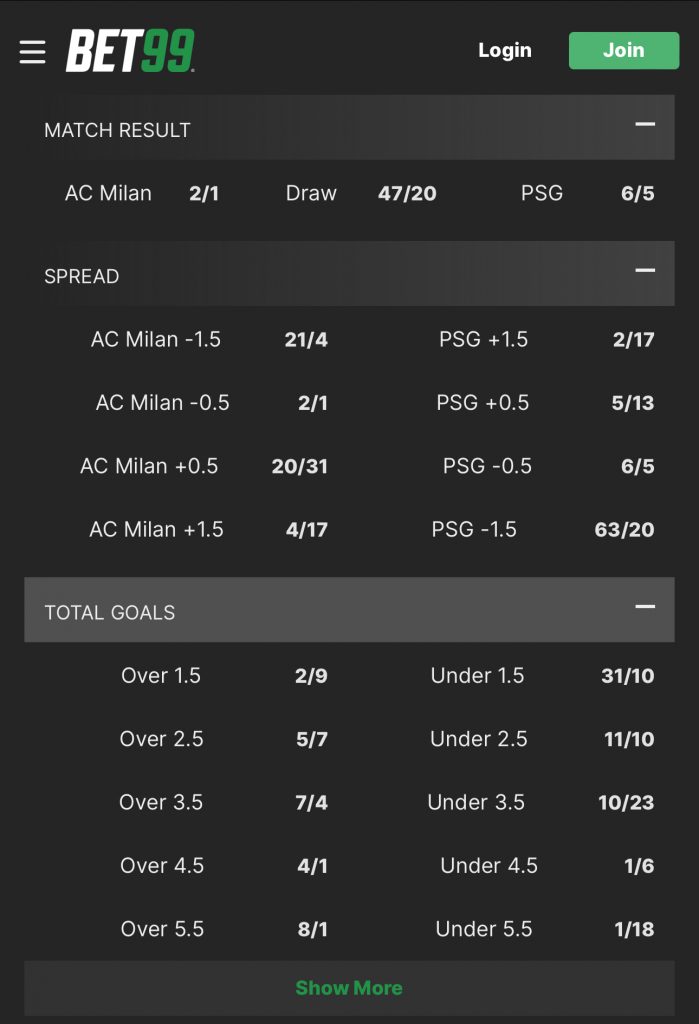 Let's say you want to wager on the Over 2.5 again. The fractional odds of 5/7 represent having to wager $5 to return $7.
Like American odds, this does not include the amount of your stake, so your total return would be $12. If you bet $10, you would return $14 profit as you're doubling both numbers.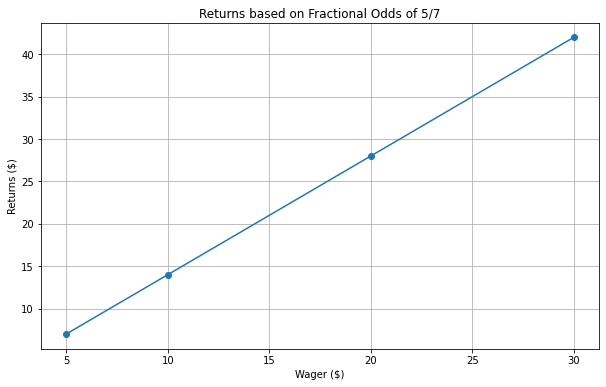 When comparing fractional odds to determine the favourite, it's much more difficult than American or decimal odds.
You again must do mental math to figure it out.
The Under 2.5 is shown at 11/10, but is that more or less return than 5/7 odds?
Quote
The rule of thumb is to see if the numerator is bigger or smaller than the denominator on the bottom. So since the 5/7 has a smaller numerator, it means it's the underdog.
The 11/10 line has a smaller denominator, and therefore is the favoured line.
Now that you understand how to read odds for standard markets, I want to show you a few examples with decimal odds that are one-sided markets.
When it comes to player props such as goalscorers or "to have 1+ shots on goal", the odds structure changes a bit.
That's because you don't always have two sides of a bet, but rather just whether a player will achieve a particular milestone within a match.
Let's head back to bet365 and check out their odds for players to score a goal in the Manchester Derby.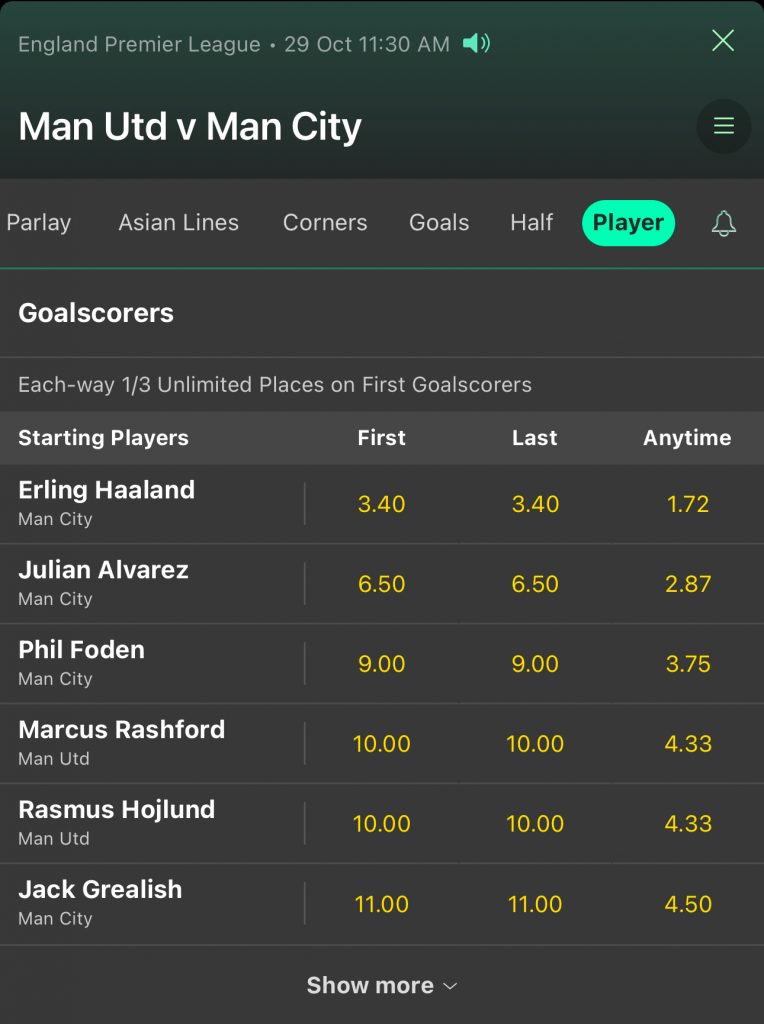 Erling Haaland of Manchester City is the reigning golden boot winner in the Premier League, and one of the best strikers in the world.
That's why he has odds of 1.72 to score anytime, whereas every other player listed will return more profit than what is staked.
It's also why his price for first goalscorer and last goalscorer are both higher than the other players.
But you'll also notice it's higher than the "anytime" price. That's due to it having to be a specific goal.
As these bets don't have a second side to them, you won't see a counter-balance like with a Total or a 1×2 moneyline.
How Are Odds Determined?
Now that you know how to read and understand the odds, you may be wondering how the odds are determined.
Each sportsbook employs oddsmakers whose job is to set the odds of a particular sporting event.
They utilize algorithms to determine the probability of outcomes, with the lines provided indicating the "implied probability" of a wager being a winner.
However, these lines aren't static. Betting lines can change, and quickly, as data comes in—or as money is wagered on a betting line.
Sportsbooks are in the business of making money. So if they open up a betting line and a slew of money comes in on one side of a match total, they're going to want to limit their exposure.
As such, they will lower the payout for the Over if it receives a lot more action than the Under, while raising the Under to entice more people to bet on that side of the line.
Quote
Soccer betting lines can open anywhere from a day to a week in advance, and news will come out during that time regarding injuries, rotation, and tactical changes. That can lead to the lines shifting both from the book adjusting their probabilities, or from the public betting a specific angle.
When the sportsbooks set their odds the favoured team will get the lower price. But there are times when the favourite can become the underdog.
As with many other sports, soccer betting odds aren't just set for the lead-up to the match. Once the referee blows for the kickoff, it's time to dive into live betting!
While many pre-match betting options will no longer be available—usually markets such as player props, bookings, and specials—you will typically be able to wager on the major markets including the 1×2 moneyline, the match total, goalscorers, and more.
What Impacts How These Odds Shift?
First and foremost, the action on the pitch will dictate the pricing on offer from the sportsbooks.
If the underdog scores an early goal, they could suddenly become the favourite to win the match.
It would also lead to the match total payouts for lower-number Overs such as 2.5 being drastically reduced, with the Under suddenly paying even more.
Spotting Value Bets in Soccer
Finding value odds in soccer is much like finding them in any other sport. It takes patience, meticulous studying of lines, and a deep knowledge of the teams involved.
But with a few tips from me, you can become more adept at finding lines that offer value.
First, you must understand how to determine "implied probability" when looking at the odds for a sportsbook.
This is a mathematical method that allows you to convert the betting odds on offer into a probability percentage, indicating how likely the bookmakers feel that outcome is.
The formula to do this with decimal odds is a simple one. You'll divide the number one by the decimal odds on offer for the bet.
Let's head back to our Manchester derby odds at Bet99 to give an example.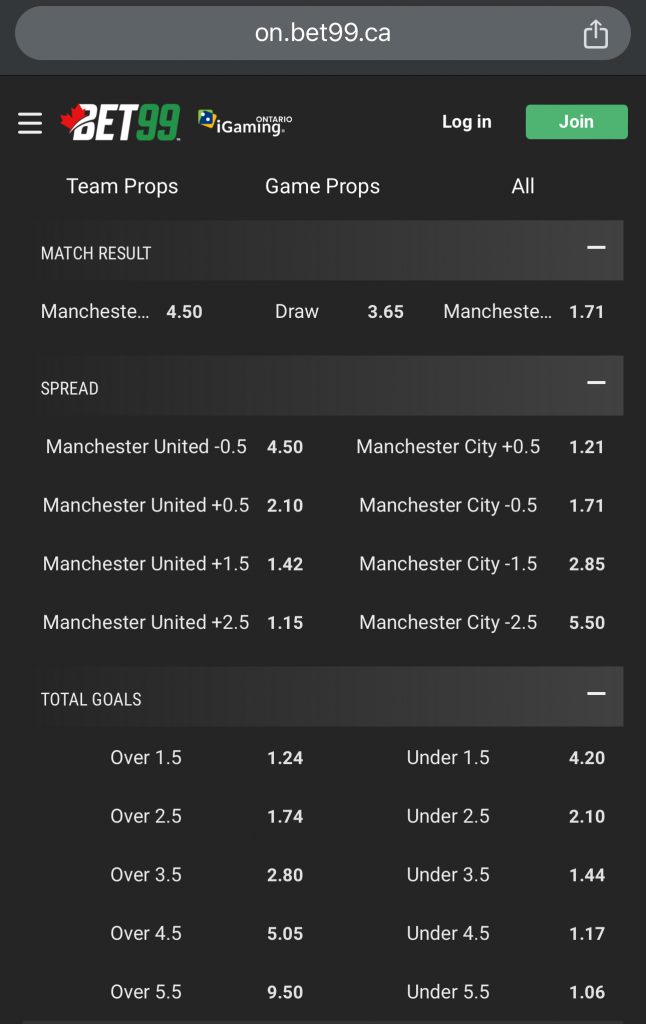 If you divide 1 by the 1.71 odds for a Manchester City win, it'll provide you with a 58.5% implied probability.
That means Bet99 believes it's nearly a 59% probability that they will defeat Manchester United.
Conversely, 1 divided by 4.50 gives an implied probability of just 22.2% that the Red Devils would come out on top.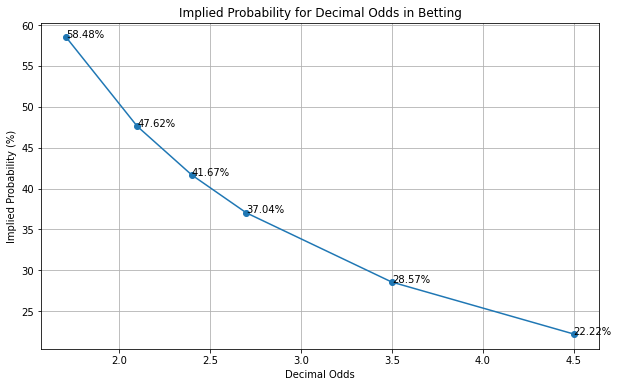 Once you understand implied probability, you now have two ways that you can go to find value.
First is by looking at what other sportsbooks are offering. Even if you're not a customer, it's always a smart idea to compare the odds you're betting against what other books are giving.
Quote
Going back to the odds at Betano I discussed earlier, their implied probability on 1.75 odds is 57.1% which is slightly lower than Bet99's. There's not a significant gap there, meaning while you might find slightly better payment with Betano it's not what you'd call "value".
Now let's look at the second method of finding value—by correctly determining what's value and what isn't.
Much of betting on a particular sport, especially soccer, is knowing the teams involved, understanding the matchup, and figuring out what you deem to be the probability of a bet being successful.
Once you can do that, you can compare it to the implied probability and determine for yourself if there's value or not.
Examine the data available to you, figure out what price you would set for a line based on your analysis, and then decide if you deem the odds to offer value.
AceOdds offers a terrific odds converter tool, where you can enter your implied probability and see what decimal odds correlate.
As a Manchester United fan, I had little faith in my club beating Manchester City.
I viewed the odds of them coming away with a victory around 15%, meaning I'd need odds of at least 6.60 to view there being value in betting on the Red Devils.
However, I felt the odds of Manchester City winning were around 65%, meaning I found value with the Manchester City moneyline as the implied odds of 1.54 were lower than what was being offered.
And it turns out I was right. Manchester United were dominated from start to finish by Manchester City, as they lost 3-0. I won easily and soothed my wounds with some profit.
This works with prop bets as well. For example, another wager I placed was for Rodri to take two or more shots. My research had the probability for this set at 50%, meaning anything over 2.00 was value.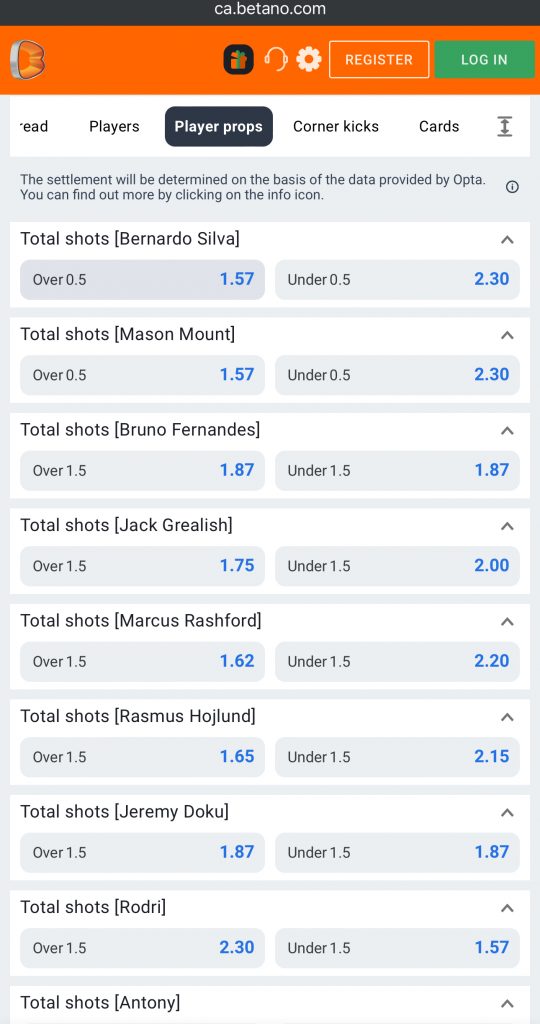 As you see with the Betano prop prices, Rodri was getting 2.30 odds to have multiple shots.
For me, that was a value play along with his price of 2.60 to have at least one shot on goal.
While I didn't win the bet for multiple shots, he did put an effort on target which meant I came away with profit on his props.
One question many new soccer bettors have is whether it's easier to find value bets across different leagues. The answer honestly varies.
Big leagues like the Premier League, MLS (find expert tips on betting on MLS here) or the Bundesliga have a lot more betting options available, especially when you get into props and specials.
However, they also have a lot more data available to the sportsbooks.
Their lines will also quickly get bet around by the public, making it tougher sometimes to spot good value.
But that extra variety simply means you have more opportunities to spot lines with value, especially in the hour or two leading up to a match.
Quote
I love to check lineups and see if someone is getting a surprise start, especially at a forward position. If I'm quick enough and plan ahead, I can get them at a strong value to score a goal or get a shot on target before the odds are adjusted.
With smaller leagues, you won't find as many betting markets available. That doesn't mean you can't spot value.
If you're knowledgeable on a league like the Canadian Premier League, for example, then you may find some of the lines aren't being attacked by the betting public, and there will likely be more variance across the sportsbooks.
FAQs
How do you interpret soccer odds?
There are different ways to read odds. Decimal odds provide you with the amount of return you would get for every dollar you wager. This number includes your stake. If you bet on a team to win at 2.50 odds, you would receive $2.50 back for every dollar you wager.
American odds utilize a plus and minus system, but the number does not include your stake. Plus odds, such as +150, mean you would return a profit equalling 150% of your wager for a winning bet. So if you bet $10, you would return your stake plus $15 profit. For a minus-odds bet, such as -110, you would wager the amount of the odds in order to win $100. So for a -110 bet, a $11 bet would profit you $10.
Fractional odds, or "British odds", see the odds presented in a fraction. The number on top would be your profit, not including the returned stake, for a winning bet. The bottom number represents what you would have to wager to win that amount. Placing $10 on a 3/1 bet would profit you $30, while a $10 bet on 1/3 odds would net you $3.33 profit.
Why are there different ways to write soccer odds?
While I've primarily used decimal odds to go over the odds provided, there are different ways to write soccer odds. While they all provide the same information, you can use any format you prefer.
I personally use the American odds with bets presenting with positive and negative odds, as it's what I used when I was introduced to betting over 15 years ago.
In Europe and England, the fractional odds are often preferred. It's what they've used for a long time for both sports and horse racing, and is typically what you'll see if you visit a British sportsbook.
Whichever you choose to utilize, most sportsbooks will allow you to set the format you most prefer in your personal settings.
How do you recognize a favourite and an underdog in soccer?
When you look at a 1×2 line for a soccer match, you can determine the favourite by which team offers the lowest return of the two. Conversely, the underdog will have higher odds.
While there are rare occasions where both teams will have equal odds, there should typically be one side of the 1×2 line with lesser odds.
SOURCES:
https://www.forbes.com/betting/guide/vigorish/
https://www.forbes.com/betting/sports-betting/how-sports-betting-odds-work/
https://www.lines.com/guides/what-is-implied-probability-betting/1550