Written By:
Jason Ence
About Author
Jason Ence has been giving betting and fantasy advice for nearly a decade, and is extremely familiar with the Premier League, Serie A, and the Champions League. He is a strong advocate for responsible betting and bankroll management, and always recommends utilizing multiple sports books in order to shop for the best lines in order to maximize your bankroll.
Fact Checked By:
Jelena Kabić
About Author
Jelena Kabic is a sports betting writer that focusses on responsible gambling. A psychologist by vocation, Jelena volunteered in a rehab facility, where she worked with gambling addicts. She now reviews all our content to ensure it discusses betting in a socially responsible way.
Betting on the Premier League: Ins, Outs, and Odds Explained
Premier League Betting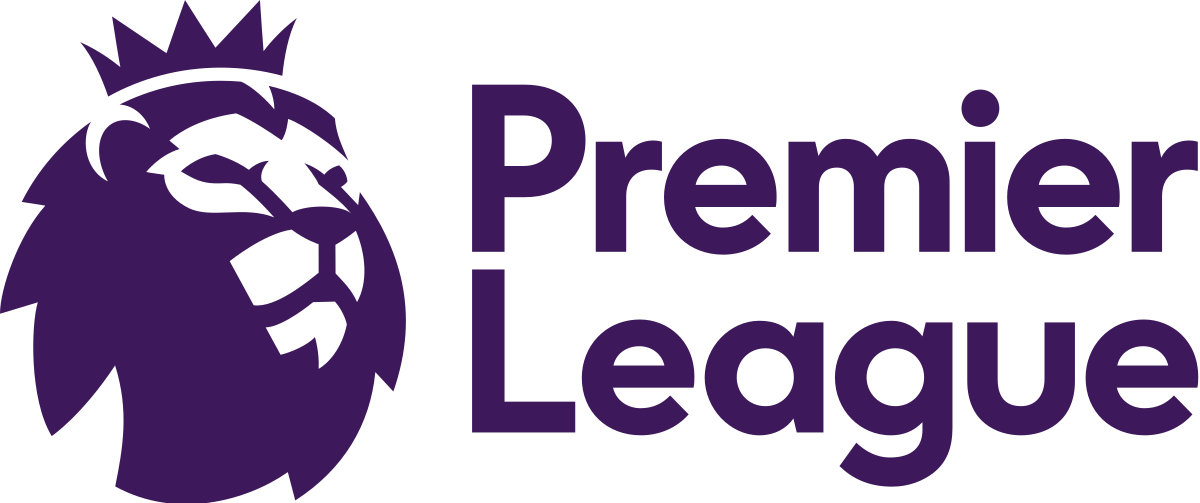 The return of the Premier League is right around the corner, and there is no league in the world – regardless of sport – that I enjoy watching more.
The passion of the fans is nearly unmatched, as many of the best players in the world compete to win the toughest domestic soccer league in Europe. With packed stadiums full of loyal fans, it's second to none in my eyes.
But even the most ardent supporters of the Premier League may have questions on how to bet on the competition.
Whether a novice or veteran, bettors on the biggest domestic soccer league in the world may need a bit of a refresher regarding betting on the Premier League.
You may even have questions on whether you're able to bet on it in Canada, and if so, which sites you can utilize to place wagers.
Thankfully our guide will address those questions and more, and provide you with all the information you need ahead of what should be another exciting season!
Premier League Overview
The Premier League is the top-flight competition in England's soccer pyramid system. Consisting of 20 teams, participants vie for the Premier League trophy as well as a Top-4 finish.
League play begins in August and runs through the end of May. The 38 "match days" typically take place each week between Friday and Monday, with breaks taken for international play, domestic cups, and major holidays.
Matches can be postponed if a team has other obligations, such as a domestic cup match, and the fixtures will be rescheduled later in the season to usually occur during the middle of a week.
Each team plays the others twice – once at home and once away. Winners earn three points in the table, while losers earn zero points. A draw sees each team gain one point.
The team that earns the most points at the end of the year will be crowned Premier League champion. If teams are tied on points, then the tiebreaker is goal differential – which takes the goals a team has scored and subtracts the number of goals they've conceded.
Finishing in the top four positions earns teams a spot in the UEFA Champions League the following season, which is Europe's top club competition and worth quite a bit of money.
However, the teams residing in the bottom three places on the table will realize their biggest fear – relegation to the EFL Championship, England's second-tier.
While soccer in England has been played well over a century, the Premier League as we know it didn't come into existence until 1992.
Teams control players' rights via contracts, and unlike other major sports leagues around the world they acquire those rights by buying and selling, rather than trading.
These moves, known as transfers, are allowed during two periods of the season: the summer transfer window, which runs from the beginning of July through the end of August, and the winter transfer window, which takes place during the entire month of January.
Although the teams involved change somewhat every year, the competition has consistently had what is known as the "Big Six" clubs:
Arsenal
Chelsea
Liverpool
Manchester City
Manchester United
Tottenham
Manchester United is the biggest team in the league, and their 13 titles won are the most of any club. However, their last title came in 2013.
Their rivals, Manchester City, have won five of the last six titles and have taken over as the best team in England.
One of three of the "Big 6" clubs based in London, Arsenal finished runners-up last year, nearly ending a search for their fourth title that dates back to 2004.
Rivals Chelsea have five titles, the last coming back in 2017, and hope a new manager will lead them back to the summit this year.
The third side in London, Tottenham, has never claimed a Premier League crown and is in somewhat of a decline.
Liverpool have just one Premier League title to their name, won in 2019-20. However, their 19 top-flight trophies are just one behind Manchester United for the most in England's history.
Many of the other clubs in the league have long histories, but typically reside in the middle of the table each season.
The three new clubs promoted after last season are Burnley, Sheffield United, and Luton Town.
While Burnley and Sheffield United have recently been in the league, Luton Town are making their first-ever appearance in the competition.
Given the amount of television money they earn, it's no surprise the Premier League attracts the biggest stars and the best managers in the world.
Man City has stockpiled an amazing roster with the likes of Erling Haaland and Kevin de Bruyne, while manager Pep Guardiola is considered the greatest manager in the game today.
Erik ten Hag at Manchester United manages players such as Casemiro and Bruno Fernandes, while Mohamed Salah and Trent Alexander-Arnold lead Jurgen Klopp's side at Liverpool.
Chelsea recently hired Mauricio Pochettino to manage a side including Enzo Martinez and Christopher Nkunku, while Mikel Arteta is in charge at Arsenal. Under his tutelage, young players like Bukayo Saka are thriving and becoming superstars.
Premier League Odds & Bet Types
When placing a bet on the Premier League, you'll need to know the odds that you're playing. Decimal odds make understanding your payout very simple.
Take the amount that you're betting, and multiply that by the odds of your wager.
The resulting number is your payout – the money the book will pay you back should your bet be ruled a winner.
It's important to note this payout includes your original stake. So if a wager is 1.40, then you're risking $100 to make a $40 profit.
For example, Arsenal are heavily favored to defeat Nottingham Forest when they meet on Matchday 1.
Betano is offering odds of 1.28 for Arsenal to win, meaning a $100 bet would return you $128 – or, you're risking $100 to make $28 profit.
On the other hand, should you correctly wager that Nottingham Forest will pull the upset, you would return $1000 on a $100 bet – adding $900 to your bankroll!
When it comes to betting on the Premier League, or soccer in general, it's important to differentiate between single-event wagers and long-term bets.
Let's start with the most common single-match bets that you'll typically encounter as you dive into the betting markets.

Three-Way Moneyline
This is the most common type of bet in soccer. You will wager on which of the three outcomes will take place in regulation: the home team to win, away team to win, or a draw.
Total
The Total sees you betting on whether the total number of goals scored will go Over or Under a specific number.
The usual Total will be 2.5 goals, although some matches will see that number go to 1.5 or 3.5 depending on the teams involved.
Asian Totals can also split the numbers in multiples of 0.25 goals, or even allow you to bet on whole numbers such as 3 goals.
Two-Way Moneyline
For bettors who want to take away the possibility of a draw, the two-way moneyline allows you to do just that.
Also known as "draw no bet", the market offers the choice of which team will win, with a draw grading all bets as no-action and a refund of your original stake.
Spread
The spread handicaps the match in a manner where you can bet on how much a team will win by, or how little they'll lose by.
Favorites will typically be "laying" goals, such as -0.5 or -1.5 goals, while the underdog will get "getting" the opposite amount.
The bigger the disparity between the two sides, the bigger the spread.
When the match ends, the spread is subtracted or added to the final score. So if Manchester City is -1.5 and win 2-0 over Burnley, then your wager would win.
But if the score ended with Manchester City winning 3-2, the spread would take that down to 1.5-2, and thus Manchester City would fail to "cover the spread" and your stake would be lost.
Conversely, those taking Burnley +1.5 would win their bet!
Double chance – You get to select two of the three money line outcomes
With the double chance, bettors get to select two of the three outcomes on the three-way moneyline, such as home team win and draw or home team win and away team win.

While the odds on these bets will be much higher than betting the individual outcomes, it can be a great way to bet on an underdog to get a result without having to risk two separate wagers!
Premier League Odds to Watch Out For
The opening weekend of the Premier League will see a showdown between Bournemouth and West Ham United, one of the more even matchups of the slate.
As you can see at bet365, West Ham are favored to win at 2.40 while they're offering 2.80 on a Bournemouth victory. You can get odds of 3.40 for the draw, paying $340 on a $100 wager.
The Total for the match is set at 2.5 goals, and both the Over and Under pay out evenly, with a $100 bet returning $190 for a correct selection.
Pay close attention to the Double Chance market. Because this match is between two teams of similar talent, they'll have similar payouts.
However, they all present a significant risk as the lines contain a lot of juice.
But let's take a look at what bet365 offers in the Burnley vs Manchester City match, where the Citizens are heavily favored.
As you see, the double chance for Burnley to win or draw pays $340 on a $100 bet. Because both offer better than 6.00 odds on the money line, you can cover both options without risking two separate bets.
These types of bets are not just offered for the full-time result, but also for the first half. They will be listed as "halftime" options.
Prop bets are a popular wagering option as well. These props can involve individual player performances, team statistics, or match totals.
The most common prop bets you'll encounter include:
Goals – including exact number of goals
Both teams to score
Exact score
Corners – whether the total will go Over or Under a specified number
Player to score anytime
Bookings – whether the total will go Over or Under
Some of these prop bets can be very specific and hard to predict, but they will usually offer a handsome reward for those who are successful.
For example, Chelsea and Liverpool will face off on Matchday 1, and a 1-1 exact score would pay out $650 at Bet99 on a $100 stake.
And perhaps you feel Chelsea will be leading at halftime before capitulating after the break, which Bet99 would pay you a handsome $1400 on a $100 bet should that happen!
While team and match props will usually be available early, as they are currently, player props typically won't be given out until a day or two prior to the fixture.
This is to ensure injuries, team news, and rotation are all taken into effect when setting the odds.
As for wagers that cover the entirety of the season, futures markets allow you to bet on the specific outcomes.
Many of these are only offered prior to the opening match, but some – such as the league winner and the league's top scorer – will be offered and updated each week.
We will discuss some of these in detail later in the guide.
One other major type of bet is the parlay, also known as an accumulator or a bet builder.
This is where you combine multiple selections from the same match – or across multiple matches – to get a bigger payout.
Parlay odds will go up exponentially depending on how likely the individual wagers are to hit. The lower the odds of the selections, the lower the parlay odds will be.
But if you combine a few underdogs to win, for example, the reward could be substantial.
Both Aston Villa and Fulham are underdogs in their opening matches. But should you bet on both to come out victorious, you could win more than $1500 from a $100 wager at Betano!
Not every wager offered can be put into a parlay, and each book will have different rules for what they do and don't allow. Typically they'll have a section specifically for building these types of bets.
Bet99 has a "Bet Builder" for many soccer matches, where they allow you to combine bets on such markets as the 3-way result, the Total, and both teams to score.
In this example at Bet99, you can combine the following wagers:
Chelsea to win the 3-way line
Over 1.5 goals to be scored
Both teams to score in the match
Rather than placing them separately, you can combine them for 4.75 odds and win $475 on a $100 bet. But remember, all three bets must hit; if any of them fail, you lose your stake.
Finding the Best Premier League Betting Sites
People who are looking to bet on the Premier League may not know where to start. With so many options out there for bettors, it can be somewhat daunting. Thankfully, we're here to help!
When it comes to finding the best Premier League betting site for you, it's very important to keep four key factors in mind:
Reliability
Reputation
User experience
Ease of deposit and withdrawal
Settling on a sports betting site does you little good if it lacks reliability.
Odds can change in an instant and knowing you can rely on your chosen service to respond quickly and be available is of vital importance.
Knowing the history of a sportsbook is an integral part of the decision-making process.
You want to use a provider who is not only legally licensed in your area but is trustworthy and has a proven track record of keeping your money safe and secure.
It's frustrating to go and place a bet and be lost as to where your desired match is located.
Having a website and app that are easy to navigate is one of the biggest things I look for when deciding who gets my money.
Finally, nobody wants to jump through hoops to cash in or out.
You'll want to choose a book that combines multiple methods of deposit with the ability to easily and quickly cash out and get your money in hand.
With that in mind, we recommend betting on the Premier League by using one of the following sites.
These providers are licensed and reputable, and will provide you with outstanding betting options alongside tremendous service.
Betano
Bet99
bet365
Sports Interaction
Betway
So which site is best for Premier League betting? It honestly depends on what you are most interested in wagering on. Thankfully, there are options available for every type of player!
For those simply wishing to place standard bets on individual matches or attack the props market, you will love the options available at Betano.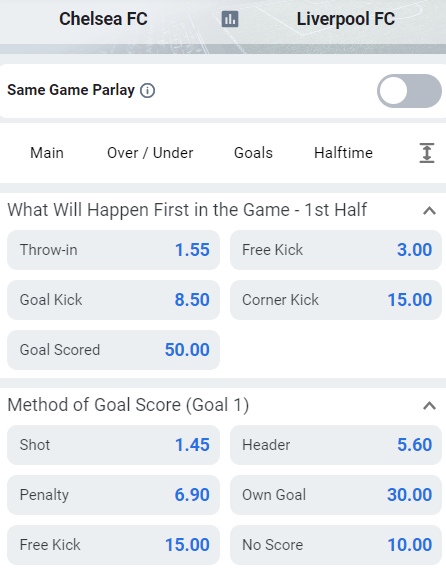 Betano has long been available in Ontario, but recently became available to all provinces. They were named Operator of the Year in 2022, and their tools for responsible gaming are among the best in the industry.

With nearly every match prop on offer that you could imagine in addition to numerous pre-built parlays, Betano allows you to utilize your knowledge of the Premier League to find the best value play for any given Premier League fixture.
Speaking of parlays, few have you covered like Bet99 and their amazing "Bet Builder" feature.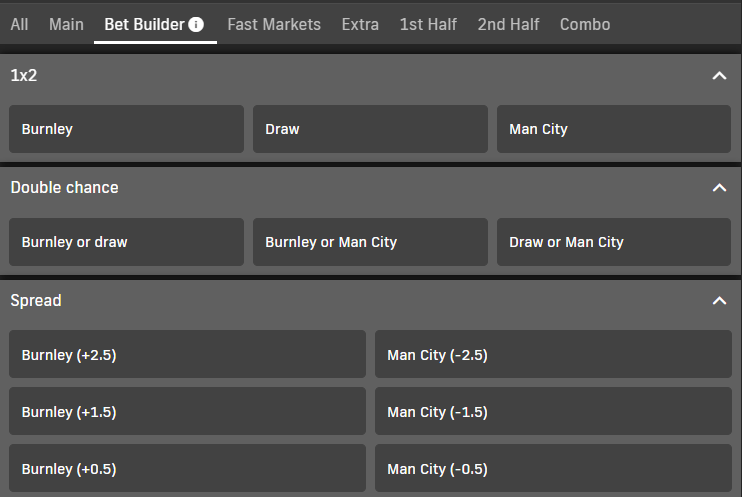 Bet99 has a terrific selection of markets available for combining plays, and their website makes it easy to build your perfect multi-leg wager.
Whether looking to play a two-leg parlay or put together a 10-leg lottery ticket, you'll find a plethora of options to choose from.

Just like Betano, you'll find a multitude of Premier League prop bet markets available at Bet99.
While a relatively new book, they've already partnered with multiple teams in Quebec, including the Alouettes and CF Montreal.
Bet99 also has a top-notch user experience. Not only is their betting app and website very easy to navigate, but they offer support in both English and French!
They also have a strong portfolio of responsible gaming tools for you to utilize.

If you're looking to play the futures market, it's hard to beat bet365. Not only are they one of the most recognized names in sports gambling, they offer the most extensive list of futures in Canada.
Not only does bet365 allow you to wager on standard futures like who will win the league, they offer special props like Over/Under totals on player goals.
They even allow you to bet on which Premier League team from a specific region – such as London – will have the highest finish.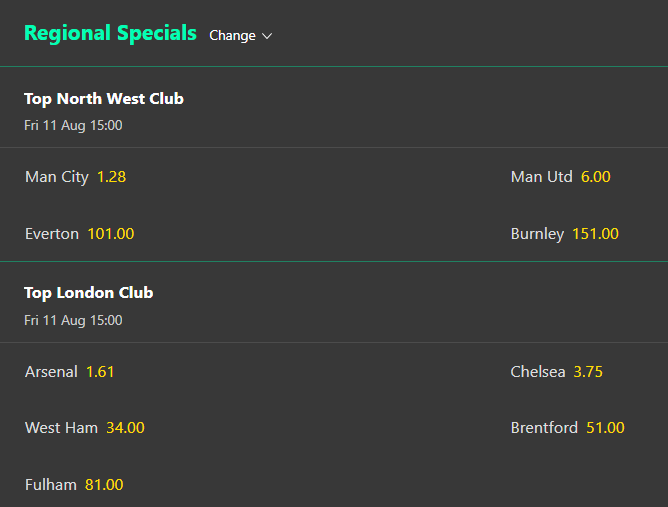 With bet365's multiple deposit options and their auto cash-out feature, it's easy to add money to your account or get it back whenever necessary. They also have a proven dedication to promoting safe gambling.
These are just some of the examples of what the top sportsbooks can offer you. We urge you to navigate their websites, read in-depth reviews such as the ones on our website, and make the decision that is best for you!
How to Bet on the Premier League From Canada
Betting on the Premier League from Canada is simple to do, and you have two ways to do so.
Your first option is to bet in-person. Retailers around the country offer the ability to place in-person wagers, and it's legal in every province and territory in Canada.
The other option is to wager online. Online wagering is legal in all 10 Canadian provinces!
In order to bet online in Quebec, Manitoba, or Alberta, you must be at least 18 years of age. In all other provinces, only those 19 years old or over can do so.
To sign up for a sportsbook and place a bet, you must start by opening an online betting account. Once you choose a sportsbook, their website will then walk you through the steps necessary to register.
You will fill out a form, including your name, personal information, and address. This will be used to verify your identity and age, and to establish your legal residency.
After your account is open, you must next fund it! Each website will give you their options for deposit, which typically will include either debit or credit card, Interac, or even Apple Pay.
Please note, crypto deposits are not available with most legal sites in Canada.
Most deposits take just a few minutes at most to process. Once the money is in your account, you'll be ready to jump into the action.
Head over to the sports betting section on your chosen site or app, and you'll be able to select a line, determine a wager amount, and place that first bet!
Premier League Betting Strategies
While there's no sure way to win when betting on the Premier League, there are some simple betting strategies that can help you win a bit more often and give you an advantage over the books!
Closely monitor your bankroll.
Few things can derail you faster than placing 15 bets on the same match, especially if it turns out your read on the outcome was all wrong.
While it can be tempting to play numerous props per match, I recommend playing one or two that you like the most.

Pay attention to team news.
Managers typically hold a press conference one or two days prior to each match, where they will give updates on player injuries, possible rotations, and tactics.
Knowing which players may miss the match is vital for handicapping the action.
It can also allow you to get in early on their replacements to score before the market adjusts.
Quote
For example, if Haaland is going to be out of Man City's next match, then it's likely Julian Alvarez would start in his place. It may only take an hour for the lines to quickly change, which can be the difference between getting Alvarez to score at 4.50 versus 2.50 on the prop market!
Get to know the referees.
Well-known names like Michael Oliver and Anthony Taylor can be controversial, but they're often in charge of the biggest matches.
Knowing how often they hand out yellow cards allows you to find some value on the booking markets.
Do your research on the teams.
Know which teams like to keep possession versus those who love to absorb pressure and get out on the attack.
If their styles contrast, it can give you a key insight to how the match will play out, depending on which side can impose their will the most.

This also can give you an edge on some prop bets. Does a team like to take shots anytime they present themselves, or do they prefer to wait for the best chances?
If they like to shoot on sight, they could earn more corners as shots get blocked out of bounds!

You should also know who takes free kicks and penalties for each team, as they'll have an added chance of scoring a goal.
Don't forget about the weather!
While this is important in any sport you bet on, it's particularly vital with the Premier League.
England's weather tends to be quite rainy, and when combined with wind it can lead to mistakes.
It also tends to hurt the more technically-skilled teams, and can level the playing field for underdogs!
Premier League Odds for Season 2023/2024
There are many great futures markets that you can wager on when it comes to betting on the Premier League.
Not only can you wager on who will win the title, but every book will offer futures on who will take home the Golden Boot for the top goalscorer this season.
In addition to top scorer, many books will allow you to wager on who records the most assists.
Goalkeepers aren't forgotten either, as you can usually find a few options for which one will keep the most clean sheets.
As they have been for months, Manchester City are odds-on favorites to win the 2023-24 Premier League title. Right now, a $100 wager at Betano on Man City to repeat as champions would return you just $160.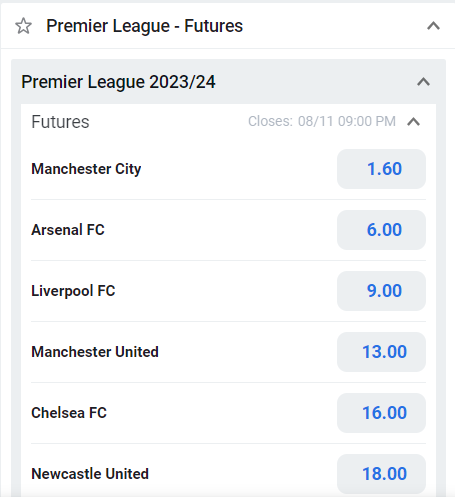 It's rare to see a team be this heavily favoured before a long season has even begun, but the depth of talent and excellent coaching the Citizens possess prove difficult to ignore.
Man City are coming off only the second "treble" in England history as they also won the FA Cup and Champions League a season ago.

Arsenal and Liverpool both look poised to give Man City a challenge, while Manchester United, Chelsea, and Newcastle are all hoping to get their hands on the trophy as well.
Haaland and Harry Kane of Tottenham Hotspur finished atop the Premier League golden boot race a season ago, so it's no surprise to see them leading the betting markets again this season.
This is despite the growing rumours swirling around Kane of a possible move to Bayern Munich in the Bundesliga.
Just as his team is favoured to win the title, Haaland is expected to run away with the Golden Boot.
Not only did Haaland set a new Premier League record with 36 goals, but his 52 goals scored in all competitions were the most of any player in a single season in the history of England's top flight.
You would win only $165 at Betano on a $100 wager at his current odds.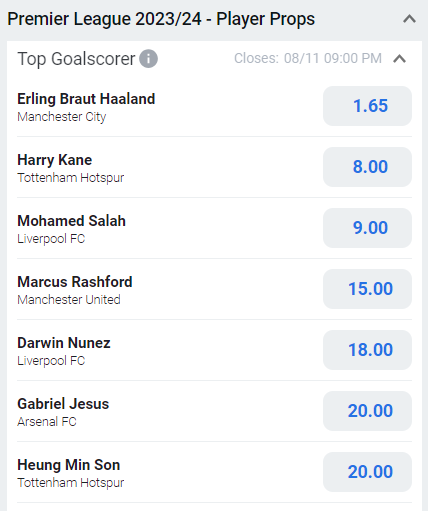 It was a bit of a down season for Mohamed Salah after the Liverpool winger managed to score "only" 19 goals.
But Liverpool have made some changes, including pushing Trent Alexander-Arnold into midfield, that should return Salah into the golden boot discussion.
Quote
Marcus Rashford of Manchester United, Liverpool's Darwin Nunez, and Arsenal's Gabriel Jesus all will be expected to have strong seasons as well, and could present value given their current prices.
Christopher Nkunku of Chelsea is a newcomer, and could offer a solid betting choice should he settle in quickly.
When it comes to picking who will set their teammates up the most this season, it could be a wide-open race.
De Bruyne is fourth all-time in Premier League assists, and he benefitted quite handsomely from Haaland's dominance as he registered a league-high 16 this past season.
Alexander-Arnold's shift into the midfield late last season saw him end up with nine goal contributions.
His price of 9.00 to lead the league in assists at bet365 could be one of my favorite Premier League betting values available.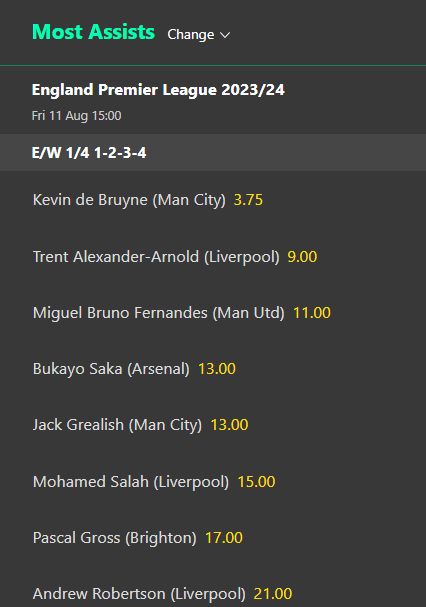 But Alexander-Arnold isn't alone in offering some solid return for leading assists. In fact, there's a chance he doesn't even lead his team this year.
Salah set up 12 goals a season ago and 14 the year before, and with bet365 offering him at 15.00 he presents tremendous value.
Manchester United have improved their team quite a bit, and Bruno Fernandes could be set to improve on his performance from a season ago.
Meanwhile, Arsenal will likely rely more on the play of Bukayo Saka out wide, and he's already posted a few assists during their preseason matches.
Another fun futures market is wagering on which teams will finish ahead of one another.
But just as you can place bets on who will be the best this season, you're also able to wager on who will be among the worst.
The relegation market can offer some solid value as you bet on which teams will finish among the bottom three, earning them a demotion to the EFL Championship.
Luton Town are expected by nearly everyone to be the worst team in the league this season. Winners of the EFL Championship promotion play-off, their stadium is the smallest in the league.
They will be hard-pressed to find a way to escape the relegation zone with their current squad. That's why Betano is only offering $135 on a $100 bet should they get sent back down after the season.
That's just a sample of some of the terrific markets available to Premier League bettors.
You'll find a variety of fun and engaging areas to place bets, from predicting the exact finish of the top four teams to picking who will score the most goals among two or three selected players.
When it comes to betting on the Premier League, you have quite a few good options.
You can't go wrong with Bet365, Betano, or Bet99 as your primary book, and utilizing all three can yield you the best results by shopping for the best lines.
There are other terrific options you can't go wrong with, such as Betway, Sports Interaction, and Powerplay. Be sure to check out our sportsbook reviews to help choose the site that is right for you!
Related reads:
FIFA World Cup Betting
Betting on FIFA World Cup (Women)
Major League Soccer Betting Tips
FAQs
Which betting site is best for EPL?
As we discussed earlier, you can't go wrong with Betano, Bet99, or bet365. I'd recommend having at least two, if not all three, of these books in your rotation so you can find the best odds for a given wager.
Who will win the Premier League 2023/2024?
Multiple teams are vying for the trophy this season, all of which have a strong chance to come through. Manchester United and Chelsea have made key acquisitions this summer that will strengthen their chances, while Liverpool and Arsenal are hopeful injury issues won't plague them again this year.
That said, Manchester City is favored for a reason. They're likely to add another piece or two before the end of the transfer window, and they have so much depth that their second squad could finish mid-table.
While it's a boring bet for many, taking Manchester City to win the league is the most logical play this season.
Who is the best striker in the Premier League 2023?
Erling Haaland is by far the best striker in the Premier League, and he's challenging Kylian Mbappe for the top striker in the entire sport. His first season at Manchester City saw him rewrite the record books as he took the Premier League by storm..
The man Haaland displaced as the Premier League's top center forward, Harry Kane, is still among the best in the world. The Tottenham talisman became the first player to ever record consecutive 30-goal campaigns last season, and while he's being linked with a potential move away to Bayern Munich there's still a strong possibility he remains with Spurs this season.
Who is the highest scorer in the Premier League?
Haaland and Kane were far and away the top scorers in the Premier League in 2022-23. Both eclipsed the 30-goal mark, while Ivan Toney was third-best with 20 tallies.
Toney won't be involved in the golden boot race this season, as he was handed an eight-month suspension for gambling by the FA.