Written By:
Charles Perrin
About Author
Charles has been operating as a freelance sports betting content writer for roughly 5 years. Prior to that, he was the overnight digital sports editor of the Daily Express where he presided over online coverage including breaking news and live blogs as well as boosting traffic levels. He boasts an in-depth knowledge of most sports and is adept at reviewing sportsbook brands in Canada. Away from sports betting content, Charles is a keen tennis player and he is a huge Tottenham Hotspur fan.
Fact Checked By:
Jelena Kabić
About Author
Jelena Kabic is a sports betting writer that focusses on responsible gambling. A psychologist by vocation, Jelena volunteered in a rehab facility, where she worked with gambling addicts. She now reviews all our content to ensure it discusses betting in a socially responsible way.
Live Soccer Betting Guide: Pros + How to Capitalize on It
Live Betting on Soccer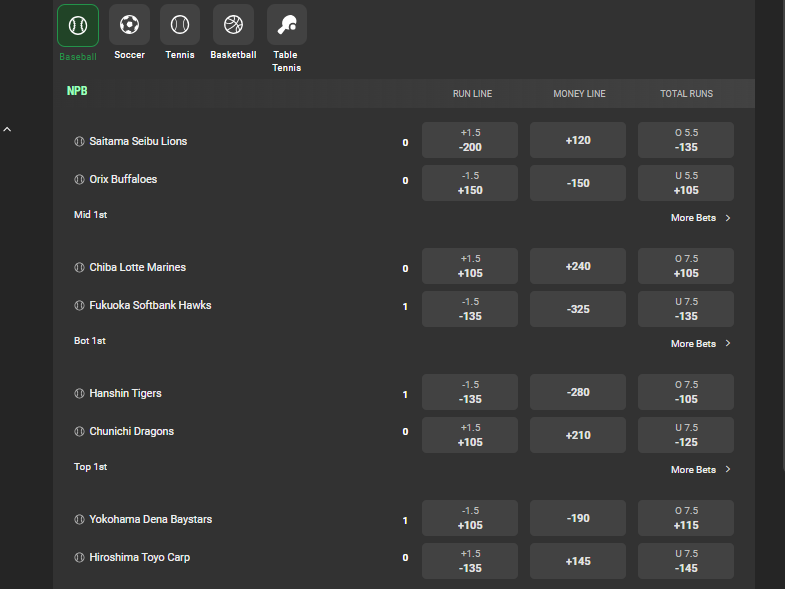 Live betting, which is also referred to as in-game betting, involves wagering on a game once the action has started, and placing stakes on a variety of outcomes.
In many respects, live betting can be more frantic and unpredictable compared to traditional pre-match betting, but there are plenty of benefits associated with it.
This whistlestop guide gives the full lowdown on the mechanics of live soccer betting, as well as sharing some strategies and tips which should sharpen overall approaches to it.
How Live Betting Works
With live soccer betting, the odds are constantly shifting, and that is designed to reflect the action taking place on the field.
Unlike pre-match betting where traders will determine the prices a few days before a game gets underway, in-play betting is far more volatile.
For live betting, oddsmakers must ensure prices are moving dynamically to highlight any key incidents, such as whether a goal has been scored or the referee has sent off a player.
Therefore, with live soccer betting, the bookmaker decides the odds in real time, and the moneyline is a prime example of an in-play market that will be scrutinized.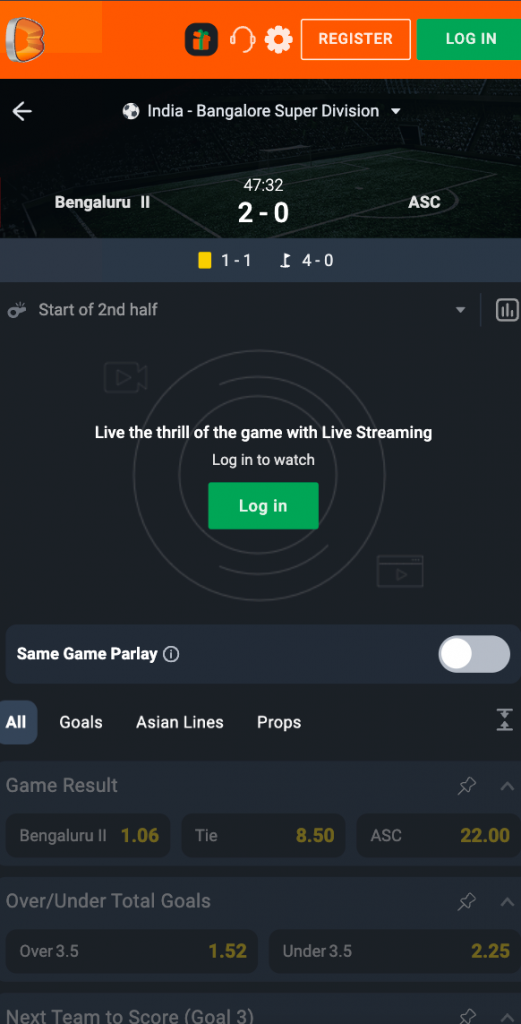 In the above example, Bengaluru II is in control of the match and leading 2-0, so barring a late comeback from ASC, they will be on course to pick up three points.
The moneyline will see Bengaluru II's odds shorten to claim the win, so I would urge you not to back the home team, as there would be little value in doing so.
However, it could be a more profitable decision to back ASC to score the next goal as shown by the below image if they have engineered a few chances.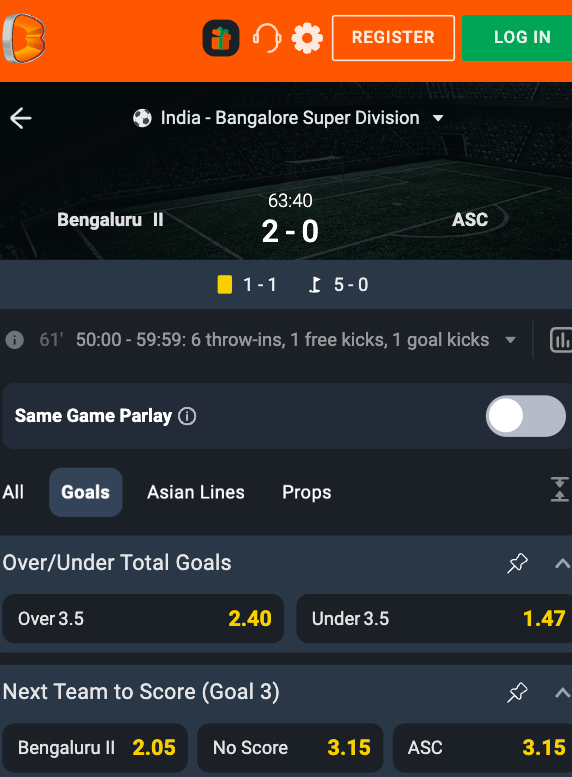 While not available for all matches, Betano will usually have a statistics center that will display key information, such as possession figures and attempts on goal.
Better still, Betano has a live stream facility available for registered users. Ideally, I think you should watch the matches, so you can make more informed live betting decisions.
If anything, the continual shift in odds for live betting is a good thing, and I believe you should be decisive with pulling away from or leaning towards a particular market.
Unlike pre-match betting where odds will be assigned in advance, bettors are given greater control and flexibility over their wagers, making it easier to spot value with lines.
The Appeal of Live Betting
Live betting may, as mentioned, be a newer phenomenon, but it has transformed the way bettors approach soccer games.
Below, I have outlined a few advantages associated with live soccer betting.
More Flexibility for Bettors
Bettors who miss the pre-match window can edit their betting slips when the in-play markets open, and therefore they won't be constrained.
Value to be Gained
Rather than backing the favourite at a heavily shortened price, I believe you can win more money on the underdog at longer odds if that bet comes off.
Cash Out
More often than not, bets will be scuppered by a late goal, so I think it is better to cash out early, so winnings can be retrieved before the game finishes.
More Reliable Odds
While there can be discrepancies over pre-match odds, live betting prices are arguably fairer and more reliable due to real time updates.
Live Streaming
Bettors who want to keep close tabs on their wagers can access a live stream at some of our recommended sites which will encompass any changes.
As far as pre-game betting for soccer is concerned, odds will generally be higher and therefore more worthwhile compared to live betting.
In the following example, we have addressed pre-match odds of Arsenal's upcoming Premier League match with Manchester City.
City are shading it in terms of the pre-match odds as they are favourites at 2.45 to clinch a victory and get back on track after defeat in their previous outing to Wolves.
Statistical trends will go some way to influencing the thoughts of bettors, and City, who are the reigning Premier League champions, have fared well on past trips to the Emirates.
If City were backed in the pre-match market at 2.45 to win with a $50 stake, this would return a win of $72.50 with bet365.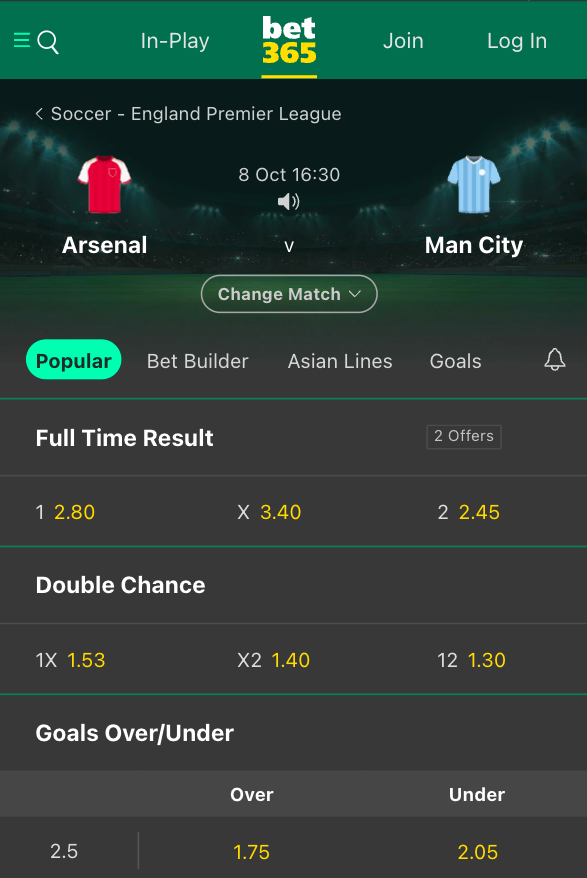 Let's say Julian Alvarez curled in a superb free-kick within the first 10 minutes of the match to give City the lead, then the visitor's odds could be cut to 1.10.
A $50 bet placed in the in-play market at City to win at 1.10 would only provide a win of $5.00 and an overall payout of $55.
With pre-match betting, it is easier to manage your level of risk with a single bet, and those who know how to bankroll their accounts properly may steer clear of in-play betting.
Can You Cash Out of Live Bets?
Yes, cash out is featured in live soccer betting, and this serves to underline the flexibility afforded by wagering in real time.
Ultimately, cashing out has been a game-changer, and at Betway, the cash out facility is very immersive and players will feel their experience is enhanced using this service.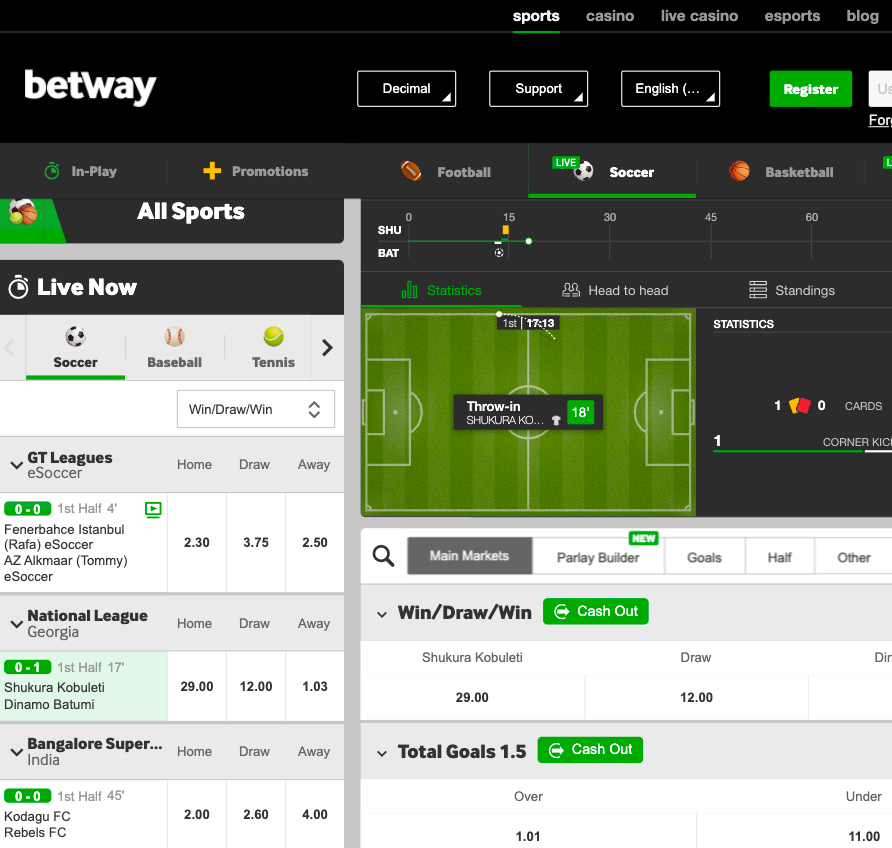 The cash out function will apply to the main markets, and hitting the green "Cash Out" button is required to confirm whether winnings will be collected early.
Some bettors will cash out so they can cut their losses early or if the odds swing against them.
What Types of Bets are Common for Soccer Live Betting?
Live soccer betting lends itself nicely to a wide range of wagers, and bettors will be spoilt for choice.
Whether betting on the Premier League or the Bundesliga, it is never a struggle to locate betting markets, and we have highlighted some of the most popular below.
1×2 market
This is a basic starting point for most bettors, at least when it comes to pre-match wagering, and this entails predicting one of three outcomes (home win, away win, or draw).
However, it still features prominently when it comes to wagering during in-play.
Yes, many operators will label the 1×2 market on the top bar in the in-play betting area. Betway is well when it comes to handling such wagers.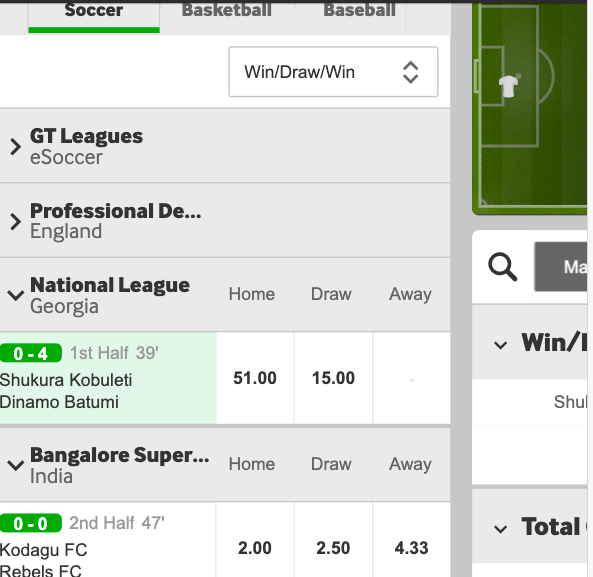 Using an example of the Georgian national league, Kobuleti would be facing a tall order to draw, let alone emerge victorious as they are trailing Batumi 4-0 after 39 minutes.
Batumi's odds have been suspended by Betway as the stats and the way the match has panned out so far in the first half only point to a Batumi win.
I think it would be extremely brave or foolish to bet on Kobuleti to win, but cashing out when Batumi were 1-0 or 2-0 up would have paid dividends.
Next Team to Score
This is quite an intriguing line, but this will ultimately be dictated by the pattern of play.
One team, for example, could be creating chance after chance, but perhaps the strikers aren't finishing things off or the opposition goalkeeper is having the game of his life.
Anyway, let's use the below example of a U-21 match provided by Betano between Swansea and Watford to illustrate things.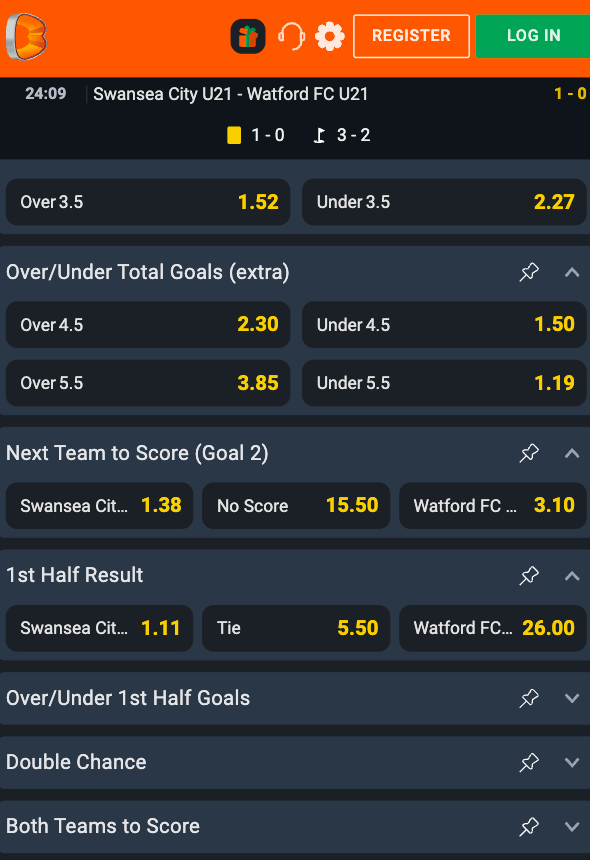 Swansea, judging by the live blog updates, have been enjoying the early exchanges and have been priced at 1.38 to go 2-0 up.
But with odds of 1.38, a $20 bet would net you a win of $7.60 for Swansea to score the next goal, so wagering on Watford to nick an equalizer against the run of play could pay off.
While Betano has audio to recreate the atmosphere of a matchday crowd, the next goal market is better when you have a live stream, so you can keep track of the action.
Total Goals Over/Under
Aside from being an enticing pre-match selection, betting on total goals over/under can also be an appetizing option.
As a quick refresher for those unused to soccer betting, if you bet on the Total Goals Over 4.5 line, then 4 goals or more need to be scored for you to return a winning wager.
The above example shows how the clash between Swansea and Watford U21s has proved to be a thriller judging by the number of goals scored in the first half.
In this instance, the Over 4.5 line could well be hit, and this is a case of using your judgment to see how things will unfold.
Remember, no two halves in football are ever the same. Look for clues, such as whether Swansea will make substitutions to protect their lead or hold off before making another pick.
Soccer Live Betting Strategies & Tips
In-play soccer betting should never be taken for granted, and each game should be viewed on its merit.
But what is the best live soccer betting strategy? Well, as with general soccer betting strategies, there's not one definitive tactic that will guarantee your success.
However, I would adhere to the following live soccer betting tips, as this will stand you in good stead moving forward.
Back the Favourite Who Isn't Currently Winning
While the favourite may have fared well in terms of generating short odds in the pre-match betting markets, sometimes it can be better to back them if they get off to a slow start.
Luton, for example, will be taking on Tottenham soon, and it will be a challenge for the Hatters, who have found things tough going in their debut Premier League campaign.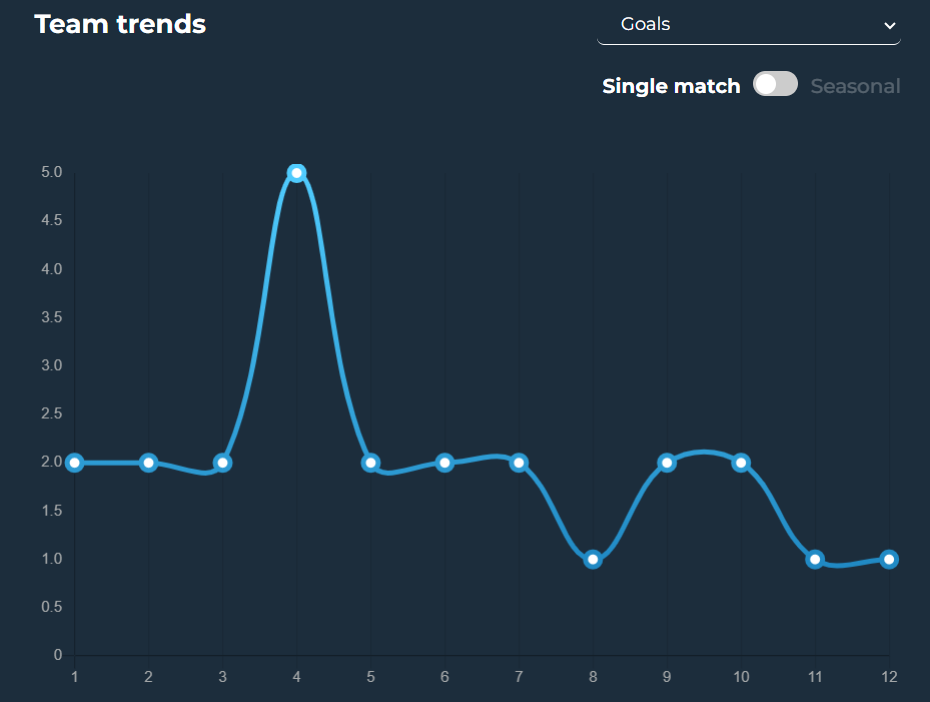 Current goal trends for Tottenham during season 2023/24.
Tottenham may be marked down as heavy favourites in the pre-betting markets at around the 1.50 mark, and they remain unbeaten in the league.
If Tottenham fell behind, you could access stats, such as points recovered from losing positions.
This can be found in the bookmaker's soccer lobby or on the official Premier League site.
Quote
I don't think it would be too bold to back Tottenham to turn it around and pick up a win on their travels. After all, they seem to be made of much sterner stuff nowadays.
Tune Into a Live Stream
Not all operators will have a live stream, but those that do will be worth their weight in gold.
If getting in front of a TV isn't an option, using a crisp live stream will be invaluable as you can watch the game, and spot any patterns.
Sometimes, it can make sense to bet against the team that has momentum, but using a live stream is better than just checking a phone for score updates.
Providing you have a registered account, you won't incur additional costs for making use of the live stream facility.
After all, you don't want to place random bets without thought.
Don't Leave it Too Late to Cash Out
In-play betting can be incredibly nerve-wracking as you leave things to chance when a game is in full flow.
Some players will have a concrete strategy when a game kicks off, and they will know when to place an extra wager or make a run for it and withdraw winnings early.
Soccer games can be chaotic at times, but bettors who can keep their head during the madness will reap the rewards.
Live betting is a test of mettle, but rather than waiting until the last possible moment, leave enough time to cash out so you can retrieve some winnings.
Consider Arb Betting
Bookmakers will price various markets differently, and they may have their own biases.
With arb betting, you will be wagering on all possible outcomes of a game through two or more sportsbooks.
Inevitably, arb betting can be challenging, but if you have the time and patience to plough through live betting lines, then it can be a profitable decision.
Arb betting is for more experienced gamblers, so make sure you do your research and understand the principles before getting involved.
Despite being around for a long time, arb betting is still frowned upon, and being banned or suspended by a sportsbook is a possibility.
That's why we don't advise our readers to do it unless you're very experienced and understand the concept completely.
FAQs
Can you bet live on soccer?
Yes, absolutely! Firstly, pick up an operator to play at, and you will find tons of live markets, such as the 1×2 line or Total Goals Over/Under.
You will need to fill in a betting slip to confirm your betting selections, and what's even better, is that many operators will allow you to cash out and collect any winnings early.
How do you bet on live matches?
Live soccer betting is straightforward. Once a game has been chosen to bet on, observe the odds as they change and then pounce.
Identify which markets are available for in-play betting, and then select a preferred line. Then, wait patiently to see how things unfold.
Or, I would suggest cashing out at any time during the game, as this could help save some face before the final whistle. Live betting requires nerves of steel at times!
Where can I live bet on soccer online?
Live soccer betting is widely available. I think exploring the recommended operators in the guide is a great starting point.
Some will be more comprehensive than others, in terms of stats displayed and having a live stream incorporated, but they will all provide a different dimension to your betting experience.