Written By:
Jason Ence
About Author
Jason Ence has been giving betting and fantasy advice for nearly a decade, and is extremely familiar with the Premier League, Serie A, and the Champions League. He is a strong advocate for responsible betting and bankroll management, and always recommends utilizing multiple sports books in order to shop for the best lines in order to maximize your bankroll.
Fact Checked By:
Jelena Kabić
About Author
Jelena Kabic is a sports betting writer that focusses on responsible gambling. A psychologist by vocation, Jelena volunteered in a rehab facility, where she worked with gambling addicts. She now reviews all our content to ensure it discusses betting in a socially responsible way.
Best Soccer Leagues to Bet on Goals [+Tips & Strategy]
Betting on Goals in Soccer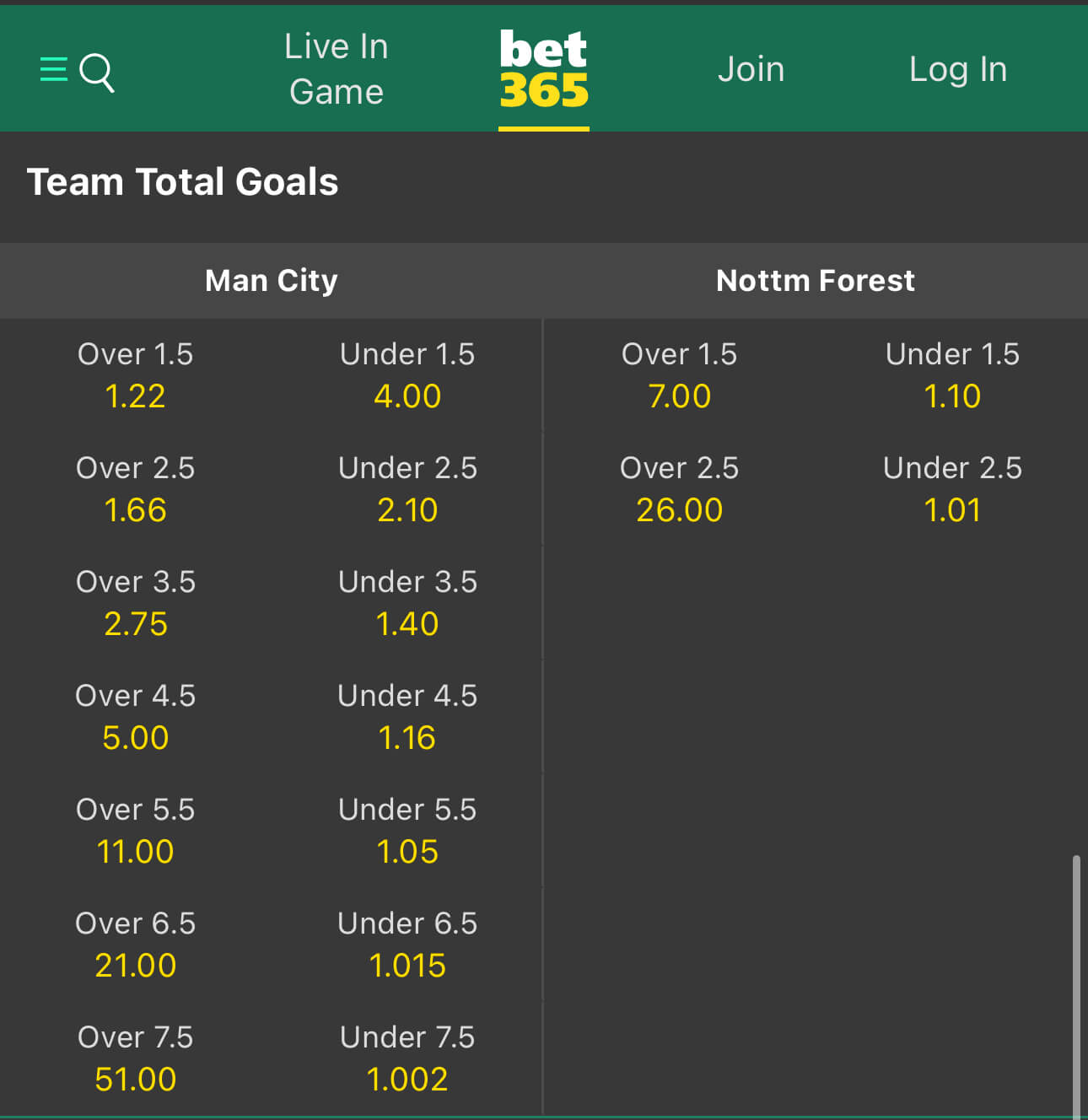 One of the most popular markets for soccer betting is wagering on how many goals will be scored in a particular match.
But betting on the total in soccer is an area with lots of variance. Many factors come into play, such as the teams involved, their tactical setups, and especially the playing style of the league the match is in.
We'll help break down some of the numbers and trends over recent seasons and give you a bit of insight to help you formulate a strategy for betting on goals as we head into the heart of the 2023-24 soccer calendar.
How Does Betting on Goals Work?
Betting on goals in soccer matches can be done in a few different manners.
The most common one is simply betting on how many goals you'll see in a specific match.
Typically referred to as the "total", players place bets on whether the number of goals scored will go over or under a predetermined figure.
Number of Goals You Can Bet On
The most common number you will see is 2.5 goals, as the most common number of goals for any given soccer match throughout the year will be either two or three goals.
However, there are times you'll see other numbers for the total.
While it's rare to see a match total of 1.5 goals, we are seeing more and more lines offered at 3.5 as goal-scoring increases—but more on that later.
Betting on these totals is simple.
If you have a line set at 2.5 goals, you'll either bet Over or Under depending on which you feel is more likely to come to fruition once the final whistle blows.
How Over/Under Betting Works
As a half-goal isn't possible, it's a zero-sum bet in the sense that there will always be a winning side and a losing side.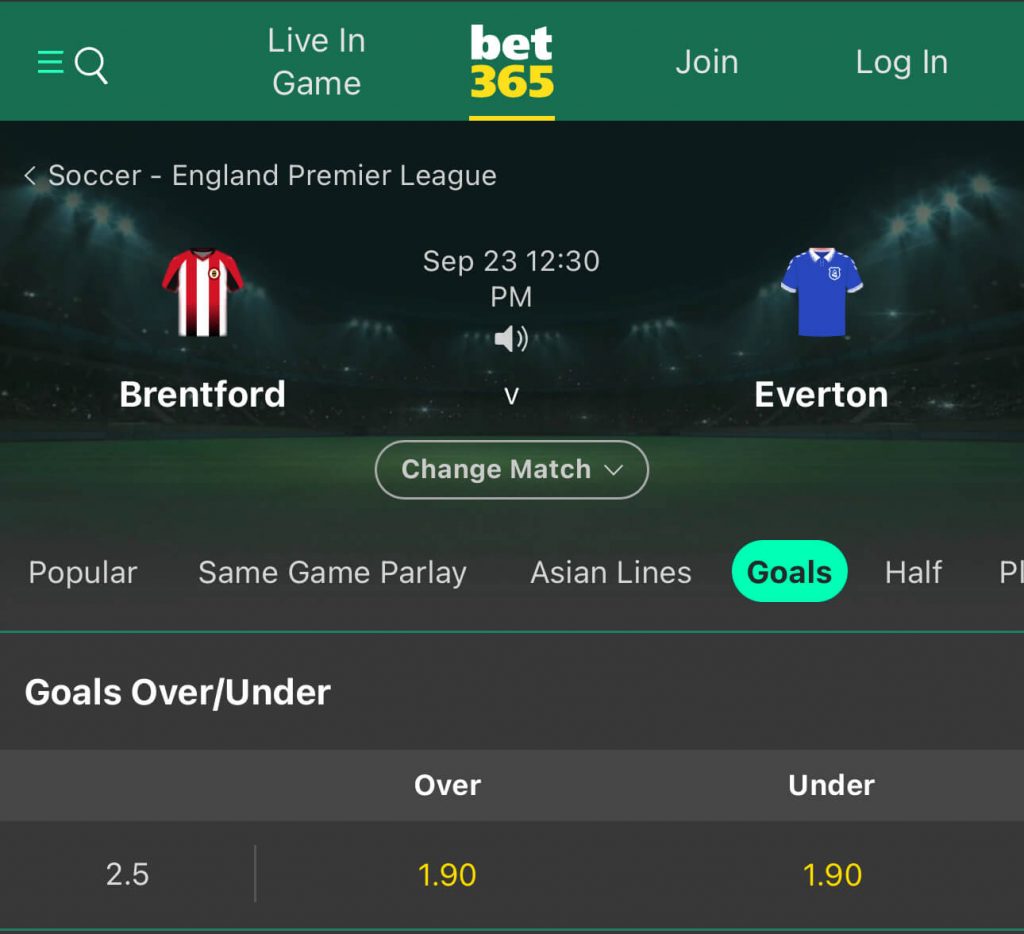 As such, the odds are going to be close to even, or 1.90, when both sides of the total are equally favored.
But if the books view either the Under or Over to be more likely, then you'll have to stake more to return a profit for the more likely outcome, while the less-likely side will bring you back a higher reward if correct.
That isn't the case for every total wager, though.
How Asian Totals Differ
Asian totals operate in the area between the half-goal totals, and bring a bit more complexity to betting on how many goals will be scored.
They also help navigate the gap in odds when you're dealing with a line that is heavily juiced towards either the Over or Under.
Asian totals consist of quarter-number totals, such as 2.25 or 2.75 goals, and even-number totals such as 2.0 or 3.0 goals.
The fractional number sees the bettor's stake split into two separate wagers, splitting the difference between the full and half-goal number.
Depending on the book, Asian quarter-number totals can also be shown in the "2.5, 3.0" format, which is the equivalent of a 2.75 total.
It just simplifies the process, showing you what the two totals are that you'll be dividing your bet across. Bet365 is one of the books that displays the wager in this manner.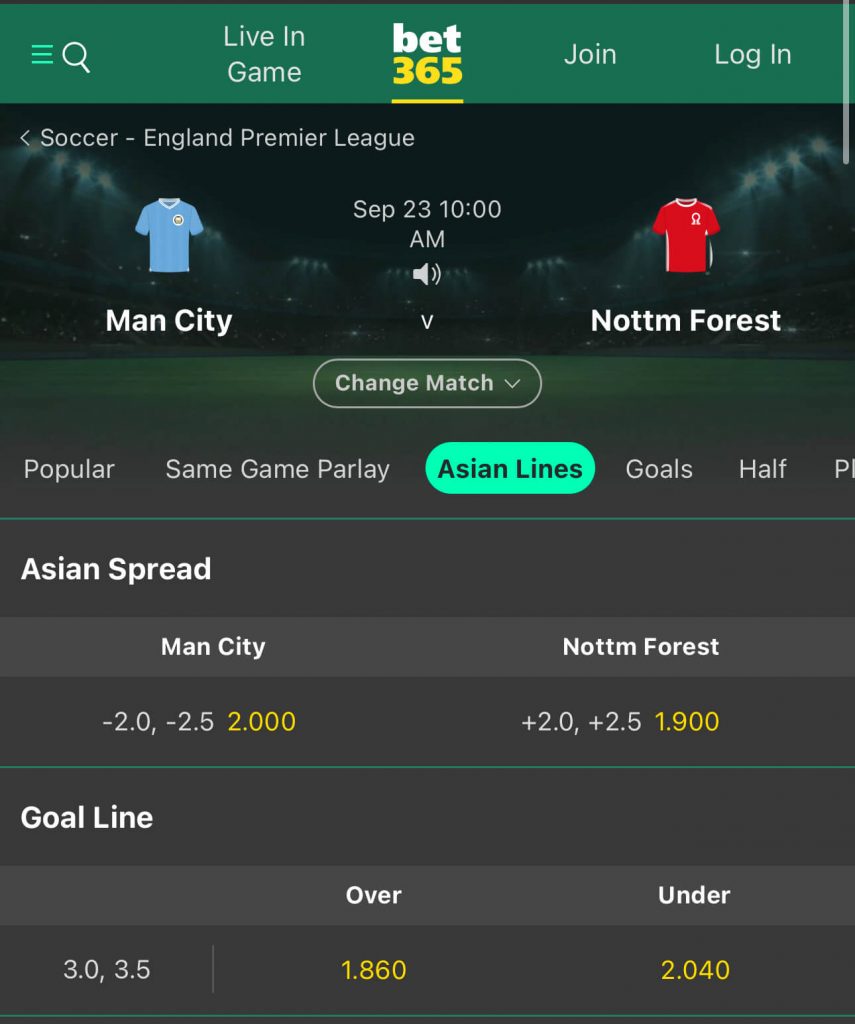 These bets can be graded as full wins or losses or as a half-push and a half-win or half-loss.
Meanwhile, the whole number totals can be pushed in full, or full wins and losses.
Betting on Team Totals
One other type of total is the team total.
It's exactly what it sounds like: you're wagering on whether an individual team's goal total will go over or under a specified number.
This is typically either 0.5 or 1.5, although heavily-favoured sides can have a 2.5 team total as well.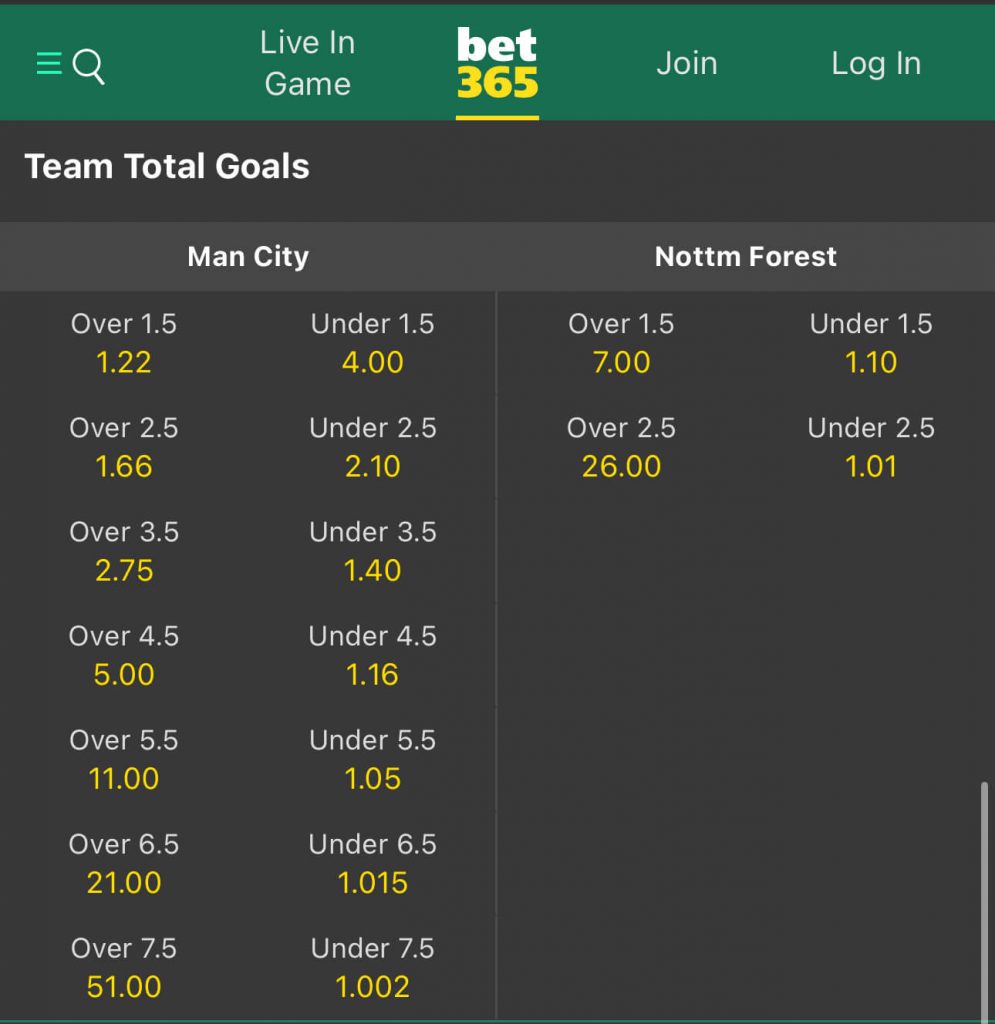 A team total is terrific in situations where you feel one side will dominate the match, but you don't want to pay the juice on the match total.
Because you're limiting yourself to the goals of just one of the two clubs, you will always get a better price.
What Makes a League Good for Betting on Goals?
So what types of leagues lend themselves to being better for betting on goals, and which ones are less likely to produce high-scoring affairs?
Well, there is never a straight-forward answer to that question, but there are certain factors that lead to some leagues having a higher probability for goals than others.

For me, there are three key factors to look at when formulating a strategy for betting on goals:
Style of play
The league's talent level
Referee strictness
Style of Play
Every league tends to have their own style of play, especially as you get down to secondary and third leagues within a country or the top-tier competitions in smaller nations.
This is for two main reasons.
First, your player pool tends to come from those countries.
Teams build their youth academies with local players, and the league fills out with players who are close to home.
Secondly, your managerial positions are also typically staffed with coaches from those countries.
The German Bundesliga, for example, is a league that features plenty of pressing.
So is the Premier League, which is why you see higher-scoring matches in those two countries.
Pressing tends to lead to more turnovers, which allows teams to counter-attack and get easier opportunities to put the ball in the back of the net.
Conversely, La Liga is more of a possession-based league that values holding onto the ball.
Teams are more likely to avoid taking risks, which is why their goal totals have come down over recent years.
Then you have Serie A, a league where defence has long been an emphasis of coaching and development from the youth levels all the way to the national team.
League's Talent Level
And that feeds into our second key trait for a high-scoring league. How talented are the players within the league?
It doesn't matter how many chances a team generates or how well they move the ball around if they aren't able to put it into the back of the net.
It's also going to be more difficult if they're facing terrific defence and top-level keepers.
Depth plays a key role, as well.
Quote
A team like Manchester City in the Premier League, who can bring international-level players off their bench, is going to be more likely to score a higher number of goals than a side like Empoli in Serie A, who sold their top players this summer and were outscored 12-0 in their first four matches of the new campaign.
So which leagues should you bet on? Well, first it's important to know which ones you actually can gamble on legally.
You're able to wager on goals in any league offered by books in Canada—such as Betano, Bet 99, or bet365.
And there are plenty of leagues you can bet on with these books!
For example, Betano offers lines for clubs all the way from the Premier League down to leagues such as the First League of Bosnia and the Serbian Prva Liga—and many leagues in between.
But despite having a wide variety of leagues to bet on, it's not always prudent to do so.
While there are plenty of good teams in other top-tier leagues like France's Ligue 1 and secondary leagues like the Championship in England, there's more inconsistency found in the performances of clubs there.
Betting on sides in smaller leagues is much easier at times than wagering on totals.
While there's good talent in every league, consistency is important—and the majority of the time, the players who are consistently getting the most out of their talent don't stay in those lower leagues for long.
Best Soccer Leagues to Bet on Goals
When it comes to looking for lots of goals and plenty of action, I always suggest three leagues to people:
English Premier League
German Bundesliga
Dutch Eredivisie
Part of the "big four" leagues in Europe, the Premier League and the Bundesliga are known for having plenty of talented teams, lots of back-and-forth action, and loads of dramatic finishes.
Learn more about Premier League betting markets and predictions in our dedicated guides.
They're also the two of the highest-scoring leagues in Europe over the past few seasons.
In fact, the Bundesliga led all European leagues in goals per match during the 2022-23 campaign, averaging 3.17 goals per contest according to Opta.
When you do a deeper dive into the league's numbers from last season, you'll find that in 306 matches: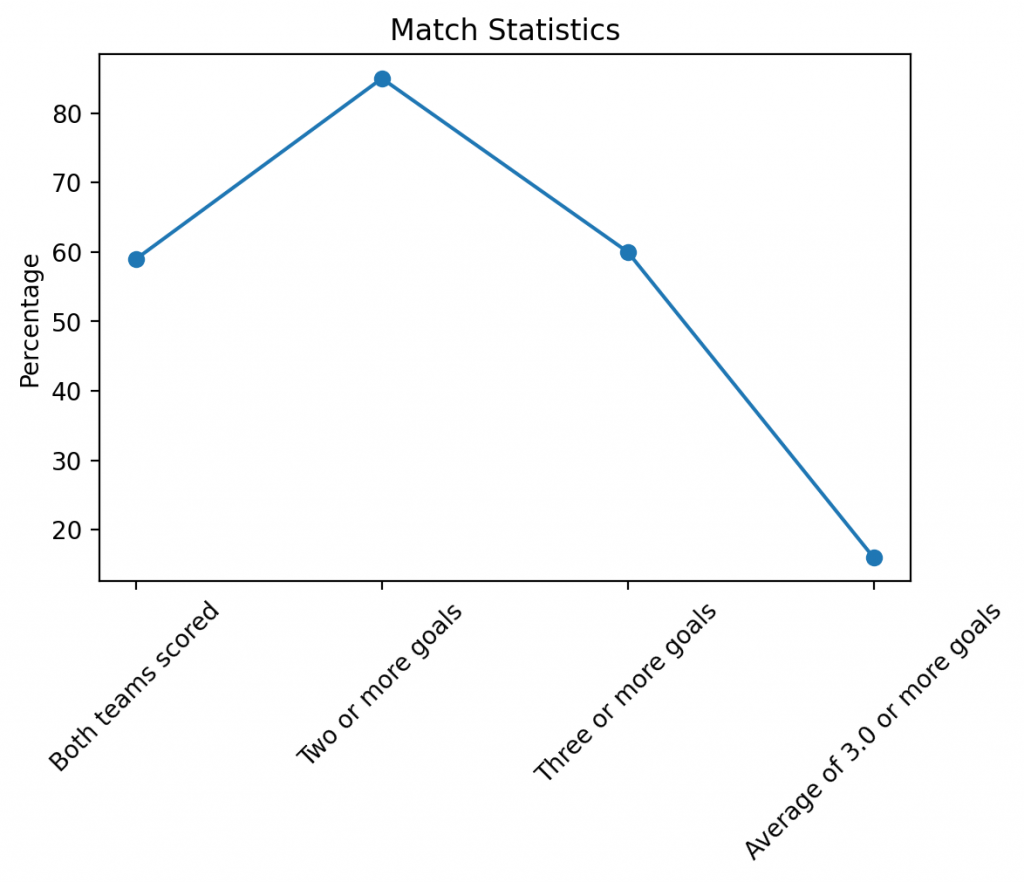 That's one of the reasons the Bundesliga was so entertaining, and they're at it again this season.
Looking at their matches to open the 2023-24 season prior to the September international break, only three of their 27 matches saw fewer than two goals scored while 17 of the matches featured a goal from both clubs.
Meanwhile, the Premier League saw 1,084 goals scored last campaign—the most over a 38-match season in the history of the league!
Breaking down the data from the season, their 380 matches played saw: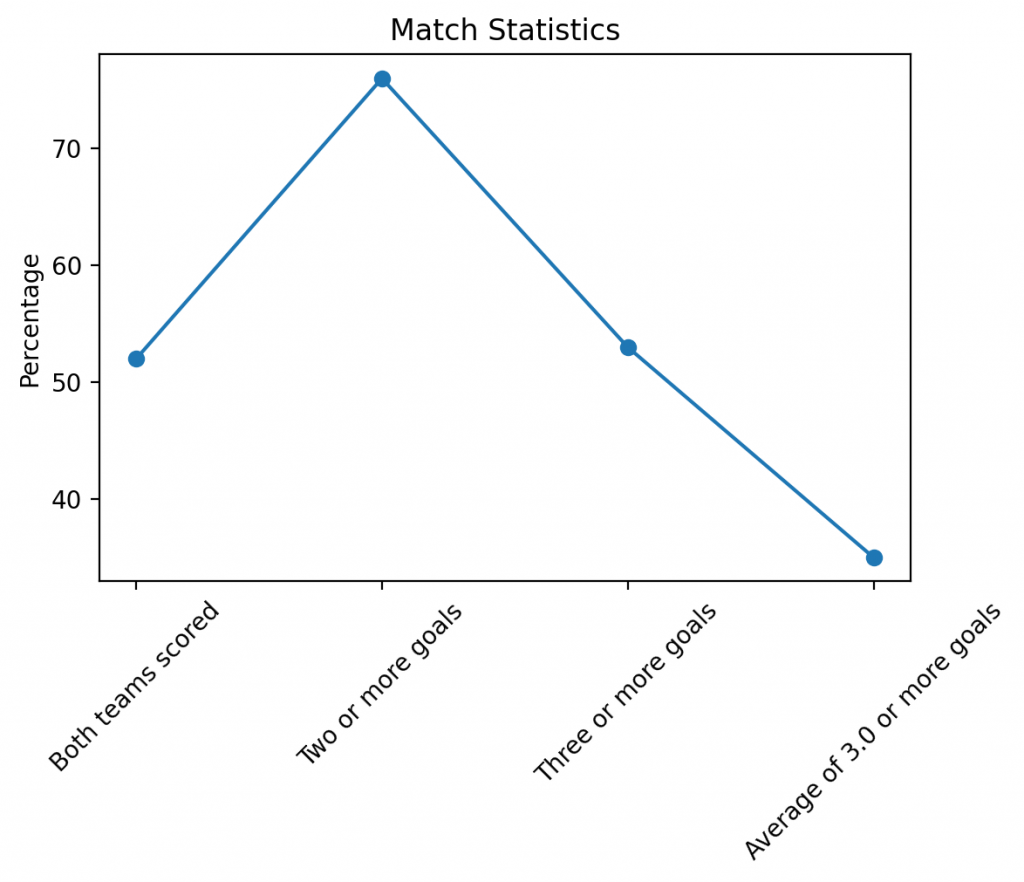 But to touch on our three keys from earlier, a change in emphasis among referees has seen scoring go up early in the 2023-24 season.
After the 2022 World Cup featured much longer periods of stoppage time to account for the massive amount of time-wasting in matches, the Premier League has begun doing the same with their fixtures.
Through the first four weeks prior to the international break, the Premier League has already seen multiple matches with 10 or more minutes added on in the second half—and per Opta, there have already been 18 goals this season scored on or after the 90th minute through 39 matches.
Throw in the fact that referees are showing more yellow cards for time-wasting offenses, and it's increasing the opportunities for goals.
That's why so far this early season, the first 39 matches played have featured 32 fixtures with multiple goals.
There was not a single 0-0 draw in the opening four weeks, and scoring is up to 3.26 goals per match!
While the Eredivisie might be a league some are unfamiliar with that doesn't get as much publicity, the recent UEFA coefficient rankings—used to determine how many spots a league gets in the European club competitions—saw the league jump France this past summer as the fifth-best league on the continent!
Last season, the Eredivisie saw just over 3.0 goals scored per match by their 18 clubs, the 10th time in the past 12 seasons they've averaged 2.90 goals or more.
And while league average only tells part of the story, the lowest goals-per-match of any club last season in the Eredivisie was 2.56 per match.
What's more, 15 of the 18 teams averaged 2.75 or more goals.
Looking deeper at the 2022-23 statistics, you'll see why I love this league so much. In their 312 fixtures: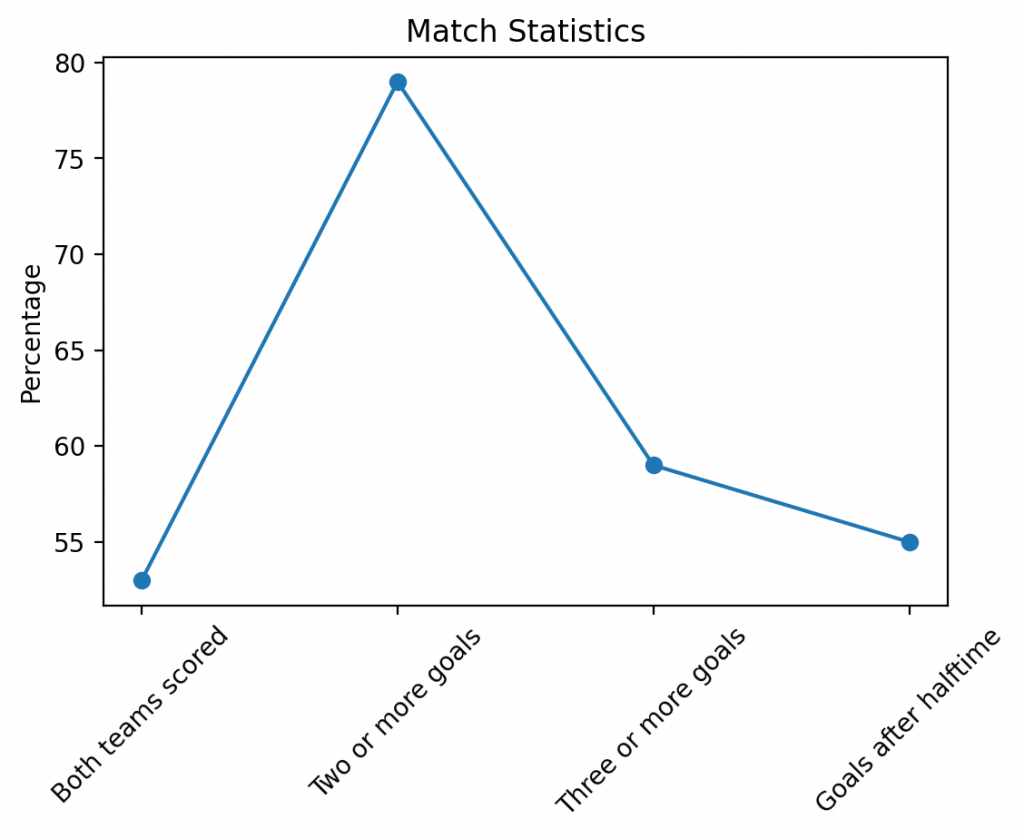 All of your top-tier leagues, such as the ones discussed already in addition to Spain's La Liga and Serie A in Italy, are typically more likely to feature higher-scoring affairs.
That's because they tend to draw the most talented players in the world, especially those whose job it is to put the ball in the back of the net.
So how are some of those bigger leagues comparing over the past year and a half?
Let's start with the Serie A, Italy's top-flight competition. Here's how last season played out over 381 matches, including a relegation play-off: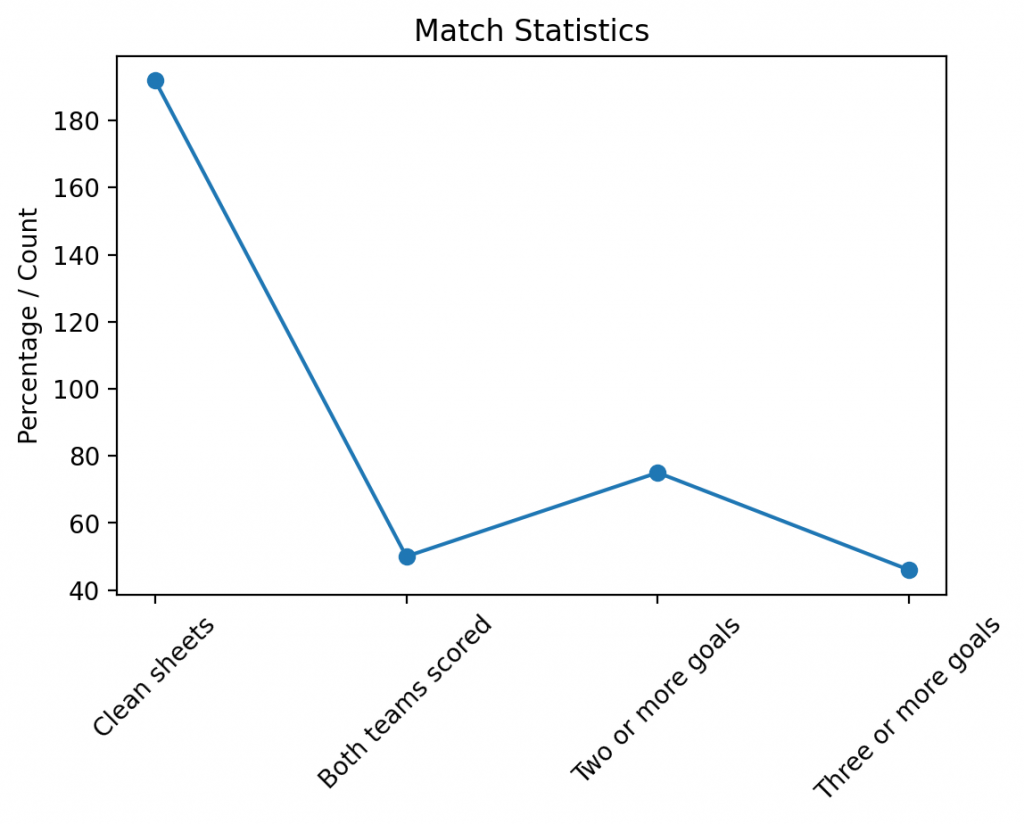 What does that mean for betting on goals? First, it goes back to what we discussed about the style of play.
Defense is important in Italy, as we said, and that's evidenced by the data.
Just 25% of their matches saw one or fewer goals though, so why does that indicate a defensive mindset?
When you look at the most common scores in Serie A last year, they were:
1-1 (14.2% of all matches)
1-0 (10.2%)
0-1 (9.2%)
2-0 (8.7%)
None of the leagues we discuss in this guide had those four score lines at such high rates of occurrence.
It is indicative of the Italian mindset of getting a goal while denying the opponent one of their own, and shows how successful many teams were at doing just that.
And when given the opportunity to possibly go for more, teams often were quite content with a 2-0 result.
Italian teams tend to take fewer risks at the back, and don't like to commit large numbers of players forward.
This is the case not just domestically, but in European play as well.
Quote
See Inter Milan, who made their way to the Champions League final last season. They lost 1-0 to Manchester City after conceding a goal late despite a stellar defensive showing. This is where betting "No" on both teams to score can pay off, as well as betting on team total Unders versus the match result.
And in 2023-24, those trends are holding true; their first 30 matches saw at least two goals scored on 25 occasions, but fewer than half the matches featured goals from both sides while just 15 saw three or more goals.
As for La Liga, the days of high-scoring matches have faded away. The numbers from last season's 380 matches tell a tale of very low-scoring affairs:
Both teams scored just 50% of the time
Matches averaged just 2.51 goals
Eight of the 20 teams saw fewer than 2.3 goals per match
Just 48% of matches featured three or more goals
Over 34% of matches were scoreless at half-time
So why is the league dealing with a relative goal drought? Would you be shocked to know that all three of our big keys are in play?
First we have the style of play. La Liga matches last season featured just 53:36 minutes of actual time with the ball in play, by far the lowest time of the big leagues in Europe.
There are a lot more balls sent out of play, as teams battle more in the midfield from long goal kicks rather than building out from the back.
Secondly, there have been financial issues impacting quite a few teams in the league.
This has led to an exodus of talent compared to the last decade, with many teams having to sell their best players off over the past few seasons.
Referee Strictness
Another big reason La Liga is seeing fewer goals of late is the strictness of their referees.
According to Opta, there were 137 red cards shown during last season's 380 La Liga matches—which is just four fewer than were shown in the Premier League, Bundesliga, and Serie A combined!
Does that mean there's more fouling in the league? Not at all.
In fact, La Liga matches in 2022-23 averaged 25.58 fouls per contest—the fewest fouls per match seen in the league over the past 20 years.
In comparison, that was just 2.5 more than the Bundesliga last year, and 1.5 more than Serie A.
Those small margins aren't enough to justify the additional early dismissals.
Instead, it's due to their referees being more liberal with their bookings.
More than half of those 137 red cards—88, to be exact—were straight reds.
That was 20 more than were shown in Serie A. In addition, 22 matches saw multiple players sent off.
Quote
How does that impact scores? Well, if a team is playing with just 10 players or fewer, they're likely to bunker and see out a match. Additionally, if a team has an important player on a yellow card, the manager may take them off early to avoid having them booked again.
Things don't look to be improving this year, by the way.
Both teams scored in just 19 of their 39 matches before the international break, and there were three or more goals scored in only 16 of them.
As for red cards? There were 11 shown in 39 matches.
Finally, we come to Major League Soccer. As the top league in North America, it's easy to want to bet on this league.
And if you can figure it out, there is profit to be made.
But it's a frustrating league to bet on because of the randomness involved.
That randomness extends not just to results, but to goals scored as well.
So far in the 2023 season, the 406 matches played through September 17 have seen:
An average of just 2.69 goals scored per contest
Both teams scoring in 55% of the fixtures
76% of matches with at least two goals
55% of matches with at least three goals
Only six of 29 teams see more than three goals per match on average
But the most glaring proof of why MLS can be difficult to bet on is the wide disparity between goals-per-match averages across the league.
We noted only six of the teams average more than 3.0 goals scored per match.
The difference between the highest average (3.50 for Columbus) and the lowest (2.04 for New York Red Bulls) is indicative of the talent gap that exists between teams in a league built to ensure parity.
That's what happens when you can only splash the cash on a few players per team, and those players don't perform.
All that aside, that doesn't mean value can't be found. I like to target matches with high totals by going after the first half Unders.
Quote
57% of the league's goals this season have come after halftime, and as we'll discuss later, that can often present you with favorable prices compared to the full match total.
Read more expert tips on betting on MLS!
There are plenty of other leagues you can bet on, if you choose to do so.
Hopefully this insight into the most commonly bet soccer leagues for Canadian players gives you a good starting place for which leagues to target, and exactly how to do so.
Betting on Goals in Soccer: Tips & Strategy
Below I summarized my main tips to follow when betting on the goals. You can read more soccer betting tips on LegalBet Canada's main soccer betting page.
Study the playing styles of the teams involved
All this data is handy to have, but nothing matters more than the match you're betting on.
And the biggest deciding factor for a specific match is how the two teams will set up to play the other.
The betting line for the match will be dictated by that very information, so knowing the ins and outs of the managers, players, and tactics involved are critical to finding the right lines to play.
For example, a matchup between a team like Manchester City and Nottingham Forest won't play out the same as a match between two more evenly-skilled opponents.
And while the talent gap between Forest and a club like Wolves aren't much different, the way they play against Manchester City will be.
That's why you're likely to see a higher match total on offer for City's match against Forest than you would against Wolves.
And knowing how the teams are likely to set up, and how successful they are likely to be with their tactics, can be the difference between being on the right side of the total versus the wrong side.
Quote
For example, Forest is more likely to try to go find a goal or two, and doesn't defend as well as Wolves. That makes it more likely the total will go Over, whereas the total against Wolves has a stronger chance of going Under as they look to frustrate City.
Know the goal for both teams
To expand on the previous point, it's important to pay attention to storylines heading into a match.
A prime example is upcoming in MLS, where Inter Miami are about to embark on a stretch that sees them play six matches in 18 days.
Their manager has stressed he's going to have to rotate his side despite being in the thick of a playoff race, and that will impact the lineup selections he makes.
Their totals are typically elevated on most books because of Lionel Messi and the casual bettor assuming they'll score quite a few times.
But for a skilled, informed bettor such as yourself, that presents an opportunity to find value in the Under if he doesn't play.
If you can time it right before the market reacts to lineup news, you're set up to get terrific closing-line value and beat the books!
Conversely, if a Serie A team is in a can't-lose situation to avoid relegation or slipping out of a Champions League spot, then that changes how they'll likely play.
That could mean they're going to go all-out to win, which leads to more goal-scoring chances for both teams—or it could mean they're going to be desperate to eke out a 0-0 draw, which makes the Under the more likely outcome.
First-half totals can offer hidden value
Every league we've discussed in this guide saw more second-half goals last season than goals scored before halftime.
Typically, there was at least a 10% gap between the two.
Why does this matter? Because as match totals increase to a line of 3.5, it allows for more opportunity for the first half to go Under.
But it also means that matches with higher scores anticipated could offer better Over 1.5 prices for the first half than you'd get for Over 3.5 for the entire match.
Let's look at Bayer Leverkusen, for example. Their upcoming Bundesliga match with FC Heidenheim has a total of 3.5 goals.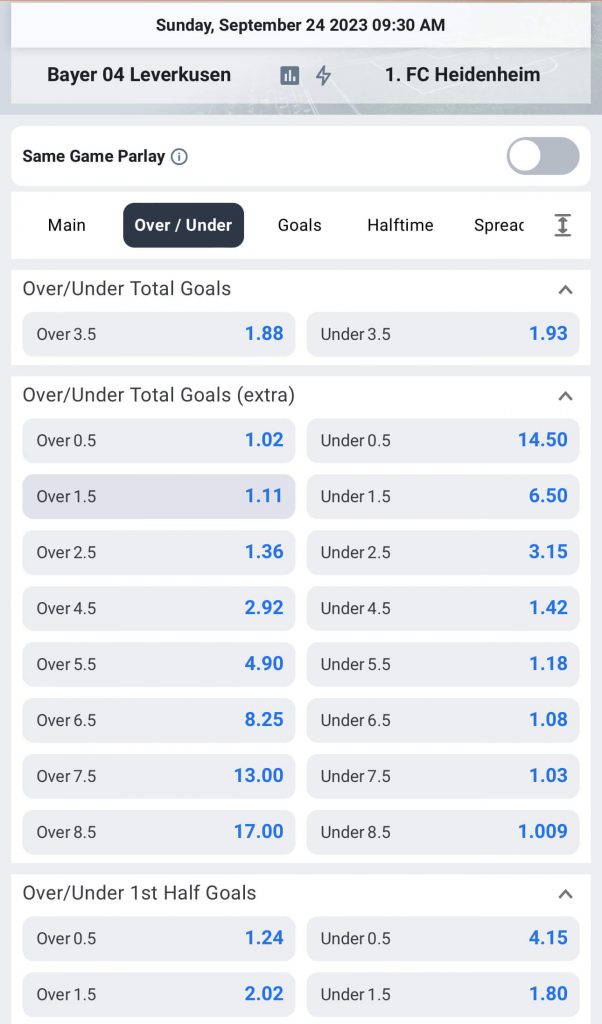 Now, if you want to play the total for this match at Betano, you'd get a price of 1.88 for Over 3.5 goals.
But if you think they'll score at least four, with two of those coming before halftime, then you've boosted your return to 2.02 on the first half over.
And if you were to look at Bayer Leverkusen's first four matches of the season, you'd see that each one of them featured at least two first-half goals.
The same goes for Heidenheim, as three of their first four matches have had multiple goals before halftime.
Digging into first-half totals may not always present value like this, but it's a great way to grind out profit over the long-term!
Live betting is your friend
If you look back at our numbers for the Eredivisie, you'll notice I mentioned that 55% of the goals scored came in the second half.
That was tied for the most of any league we've discussed, along with La Liga and Serie A.
That's why I love live soccer betting, and why it could be your best friend when it comes to betting on goals scored.
It's very easy to get great value in-game, especially at halftime or shortly afterwards, on a match total that offered high juice on the Over before kickoff.
The Premier League, as we discussed earlier, has seen a significant jump in goals scored during stoppage time so far this season.
The less time remaining in a match, the more return you're going to get if you successfully bet on the next goal total—for example, betting Over 4.5 goals late in a 2-2 match.
FAQs
Which soccer league is easy to bet?
That honestly depends on what you define as "easy to bet". If you're simply looking for which leagues are the easiest to pick a high number of goals, then you'll typically find success betting more often on the Premier League, the German Bundesliga, and the Eredivisie. For fewer goals, you're better off targeting a league like La Liga or the Portuguese League.
However, if you're looking for which league is "easy to bet" in terms of finding profit on the totals market, the answer would be simple: none of them. Betting isn't easy, and it should never be treated as such.
While you're more likely to find trends with specific leagues, each match is unique and must be analyzed from multiple angles. If you find yourself falling into the trap of blindly betting totals in a specific league for any particular reason, you could quickly find yourself losing money.
Which league has more over 1.5 goals?
Through the first month of this season, the Bundesliga was the best league in Europe for multi-goal matches. Their first three weeks of the season saw 24 of the 27 matches hit the Over on 1.5 goals.
Italian Serie A hasn't been far behind in 2023-24. Of their first 30 matches, only five failed to see multiple goals scored. Next is the Premier League, with multiple tallies in 32 of 39 fixtures.
Which league has more over 2.5 goals?
Again, that would be the German Bundesliga! There were three or more goals scored in 17 of their first 27 matches this season. And last season, they led all European top-flights with 3.17 goals scored per match!
That said, the Premier League has gotten off to a great start for Over bettors this year. 27 of the first 39 matches played featured Over 2.5 goals.
The totals have adjusted as well on the betting markets early this season, however, as the juice for the Over has gotten quite substantial and some books have begun offering the 3.5 line by default.
SOURCES:
Opta end of season breakdown
https://footystats.org/