Written By:
Jelena Kabić
About Author
Jelena Kabic is a sports betting writer that focusses on responsible gambling. A psychologist by vocation, Jelena volunteered in a rehab facility, where she worked with gambling addicts. She now reviews all our content to ensure it discusses betting in a socially responsible way.
Fact Checked By:
Amy Webb
About Author
Amy's introduction to the gambling world was 6 years ago, when she joined a casino operator as a content specialist. Since then, she's helped launch and maintain gambling review sites in over 8 different countries. She's tested dozens of casinos and sportsbooks, which is how she can spot a subpar brand in an instant!
Betting on Golf: Best Golf Betting Sites in Canada
Betting on Golf
Golf isn't the kind of sport you can be a casual fan of. With basketball or soccer, you can catch a couple of big games, enjoy them, and do that again in a few days or weeks.
But with golf, you are either a fan who deeply enjoys the sport, or you just don't see the appeal.
If you're reading this, it's likely you're the former.
To satisfy the curiosity of golf fans, this page will cover:
The best websites you can bet at
How betting on golf works
Explain the odds
Provide some tips for placing bets on golf games
How Do You Bet on Golf?
Betting on golf is really simple once you've chosen the right betting site.
Let's say you went with Sports Interaction (which we wholeheartedly recommend!)
Here's what the process of betting on golf would look like in that case:

Once you click on it, you'll be able to see all the tours and tournaments available at the moment.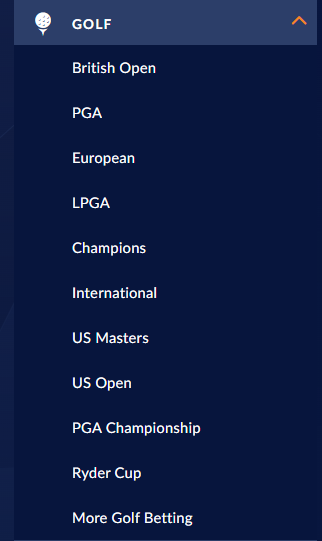 When you choose the tour(nament) you want to bet on, click on the name above to open every type of bet available. We'll talk more about golf bet types below so you know what you're looking for.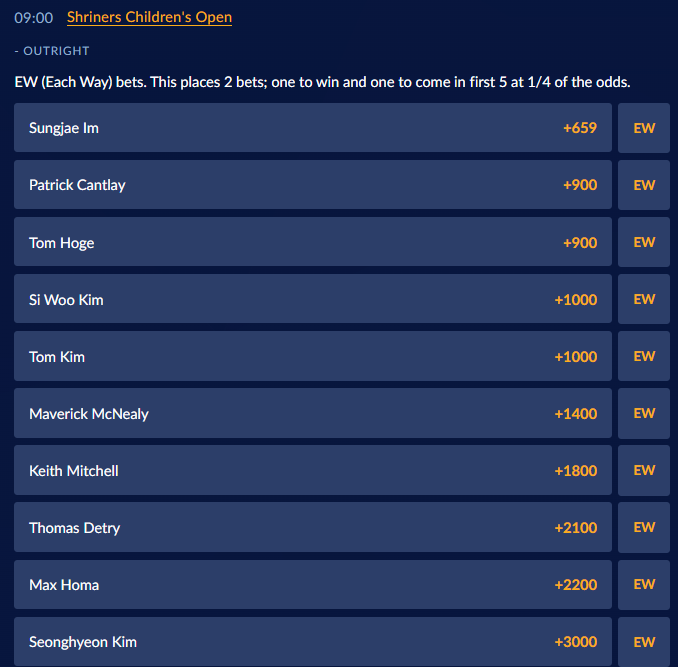 After you've chosen the type of bet you want to place, click on it, choose your wager, and place your first golf bet!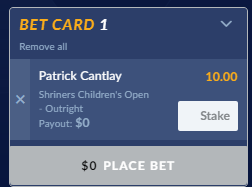 Golf Bet Types
As you can see above, there are generally two main golf bet types.
Outrights. This bet type is simple to understand: it lets you choose who you think the winner of the game, tournament, or tour will be.
Each way bets. We'll explain these and how they work in more detail below. In short, each way bets, on top of having you choose the tournament champion, have you betting on the contender's overall placement as well.
Apart from these, there are other interesting bets to keep an eye out for:
To finish top 5, 10, or 20.
Guessing the winner of an entire tournament can be very tricky. But often times, sportsbooks let you pick who you think will finish in the top few positions instead, albeit with lower odds.
To win this type of bet, you'll have to guess the winner of a match.
2-ball means you're choosing the winner of a head-on game, while 3-ball has three players competing simultaneously.
Just like with other sports, you can bet on over/unders in golf, too. You'll be wagering on whether a player scores over or under a certain number for that round.
From a hole in one to the top Canadian player at the tournament, these types of bets allow for wagering on virtually anything you can imagine.
How Does Each Way Betting Work in Golf?
As promised, we'll explain exactly how each way betting, which is likely the most popular bet type in golf, works.
Each way betting constitutes of two separate bets: one for the winner, and another for their placement.
Sportsbooks decide what span of positions you can bet on. Most commonly, you'll be betting on the golfer placing in the first five positions.
Each Way Golf Betting Odds Explained
Figuring out the odds for the outright winner is fairly simple.
Let's say you wager $100 on Aaron Wise to win a 3-ball against J.T. Poston and Chad Ramey.
His odds are 2.21, so should he win, you'll win $221. Minus your original wager, you'll be $121 richer.
Things get a bit more complicated with an each way bet.
As part of this type of bet, you'll likely see "1/4" next to it. This means that the odds for the second part of the bet are one-fourth of the original bet.
Now, let's say you're placing two equal bets on Maverick McNealy here: one to win, and one for him to end the tournament in one of the top 5 positions.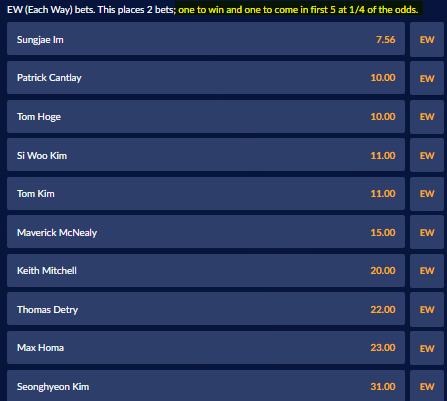 Now, the first part of the bet has odds of 15.00, with the second part's odds being 15.00/4 = 3.75. You'd need to be correct on both in order to win the money.
But what happens if several players are tied, making it impossible to determine whether you've actually won the bet?
In this example, you've bet on a player being in the top 5 as the second part of your bet. What could happen is that the first three spots are taken, but there's a tie between the next four players.
That would mean they're all between places 4 and 7, but have you won your 1-5 bet then?
In that case, Dead Heat usually applies.
With Dead Heat, you win part of your bet and lose part of your bet, depending on how many players tied.
The math behind this is a bit complicated, but the bottom line is: the more players are tied, the more your winnings will be cut.
If your player is clearly in the top 5, the math is a lot easier.
Let's say you wager $20 on both parts of the bet. Should McNealy win + place in the top 5, you'd get:
$20×15.00 = $300
$20×3.75 = $75
Without the original wager of $40, that's a $335 gain.
Which Sportsbooks Offer the Best Golf Betting Odds?
To determine which sportsbook offers the best odds for golf betting, we looked into the numbers the top brands have for the upcoming PGA Championship 2023.
| | | | | |
| --- | --- | --- | --- | --- |
| Sportsbook | Jon Rahm | Rory McIlroy | Justin Thomas | Scottie Scheffler |
| Bet99 | 12.00 | 13.00 | 14.00 | 15.00 |
| Betano | 11.00 | 13.00 | 11.00 | 13.00 |
| Sports Interaction | 11.00 | 12.00 | 14.00 | 11.00 |
Bet99 has the best odds across the board, with Betano being tied for Rory McIlroy, and Sports Interaction for Justin Thomas.
Betting $100 on Scottie Scheffler at Bet99 vs Sports Interaction makes for a $400 difference in potential winnings!
Bet99: 15.00 x $100 = $1500

Sports Interaction: 11.00 x $100 = $1100
find better odds at Bet99
Most Popular Golf Tours and Tournaments to Bet On
There are plenty of golf tournaments being held all year long, but they aren't all equally interesting and good to bet at.
Knowing which tournaments and tours offer the best betting opportunities and odds will help make it a more interesting and potentially lucrative experience.
Best Golf Tournaments to Bet At
There are four major professional golf tournaments.
This seven-day-long tournament features only the top golf players on the scene.
It's held in Augusta National Golf Club, and in 2023, it will be played between April 3rd and 9th.
Apart from a sizeable prize, the winner of this 72 par competition also receives a distinctive green jacket.
Conducted by the Professional Golfers' Association of America, the PGA Championship is likely the most well-known of the major tournaments.
You can catch it in May, on the weekend before Memorial Day. But what is its appeal?
Well, the 70 par's Championship had a purse of $11 million for its 100th edition in 2018, making it quite a good opportunity for pro golfers.
Sports Interaction is by far one of the top PGA betting sites out there!
Not only does it offer competitive odds, it also covers more PGA events than most other betting sites.
SIGN UP
The US Open championship is, as the name would suggest, open to amateur and professional golfers alike.
One thing to know about the US Open is that scoring is very difficult, with a special accent being placed on driving.
The tournament is 70 par. It's held in June at varying venues.
In 2023, the Championship will be played at Los Angeles Country Club.
And if you thought the PGA Championship pays well, think again: US Open's purse in 2022 was a whopping $17.5 million.
The last on the list of major tournaments is also open to both amateurs and professionals.
Known as The Open or the British Open, it's the oldest golf tournament out there, founded way back in 1860.
Originally held in Scotland, it now rotates between different courses in the UK, though it's always held in July.
In 2023, golfers will compete at Royal Liverpool Golf Club in Hoylake.
Popular Golf Tours to Bet At
Golf Tours are simply golf tournaments put into a regular schedule.
They are separate for men and women, and they are usually bound to specific geographical locations.
The tours belong to different tiers, with tier 1 competitions having as much as 100x the prize of those in tier 3.
The most popular golf tours include:
PGA Tour (Tier 1)
European Tour (Tier 2)
LPGA Tour (Tier 3)
PGA Champions (Tier 4)
Other tours from the lower tiers are the Asian Tour, Japan Golf Tour, and LPGA of Japan Tour.
Who Will Win PGA Championship 2023?
The favourite for the PGA Championship 2023 isn't clear — depending on the sportsbooks, you'll see either Jon Rahm or Rory McIlroy.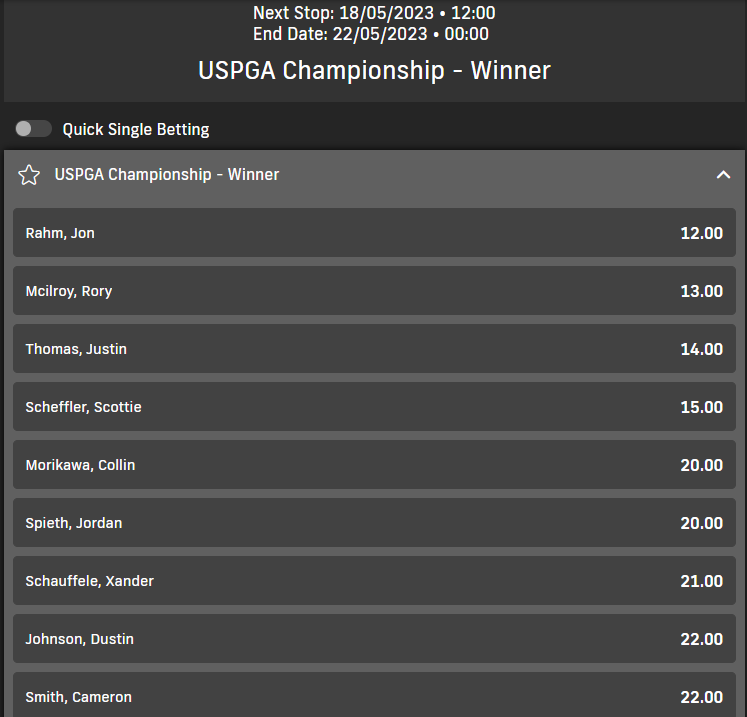 To make matters more complicated, other golfers like Justin Thomas and Scottie Scheffler are quite likely to win as well.
All in all, it will be a tight competition!
Golf Betting Tips
The best and most obvious golf tip you can get is: get to know the players and follow their games.
If not that, then at least be aware of their results and form by catching up on some statistics from time to time.
Other than that, there are two more tips you can give some thought to:
If you bet on clear favourites, you won't find good odds. However, if you're betting on the underdogs, despite the good odds, you're not very likely to win.
That's why finding a player who was doing great recently — but not necessarily winning — is a good approach. They're not unlikely to win, but they still won't have the low odds the expected winners do.
The final tip is, when placing 3-ball bets, find a good group of players, and choose the right player. Rather than looking at their overall score, find someone who scored well in recent rounds. This means they're in good form and likely have the confidence to come out on top in the 3-ball round you're betting on.
FAQs
What does +800 mean in golf odds?
If you're looking at American odds, +800 means you stand to win $800 by wagering $100. Another way to look at it is that +800 = 8:1 chance.
What does betting each way mean in golf?
In each way betting, you're choosing not only the golfer you think will be the winner, but you're also betting on whether they'll place up to a certain spot, usually 1-5.
What is a 3-ball golf bet?
In a three-ball golf bet, you're not wagering on a head-on game. Instead, you're betting on the winner of a game in which three golfers are playing against each other simultaneously.