Written By:
Rory Breasail
About Author
Rory has been writing about basketball for the last decade plus for outlets including Covers.com, The TwinSpires Edge, and NBA Math. His focus over the three last three years has been as a professional handicapper and sports betting analyst covering the NBA, WNBA, and international basketball competitions.
Fact Checked By:
Jelena Kabić
About Author
Jelena Kabic is a sports betting writer that focusses on responsible gambling. A psychologist by vocation, Jelena volunteered in a rehab facility, where she worked with gambling addicts. She now reviews all our content to ensure it discusses betting in a socially responsible way.
NBA Predictions 2023/24: Conferences, MVP, and More
NBA 2023/24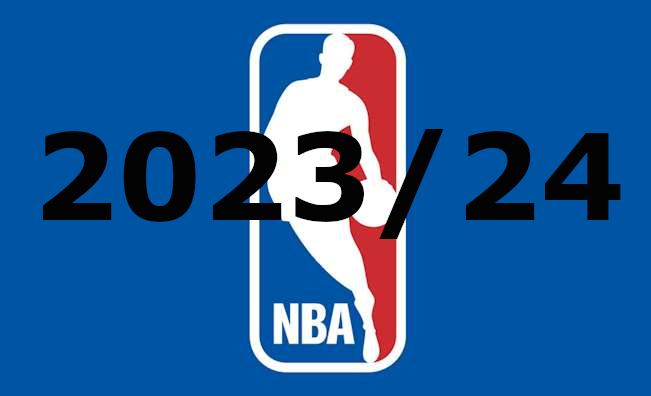 The 2023-2024 NBA season is officially less than one month away. That means it's high time for preseason futures bettors to dig in on what to expect this year.
That's why I've assembled an NBA predictions guide to direct you to the best value bets for the upcoming 82-game regular season and beyond.
This guide will let you in on the favourites to win the NBA title, both conference titles, and the best bets from the entire pool of team total wins predictions.
You'll also find a betting overview for all the major NBA player awards.
To learn more about WNBA or NCAAB, read our other guides.
Which Team is Favoured to Win the NBA Championship?
The Denver Nuggets had been slight favourites all summer to repeat as champions after a dominant 16-4 run through last year's playoffs.
However, the two dramatic trades just ahead of training camp have reset the betting market.
While the Milwaukee Bucks were briefly outright favourites across the board upon trading for All-NBA guard Damian Lillard, the Boston Celtics made a similar jump in odds when they scooped up Jrue Holiday in the aftermath.
Prior to the Lillard trade, the Nuggets had the lowest odds to win it all at Betano (+440), followed by the Boston Celtics (+475).

Now however the Bucks and Celtics are in a virtual dead heat atop oddsmakers boards. FanDuel has the Bucks and Celtics tied with identical +380 odds to win the championship.
Bet365 (+350) and Betano (+350) list the Bucks narrowly ahead of Boston (+400).

The Bucks won an NBA championship with their current core players of Giannis Antetokounmpo, Khris Middleton, and Brook Lopez back in 2021.
While they were still expected to contend this season, they were not inner-circle favourites. By adding Damian Lillard, they are pairing Giannis with the best player he's ever played with, and a perfect offensive fit.
Quote
Giannis' opponents in the past have built their entire defense around stopping him from getting to the rim in transition. Lillard's opponents have done the same to prevent him from finding an open three. Stopping both may prove impossible. But the Bucks had to trade away Jrue Holiday, perhaps the best guard defender in the league, in order to get Lillard in the door. They surely hoped he wouldn't end up rerouted to their greatest conference rival. By adding Holiday to their current core Boston now has arguably the best top six players in the NBA.
Eastern Conference Winner Predictions
The Eastern Conference now runs through Milwaukee. With apologies to the new-look Celtics, I'm more of a believer in the Bucks despite Boston's acquisition of Holiday.
Giannis Antetokounmpo remains one of the best in the NBA. He's as capable offensively as he is defensively and has never played with a guard as dynamic on the ball as Lillard.
Lillard and Giannis immediately become the most talented duo in the NBA and one of the best on-court pairings of NBA talent in league history.
Boston is deeper, but top talent is what wins out in basketball, and in any series between the Bucks and the Celtics, Milwaukee is likely to have the two best players on the court.
The Bucks still have defensive holes to fill after parting with Holiday as part of the Lillard deal, but the offense is going to sing.
Quote
The Giannis and Lillard pick and roll is going to be the question every East contender has to answer. Right now, I believe the Bucks will win the East.
Oddsmakers see it as a toss up between Milwaukee and Boston. Bet365 has both the Bucks and Celtics as +150 to win the Conference, with the Miami Heat a distant third at +900.

FanDuel also has the Bucks and Celtics tied at +175 but has the Cleveland Cavaliers third most likely at +750.
Western Conference Winner Predictions
While the Eastern Conference has everybody's attention, there should be no doubt about who rules the roost in the West.
If you weren't closely following along last season, the Denver Nuggets completed one of the most dominant runs in years.
The Nuggets finished with the most wins in the conference, then proceeded to go 16-4 through the playoffs.
Most first-time championship teams come out even stronger in their second season. Now they're battle-tested and brimming with confidence.
The Nuggets did lose an important piece in Bruce Brown, but their starting five is still the best in the league.
Nikola Jokic is the consensus best player in the world, and his backcourt mate Jamal Murray put together one of the best playoff runs ever for a guard.
No team was able to handle the Murray Jokic two-man game in the playoffs.
Critically, no team in the Western Conference made an offseason move that suggests they'll be able to do anything about it this year, either.
But the Nuggets are not consensus favourites.

While the Nuggets are +240 to win the West at bet365 and Bet99, the retooled Phoenix Suns are tied with +270 and the shortest odds on FanDuel.
Quote
With FanDuel offering the Nuggets at +270, I'm picking Denver to win the West.
Surprise Team to Look Out For
If you're not interested in betting on the favourites because of their short odds, you do have another enticing option on the table.
The Cleveland Cavaliers are a team to look at as a potential Eastern Conference sleeper. The Cavaliers last year finished with 51 wins, but there is reason to think that they were much better than that.
According to NBA statistics website Cleaning the Glass, the Cavaliers played at the level of a 55-win team last season.
After failing to advance in the playoffs, they addressed their key weakness by adding the shooting of Max Struss this offseason.
If you're looking for a small wager on a long odds team, the Cavaliers have the statistical profile of a team that could overperform. Bet365 is listing Cleveland at +1100 to win the East.
Team Win Totals
Outside of the championship and conference winners, one of the most popular preseason NBA bets is on total team wins.
Oddsmakers predict the number of regular season wins for every team and you bet whether the team will go Over or Under that total.
Every NBA sportsbook will provide slightly different totals, so it's worth price-hunting. Below is the current snapshot of team total win totals for every NBA team per Betano.
Atlanta Hawks 41.5
Boston Celtics 54.5
Brooklyn Nets 37.5
Charlotte Hornets 29.5
Chicago Bulls 37.5
Cleveland Cavaliers 49.5
Dallas Mavericks 44.5
Detroit Pistons 26.5
Denver Nuggets 52.5
Golden State Warriors 48.5
Houston Rockets 30.5
Indiana Pacers 37.5
Los Angeles Clippers 46.5
Los Angeles Lakers 47.5
Memphis Grizzlies 45.5
Miami Heat 44.5
Minnesota Timberwolves 43.5
Milwaukee Bucks 54.5
New Orleans Pelicans 43.5
New York Knicks 44.5
Oklahoma City 43.5
Orlando Magic 35.5
Phoenix Suns 51.5
Philadelphia 76ers 48.5
Portland Trail Blazers 29.5
Sacramento Kings 44.5
San Antonio Spurs 29.5
Toronto Raptors 36.5
Utah Jazz 35.5
Washington Wizards 24.5
Team Win Totals Best Bets
Of these 30 lines, three leap out to me as strong value bets.
The Memphis Grizzlies Over 45.5 wins (-105 via Betano)
The Grizzlies finished last season with 51 wins and the point differential of a 53-win team. They struggled in the playoffs due to injuries and Ja Morant's ongoing off-court distractions.
Morant is serving a 25-game suspension to begin the season, which has made oddsmakers low on the Grizzlies.
But Memphis is 37-24 all-time without Morant in the lineup. The Grizzlies also traded for veteran point guard and 2022 Defensive Player of the Year Marcus Smart to take over in his absence.
Quote
Smart is an outstanding addition. He'll help hold the line while Morant finishes his suspension and then play alongside him as a wing defender and decision-maker. I expect them to be closer to 50 wins than go Under 45.5.
New York Knicks Over 44.5 wins (-125 via bet365)
The Knicks were one of last year's surprise teams, closing with 47 wins and finishing second in offensive rating per Cleaning the Glass.
But this wasn't unsustainably hot shooting. Instead, they emphasized interior basketball and dominating the offensive glass.
Unlike some of the other East hopefuls, they have real depth and can withstand injury to any of their top players without giving up too much ground.
The Knicks had the point differential of a 49 win team last season and should be better. This is an easy Over.
Cleveland Over 49.5 (-125 via Betano)
Ironically the very opponent the Knicks vanquished in the playoffs is my third and final best bet.
I think Cleveland is a smart Over at 49.5 for the same reasons I believe they're a potential surprise NBA Finals team.
The Cavaliers had the best defense in the league while also sporting the seventh-best offense. That's an incredible baseline to build from.
They're also a young team deep on star talent in Evan Mobley, Donovan Mitchell, and Darius Garland, who should all improve this season. This team should flirt with 55 wins.
NBA Awards Betting
When it comes to NBA awards, here are the top ones you can bet on.
Most Valuable Player
The most prestigious individual award in the NBA is also one of the most hotly contested.
The winners of the last several MVPs Joel Embiid (2023), Nikola Jokic (2022,2021,) and Giannis Antetokounmpo (2020, 2019) are all among the favourites to win the award.
Jokic is the leader across the board, getting +450 odds at bet365 or as short as +380 at Bet99.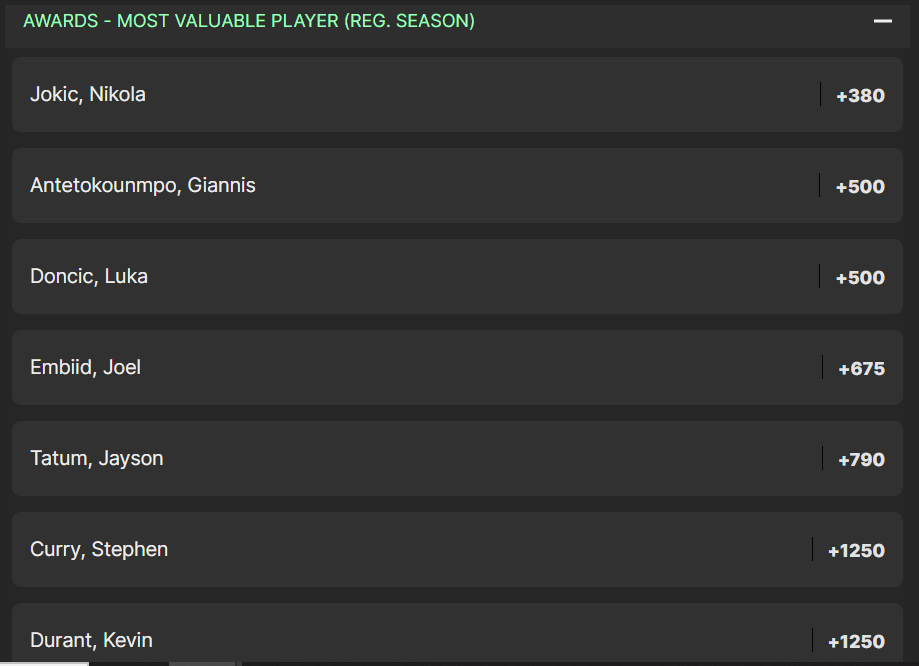 With MVP three things are paramount: winning a lot of games, being one of the NBA's best players, and overall narrative.
For instance, the Mavericks are unlikely to win enough games for Luka Doncic to truly compete despite his short odds.
Taking all those things into account, you should strongly consider backing Jokic.
After last year's playoffs he is now widely considered the best player in the NBA and the Nuggets should win the most games in the West.
There is also a feeling that voters made a mistake not awarding him the MVP over Embiid last year. Ability, opportunity, and narrative are all working in his favour.
Defensive Player of the Year
This Defensive Player of the Year race feels wide open this year.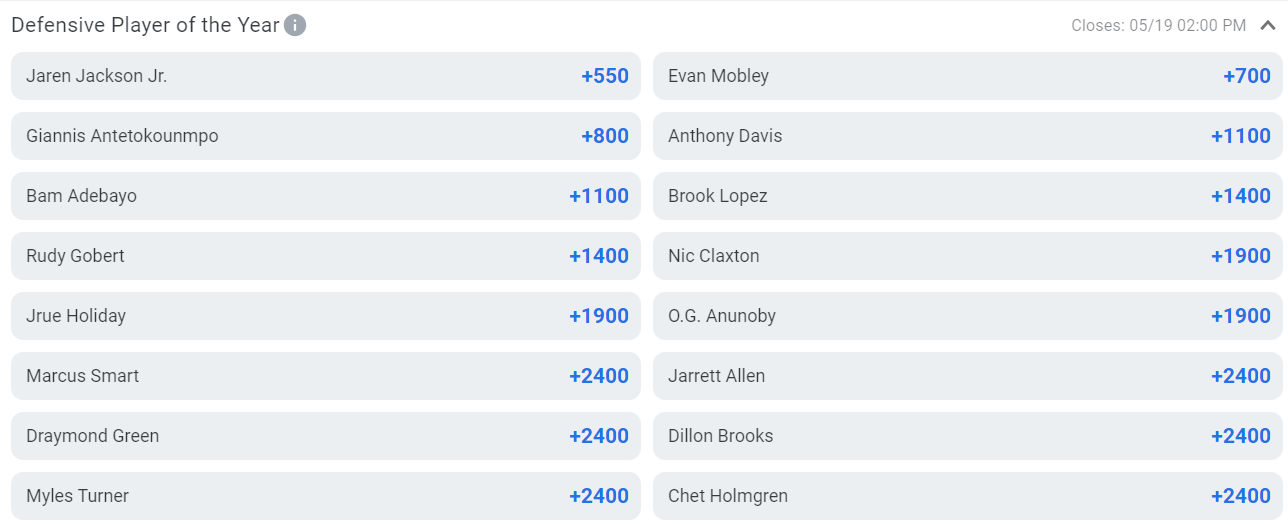 Quote
Despite being the shortest odds on some boards (including Betano where he's listed at +550) Jaren Jackson Jr. strikes me as unlikely to repeat as Defensive Player of the Year. Jaren struggled at the FIBA World Cup, where the United States failed to medal. Jackson's poor performance was a key reason why. That perception will linger over the season.
There is a good argument for Giannis. The Bucks are going to be asking more of him defensively than ever before as they lean on Dame for offense.
It's possible that voters might seek to reward a strong Milwaukee season by gifting Giannis another DPOY trophy.
Evan Mobley is my favourite bet, however. I expect Cleveland to compete for the No.1 overall defense again, he's never won the award and he finished third for it last season.
Most Improved Player
Most Improved Player is notoriously one of the most difficult awards to predict. Nobody, not least preseason oddsmakers, gave last year's winner Lauri Markkanen a realistic chance to win.
However, there is a history you should be aware of when considering betting. In the past, this award was used as a way to reward role players in the NBA.
But in recent years it has instead gone to players who blossom into legitimate All-Stars.
As such, picking someone who is on the cusp of their first All-Star team, who is also likely to have a bigger role, is a good idea.
While Mikal Bridges is getting the shortest odds (+750 via Betano, +700 via bet365) I think there are better candidates.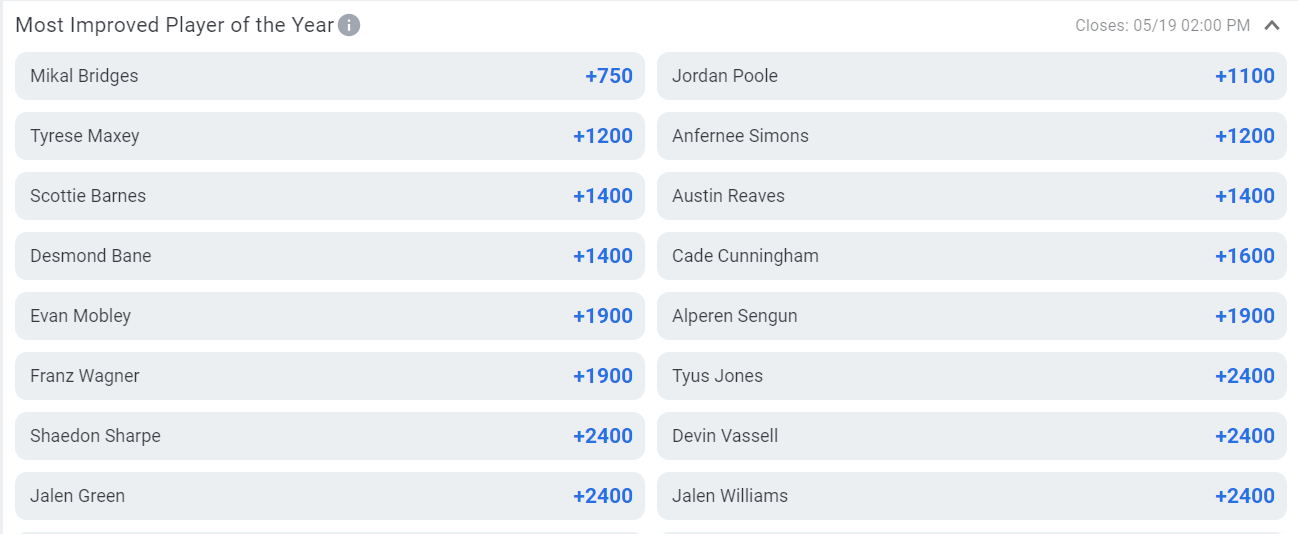 Desmond Bane will have significantly more on-ball duties with Morant's suspension. He will also have a good chance to make the All-Star team with Morant and Lillard both out of consideration.
Bane is available at +1400 via Betano and +3000 via bet365.
Sixth Man of the Year
Last year's Six Man of the Year award came down to a two-man race. Ultimately Malcolm Brogdon beat out Immanuel Quickley of the New York Knicks.
Oddsmakers believe the same two will be frontrunners again, with bet365 (+700) and Betano (+800) both making Quickley the favourite.

I'd favour Quickley to get the nod this season.
Quote
Quickley's role is established and stable, he's younger and on the right side of the development curve, and many NBA media thought leaders gave their vote to him last season. Brogdon by contrast was just traded from the Celtics to the Trail Blazers as part of the Jrue Holiday deal. He's not likely to last long on that squad as Portland has too many young guards that need minutes.
With another trade likely coming it's unclear what Brogdon's role will be this season. If he ends up as a starter on his new team, he will become ineligible for the award.
He's also had a series of troubling injuries that could take him out of the running at any time.
Rookie of the Year
By the numbers, this is a three-player race. All three of Victor Wembanyama, Scoot Henderson, and Chet Holmgren have a realistic path to win.

Victor is considered one of the best prospects in recent memory, but his offensive game is still a work in progress.
Chet, part of an exciting team featuring Shai Gilgeous-Alexander, is an unusual player who pairs length with ball skills, but his skinny frame raises durability questions.
Scoot, meanwhile, has been playing professional basketball as a point guard for two years already and is primed to hit the ground running.
Given Victor's short odds (as low as -125 via bet365) I prefer Scoot because he's going to have every opportunity to put up numbers in Portland.
When Should You Bet on the Outright Winner?
Timing is everything. It's often best to wait until training camp before making a bet as this is the unofficial deadline for offseason trades.
If you bet before then, you risk being caught off guard by a move like Lillard going to Milwaukee.
In general, betting on a heavy favourite before the season makes little sense. That's because you're taking on an entire season's worth of risk with limited upside.
No team makes it through the challenges of an 82-game season and the playoffs without down moments. When a contender hits their low point then you can buy in at a much more favourable price.
That said, if you believe a team is being undervalued, the best time to place your bet is before the season. Once it is apparent how teams on paper perform in practice, NBA odds adjust quickly.
This is particularly true for odds for conference winners as they're adjusted based on the performance of fewer opponents.
FAQs
Who is predicted to win the NBA 2024 championship?
The Milwaukee Bucks are the favourites to win the 2024 NBA championship, but not by an overwhelming amount. Narrowly behind them in overall odds are the Boston Celtics as well as last year's champions the Denver Nuggets.
What NBA team has the brightest future?
While not expected to win a playoff series this season, the Oklahoma City Thunder are set up to be contenders for years to come. They have a superstar talent in Shai Gilgeous-Alexander, young All-Star caliber talents around him, and the league's deepest war chest in terms of future draft capital.
When they decide to go all-in, they will catapult to the top of the league.
Who is most likely to win the NBA Eastern Conference?
The Milwaukee Bucks and Boston Celtics are tied with the best odds to win the Eastern Conference (+150 bet365, +175 FanDuel).
Who is most likely to win the NBA Western Conference?
The defending champion Denver Nuggets (+240 via bet365) are most likely to win the West again this season, but the Phoenix Suns are getting equally short odds at some sportsbooks including FanDuel (+270).