Written By:
Jelena Kabić
About Author
Jelena Kabic is a sports betting writer that focusses on responsible gambling. A psychologist by vocation, Jelena volunteered in a rehab facility, where she worked with gambling addicts. She now reviews all our content to ensure it discusses betting in a socially responsible way.
Fact Checked By:
Amy Webb
About Author
Amy's introduction to the gambling world was 6 years ago, when she joined a casino operator as a content specialist. Since then, she's helped launch and maintain gambling review sites in over 8 different countries. She's tested dozens of casinos and sportsbooks, which is how she can spot a subpar brand in an instant!
Live Betting in Canada: Is It Profitable?
Live Betting Canada
With more and more sportsbooks in Canada offering the live betting option, bettors are wondering whether this is a smart move.
But as with anything else in betting — it really depends on the sport, the game and your live betting strategy.
This guide will explain:
how live betting works
which sports are good for it
if it's profitable
which sites have the best live betting options, and
what betting tips make sense.
Let's start with the basics.
How Does Live Betting Work?
The idea behind live betting is simple:
Instead of betting before the game starts, you let a few minutes or quarters pass, see how the teams/players are doing, and place your bet then.
You should be aware that as the game is progressing, the odds will be changing. For example, if Maple Leafs are facing Capitals, you're likely to see very low odds on the clear favourite — say, 1.20.
But if Maple Leafs were to start losing the game by a goal or two, these odds are very likely to change to 2.00, 3.00, or more.
Same goes for the underdogs. If the Capitals' initial odds were 5.00 and they started losing by two or more goals, the odds will be dropping further to 6.00, 7.00, etc., depending on how many goals they're behind.
The bettors' chance lays in understanding when a team can bounce back, but we'll talk more about that in our live betting tips section.
Is Live Betting Profitable?
Any type of betting can be profitable if you have a good betting strategy, and if luck is on your side. Similarly, even the best betting strategy can fail given the certain circumstances.
However, many bettors do find live betting to have a decent potential for profit. For some, it's their main betting strategy.
When the odds change during a live game, especially if that game is full of twists and turns, what used to be decent odds can skyrocket into quite high ones. Those who take advantage of it can occasionally make serious profit.
Best Live Betting Sites in Canada
What Sports are Best for Live Betting?
The best sports for live betting are those that generally have a high total at the end. You can still opt for live betting for, say, soccer games, but it's less likely there will be quick plot twists that you can use.
That being said, betting on over/unders for soccer in-play can still yield some good results.
Another thing you can hope for in soccer is for a team to come back from losing in the first half to winning in the second half.
Still, since there's only a handful of goals per game, it's far less likely for it to happen than it is, for example, in a basketball game.
Therefore, the best sports to do live betting on include:
Basketball
Football
Tennis
Hockey.
In NBA, for example, it's quite common for a team to be a couple of points behind only to win at the end. This gives bettors a lot of room to use the suddenly higher odds, if they believe the favourite will still pull through.
Do All Canadian Betting Sites Offer Live Betting?
Virtually all Canadian sportsbooks have the live betting option nowadays, but not all are equal in that regard. Some of the things that separate the best live betting sportsbooks from the rest include:
Live streaming/Live stats/Vizualisations. While all sportsbooks let you bet live, not all sportsbooks let you live stream the game you're betting on, or in the least provide other ways to follow the developments on field live. Betano does this especially well. Unlike other sportsbooks, it doesn't require you to leave the live stream before placing an in-play bet.
Timely odds updates. If you're betting on a fast-paced game like tennis, what good is it that you caught an opportunity on time if the odds weren't updated by the time that opportunity went away? Some of the best sportsbooks when it comes to quick odds updates are bet365 and Betway.
Good odds. This should go without saying, but if a usual favourite like Djokovic is two sets behind, the odds should reflect that, rather than staying roughly the same as they were before the game.
How Do I Place a Live Bet on bet365?
One of the most popular live betting sportsbooks in Canada is bet365, so we'll use it to explain how you can place a live bet.
Make sure to sign up first, and to have at least a minimum deposit in your account so you can place your live bet instantly.
Locate a game that allows live betting. You can do this by clicking on any sport from the menu on the left, then entering the "Live In Play" segment.
Watch the game live (icon on the right) or follow the on-field developments (stats icon on the left) until the result and the odds are in your favour.
Then simply find the bet you want to place, and you're done. Good luck!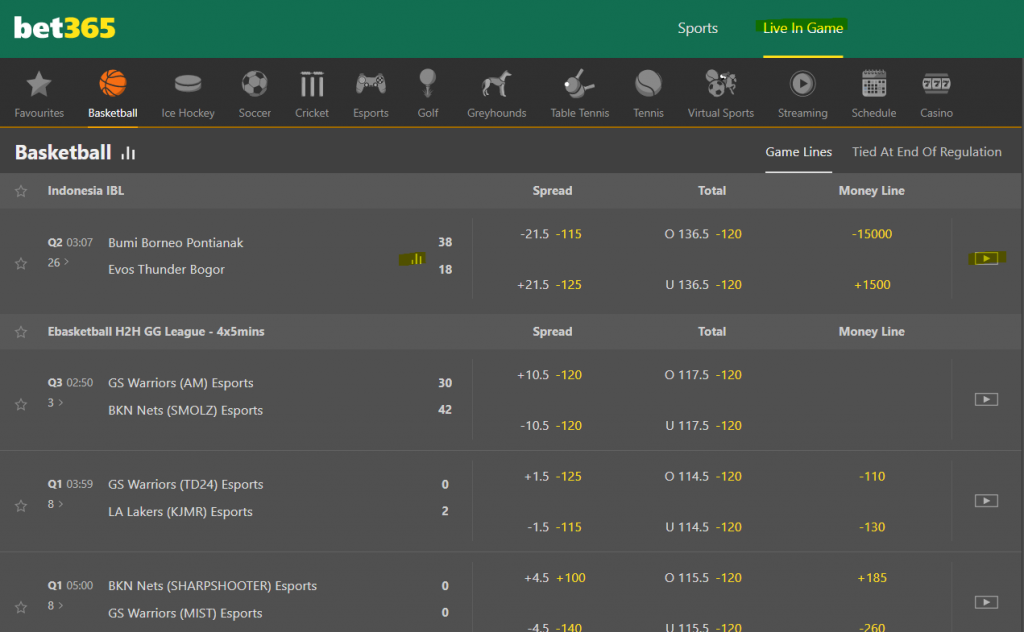 Pros and Cons of Live Betting
As anything else, live betting also has its pros and cons.
You Can Find Higher Odds

It Brings An Extra Level of Excitement

It Requires You to Follow Every Second of the Game

Some Sportsbooks Are Slow to Change the Odds
If you have enough time to dedicate to live betting, have a good betting system in place, and pick a good sportsbook for it, then it can be a profitable betting tactic.
Live Betting Tips
As we already mentioned several times, live betting can be a profitable betting strategy, but only if you know how to do it in order to improve your chances.
Some of the main tips we can offer you are:
Choose sportsbooks carefully. Not only should you choose legal online sports betting options, they should also be ones that have good live betting odds. Some good examples include bet365 and Betway.
Bet on favourites that are down early. If there's a clear favourite who made a few early mistakes but is more than likely to win the game, betting on them while they're down is a better strategy than betting pre-game, as the odds will be higher.
Follow the game. As already mentioned, following the game you're live betting on is a must. Unless you can judge the form of players and the overall feel of the game, you can't really know whether there will be a lot of points in it, or if the favourite is really going to win.
Go for moneyline, over/under, and next team to score bets. These are some of the top choices for live betting. Moneyline bets let you bet on a favourite who's down early; if you're watching the fourth quarter of a basketball game without too many points, it's reasonable to bet on the under; and if you bet on the favourite to score next when they're down, you're likely to get a win out of it. What's more, if no team scores, your bet will be void, so no money is lost.
Set limits. One important thing to remember is: don't go overboard. Winning a few live bets and getting decent money can lead you into thinking that live betting is a sure win. It's far from it, so be sure not to start placing bets left and right, and end up losing a lot of money. Always have deposit limits set up with the sportsbook you're betting at, as well as win and loss limits.
What About Microbetting?
This live betting sub-type is growing in popularity in Canada, although it's not widely available yet. Essentially, it's about betting on very small parts of the game, such as the next play outcome or the result during a specific timeframe.
This allows for more flexibility than live betting as such, and not all sportsbooks have the kind of software needed to support such specific bets.
One of the sportsbooks that do is PointsBet, having created a Lightning Bets option for its betting app.
FAQs
Does bet365 have live betting?
What are the best live betting sites?
In Canada, the best live betting sites include bet365, Betway, and Betano.
Which is the best live betting app?
Thanks to its Lightning Bets option, PointsBet is among the best live betting apps in Ontario. Good alternatives to those in other provinces include bet365 and Betway.