Horse Betting in Canada | Top Horse Betting Sites 2023
Horse Betting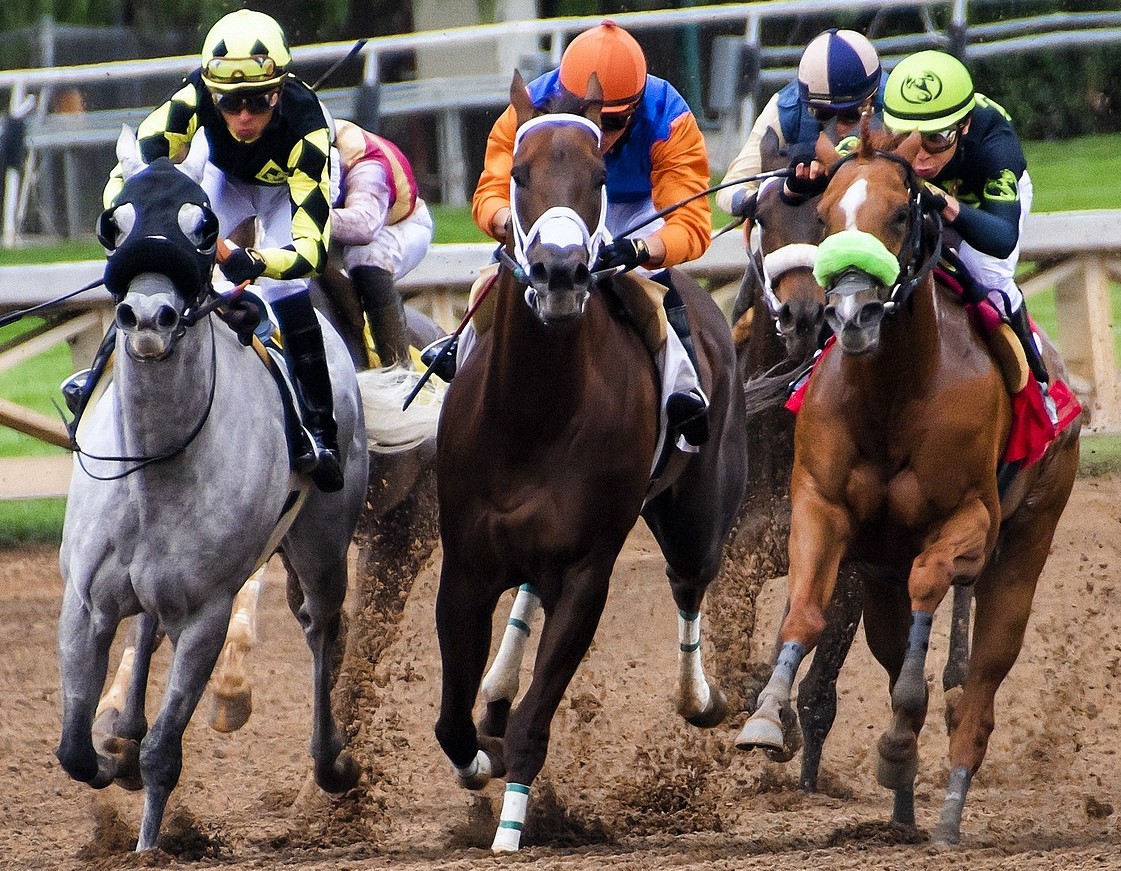 Horse racing has a long history in Canada, and it's still one of the most popular sport to bet on to this day.
And with good reason! Horse racing betting can be thrilling, and you can find events to bet on all year round.
Read on to discover our suggested horse betting sites for Canadians as well as information on the most popular horse bets, the legality of horse betting, and more!
Note: Unfortunately, as of April 4th, bettors in Ontario cannot bet on horse racing at licensed Ontarian sites. This is because of legal betting regulations that the licensed operators have to comply with. We'll keep you updated if anything changes.
In the meantime, here are some sportsbooks that offer a wide range of other sports! Sports you can bet on include MMA, eSports, and more popular markets like football and baseball.
Alternatives to Horse Betting Sites
Is Horse Racing Legal in Canada?
Yes, horse racing is legal in Canada and was one of the only legal gambling options for decades.
Unlike other sports, horse racing is not regulated by the Criminal Code.
Instead, it is regulated by the Canadian Pari-Mutuel Agency and will continue to be so since it was excluded from the recent single-event betting legislation that will bring changes to all other forms of sports betting.
How to Bet on Horse Racing in Canada
So, how do you bet on horse racing in Canada?
Apart from on-track horse betting, and horse racing apps like Ontario's HPIBET and Dark Horse, you can also bet at international sportsbooks like the ones we recommended above.
Betting at international sportsbooks allows you to bet on a wider range of horse racing events. International sportsbooks also have the added perk of competitive odds.
Using these sites is an easy process:
Find a sportsbook you like.
Sign up and create an account by following all required steps.
Deposit money using your preferred payment method.
Find a horse racing event you want to bet on and place a bet.
Sit back and enjoy!
Different Horse Racing Bets
If you're new to horse betting, you're likely to find the number of bets and terms overwhelming. But no worries, we're here to break it down in simpler terms!
Firstly, there is a distinction between straight and exotic bets. Let's look at the straight bets first.
Win / Place / Show Bets
Win: You bet on a single horse to take 1st place.
Place: You bet on a single horse to take either 1st or 2nd place.
Show: You bet on a single horse to take 1st, 2nd, or 3rd place.
Here's an example of a Win or Place bet at Sports Interaction: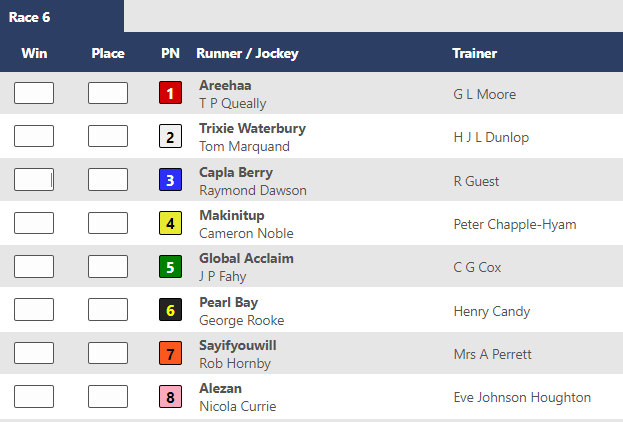 Out of all horse racing bets, the straight bets are the easiest and most popular, so we recommend these for beginners.
Exotic Bets
If you want to add to the excitement, you can try some exotic bets:
Exacta: You bet on two horses to take 1st and 2nd place. Your horses must finish in that order to win.
Quinella: You bet on two horses to take 1st and 2nd without taking into consideration the order.
Trifecta: You bet on three horses to take 1st, 2nd, and 3rd in that exact order.
Superfecta: You bet on four horses to take 1st, 2nd, 3rd, and 4th place in that exact order.
Exotic bets can offer bigger payouts than straight bets. However, you're also less likely to win these bets since there are more variables. This is why we suggest that you thoroughly research a race before placing any bets.
Popular Horse Racing Events to Bet On
We've covered different types of horse racing bets, but what can you bet on with those bets?
Let's take a look at some renowned horse racing events in Canada.
Canadian Triple Crown
This is an anticipated series of horse races for Canadian bettors. It is a yearly event and features a series of three races for three-year-old horses born in Canada.
The first race is the Queen's Plate, which takes place in Toronto in June. The July Prince of Wales Stakes is set in Ontario, while the final race is the Breeders' Stakes which takes place in Woodbine in August.
Canadian International Stakes
Canadian International Stakes is the second biggest event on the Canadian horse racing calendar.
This is a race for thoroughbred racehorses of three years of age and is held every October at Woodbine Racetrack in Ontario.
Our suggested sportsbook for both the Canadian International Stakes and the Canadian Triple Crown is Betway.
Sports Interaction is focused solely on Canadian bettors and is more likely to cover these events extensively.
Kentucky Derby
The Kentucky Derby is an annual horse race held in Louisville, Kentucky. It's usually on the first Saturday of May.
It's a Grade 1 stakes race for three-year-old Thoroughbred horses at a distance of 2 km.
It's one of the most anticipated events in Canada, which is why a lot of sportsbooks cover this event with a lot of betting markets.
Breeders' Cup World Championships
The Breeders' Cup started as a one-day, seven-race event, which is now a two-day, 14-race celebration that occurs in November.
It attracts competition from around the globe, including Canada, Australia and the UK.
Royal Ascot
Canadians might adore the Triple Crown races, but the Brits focus on the Royal Ascot.
The Royal Ascot is Britain's most valuable race meeting and it usually occurs in June.
It is spread over 5 days and attracts more than 500 horses. If you want to bet on the Royal Ascot, we suggest BetVictor.
Melbourne Cup
Another event Canadians like to bet on is the Australian Melbourne Cup. This is Australia's most popular annual thoroughbred horse race and is a 3200-metre race for three-year-olds and over.
This event occurs on the first Tuesday of November and is covered by most horse betting sites due to its popularity.
Bet on Horse Racing Today
In this guide, we've covered the top picks for horse betting sites, as well as information on different horse bets, horse racing events, and how to bet on horses online in Canada.
FAQs
What is the biggest horse race in Canada?
The most popular horse race in Canada is the Canadian Triple Crown. This is a series of three Thoroughbred horse races run annually in Canada.
What is the best horse racing betting site?
What is the best way to bet on horses?
The best way to bet on horses is to use a straight bet. These are easier bets to win and the odds are more likely to be in your favour.
Which sportsbooks have the best horse racing odds?
Horse racing odds can vary from one event to the next, so we always suggest you compare odds for that specific event.