Written By:
Jason Ence
About Author
Jason Ence has been giving betting and fantasy advice for nearly a decade, and is extremely familiar with the Premier League, Serie A, and the Champions League. He is a strong advocate for responsible betting and bankroll management, and always recommends utilizing multiple sports books in order to shop for the best lines in order to maximize your bankroll.
Fact Checked By:
Jelena Kabić
About Author
Jelena Kabic is a sports betting writer that focusses on responsible gambling. A psychologist by vocation, Jelena volunteered in a rehab facility, where she worked with gambling addicts. She now reviews all our content to ensure it discusses betting in a socially responsible way.
Best MLS Betting Sites [+ What to Bet On]
MLS Betting Sites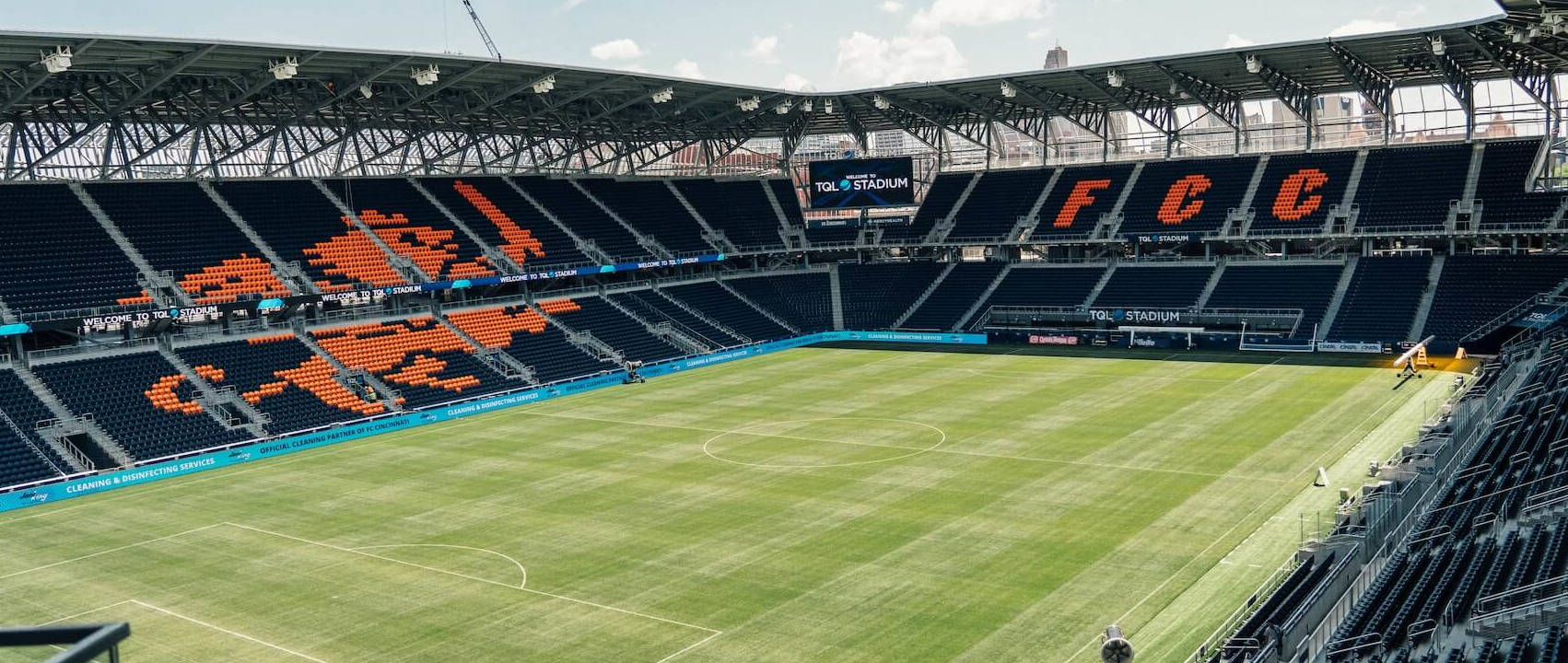 While many soccer leagues worldwide have just started their new seasons, Major League Soccer is well underway.
MLS is the largest domestic league in North America. And with Lionel Messi, the greatest player in the world, having recently joined Inter Miami there are more eyes than ever on MLS.
Just like with other important soccer leagues worldwide, you can wager on Major League Soccer throughout the season, as well as beforehand and during the playoffs.
But whether due to unfamiliarity with the league or simply being a novice at soccer betting, we know you may have questions on how to bet on the league.
That's why we have compiled this thorough guide to bet on MLS. Read on to learn everything you need to know about betting on this exciting and entertaining league!
Everything You Need to Know About MLS
Major League Soccer was founded in 1993 and consists of 29 teams, with 26 residing within the United States. Three more are based in the Canadian cities of Montreal, Toronto, and Vancouver.
While the majority of soccer leagues around the world are uniform in their schedules and their formats, MLS does things a bit differently.
First, MLS does not crown a champion based on the number of points earned during the season.
Instead, they hold a playoff after the season's conclusion, with the top teams playing in a knockout-style tournament.
In addition to this, the teams are split into two conferences rather than playing in a single-table setup.
The top teams in the Eastern Conference play each other in the playoffs, with the winner facing off in MLS Cup against the winner of the Western Conference playoffs.
Perhaps the biggest difference of all is the fact that there is no promotion or relegation.
As the league is made up of clubs whose owners have paid to join the league, it's a closed system that doesn't punish teams who perform poorly.
Finally, MLS does not follow the traditional soccer calendar. Rather than beginning play in late summer or early fall and concluding in late spring, MLS begins play in March and concludes in late fall.
While not as big as others like the Premier League or La Liga, MLS is still an important league. Many big names have plied their trade in the league over the years, none bigger than Lionel Messi.
He recently joined Inter Miami along with former Barcelona teammates Sergio Busquets and Jordi Alba, raising the profile of the league worldwide.
Despite being in last place in the Eastern Conference upon Messi's arrival, Inter Miami are expected to contend for the title.
So are Los Angeles FC, or LAFC, the reigning league champions and top team in the Western Conference.
Many other clubs, such as FC Cincinnati and St Louis City SC, also hope to make deep runs in the playoffs.
Where to Watch MLS Games
Those interested in watching MLS matches can easily do so.
The league signed an exclusive deal with Apple TV+ this season, with every match being carried via a paid subscription service. It is viewable in over 100 countries, and season ticket holders of MLS teams get access for free!
Best MLS Betting Sites
When it comes to betting on MLS or any other sport, it's important to find the right sportsbook to meet your needs. I've long encouraged people to take four important elements in mind when selecting who to give their business to:
Reliability
Reputation
User experience
Expedient deposits and withdrawals
These four components are vitally important and should be weighed heavily in your decision.
Reliability & Reputation
Without reliability, a sports betting site is worthless to you. There's nothing more frustrating than going to place a bet and being unable to access their service or use the app and miss out on making a profit.
Reputation is everything to me. Do your research, and check to see what other players think of a specific sports book, especially regarding how they grade wagers and handle disputes.
Some books are notorious for grading parlays as no-action if a leg is cancelled, for example, while others will pay out if you hit the rest of the items in the parlay.
Another thing to look at is how they treat their customers when things go wrong; great customer service goes a long way in this industry.
For example, when a parlay at bet365 features a leg that is voided for no-action purposes, their house rules state that the parlay will still be paid out should the other legs hit – albeit at reduced odds.
Over at Betano, it's a bit different. If a same-game parlay features a voided leg, the same-game parlay is voided – regardless of whether the other legs are winners or not.
However, if that same-game parlay is part of a bigger parlay, say a combination of same-game parlays, then the pieces of the parlay not involving that match would still be in play.
User Experience
Does the sportsbook you're considering have a mobile app? Is their website easy to navigate, and does it feature a search function?
User experience is key to selecting the right sports book for you, so don't deposit money until you've extensively browsed their offerings and ensured you are satisfied with their user interface and won't get frustrated trying to find a specific match or bet.
Quick and Easy Depositing and Withdrawals
Finally, nothing is worse than waiting to place your bets or get your money back – or worse, losing it. You want to select a book that is legally licensed and regulated, offers a variety of ways to deposit your funds, and provides various methods of withdrawal with funds being returned to you in a timely manner.
While you have many options to choose from, these are our favourite sports books that we recommend. They have the best combination of reliability, reputation, user satisfaction, and financial flexibility:
Of course, when you're looking for a sports book to utilize for betting on MLS, it's also important to factor in what types of betting lines you're looking for.
While all books will offer your standard wagers, such as the 3-way line or Totals, not every service offers the same options for things like parlays, futures, or in-game betting.
Luckily, we've got some great reviews of each book on our website that break down what's available for the typical sports bettor.
However, when it comes to betting on MLS, we'll help you out with a bit of info on each service!
MLS Betting at Betano
While Betano is a strong sportsbook for various reasons, the 2022 Operator of the Year is the king of prop bets. If there's an MLS prop that you can think of, chances are Betano will have it on offer.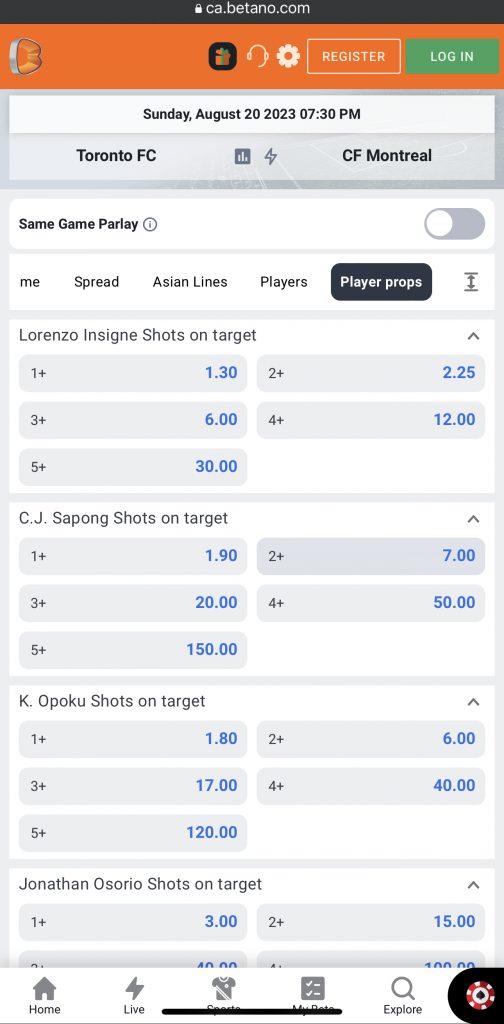 Betano has many prop options ranging from player shot totals to whether a player will score in a win for their team. They also offer assist props, which not every book will do for MLS.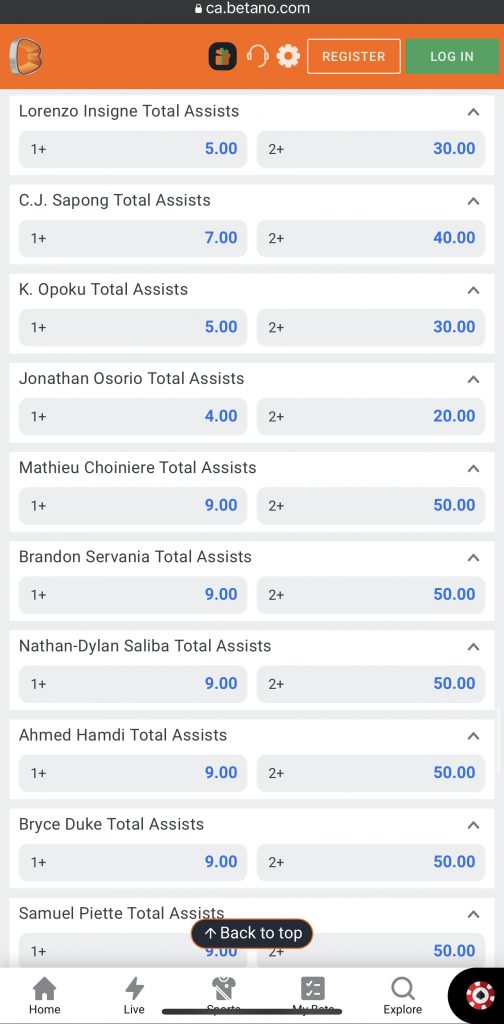 But Betano is more than just prop bets. Their same-game parlay button allows you to see what options are available to you quickly, and they also offer a terrific selection of pre-built parlays.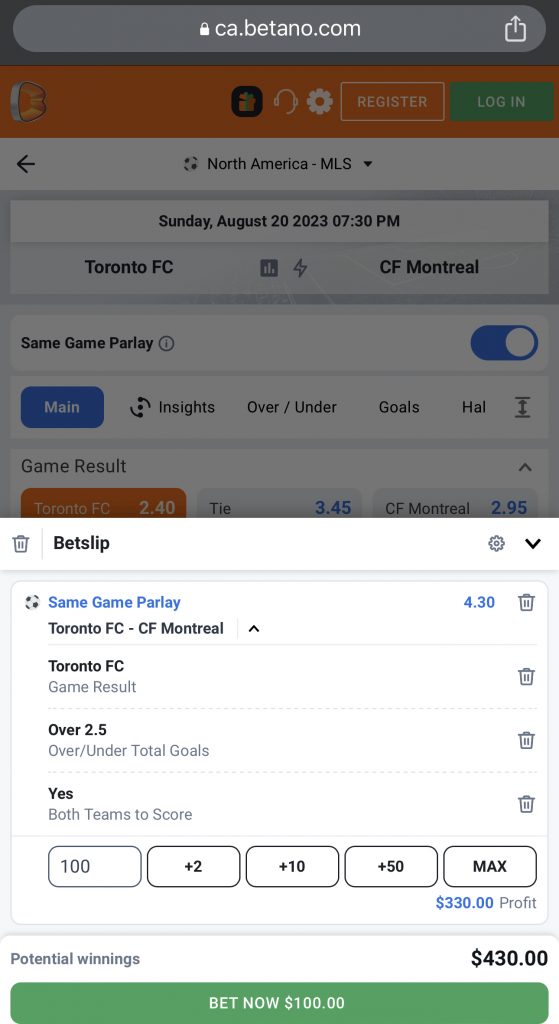 Betano also offers in-game betting, with a strong selection of lines to choose from while the action is in full effect.
A side note: For those like me who sometimes struggle with bright white pages on your phone, Betano is one of the few services that lets you change between bright and dark themes.
It may seem like a little thing to some, but it's just another example of the user experience they offer and the small details that can turn a good sports book into a great one!
On top of all this, Betano offers multiple tools to promote responsible gaming. It's why they're one of the most trusted sportsbooks in all of Canada and why we're happy to recommend them to our readers.
MLS Betting at Bet99
Speaking of same-game parlays, it's hard to beat the "Bet Builder" over at Bet99.
Whether you're looking to pair a 3-way line with a match Total or shooting for the ultimate lottery ticket by predicting the winner of five MLS matches in one day, Bet99 has you covered.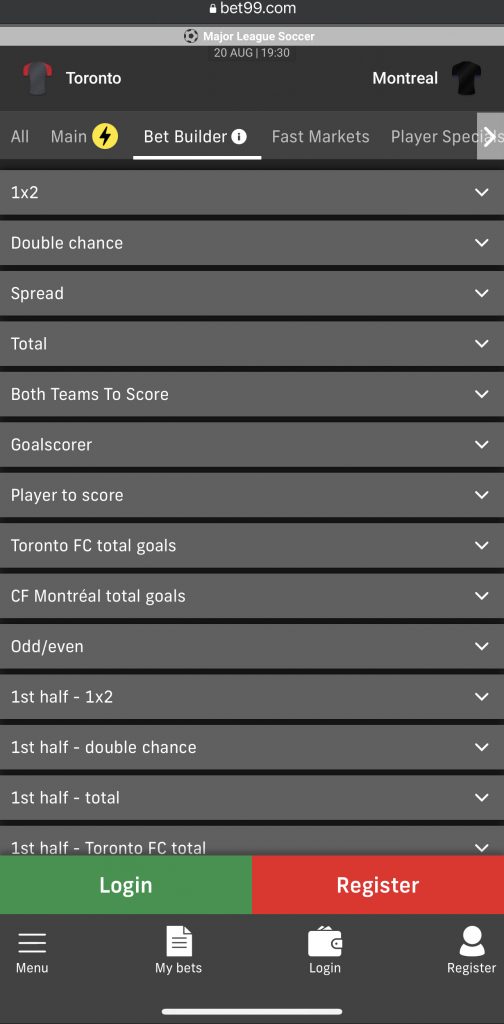 Bet99's Bet Builder lets you choose from one of the widest assortments of markets available at any sportsbook, and their interface makes it easy for veterans and novices alike to build same-game parlays.
Simply select two or more options from the same match and build your perfect MLS parlay ticket!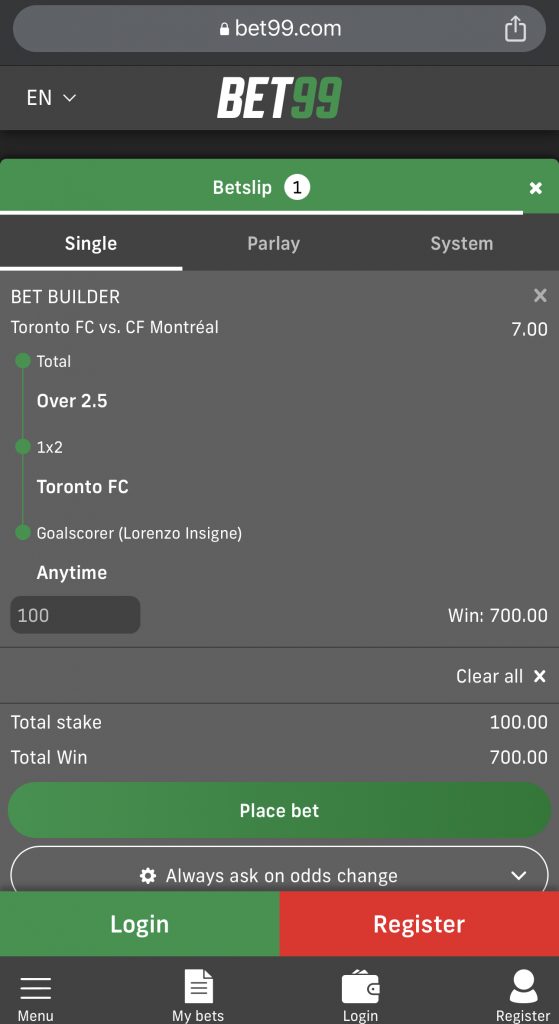 In addition to their parlay tool, Bet99 features plenty of prop bets and player specials.
While their futures market isn't the best on offer (more on that in a moment), Bet99 has some creative future categories that you might enjoy.
For example, they allow you to bet on who you believe will be the best team in a specific region.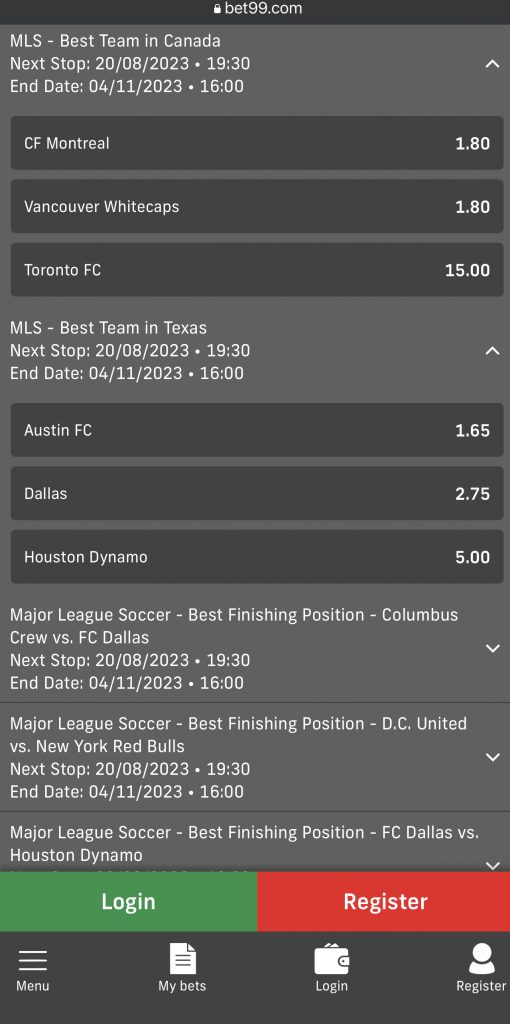 Are you always telling your friends that Vancouver is the best team in Canada? Well, Bet99 gives you the chance to put your money where your mouth is!
With an easy-to-navigate app that supports both English and French languages, Bet99's user experience is hard to beat.
Their customer service has received high grades, and their responsible gaming tools make it easy to recommend them to anybody looking to bet on MLS.
MLS Betting at bet365
Not to be left out, bet365 is one of the best sportsbooks in the world. They're one of the most recognized brands in the sports betting space, and their futures markets offer a multitude of options.
Are you looking to bet on Lionel Messi to finish as top scorer in MLS this season? Well, bet365 has you covered there!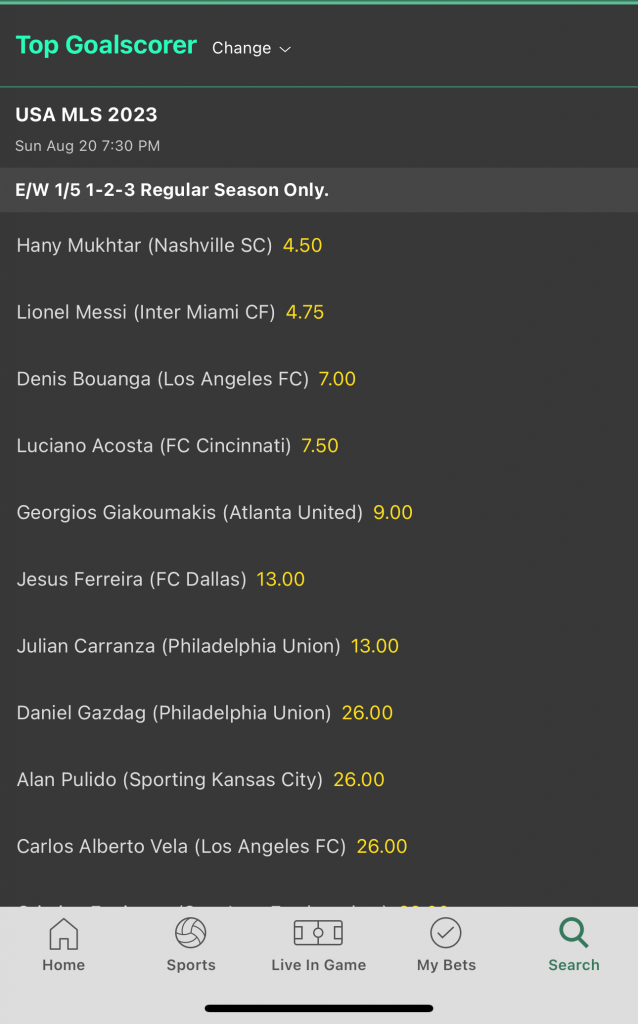 Or perhaps you'd like to wager on New England making up the eight-point gap atop the Eastern Conference standings? Well, bet365 even has conference winners among their futures offerings.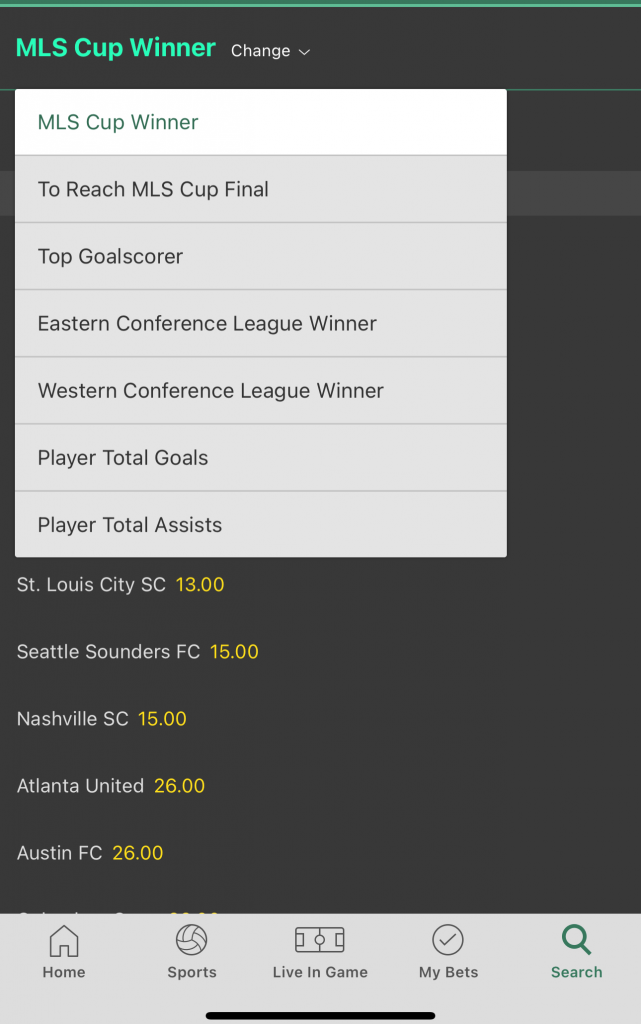 In addition to their wide array of futures plays, bet365 is perhaps the best in town for placing live bets.
In-play betting is one of the fastest-growing areas of sports betting, and nobody does MLS live betting like bet365.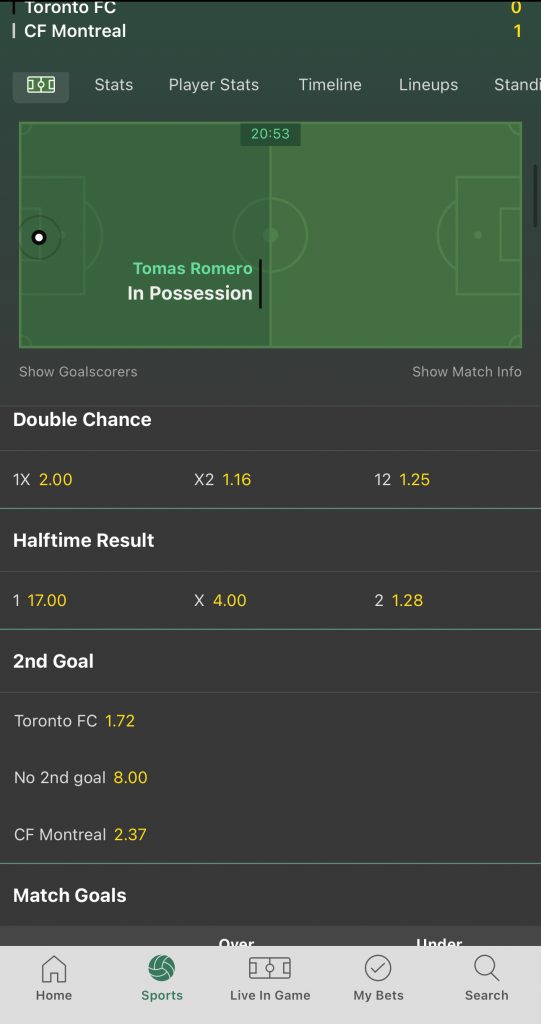 Not only do they feature in-play betting, but bet365 has live tools that help you keep tabs on what's happening in real-time.
This information can be key to spotting possible value on a particular MLS match, or staying away from a bet if the action on the pitch is trending in a different direction.
Bet365 regularly offers some very impressive pre-built parlays. Compared to some sportsbooks, I've found the parlay pricing at bet365 to be some of the fairest available.
One of the best features bet365 has available is their auto cash-out option.
Simply set a total amount in your account, and once your profit gets high enough you'll automatically have the money deposited into your account of choice.
Combine that with their dedication to responsible betting, and you're in good hands.
While these three are our top choices, there may be a better sportsbook out there for you. Do your research and one that you're most comfortable with, or sign up for each of them. Then have fun betting on MLS!
How to Bet on MLS
Now that you've selected a sportsbook, it's time to go place your initial bet on MLS! But before doing so, you will need to do a few things first.
First of all, according to the Canadian Criminal Code, online betting is legal in Canada.
It's important to know that you must be at least 18 years of age in order to bet online in Alberta, Manitoba, or Quebec. But for all other provinces, you must be 19 years or older to wager online.
To wager online:
Choose which sportsbook(s) you want to sign up for.
Visit their website or download their mobile app, and create an account.
They'll walk you through each step of the process, and will gather personal information such as your name, address, and date of birth.
Once registered, the book will then ask you to fund your account.
Each provider has different options with which to deposit funds, and most will offer the ability to use your debit card, credit card, or Interac. However, crypto deposits are typically not allowed with most reputable sites in Canada.
Once you've deposited funds, they should be posted to your account within a few minutes. Then get ready to dive in and start betting on MLS!
Placing a Bet
When you're ready to place a bet on an MLS match, it's quite simple. You can find your specific match in one of two ways.
First, you can search for a team or a league. For example, if I want to place a wager on Inter Miami at bet365, I can click the search button and then type "Inter Miami" into the bar.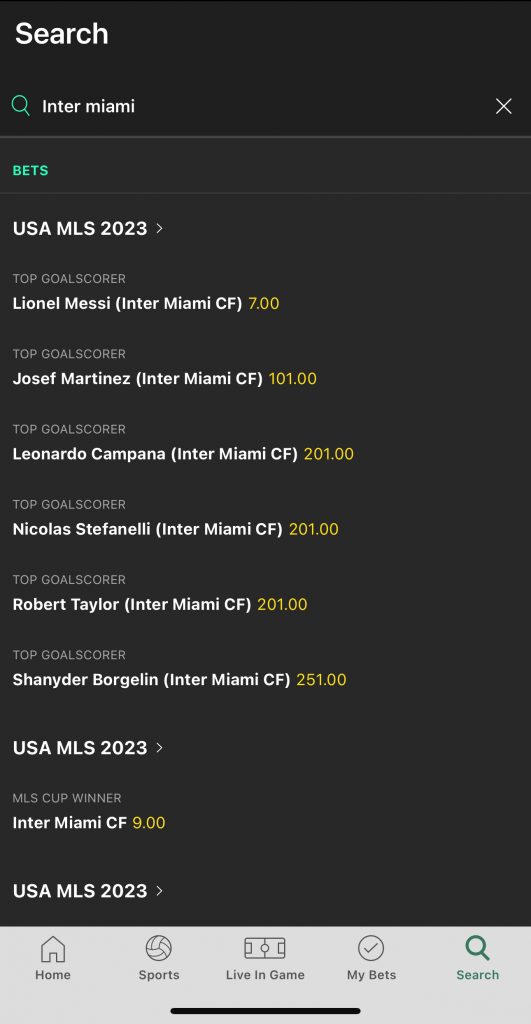 Once you search, you'll be shown all bets tied to that team – including futures.
You can also click on "soccer" and scroll down to "The Americas", where MLS will always be listed.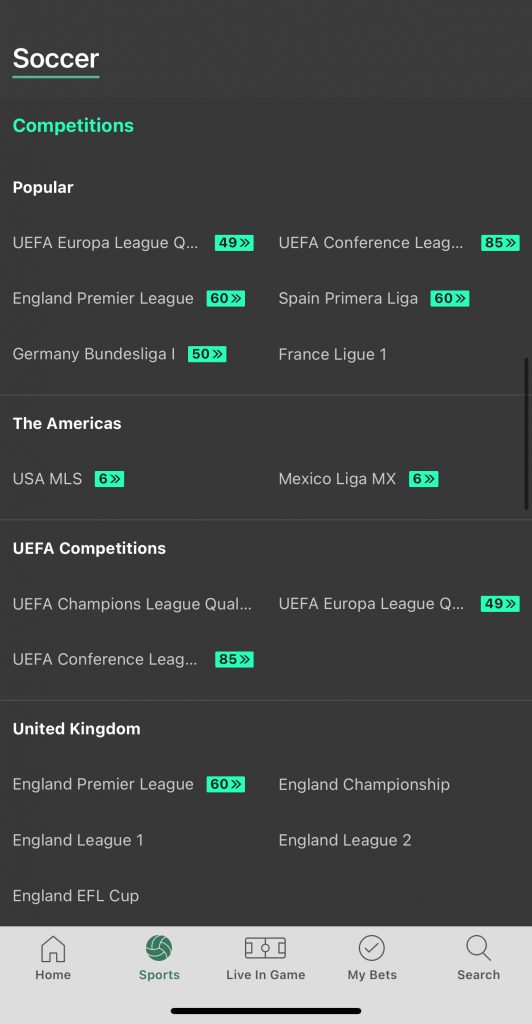 After locating MLS, you'll be presented with the upcoming schedule of matches. You can bet on a 3-way line wager, or you can click on the match to open up more options.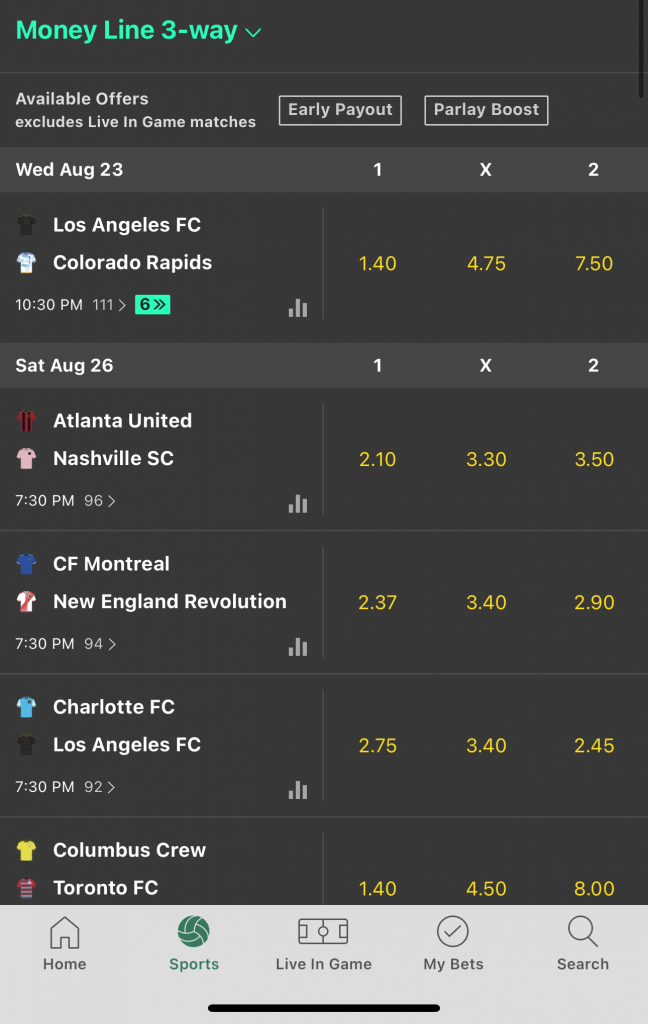 Once you've selected your wager or wagers, they will show up on your bet slip. Then select an amount to wager and place your bet!
Who Will Win MLS Cup 2023?
While they've been one of the worst teams in the league this season, it's difficult to bet against Inter Miami to win the MLS Cup.
The addition of Messi, Busquets, and Alba catapults them to the most talented squad in MLS, and their recent run through the inaugural Leagues Cup – which included all MLS and teams from Mexico's Liga MX – showed just how much of an impact their arrival has had on the team.
That said, Inter Miami lifting the MLS Cup isn't a certainty, and many other teams have a viable chance to send them home empty-handed.
A quick glance at the MLS futures shows how bet365 views their chances compared to the other favourites.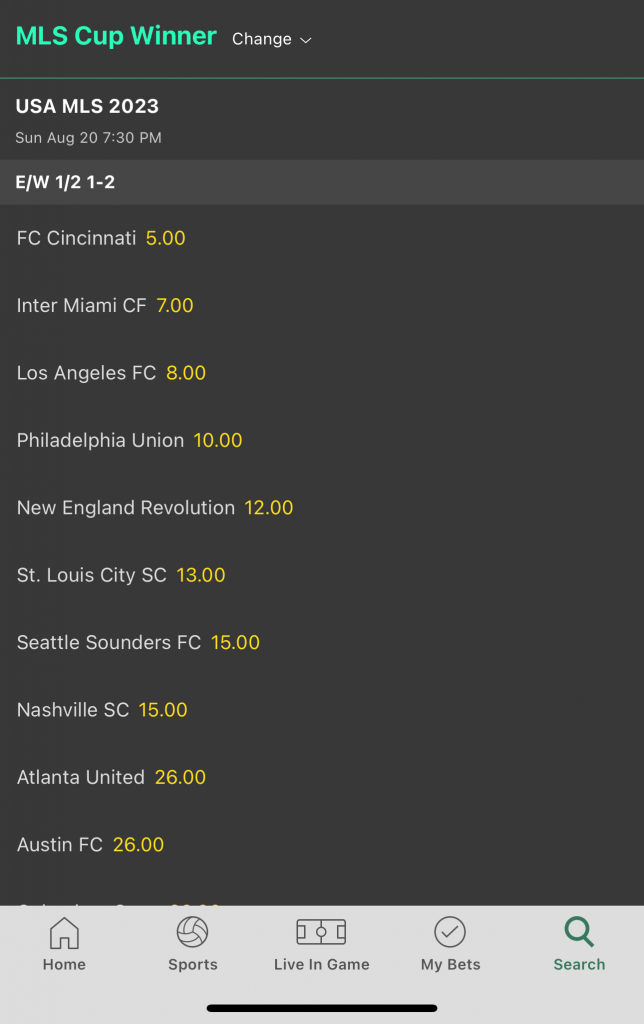 FC Cincinnati has been the best team for much of the regular season, and they have talent at both ends of the pitch, led by attackers Brandon Vazquez and Luciano Acosta.
LAFC are the defending champions, and Carlos Vela is hoping to wind down a long, productive career with another title.
Quote
The Philadelphia Union fell in last season's MLS Cup, and fullback Kai Wagner is looking to get back and finish what they started a season ago. Meanwhile, expansion team St Louis City SC has been the highest-scoring team in the league, and that could be the recipe for pulling off an unlikely championship run in their first season of existence.
Other teams are hoping their star power will carry the day as well. Reigning league MVP Hany Mukhtar and USMNT defender Walker Zimmerman squared off with Messi and Inter Miami in the Leagues Cup final, and they held their own with the match eventually going to a penalty shootout.
Toronto's not having the greatest season, but they have one of the biggest names in the league in Italian winger Lorenzo Insigne.
He and compatriot Federico Bernardeschi are among the top talents MLS has to offer.
Coming into the end of August, Mukhtar and Acosta are the league leaders in goals scored. Just behind them is LAFC's Denis Bouanga as well as Cristian Espinoza of the San Jose Earthquakes.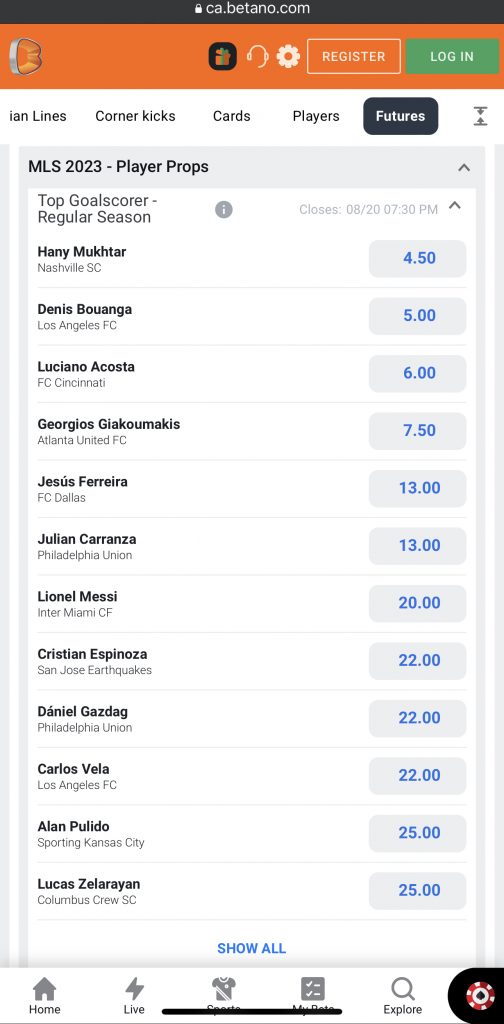 While Messi has yet to play a match in MLS league play, he has the capability to score in bunches.
The odds reflect this, as Betano have made him the seventh-choice to win the league's Golden Boot.
MLS Betting Tips
There's no guaranteed way to win money when betting, whether you're wagering on MLS or any other sport. But there are a few ground rules that, if kept in mind, can help you turn losses into wins.
Understand that MLS isn't the Premier League.
The feeling of randomness that comes with betting on MLS is one of the hardest things for many experienced soccer bettors to come to terms with.
While the league doesn't have a salary cap, it does have limitations as to what teams can spend on players.
Each team can have three "designated players" whom they can pay whatever they deem fit, and a few other mechanisms with which to pay top dollar for talent.
Because of that, many teams often pay top dollar for attackers. They know the stars bring eyeballs, so they pay big bucks for players who can score and create goals.
This leads to many teams having more weaknesses at the back. In fact, only four of the league's 80 designated players are defenders.
The better teams in the league are the ones who can find the fine balance between solidifying their attack and defence.
However, depth is a real issue for the majority of teams. If just one key starter is missing, it can throw a team's entire strategy out of whack.
Therefore, it's vitally important to do lots of research with MLS, perhaps more than any other league.
It's also important to understand that randomness is going to happen, and look for as many ways to mitigate that as possible.
Bankroll management is key
One of the biggest mistakes bettors make, whether betting on MLS or any other sport, is not managing their bankroll. It's important to set a "unit", which is usually one percent of your betting balance, and stick to that early on.
Quote
It's also key to make sure you aren't over-extending yourself. If you get a read on a match, you may find yourself placing five or six bets on the same fixture before you realize it. And if you're wrong on your analysis, it can be a crushing feeling.
Have a plan, be aware of what you're playing, and be mindful of what you've already bet on.
Shop around for the best lines
I can't tell you the number of times I've placed a bet on my favourite book for 2.50, just to open another and see a bet going for 3.00 at theirs.
That's why it's so important to shop around for the best lines.
While this can be difficult for in-game wagering, it's always helpful to be logged into multiple sites or apps if you're registered with more than one. This allows you to quickly compare and get the best payout for your bet. You'll be surprised at some of the variance you find!
Know the rules of your bet
Different books grade different wagers in different ways. What one book might grade out after regulation, another might not grade out quite yet if extra time is involved.
Dig into the rules of any sports book you select. Make sure you know when their wagers get graded, and know their rules for parlays. This can be the difference between a big win and a frustrating loss or push.
Research the teams involved
With MLS, it is integral that you know the ins and outs of the teams involved with a match. Does Montreal struggle to score away from home? Is Vancouver missing lots of chances? Did Toronto just get back from a late-night match in Los Angeles two days before their next match?
Knowing little details about the teams playing in a match can be the difference between winning and losing.
Take your time to dig into their stats, their trends, and their tactics so that you can make the most informed wager possible.
Also, know who takes set pieces for a team.
Players who take corner kicks will have more opportunities for assists, while players who take free kicks and penalties have an elevated probability of scoring a goal.
Don't ignore team news!
There's nothing like putting money on a player prop, just to see the lineups come out and discover the player you bet on isn't even in the squad.
Team news is so important in soccer, and in a league like MLS where depth isn't as prevalent it can be a huge advantage. Finding out a key forward is missing for a team can be the edge you need to profit on a match, whereas missing that fact could sink you.
Read the press conference notes from each manager the day before the match, and check local media outlets. Also, make sure to visit the websites of the MLS teams involved, as they will usually provide updates on player availability.
Check the forecast
Wind and rain can have a massive impact on a match.
Windy conditions can make it harder for teams that rely on set pieces, or those who like to play long balls over the top.
A wet pitch can negate a team's speed advantage, and hurt teams who like to pass it quickly.
Accuweather has a terrific hourly forecast and it's what I use to check on conditions for a given match. A quick glance at the weather can be the little bit of information you need to come out on top of your bets.
Understand the situation
As we discussed earlier, there is no punishment for being bad in MLS. Unlike the Premier League, there's no relegation which means no threat of being dropped into a lower league, and no threat of players being sold off because the club can't afford them anymore.
Unfortunately, that means that as we get later into the season, some teams and players may find themselves in situations where they lack motivation.
If Charlotte, for example, has already been eliminated from the playoffs, are they really going to get up for a match against a team from the Western Conference?
Understanding the situation a club is in and how likely they are to perform at their best can go a long way when betting on MLS.
You can find more MLS betting tips in my dedicated article!
Where can I bet on MLS games?
You can bet on MLS games at any legal, registered sportsbook in Canada. This includes both online and retail outfits. MLS lines, along with lines of other major soccer leagues, will be on offer.
What is the best MLS betting site?
Is MLS as good as the Premier league?
MLS is not as good as the Premier League. It simply cannot compete with the nearly unlimited money, the pull of Champions League, or the tradition of some of the biggest clubs in the world.
But that's not to say it's a bad league. The fact that players like Messi and Busquets are willing to come to the United States and Canada to play shows that the league has its positives. The league is also growing in global reach thanks to a partnership with Apple to carry all of their matches.