Written By:
Jelena Kabić
About Author
Jelena Kabic is a sports betting writer that focusses on responsible gambling. A psychologist by vocation, Jelena volunteered in a rehab facility, where she worked with gambling addicts. She now reviews all our content to ensure it discusses betting in a socially responsible way.
Fact Checked By:
Amy Webb
About Author
Amy's introduction to the gambling world was 6 years ago, when she joined a casino operator as a content specialist. Since then, she's helped launch and maintain gambling review sites in over 8 different countries. She's tested dozens of casinos and sportsbooks, which is how she can spot a subpar brand in an instant!
When & How to Cash Out a Bet [Ultimate Guide]
Cash Out Bets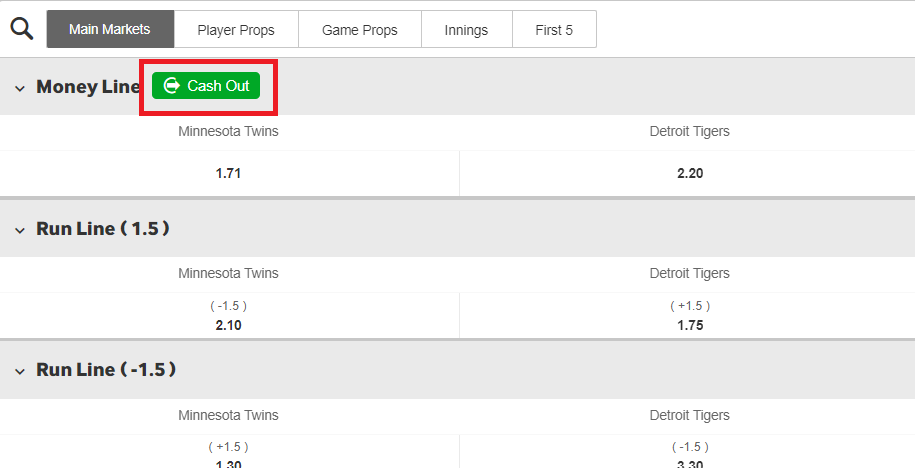 If you've been betting for a while and are ready to start exploring and making use of different betting tools, trying out cash out bets is a good place to start.
In this guide, we'll explain everything you need to know about:
what a cash out bet is
how they work
different types of cash out bets
when it's smart to cash out
And we'll also compare different sportsbooks to showcase which of them have what kind of cash out bets available.
What is Cashing Out and How Does It Work?
Cashing out is a helpful and exciting feature offered by many online sports betting sites. It allows bettors to settle their bets before the event they wagered on has concluded.
This provides an opportunity to secure a profit or minimize potential losses before the final outcome is determined.
When you cash out a bet, the sportsbook offers you a certain amount of money based on the current status of your bet, allowing you to exit the bet early.
Types of Cash Out Bets
There are different types of cash out bets available, each with its own variations and features. Our years of betting have led to us trying them all out far more than once, so we know the pros and cons of each, as well as the right time to go for them.
Full Cash Out
With a full cash out, you can close your entire bet and receive a settlement amount offered by the sportsbook at that moment.
You're not left without any money.

Con: If the event does end with your bet winning, it will mean you won less money than you could have.
Partial Cash Out
Partial cash out is very rare at sportsbooks and for a good reason. It allows you to cash out only a portion of your bet while leaving the remaining amount to run until the end of the event.
This means you don't have to choose between chasing your luck or securing a win!
You secure a win without having to give up the bet

There's a risk you'll lose the remainder of your bet, which wouldn't have happened with a full cash out
Auto Cash Out
Some betting sites offer an auto cash out feature, where you can set specific conditions in advance and have your bet automatically cashed out if they're met.
For example, you can set a condition that the bet should be cashed out if your profit at the moment is $20, $50, or whichever other value you choose based on the game at hand.
Additionally, you can choose to be alerted if the condition is met, so you can have the final choice of whether you want to cash out the best or not.
You don't have to keep an eye on the bet at all times as it's automated

You might have won less than possible by cashing out before the event was done
Now that you know what each cash out option does and how it works, let's compare a couple of the top Canadian sportsbooks and see which of them offer it:
Best Cash Out Betting Sites
When it comes to choosing the best cash out betting sites, several factors should be considered.
In terms of cash outs specifically, depending on whether you're after the basic feature or want the option of a partial/auto cash out, consult the table above to find the sportsbook that offers what you need.
Apart from that, you should consider several other factors such as safety and reliability, user experience, variety of sports markets, and competitive odds.
The sportsbooks we recommend all have an iGO license, making them a legal and secure choice for Canadian bettors.
They also come with a variety of sports and betting markets on offer, as well as good odds (though some shopping for odds is always recommended).
How to Cash Out a Bet
Cashing out a bet is a straightforward process. The first thing you'll want to do is check whether cashing out is available for the specific game and betting market you're after.
Some sportsbooks make it very easy to determine that since they'll have a neat icon that shows you the cash out option's availability.

Meanwhile, at Bet99, for example, you'll need to first place a bet, then go into open bets and see if the cash out option shows up.
Once you're ready to cash out, here's how it works:
Log in to your betting account.
Navigate to the "My Bets" or "Open Bets" section.
Locate the bet you wish to cash out.
Check the current cash out value offered by the sportsbook.
If you're satisfied with the amount, click on the cash out button.
Confirm your decision to cash out.
The cash out amount will be credited to your account.
If you want to have the auto cash out option, make sure to set the conditions directly in the Betslip, before actually placing the bet.
When to Cash Out a Bet
Deciding when to cash out a bet depends on various factors, including your confidence in the bet's outcome and your risk tolerance. Some common scenarios where cashing out can be beneficial are:
Securing a Profit: If your bet is winning, but you're concerned about a potential reversal, cashing out guarantees a profit regardless of the final outcome.
Minimizing Losses: If your bet is currently losing, cashing out can help you cut your losses before the situation worsens.
Mitigating Risk: In certain situations, cashing out can be a strategic move to reduce risk and protect your original stake.
Each of these approaches is applicable depending on what the current situation is. That said, make sure you've set daily, weekly, and/or monthly limits for your deposits and losses to ensure you're playing responsibly.
Cashing Out Issues and Solutions
While cashing out is generally a smooth process, some users may encounter issues or have concerns.
We've had users complain about their bet365 cash out bets disappearing, though it happens on other sportsbooks as well.
Make sure you're reading Terms and Conditions of cash out bets carefully before placing one so you don't end up surprised.
You'll often find that the sportsbook reserves the right to pull the cash out option in-play if it's only available pre-match. They may also suspend the cash out option in case something big happens in a game (such as a penalty shot).
For example, 888Sport doesn't allow withdrawals of some win/draw/lose bets if the game ends with a tie.
The majority of cash out issues tend to come from bettors not reading the cash out rules carefully. However, some other issues may occur — here's which ones and how to address them:
Technical Glitches: Refresh the page or log out and log back in to see if the cash out option reappears. If the issue persists, contact customer support for assistance.
Bet Suspension: Sometimes, cash out may be temporarily unavailable due to a suspension of betting markets by the sportsbook. In such cases, you will need to wait until the suspension is lifted to cash out your bet.
Price Changes: The cash out amount offered by the sportsbook may fluctuate based on the changing odds and market conditions. If you notice a significant change in the odds followed by a significant increase in the cash out value, it is recommended to act quickly if you still want an early payout.
Partial Cash Out Restrictions: Some sportsbooks may have restrictions on partial cash outs, such as minimum thresholds or specific bet types that are not eligible. Make sure to review the terms and conditions or contact customer support to understand the limitations.
Common Cash Out Policies
Speaking of certain policies different sportsbooks may have regarding cash out bets, let's go over a few more so you know what to pay attention to.
In-Play Cash Out
Most cash out options are available for in-play bets, allowing you to settle your bet even while the event is ongoing. However, there may be specific rules or conditions for in-play cash out, such as the time remaining or specific events occurring during the match.
Cash Out Suspension
Sportsbooks may suspend the cash out option during critical moments of an event, such as penalty kicks, free throws, or crucial game-changing situations. This is done to prevent abuse of the feature and maintain fairness in the betting process.
Remember to familiarize yourself with the specific cash out policies of the betting site you choose to ensure a smooth and satisfactory betting experience.
Cashing out a bet can offer flexibility and control over your wagers, allowing you to adapt to changing circumstances during an event.
It is a valuable tool for bettors who want to optimize their profits or minimize potential losses.
By understanding how cashing out works, knowing the best cash out betting sites, and being aware of the various considerations and policies, you can make informed decisions when utilizing this feature.
A cash out bet allows you to pull your winnings before the game has ended, usually to avoid the risk of losing the bet.
Can you cash out a bet early?
Yes, virtually all Canadian sportsbooks allow you to cash out a bet early. Some even let you have partial and auto cash outs.
Can you cash out a straight bet?
This depends on the sportsbook. For example, at bet365 you can cash out straight accumulator bets.
Can you cash out early on FanDuel?
Yes, FanDuel lets you cash out early. In fact, it also has the partial cash out option.