Written By:
Jelena Kabić
About Author
Jelena Kabic is a sports betting writer that focusses on responsible gambling. A psychologist by vocation, Jelena volunteered in a rehab facility, where she worked with gambling addicts. She now reviews all our content to ensure it discusses betting in a socially responsible way.
Fact Checked By:
Ana Gomes de Almeida
About Author
Before joining the team three years ago, Ana worked for five years behind the scenes for household brands like Betway and Betsson. She knows the ins and outs of casinos and sports betting sites. Having witnessed both the positive and negative aspects of the industry, she's eager to share her expertise with fellow punters.
Ontario Sportsbook Account Verification [Complete Process and Troubleshooting]
Account Verification in Ontario

Online betting in Ontario may have been regulated, but to some, it can still be a strenuous and confusing process.
One of the most common issues bettors are faced with is understanding how account verification works, what kind of documentation it requires, how long it takes, and why someone might have been rejected.
In this guide, we'll cover all of that and more, including the age and eligibility requirements and who to contact if you're having issues.
Age and Eligibility Requirements in Ontario
To engage in online betting anywhere in Canada, you must meet the minimum age requirement set by provincial laws. In Ontario, you must be at least 19 years old to legally bet online and 18 (age of majority) in order to play bingo or the lottery.
Additionally, you need to comply with any other specific requirements set by the betting platform or sportsbook you choose to use.
In the case of Ontario, these requirements typically include having valid government-issued identification.
When it comes to online betting, one common misconception is that you have to either be physically present in Ontario while registering or be a resident of Ontario.
In order to register, you don't have to be a resident nor to be in the province at that time, according to the official government body. That said, some sportsbooks choose to require their players to have an Ontario address.
One such sportsbook is Betano:

However, in order to place bets, you'll definitely have to be in Ontario. This is ensured with the help of geolocation apps which can sometimes cause issues to bettors. Luckily, there are ways to solve it, and we covered these geolocation issues and solutions here.
Required Documentation for Account Verification
While creating an online betting account, we found that certain documentation is needed to verify your identity and eligibility. The most common documents requested by betting platforms include:
Proof of Age: This can be a valid passport, driver's license, or any other government-issued identification that clearly displays your date of birth.
Proof of Address: You may need to provide a recent utility bill, bank statement, or official document that confirms your residential address in Ontario.
Payment Method Verification: Some platforms may require you to verify your payment method, such as a credit card or bank account, to ensure secure transactions.
Selfie: To make sure you're creating an account for yourself and that these documents belong to you, some sportsbooks may ask you to send over a selfie while holding one of these documents.
Creating an Online Betting Account
Before you can reach the verification stage during online betting, you need to create an account first. We did it several times and will explain how you can easily do it as well.
To create an online betting account, you'll have to:
Visit the website of your chosen sportsbook or betting platform.
Look for the "Sign Up" or "Register" button and follow the instructions provided.
You will need to enter your personal information — name, date of birth, place of residence — accurately and create a secure password.
Make sure to read and understand the terms and conditions before proceeding.
If the sportsbook sends you an email confirmation link, be sure to confirm your account creation before proceeding to the verification step.
Verification Process From A to Z
After successfully creating your account, you will need to go through a verification process. On some sportsbooks and casinos, you won't even be able to make a deposit before verifying your identity.
On other sites, you can place a deposit and even a bet, but you're not able to withdraw any money before your identity has been verified.
And once you're finally verified, these missed payments can take weeks to trace and re-send, which is all the more reason to complete the KYC (Know Your Customer) process as soon as you sign up to the sportsbook.
The entire purpose of the verification process is to ensure that you meet the legal and regulatory requirements for online betting, as well as to protect both you and the sportsbook from fraud.
How Does It Work?
Once we created an account, the sportsbook provided a section to upload the required documentation securely.
You must always ensure that the documents are clear, legible, and meet the platform's specifications.
Because not verifying your identity limits you a lot, sportsbooks and casinos will generally urge you to do it right away by taking you to the designated section as soon as you've signed up.
If you don't do it right away, you'll still be able to find the section in your account, as this example from Bet99 shows.

From here on, the sportsbook guides you toward verifying your identity step by step.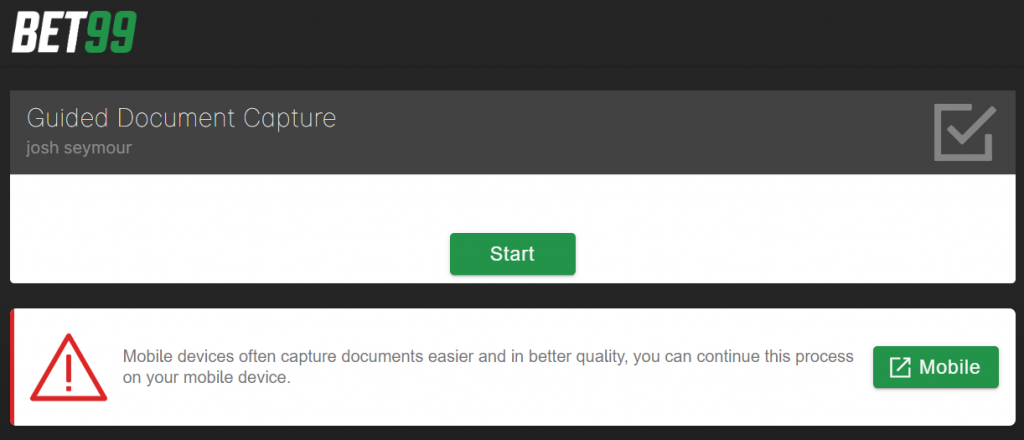 First, we needed to submit either an Ontario driver's license or a Canadian passport.
We were asked for the image taken to be in a well-lit room, with no flash used, with documents on a flat surface. Ideally, the background color will contrast that of the document.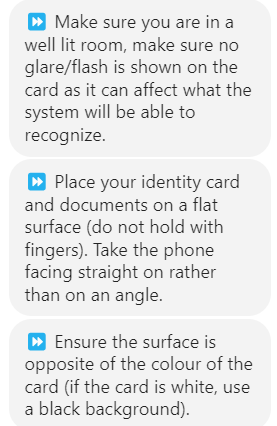 Once we uploaded the document, all that was left to do was wait for the account to be verified.
Timeline and Communication About the Process
The verification process duration can vary depending on the sportsbook or betting platform you have chosen. In our case, for most sportsbooks, the process took between 24 hours and a few business days. During this period, it's important to keep an eye on your email inbox or account notifications.
You can contact the sportsbook's customer support if you're ever wondering why the process is taking so long. Most Ontarian sportsbooks have a 24/7 live chat option, but you can also just send an email or make a quick call.
Which Sportsbook Has the Fastest Verification Process?
When it comes to verification times, there are noticeable differences among different sportsbooks and casinos. Here's how the top ones fare:
| | |
| --- | --- |
| Sportsbook/Casino | Max Verification Time |
| bet365 | 48 hours |
| Bet99 | 72 hours |
| Betway | 48 hours |
| BetMGM | 48 hours |
| FanDuel | 36 hours |
| BetVictor | 72 hours |
| Unibet | 48 hours |
| PlayOJO | 48 hours |
| Sports Interaction | 72 hours |
After having signed up and verified our account on these sportsbooks, we concluded that bet365, Betway, BetMGM, Unibet, and PlayOJO have the fastest verification times of up to two business days.
Potential Issues, Troubleshooting, and FAQs
While the verification process generally runs smoothly, there are a few potential issues that you might encounter. Here are some common scenarios and steps we usually take to resolve them:
Delayed Verification: If your verification is taking longer than expected, it could be due to high volumes of requests or additional verification checks required. Patience is key, but if the delay persists, you can reach out to the platform's customer service for an update.
Failed Verification: Verification might fail if the documents provided are incorrect, expired, or do not meet the platform's requirements. Double-check the accuracy and validity of your documents, and resubmit if necessary.
If you encounter any technical difficulties or have general questions, you can reach out to the sportsbook's customer service via email, live chat, or phone for assistance.
In case that the technical issue is on the sportsbook's side, they can trace your account and verify it manually to speed up the process.
In addition to contacting customer service, it is a good practice to check the FAQ section on the sportsbook's website.
Frequently Asked Questions often provide valuable information and solutions to common verification-related queries. Take the time to review these resources, as they may address your concerns without the need for direct communication.
Here's an example of how simple it is to find all this information at Bet99 by simply visiting Help>Account and choosing "Bet99 Account Verification".
Can You Avoid the KYC Process?
As we've mentioned before, in order to be able to withdraw your money from a sportsbook, you will need to go through a KYC process.
Now, many bettors wonder whether using a VPN, for example, can help them play on sportsbooks that aren't otherwise available in their province, and if it's possible to avoid a verification process that would show they're not actually residents.
We highly discourage that since not only is it a form of rule-breaking, but it can also end up with you not getting your winnings.
By default, you will have to verify your identity before being able to withdraw money, even if you've managed to start betting.
And if it turns out you're not actually from the province you claim to be from, your account will be suspended, and you won't ever be able to withdraw your money.
Verifying Your Account in the Rest of Canada
There's no difference between verifying your sports betting account in Ontario or any other province, such as Quebec, Alberta, or Saskatchewan.
You'll always have to create an account, provide the necessary documentation, and (this should go without saying) be of legal gambling age.
The only difference is whether you have access to sportsbooks and casinos that don't require KYC, and if you're in an unregulated market in Canada (anywhere but Ontario), you likely can access some of these.
We are solely focused on iGaming Ontario-approved sports betting sites, all of which will require you to go through the verification process in order to protect all parties from fraud.
If you're thinking about signing up for a website that doesn't require this because it's less hassle and more anonymous, we strongly advise you to think twice before doing so.
In the event that someone steals your identity or hacks into your account (and all of this is a lot easier with no verification process in place), you won't be protected from it in any way since you're choosing to access unregulated sportsbooks.
Ontario Sportsbook Account Verification: Bottom Line
In summary, verifying your online betting account in Ontario or elsewhere involves meeting the age and eligibility requirements, providing the necessary documentation, creating an account with your chosen sportsbook, and going through the verification process.
The timeline for verification can vary, but you will receive communication from the platform regarding the status of your verification. If any issues arise, such as delays or failed verification, consult the FAQ section or contact customer service for assistance.
We hope this guide has provided you with a clear understanding of the process for verifying your online betting account in Ontario. Enjoy your betting experience responsibly, and best of luck with your wagers!
Safe Betting Sites with an iGO License
How long does bet365 verification take?
bet365 takes up to 48 hours to verify your account, making it one of the fastest sportsbooks when it comes to the KYC process.
How long does it take to verify your account at Caesars?
Caesars verification process can take a couple of business days, so make sure you start identity verification as soon as you sign up.
How long do Ontario sportsbooks take to verify your identity?
In general, the identity verification process can take a couple of business days, but usually no more than three. Ensuring you are who you claim to be is no joke to sportsbooks, which is why they take time to properly verify all your personal information.
Why did my identity verification process fail?
The documents you provided might be expired or ineligible, or there may be some technical issues with the sportsbook. The best course of action is to contact their customer support and get the issue resolved that way.