Fact Checked By:
Ana Gomes de Almeida
About Author
Before joining the team three years ago, Ana worked for five years behind the scenes for household brands like Betway and Betsson. She knows the ins and outs of casinos and sports betting sites. Having witnessed both the positive and negative aspects of the industry, she's eager to share her expertise with fellow punters.
Written By:
Jelena Kabić
About Author
Jelena Kabic is a sports betting writer that focusses on responsible gambling. A psychologist by vocation, Jelena volunteered in a rehab facility, where she worked with gambling addicts. She now reviews all our content to ensure it discusses betting in a socially responsible way.
Is Play Alberta Legit? | 2023 Review
Play Alberta Review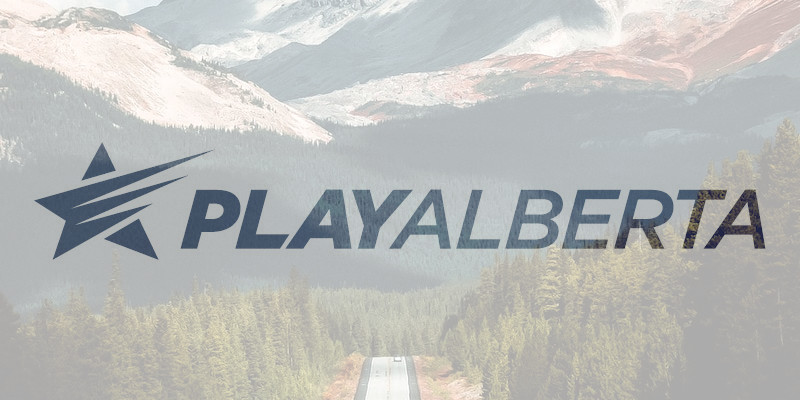 For now, Play Alberta is the only provincially regulated online betting site for Albertans. However, the province will soon be opening up to two private operators.
Until then, we took a deep dive into this sportsbook and casino to see what the only regulated option has to offer to Alberta bettors. In this guide you'll read about Play Alberta's:
Sports and betting markets
Betting tools
Odds
Number and variety of casino games
Payment methods
Whether there is an app.
Play Alberta Overview
All Revenue Goes Back to Alberta
Fewer Than 200 Casino Games
Odds Not Very Competitive
Is Play Alberta Legit?
Provincially Regulated

Strong Focus on Responsible Gambling
Play Alberta is the only sportsbook in the province which is fully provincially regulated. Like all gambling in Alberta, it's overseen by the AGLC (Alberta Gaming, Liquor and Cannabis). This makes it safe in terms of knowing you won't be scammed out of your money.
However, one of the most important things that make an online sportsbook safe is also the focus on responsible gambling.
We found that Play Alberta does a good job ensuring their bettors are staying safe.
On Play Alberta's website, bettors can read all about responsible gambling via a helpful FAQ section.
What's more, they can visit the Account Limits section of their profile in order to set daily, weekly, and monthly limits.
If you don't set your own limits within 30 days of registering, Play Alberta will make sure to remind you about which ones are available.
Another thing that Play Alberta does great, and so do many other legal Canadian sportsbooks like Bet99, is the 24h rule.
They make the process of lowering the limit instant, while it usually takes around 24 hours for an increase in limit to be approved, giving the bettor the chance to change their mind.
How Does Play Alberta Work?
Easy to Navigate

Quick Sign-Up Process

Asks for Employer's Name
Play Alberta has a very simple and clean interface. Sports are on the left hand side, while the betting slip (along with open and settled bets) can be accessed on the right.
On the left, below sports, you can easily switch the odds display to American, Fractional, or Decimal.
How to Sign up to Play Alberta
Signing up to Play Alberta is a simple process.
1.First, you'll need to provide your email and password.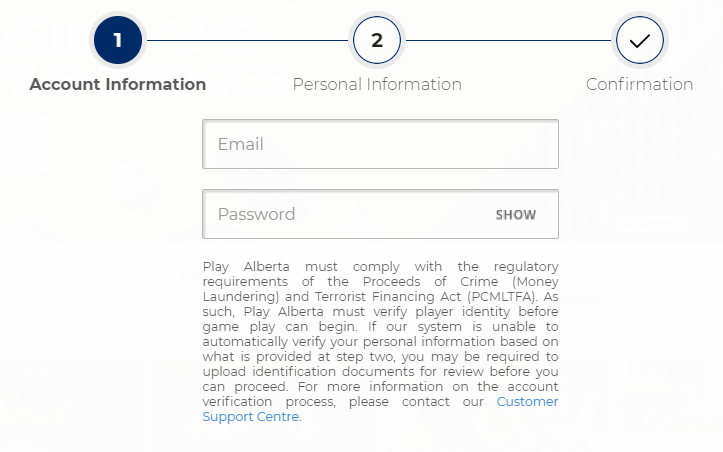 2.Then, enter your personal information. Play Alberta also requires to know your employer's name, which we haven't seen on any other sportsbooks.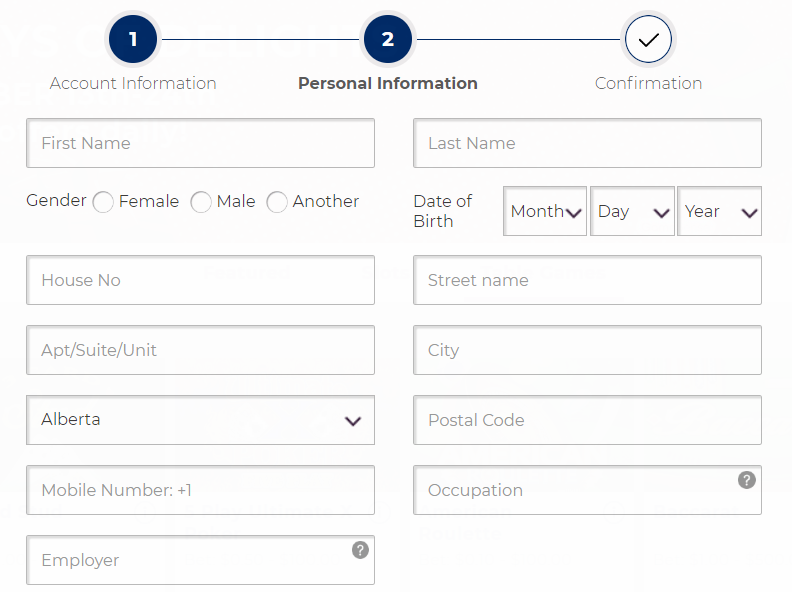 3.Play Alberta will then verify your details on the spot, and once they're verified, you'll be expected to present additional proof of identity.
Common Play Alberta Issues
The most common issue we've come upon while testing Play Alberta is that sometimes users have trouble logging in. It usually happens during website maintenance hours and there's no way around it.
Players will simply have to wait until the website is back on.
Another issue we've noticed is that the phone may cut off your screen during a game. This only happens on Chrome and on iOS, so changing your browser should solve it. Or, you can simply try changing the orientation of your phone.
Play Alberta Sports Betting
Covers All Major Sports

Cash Out Available

Very Few Sports

No Live Streaming

Not Many Prop Bets
Play Alberta lets you bet on all major Canadian favourites like hockey, football, basketball, and soccer.
However, the major sports are pretty much all there is to it, as Play Alberta has only 8 sports available.
Options like cricket, eSports, curling, or lacrosse, available at plenty of international sportsbooks, don't exist on Play Alberta.
Betting Markets
Play Alberta tends to offer all of the major betting markets available elsewhere, such as moneyline, three-way bets, and over/under bets.
However, it doesn't really offer prop bets, which are some of seasoned bettors' favourite ones.
Betting Tools
At Play Alberta, bettors can cash out on select markets. There is also the live betting option.
Sadly, there is no live streaming available, which virtually all international sportsbooks in Canada offer. For example, bet365 offers HD live streaming, along with exclusive low-latency NFL live streams.
Play Alberta can hardly compete with that.
Odds
One of the most important things bettors will want to know when choosing an online sportsbook is whether it offers competitive odds.
To test it out, we looked into the odds for the FIFA World Cup finale:
| | | | |
| --- | --- | --- | --- |
| Sportsbook | France | Draw | Argentina |
| Betway | 3.00 | 3.00 | 3.00 |
| Bet99 | 2.80 | 3.10 | 2.80 |
| Play Alberta | 2.60 | 3.10 | 2.50 |
Play Alberta has competitive odds only for the draw option. It's outdone by both Bet99 and Betway for odds on both teams.
A $100 bet on Argentina at Betway would result in $300 minus your original wager, while you could only get $250 at Play Alberta.
While low odds are generally the case for provincially regulated websites, there are exceptions. Loto-Québec is one of them.
Play Alberta Casino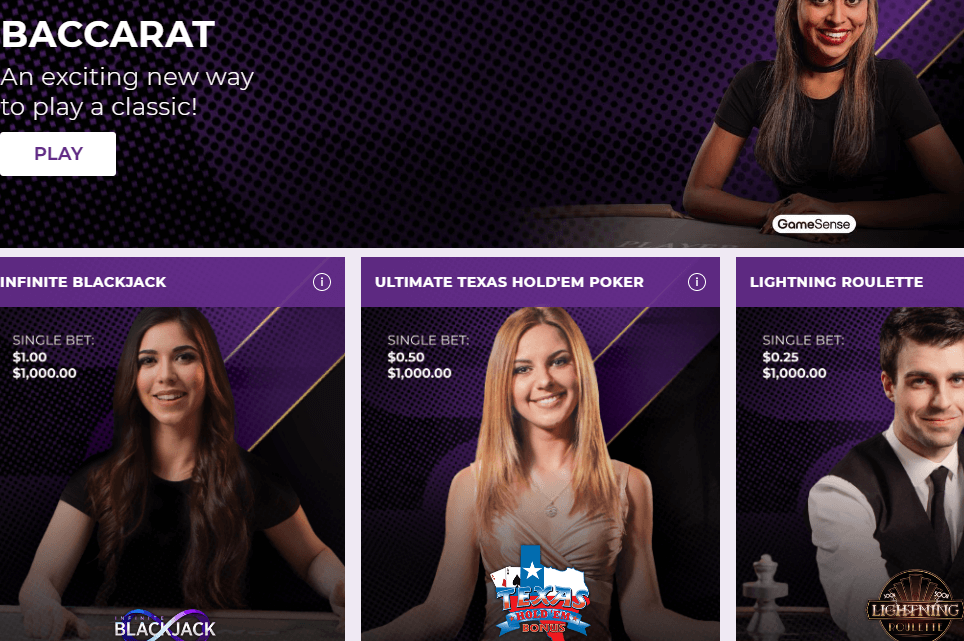 All Popular Casino Games Available

<200 Casino Games

Live Casino Only Has 6 Games
Though Play Alberta has a certain variety of casino games types and includes:
slots
poker
video poker
baccarat
blackjack
roulette
Until recently, with fewer than 200 casino games, PlayAlberta couldn't compare to websites such as Bet99 or LeoVegas, which have well over 3000.
However, thanks to its recent partnership with Pairplay, players will now get access to slots available via its Fusion Platform.
These include some of the most popular titles like Capital Gains, Golden Wins, and Tiger Lord.
Still, the brand would need to do more in terms of other games, such as table games, to be able to fully compare to its international competitors.
And while there's also a live dealer section at Play Alberta, there are only 6 games to choose from.
Is There a Play Alberta App?
Decent Mobile Experience

No Downloadable App
Unfortunately, Albertans cannot bet at Play Alberta via an app. The sportsbook and casino still doesn't have a downloadable app, although we've found the mobile experience to be decent.
Meanwhile, there are plenty of international operators offering top-notch Alberta betting apps.
Payment Methods
Easy Withdrawal Process

Low Minimum Deposit

No Maximum Withdrawals

Very Few Payment Methods Available
Currently, Play Alberta takes deposits via debit/credit cards and Interac. There are no fees on Play Alberta's side, but your financial institution may impose some.
This operator has one of the lowest minimum deposits available in Canada, and it's only $5. The maximum daily deposit is $25,000.
When it comes to withdrawals, bettors can only withdraw money using a bank transfer. The expected withdrawal time at Play Alberta is 3-5 business days.
Play Alberta also has a fairly low minimum withdrawal limit at only $10.
There is no limit on maximum withdrawals, but you'll be asked to provide additional confirmation when trying to withdraw $10,000 at once or $100,000 a day.
How to Withdraw Money From Play Alberta
Withdrawing your money is a simple process, that somewhat differs depending on whether you're accessing your account from desktop or mobile.
The only minor difference is how you're going to find the Account menu.
On desktop, simply click on your name. On mobile, click on the "≡" icon in the upper-left corner.
Once you sign in and access your account menu, the following process is the same regardless of the device being used:
Click on "Withdraw Funds"
Select EFT — Bank Transfer
Enter the amount you wish to withdraw and provide additional information needed
For first-time withdrawals, you may be requested to provide additional documents
Customer Support
Decent FAQ Section

Live Chat, Phone, & Contact Form Available
Play Alberta has a decent FAQ section, so we recommend checking it out if you encounter any issues.
If you don't find the answer there, the customer support can be contacted via live chat, phone, or through a contact form.
Play Alberta Alternatives
As we already mentioned in our Alberta sports betting article, Play Alberta isn't the only option bettors from this province have.
Another interprovincially regulated option is Sport Select, run by the Western Canada Lottery Corporation.
The issue here is that, in order to complete their online bet, Albertans need to go to a physical Sport Select location, which defeats the purpose of online betting.
There are also international sportsbooks that accept bettors from Alberta. They aren't illegal in the province, so you can freely place your bets there.
However, they're not all equal. The sportsbooks we recommend all have an iGO license, which makes them legal in Ontario and a safe alternative to provincially regulated sportsbooks elsewhere in Canada.
Our Verdict
Play Alberta is a decent option for those who occasionally place a bet, and don't stray much from the most popular sports.
But with an obvious lack of more niche options, betting markets, and betting tools, more seasoned bettors will hardly find it satisfactory.
Play Alberta's odds can't compete with those offered by the international sportsbooks, and its casino section is fairly small in comparison.
Play Alberta is decent enough for a provincially regulated option, but cannot compete with international sportsbooks.
FAQs
Is Play Alberta a legitimate site?
Yes, Play Alberta is a legitimate, provincially regulated betting option for bettors from Alberta.
Is Play Alberta run by the government?
Yes, Play Alberta is a government-run website, overseen by Alberta Gaming, Liquor and Cannabis (AGLC).
How long does it take to get money from Play Alberta?
Withdrawing money from Play Alberta into your bank account usually takes 3-5 business days.
What is the deposit limit for play Alberta?
Play Alberta has one of the lowest deposit limits we've seen in Canadian sportsbooks, as it's only $5.
How do you know if you won on Play Alberta?
To find out if your lottery numbers were drawn, check the Play Alberta lottery page an hour after the draw took place. Alternatively, you can also contact the operator's customer support.
What happens if you win the lottery on play Alberta?
If your winnings are up to $1,000, you will immediately get the funds into your account. If they are over $1,000, however, Play Alberta will contact you first and tell you more about collecting your prize.
Does Play Alberta charge a fee?
No, there are no processing fees at Play Alberta. However, the financial institution connected to your preferred payment method may impose some.