Written By:
Jelena Kabić
About Author
Jelena Kabic is a sports betting writer that focusses on responsible gambling. A psychologist by vocation, Jelena volunteered in a rehab facility, where she worked with gambling addicts. She now reviews all our content to ensure it discusses betting in a socially responsible way.
Fact Checked By:
Amy Webb
About Author
Amy's introduction to the gambling world was 6 years ago, when she joined a casino operator as a content specialist. Since then, she's helped launch and maintain gambling review sites in over 8 different countries. She's tested dozens of casinos and sportsbooks, which is how she can spot a subpar brand in an instant!
Parlay Betting Guide - How Parlay Bets Work
Parlay Betting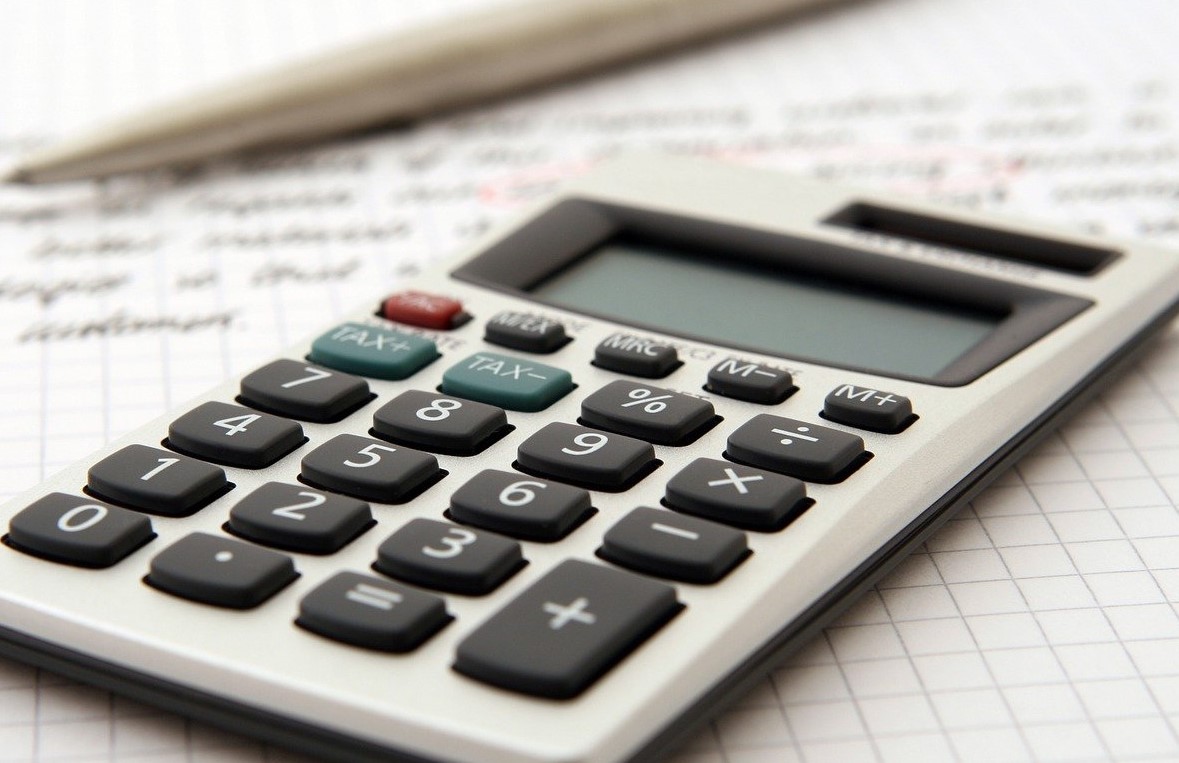 If you're Canadian, the chances are you've heard of parlay bets once or twice.
And with good reason. Up until recently, parlay betting was the only legal bet type in Canada. This has changed with the legalization of single-event sports betting.
But what exactly is parlay betting? In this guide, we'll give you the ins and outs of this type of bet, so let's dive in!
Top Sportsbooks Offering Parlay Bets
What is a Parlay Bet?
A parlay is two or more bets that are grouped together and treated as one wager.
It's common to see parlay bets also referred to as accumulator, combo, or multi bet. These terms all mean the same exact thing.
This bet can have a minimum combination of two bets but can go all the way up to 15 bets.
You are free to combine different types of bets, including moneyline, point spread, totals, and a lot more.
A word of caution: you need to win all bets in order to get your payout.
Let's look at an example of four different bets grouped in a parlay (we can also refer to this as a 4-leg parlay):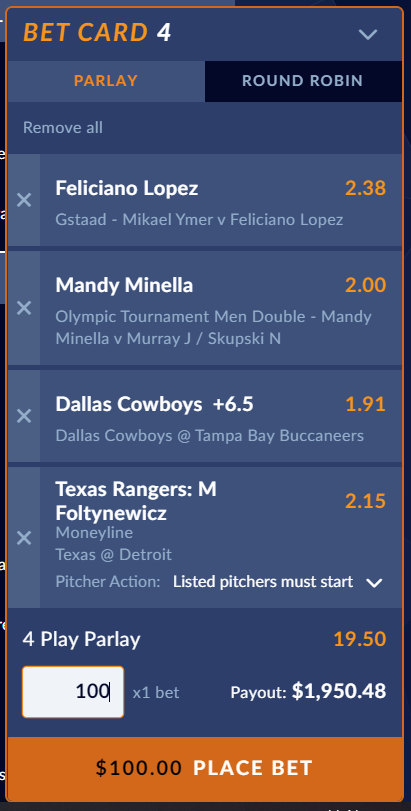 Since this bet relies on four different outcomes, how does the payout work? We've summarised it below:
| Bet 1 | Bet 2 | Bet 3 | Bet 4 | Payout |
| --- | --- | --- | --- | --- |
| Win | Win | Win | Win | Yes |
| Lose | Win | Win | Win | No |
| Win | Lose | Lose | Win | No |
| Win | Win | Win | Lose | No |
Example of a Parlay Payout
We could go on with more possibilities, but you get the gist. The only way you can get a payout is if all these 4 bets are won.
So, why would you want to group the bets into a parlay instead of bet on them individually?
A parlay offers a far bigger payout than if you had to make individual bets. If we made individual $25 bets, this is what the payout would look like:
| | Bet Amount | Odds | Payout |
| --- | --- | --- | --- |
| Bet 1 | $25 | 2.38 | $59.50 |
| Bet 2 | $25 | 2.00 | $50 |
| Bet 3 | $25 | 1.91 | $47.75 |
| Bet 4 | $25 | 2.15 | $53.75 |
| | | | Total: $210.50 |
Payout of Individual Bets
That payout is nothing in comparison to the $1,950.48 payout calculated for the 4-leg parlay by the sportsbook.
What are Same-Game Parlays?
Same-game parlays follow the same basic principles of any parlay bet, but with one big difference: all bets are made for different markets of the same game.
For example, you can place a same-game parlay bet by betting on the winner of the match, the total amount of points, and the top goalscorer.
Are Same Game Parlays Available in Canada?
Yes, though not at every sportsbook. A small number of sportsbooks in Canada accept same-game parlays. These include bet365 and FanDuel.
What Happens to a Parlay When a Bet is Void?
We've already mentioned that a parlay bet requires all legs to win in order to get the payout.
But what happens when for example a game is cancelled?
The vast majority of sportsbooks will just remove that bet from the selection and recalculate the parlay payout.
So if you started out with a 4-leg parlay and one of the bets is on a cancelled game, the sportsbook will adjust it to a 3-leg parlay and reduce the payout accordingly.
The same thing occurs when there is a push scenario. A push is when there is a tie between the bettor and the sportsbook, which usually ends in a void bet.
If one of these bets is part of the parlay, then the sportsbook will remove it and readjust the parlay payout.
However, when it comes to same game parlays at bet365, if the bet is void, the sportsbook will settle the bet for all remaining entries.
We always recommend you read the terms and conditions of the sportsbook as the terms vary slightly from one sportsbook to the next.
Why Are Correlated Parlays Banned at Most Betting Sites?
Although you include all types of bets in a parlay, you can't parlay two similar bets from the same game.
For example, if you're betting on an NBA game of Phoenix Suns vs. Milwaukee Bucks, you can't parlay a point spread bet and a moneyline bet on the Bucks.
These are correlated parlays where the outcome of one bet is closely related to another outcome.
There's a very good reason why sportsbooks do not allow this.
These correlated parlays increase the exposure a sportsbook has to a single event and leave them vulnerable to bigger payouts.
Sportsbooks will notify you when these correlated bets occur.

How to Calculate a Parlay Payout
Most sportsbooks automatically calculate a parlay payout for you, as you can see in the Sports Interaction example above.
There are also loads of online parlay betting calculators that make things easier for you.
However, a manual calculation is also straightforward, as we will show you.
First of all, you want to start with decimal odds. If you're using American odds, you'd need to convert to decimal odds first. Then use the following steps.
Multiply the decimal odds to get your multiplier. In the case of the above example, it's 2.38 x 2.00 x 1.91 x 2.15 = 19.54.
Multiply the multiplier by your bet amount. 19.54 x 100 = 1954.694
That's it! That payout indeed matches the one automatically calculated by the sportsbook.
Is Parlay a Good Bet?
Parlay betting is the perfect example of high-risk, high-reward betting.
As we've seen, the payouts can be huge, and one parlay bet done right can be more than worth the reward.
And let's face it. The possibility of a massive payout is enticing, the same way we buy that lottery ticket for a chance of that six-figure payout and spin a jackpot slot with the hopes of hitting the grand prize.
Unfortunately, a parlay bet is also a sportsbook's dream.
Sportsbooks would love bettors to bet parlays as the house edge increases drastically.
Whereas with a normal bet, there's an average house edge of 5%, with parlay bets it increases to a massive 30%!
Think of it in this way. It's already hard enough to get one bet right, let alone 2+ bets at the same time.
And when you're focused on that big payout, it's easy to get carried away and burn through your bankroll.
So, is a parlay bet a good bet? We're not saying to avoid ALL parlay bets, but we do suggest you stick to other bets that can give you more value.
A couple of parlay bets here and there can be fun, but getting value out of them will be harder than most other bets.
If you are intent on using parlay bets, then try not to go beyond 3-leg parlays to keep your winning chances as high as possible.
Moreover, using a Round Robin will reduce some of the risk associated with parlay bets.
What is a Round Robin?
A Round Robin option will appear when you have at least three selections on your card.
With a Round Robin, you can break down the selection to form smaller parlays. Let's use a concrete example to better illustrate this: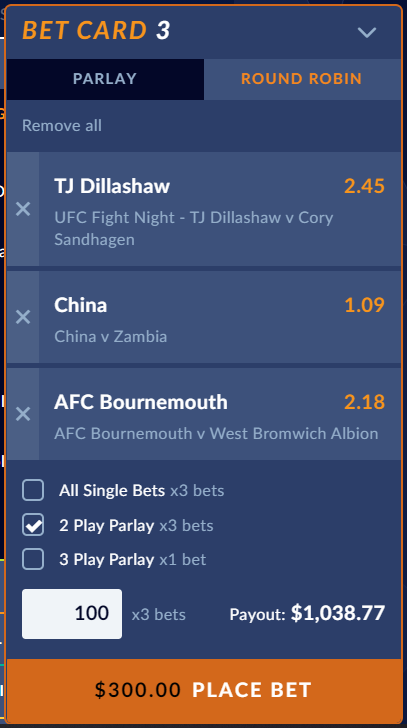 In this example, we've added three selections to our bet card. We can treat them as separate bets, or a traditional parlay, but we can also select 3 bets of 2-leg (or 2-play) parlays.
This would be done with the following combinations:
TJ Dillashaw – China
TJ Dillashaw – AFC Bournemouth
China – AFC Bournemouth
We get a payout if we win all those combinations, but we will also get a smaller payout if we lose one or two combinations, but win others.
This helps reduce the risk of losing the whole bet with just one loss.
On the other hand, you might need to invest more money since 1 bet has been changed to 3 bets. In this case, the $100 investment increased to $300.
It also reduces the payout when compared to a traditional parlay. With a $300 bet, we're getting a potential payout of $1,038.77.
On the other hand, our traditional parlay was going to cost us a $100 bet for a potential payout of $1,950.48.
How to Place a Parlay Bet
Placing a parlay bet is super easy! Just keep in mind that you won't see the option readily available like a moneyline bet, or a point spread bet. Let's walk through the steps:
Decide on the events you want to bet on.
Start adding the events to your bet card. When you have two events or more, a parlay bet option will appear on the card.
Insert the bet amount and select the parlay option.
And that's it, you're done!
Do keep in mind that different sportsbooks might use other terms to describe parlay bets. Accumulators and combination bets are common synonyms.
We always suggest you reach out to customer support or read the sportsbook's help guide when in doubt.
Use Parlay Bets Wisely
To conclude, we've seen in this guide that parlay bets can be simultaneously fun and tricky to use.
They have big payouts that make them thrilling, but they also have a far lower value percentage.
You should keep parlay bets as an occasional betting experience, but focus your main betting strategy on other types of bets.
FAQs
What does parlay mean in betting?
A parlay bet is a single bet combining multiple wagers in order to create a bigger payout.
You need to win all the bets in order to get the parlay payout.
Do you lose money on parlay?
Yes, more often than not you will lose money when placing parlay bets.
Winning one bet can be hard enough. Winning 3+ bets to get your payout significantly reduces your chances.
What does a $100 3-team parlay pay?
This really depends on the odds of each of the 3 bets you place.
A sportsbook will usually automatically calculate this for you on the bet slip.
A 4-team parlay is a parlay bet containing bets for 4 different teams.
Parlay bets can go up as high as 15-team parlays.