Digital Danger Zone: The Dark Side of Canada's Online Scams
Online Scams in Canada
The internet can be a great thing…most of the time. Unfortunately, the same tool that gives us access to learning and job opportunities also gives, let's say, unsavory people, access to everyone else. From romantic scams a la catfishing to monetary ones, deceit abounds on online platforms like Facebook and Kijiji. What's worse…the scammers are getting more and more sophisticated.
We conducted a study to see what the most common types of online scams in Canada are, who's falling prey to them, and the losses or emotional hardship that's endured as a result. The results might surprise you!
Key Takeaways
97% of Canadians note being targeted by scams online
Ontario residents lose the most money — $55 on average — to online scams
Gmail is the most common place Canadians see scam attempts online
34% of Canadians are targeted by phishing attempts
Phishing Is the Most Common Online Scam in Canada
Of the 12 different types of digital ruses we asked our survey participants about, phishing is by far the most common, with 34% of Canadians stating they have witnessed a phishing attempt.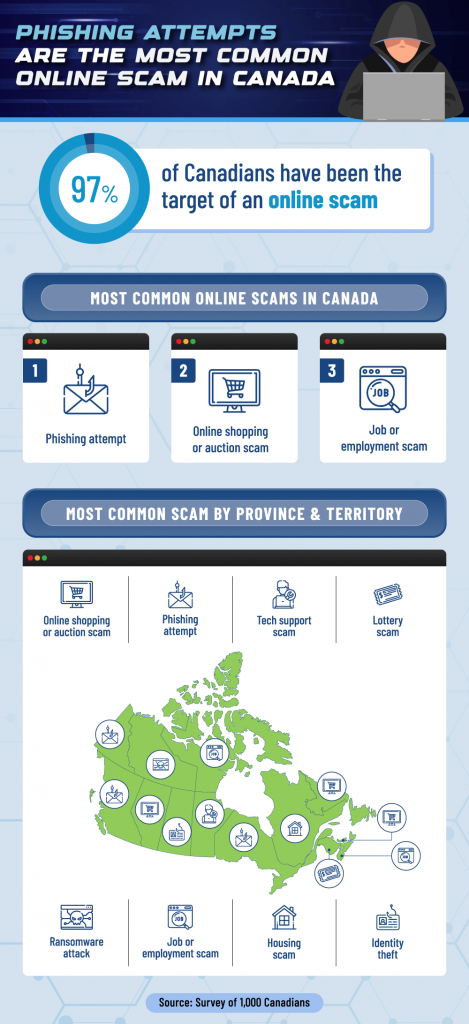 The next most common scam seen by survey participants is an online shopping or auction scam, with 18% of Canadians being targeted — phishing is about twice as prevalent. Job or employment scams are the only other type witnessed by 10% or more of our respondents.
It seems online scammers do have a heart, though, because no Canadians report being the target of a charity scam.
Based on how common phishing is in Canada, we were surprised to see that it's the most prevalent form of digital deception in just three provinces and territories — British Columbia, Ontario, and Yukon. Online shopping or auction scams were also the most prevalent in three areas — Alberta, Newfoundland/Labrador, and Prince Edward Island.
Overall, an incredible 97% of all Canadians are targets of online scam attempts.
Ontario Residents Lose the Most Money to Online Scams
The average dollar amount lost to online financial scams on a per-person basis in Ontario is $55. This is higher than the national average of $44 lost per person. These numbers might seem low, but keep in mind that a large number of residents notice they are a target and don't actually lose money, while some lose $1,000 or more.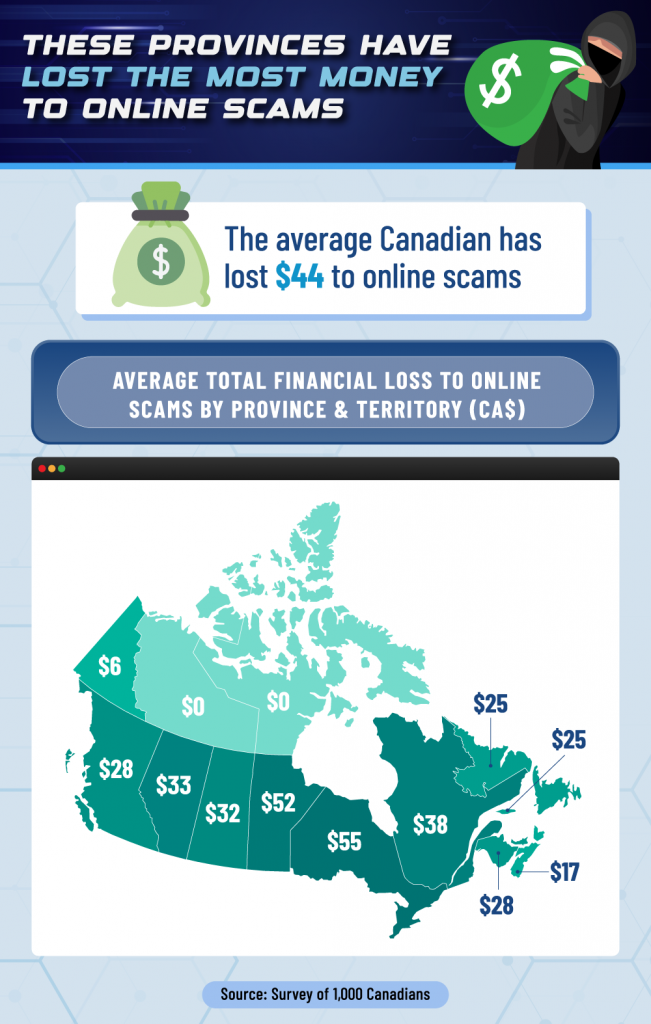 Manitoba is a close second for financial losses to online fraud, with the average resident losing $52 to scammers — this is the only other province where residents have lost an average of over $50 each.
Residents in the Northwest Territories and Nunavut are the most scam-resistant, with the average resident losing $0.
Email Is the Biggest Culprit for Online Scams
Of all the social media apps and sales and auction sites, email platforms — specifically Gmail — are the most common place Canadians get scammed, with 47% of our survey participants noting they see scam attempts in their emails. We get it…emails just feel more legitimate, but how many times do you think the Prince of Nigeria is REALLY going to need your help?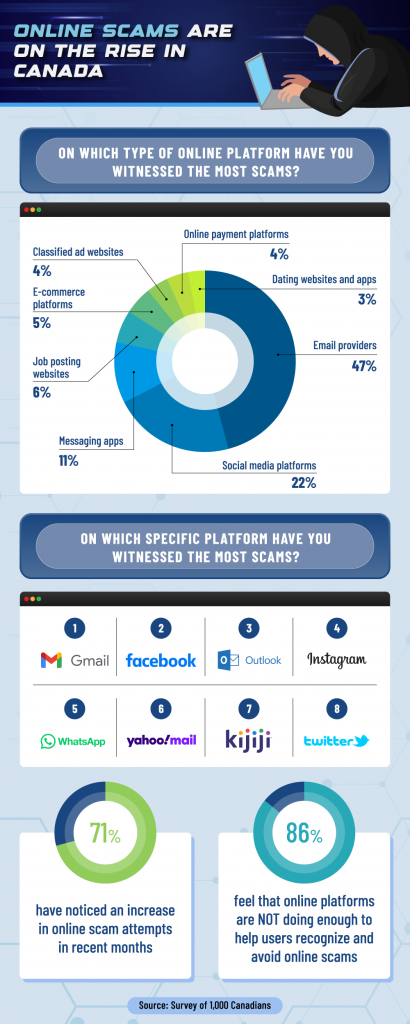 Social media platforms like Facebook, Instagram, and Kijiji are the second most common place for scams to occur, with 22% of Canadians witnessing swindle attempts while updating their statuses.
It's pretty clear that most scammers target our wallets rather than our hearts; only 3% of Canadians witness emotional scams on dating websites and apps.
Perhaps most concerning is the fact that 71% of Canadians state that they have noticed an increase in online scam attempts in recent months. Are scammers getting more careless and getting noticed more often, or are they growing in numbers?
Maybe the problem lies with the platforms that scammers call home. The large majority of Canadians — 86%, to be exact — feel that online platforms like Gmail, Yahoo Mail, Facebook, and others aren't doing enough to combat scams and prevent scam attempts.
Wrapping Up: Digital Scams Are Getting More Common in Canada
Online scams seem to be waiting for us around every corner, and it's clear that they're getting more and more common in Canada. Most residents notice that they've been the target of online deception, and the attempts seem to be more frequent than they have been in the past.
About 81% of Canadians feel they are good or very good at identifying scam attempts, but financial losses still abound throughout the country.

Methodology
We surveyed 1,000 Canadians in June 2023 about the online scam attempts they had recognized and the financial and emotional damages that resulted. The average age of the respondents was 36 years old. Just over half — 55% — were female, 43% were male, and 2% identified as non-binary or other.
Fair Use
Want to cite our data or use our infographics? Go right ahead! Please just link back to this page to give credit to the authors.