Written By:
Jelena Kabić
About Author
Jelena Kabic is a sports betting writer that focusses on responsible gambling. A psychologist by vocation, Jelena volunteered in a rehab facility, where she worked with gambling addicts. She now reviews all our content to ensure it discusses betting in a socially responsible way.
Fact Checked By:
Amy Webb
About Author
Amy's introduction to the gambling world was 6 years ago, when she joined a casino operator as a content specialist. Since then, she's helped launch and maintain gambling review sites in over 8 different countries. She's tested dozens of casinos and sportsbooks, which is how she can spot a subpar brand in an instant!
Which paysafecard Casinos are the Best in Canada?
paysafecard casinos

Paysafecard has quickly become one of Canadians' favorite payment methods. And it's no wonder: using a paysafecard is safer than sharing your banking details online.
But what can you use paysafecard for? Can you withdraw funds to it? And which online casinos accept it as a payment method?
This guide will answer these and all the other questions you may have about paysafecard.
Best paysafecard Casinos for Canadians
What is paysafecard?
Paysafecard is a prepaid card that lets you make safe online transactions. It doesn't require the sharing of any personal information, not even the user's name or any bank account details.
Paysafecard is a quick and straightforward way to pay online without connecting your bank or credit card to the merchant.
Created in 2000 by the Austrian Paysafe Group, it absorbed its former competitors, Ukash and Wallie. This brought it one step closer to becoming Canadians' preferred payment method.
In 2013, it was purchased by Skrill, a renowned digital payments provider.
paysafecard Pros and Cons
No Need to Share Bank Details
Limits of up to $10,000 a Month
Need to Register to Increase the Limits
paysafecard Fees
Good news for those opting to use paysafecard: there are no fees for opening the account or placing deposits!
paysafecard does, however, have some (mostly administrative) small fees:
Monthly service fee of $2.50 from the 19th month
Conversion fee, for which you can use their currency converter so you know how much you're paying.
How Does paysafecard Work?
Using the paysafecard is extremely simple:
Purchase the printout with a 16-digit PIN
The amount you paid for it is the amount of money you have on the card
Enter the PIN to make a payment.
For now, Canadians can only purchase their paysafecard at a physical location. The good news is, there are many convenience stores you can find the paysafecard in, and Canada Post sells it as well.
You can easily find the nearest seller by entering your postcode, address, or town at the official paysafecard website: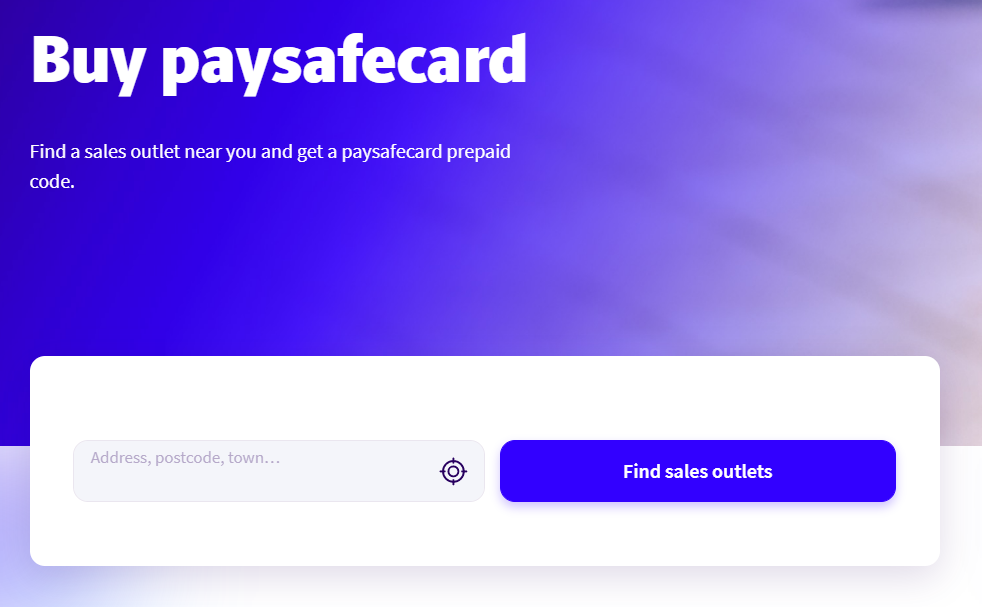 By purchasing your paysafecard at a sales outlet, you remain completely protected. All you need to do is pay for the card at the seller's location, get the printout with a 16-digit PIN, and that's it.
You can add up to $400 to your paysafecard.
Once you've purchased the printout, you can keep using the 16-digit PIN to make payments.
Alternatively, you can open an online account, which has its pros and cons.
Opening an Account
The first downside is, you'll need to provide some personal information. Here's how the registration process goes:
First, confirm your country of residence.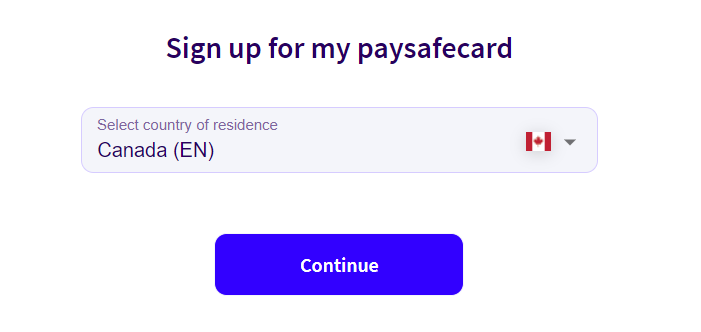 Next, provide your email address and choose a password.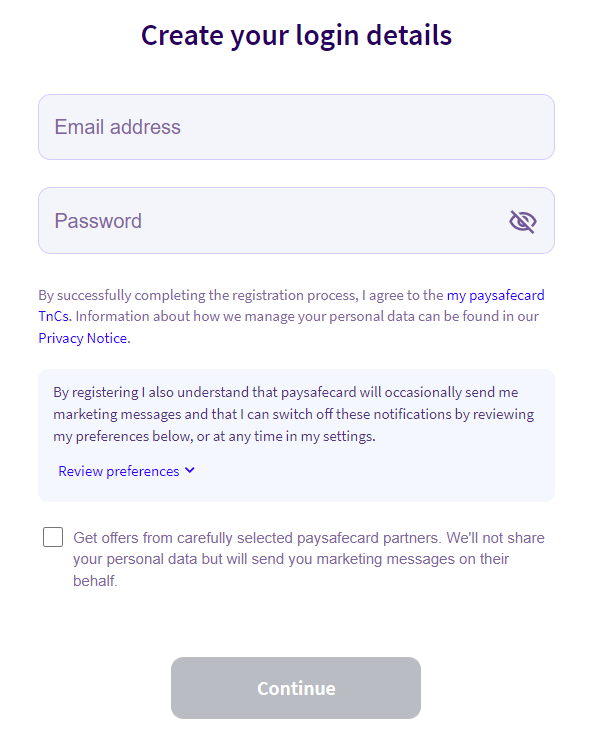 After that, you'll have to verify your email address.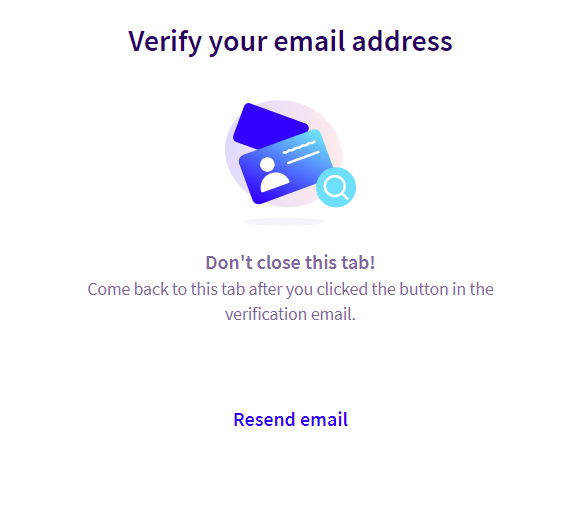 Once you've verified it, you need to provide some personal details.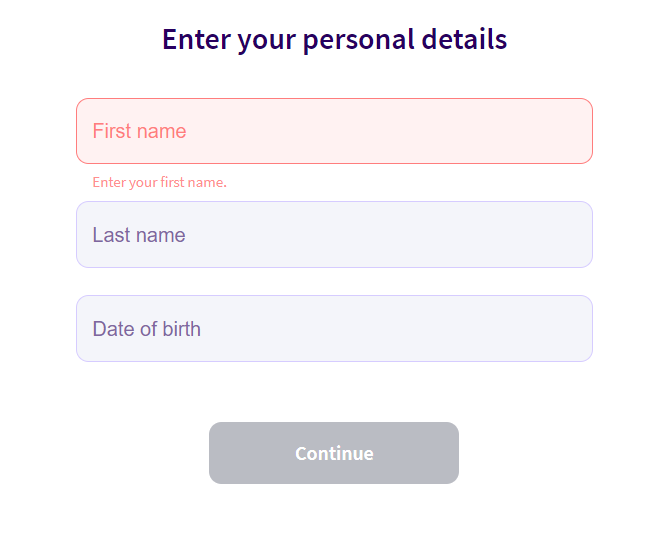 After which you'll need to disclose your address.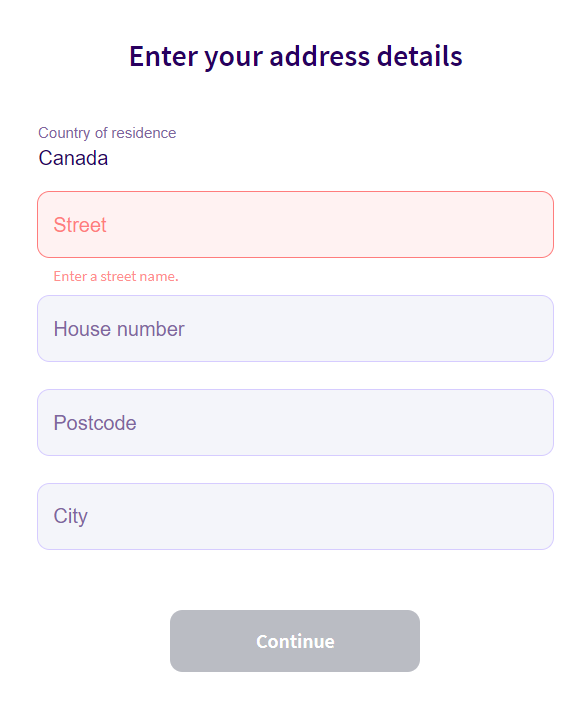 Finally, you'll have to enter your mobile number and verify it before being able to create an account.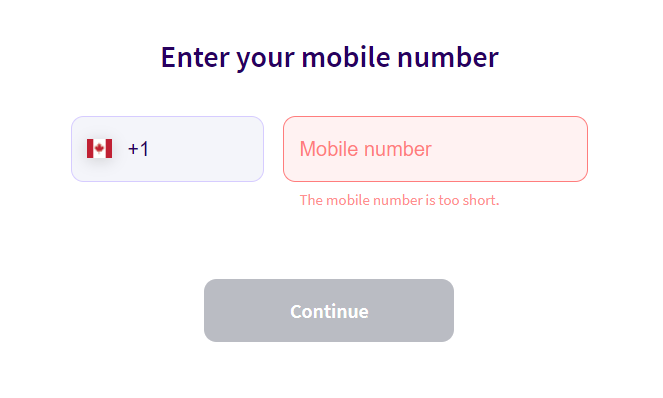 However, to open the account, there's still no need to share any bank details or connect a credit card. Once the account is open and you've purchased your paysafecard PIN, you'll be able to pay using your login details.
You'll only need your login details to pay, instead of a 16-digit number.
Whether you open an account or choose to use your paysafecard without a registration, you'll be able to add up to $400 to a single PIN card. You'll also have no maintenance fees until month 19.
But there are certain perks to having an account.
You can get a gift card and, more importantly, you're able to order a prepaid paysafecard Mastercard, which allows you to withdraw any remaining balance from your paysafecard.
Additionally, you're able to upload multiple PINs into the your paysafecard account. Just keep in mind that the total amount can't be higher than $3,500.
So long as your PINs don't pass the $10,000 monthly mark, you can add them and pay with them from the same account.
Regardless of which option you choose, account or no account, you'll be able to keep an eye on your balance. If you already have an account open, you can simply take a look there.
If not, just visit paysafecard's official website, enter your PIN, and you'll get an overview of your balance.

Here are all pros and cons of using paysafecard with and without an account, so you can make an informed decision.
| | |
| --- | --- |
| No Account | Account |
| ✓ You're completely anonymous and no personal information is shared | ✓ You can pay using your login details |
| x You'll have to find and go to a physical seller | ✓ Higher PIN amounts |
| x To pay, you need to enter a 16-digit long PIN every time | ✓ Order a paysafecard Mastercard and get a gift card |
| | x You'll need to share personal details |
Pros and cons of opening a paysafecard account
Is paysafecard Safe?
Continuing on what we just talked about regarding the account vs no account choice — paysafecard is generally very safe, but especially so when you're keeping it all offline.
In that case, it becomes just another voucher, and you can pay with it without sharing any personal information.
When it comes to paying on the internet, it doesn't get much safer than that.
If you decide to register an account, you'll still be fairly protected. The reason being, you will be paying with your login details, rather than connecting your bank to the merchant.
So if you don't mind leaving some of your personal information online, such as your name, address, and email – opening an account is the way to go.
Where Can I Use paysafecard in Canada?
Most paysafecard users purchase it for three reasons:
You can really use it at any place that accepts paysafecard, but these are the most common choices. Operators like Steam, XBOX, and PlayStation accept it, as it makes purchasing games easy.
Since Spotify and Deezer accept it as well, many use their paysafecard to pay for entertainment.
But more and more Canadian users are choosing this safe payment method for casino deposits.

bet365 is among the top casinos in Canada accepting paysafecard! Some of the reasons to use your paysafecard with this operator are:
Exclusive Games

Microgaming Slots

Fast Withdrawals
PLAY
19+. Gambling can be addictive. Please play responsibly.
How to Deposit With paysafecard
Depositing with paysafecard is very straightforward. We'll use PlayOJO as a concrete example, but the process doesn't differ much across operators.
Depositing to PlayOJO via paysafecard
Here's how easy it is to deposit to PlayOJO via paysafecard:
Sign into your account and navigate to the upper right corner to find the "Deposit" button.
Click on it to be presented with different depositing options.
Choose paysafecard and the minimum deposit amount will be highlighted.
Enter the amount you wish to deposit.
Enter your PIN or login details, if you have a paysafecard account.
Finally, agree to PlayOJO's policy of holding your funds separate from the casino's.
And there you have it – you're ready to place your first bet!
Can You Transfer PayPal to paysafecard?
In many countries, you're able to purchase a paysafecard online and pay for it via PayPal.
Currently, in Canada, you still need to purchase it at a physical location and cannot use PayPal to pay for it.
If this changes in the future, we will update this section!
Can You Withdraw With paysafecard?
Unlike with INSTADEBIT and iDebit, casinos in Canada generally don't allow paysafecard withdrawals yet.
That's not ideal, since casinos generally prefer gamblers to use the same method for depositing and payouts. It's also easier for the user to not have to switch between the two.
Once casinos start allowing paysafecard as a withdrawal method, you'll likely need to order a paysafecard Mastercard. Then you should be able to withdraw your funds at any ATM.
Paysafecard Casinos in Canada
FAQs
What casino sites take paysafecard?
Can I use paysafecard without an account?
Yes, you can use paysafecard without an account and still be able to make payments and place deposits.
Where can I use paysafecard in Canada?
Many merchants in Canada accept paysafecard, including those in entertainment (Spotify, Deezer), gaming (PlayStation, Steam), and gambling.
What is the 16 digit PIN for paysafecard?
The 16-digit PIN you get when purchasing a paysafecard acts like any credit card PIN would. In order to make a payment or deposit to an online casino, for example, you need to enter your 16-digit PIN.