Written By:
Jelena Kabić
About Author
Jelena Kabic is a sports betting writer that focusses on responsible gambling. A psychologist by vocation, Jelena volunteered in a rehab facility, where she worked with gambling addicts. She now reviews all our content to ensure it discusses betting in a socially responsible way.
Fact Checked By:
Amy Webb
About Author
Amy's introduction to the gambling world was 6 years ago, when she joined a casino operator as a content specialist. Since then, she's helped launch and maintain gambling review sites in over 8 different countries. She's tested dozens of casinos and sportsbooks, which is how she can spot a subpar brand in an instant!
Best New Brunswick Betting Sites In 2023
New Brunswick Betting Sites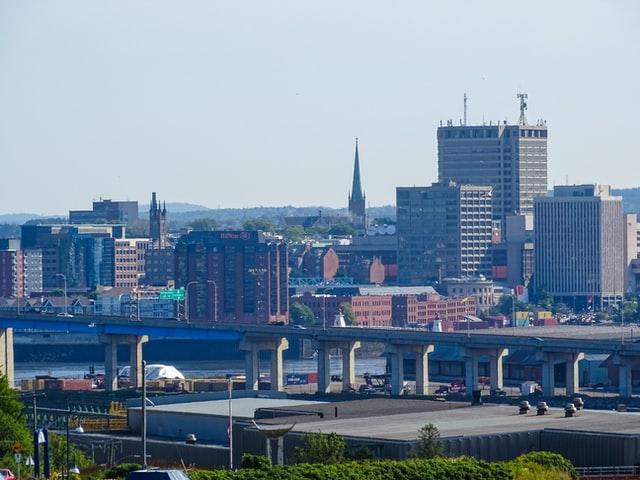 If you're wondering which online betting sites are a good choice for New Brunswick residents, we have the answer.
This guide will give you an overview of the New Brunswick betting sites you can play at, explain what each has to offer, and touch on the legal standing of online gambling in New Brunswick.
Top Betting Sites for New Brunswick Residents
Can You Bet on Sports in New Brunswick?
Sports betting fans in New Brunswick will be happy to know that they can place their wagers legally in New Brunswick.
The Atlantic Lottery Corporation (ALC) regulates this vertical of online gambling and offers one online platform where players can place their bets.
The Atlantic Lottery Corporation, or Loto Atlantique, oversees and manages all the gambling activities in the Atlantic provinces, which include:
The ALC works closely with the New Brunswick Lotteries and Gaming Corporation, which organizes and conducts betting and gambling operations in the province.
Sports betting events have been legal since the 1990s in this province, and residents can legally bet on sports online since 2014 through Pro-line.
Pro-line is the online sportsbook developed and operated by the ALC. It's available for residents in all of the Atlantic provinces.
Is Single-Event Betting Allowed in New Brunswick?
Online sports betting has been legal in NB for several years, but single-event sports betting became allowed fairly recently. It was only after August 2021 that single-event betting became a possibility in New Brunswick.
Since then, the Pro-line platform further diversified its betting offers and extended the betting possibilities to cover single-event options as well.
Pro-line+ now offers players more comprehensive sports coverage, competitive odds, and an improved user experience.
Current Online Betting Options in New Brunswick
Players who reside in New Brunswick can take advantage of two major sports betting options:
Pro-line
International operators
As explained above, the ALC is behind the operations of Pro-line in New Brunswick. This platform allows players to wager on games, props, and novelty bets. The website also accepts wagers on fantasy sports and futures.
Although Pro-line has recently undergone updates and expansions, it still falls short compared to international sportsbooks.
Many international sportsbooks offer 30+ sports to choose from, have far more betting markets, and tend to have more competitive odds.
Are International Operators Safe to Bet at?
These international operators aren't regulated by the ALC or other provincial organizations but they are still available to residents.
Even so, all of our recommended New Brunswick betting sites have an iGaming Ontario license, which is a sign of their reputability in the rest of Canada.
What's more, we make sure to only recommend websites with a strong focus on responsible gambling, and with easy-to-contact customer service, so you can play safe and carefree.
How to Bet on Sports in New Brunswick
Registering an account with an online sportsbook is very straightforward.
Players can either register with Pro-line or with an international sportsbook. Pro-line is the province's official legal betting website, but many international websites offer good wagering options and are equally as safe.
Names like Bet365 and Bet99 offer comprehensive lists of sports and good coverage of events, and are the go-to betting sites for many New Brunswick bettors.
The first step any soon-to-be player should take is to research the betting markets, types of bets, and odds offered.
Once you pick the sportsbook you want to register with, you have to:
Visit the New Brunswick sports betting website you picked
Click on the button to register an account (often on the right top corner of the screen)
Fill in your details, including email, name, and address
Make a deposit and start betting!
Are There Online Betting Apps in New Brunswick?
With the rise of online betting options, there was also an increase in mobile betting apps. These apps allow players to take advantage of everything the sportsbook offers through their smartphone or tablet.
Pro-line currently doesn't offer a New Brunswick betting app, but this might change in the future.
Until then, players can download and install the mobile apps of international operators to play on their small devices. Here are our top picks:
Who Can Bet Legally in New Brunswick?
The legal betting age in New Brunswick is higher than that of Quebec or Alberta. To bet in New Brunswick, you have to be at least 19 years old.
Best New Brunswick Betting Apps
How to Download New Brunswick Betting Apps
Downloading our recommended NB betting apps is very simple. In most cases, you can do it directly from the operator's website.
If not, then they'll be easily accessible through Google Play and/or Apple Store.
To learn how exactly to download and install the app of your choice, visit our thorough guide on Canada's top betting apps.
Are Online Casinos Legal in New Brunswick?
The ALC offers a wide range of online gambling sites along with Pro-line. These include several lottery options where players can buy their tickets online, such as:
Lotto Max
Lotto 649
Daily Grand
Atlantic 49
Poker Lotto
Salsa Bingo
Bucko
Keno Atlantic
Players can also take advantage of the iBingo website, the Instant Wins games, and a complete online casino.
The ALC online casino offers dozens of casino games, including:
Slots
Video Poker
Jackpots
Blackjack
Roulette
Baccarat
Poker
Similar to what happens with Pro-line, the offering of casino games tends to be smaller compared to international casino operators. These online casinos also operate in a gray market and are accessible to residents in New Brunswick.
But just like with NB sportsbooks, the ones we recommend have an iGO license. This means they're legal in Ontario, Canada's only regulated online gaming market.
You can find some of our recommendations below:
Best Online Casinos Available in New Brunswick
Related reads: Guides to betting in other provinces
FAQs
Is online betting legal in New Brunswick?
Yes, both physical and online betting are legal in New Brunswick. Apart from the provincially regulated Pro-line, residents of New Brunswick can also access a multitude of safe international betting sites such as Bet99 or bet365.
Where can I bet online in New Brunswick?
Residents of New Brunswick can place bets on sports events through the Pro-Line website or at international sportsbooks. The international options are usually more complete and cover a broader range of sporting events.
Is online gambling legal in New Brunswick?
Yes, online gambling is legal in the province and regulated by the Atlantic Lottery Corporation (ALC). The ALC website offers several online lotteries, instant wins games, online bingo, and an online casino. Players also have access to international online casinos regulated by other countries' gambling authorities.
What is the legal age for sports betting in New Brunswick?
Players must be at least 19 years old to legally bet on sports in New Brunswick. This is also the minimum age to play at online casinos or purchase online lottery tickets legally. The legal age for online and land-based gambling may vary from one province to another, so always confirm the regulations if you travel.
Are there any land-based casinos in New Brunswick?
There are quite a few land-based casinos in New Brunswick. These are regulated and managed by the New Brunswick Lotteries and Gaming Corporation and include the Casino New Brunswick and the Grey Rock Casino. First Nations also own and operate a series of gambling locations in the province, such as the Eagles Nest Casino, Tobique Gaming Center, and Saint Mary's Entertainment Centre.
Is Bet365 legal in New Brunswick?
Bet365 is available to New Brunswick bettors! While NB doesn't have a regulated online betting market, Bet365 has an official iGO license, which makes it legal in Ontario and a safe choice for all Canadian bettors.